Weaving in Luang Prabang
& Textiles in Luang Prabang
Join us and enjoy some of the finest handicraft experiences in Luang Prabang, Laos. Living Craft Center is offering weaving presentations, weaving courses, natural dyes, Lao batic and more…
Visit the Living Crafts Center, an interactive weaving center in Luang Prabang, and learn about silk worms, how silk is made, the natural dying process and weaving techniques. You can also meet our Hmong batik artist and learn about Hmong culture while taking part in one of our courses offered for our visitors.   The center is in a beautiful garden setting, overlooking the Mekong River, only 2km from the center of Luang Prabang.
The majority of the textiles are made by the weavers working daily at the Living Crafts Centre (weaving center), so you can experience their work environment and enjoy learning Lao traditions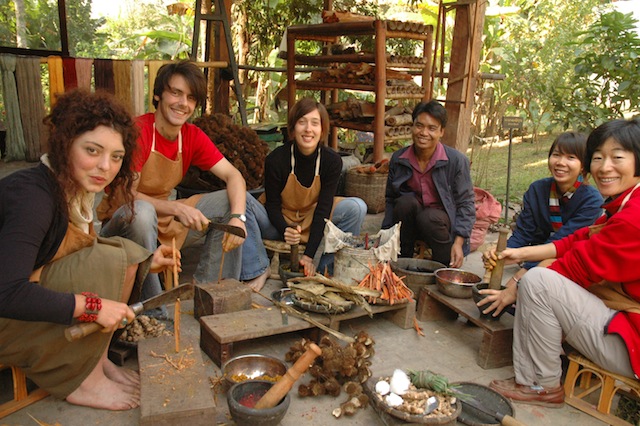 Classes in Natural Dyes, Weaving class, and Hmong Batik Drawing
in Luang Prabang right on the banks of the beautiful Mekong river…
This is an exclusive opportunity to work with a Lao artisan in Luang Prabang, Laos. English speaking guides are the link between you and your Lao teacher. Classes run for half days, full days or over several days.   You are invited to study, learn actually produce some hand made pieces made by yourself in our weaving center just outside of Luang Prabang.
The Silk Road: From Silkworms to Nagas
Hosted by Ock Pop Tok's cofounders, Veomanee 
Duangdala & Joanna Smith. This is a 1.5 hour presentation illustrating the journey of a Lao textiles from the creation of silk to the weaving process and the meaning of motifs.
With co-directors: 
Prices start from 2,080,000 LAK ($260) per group (up to 10 people)
Seminar Structure:
Introduction to Ock Pop Tok & our current activities.
A brief history of silk textiles.
How to real silk worms and making silk thread.
Natural dyeing & Dye Sources; audience participation 
assisting with a demonstration of dyeing silk.
Refreshments Break: Lemongrass tea and for the adventurous Saa Kii Morn (medicinal tea made from silkworm poo), Dtor Morn (fried silk worms)
Weaving techniques – the three main techniques used in Lao; Supplementary, Tapestry & Ikat. Depending on time participants can try themselves on one of our looms.
Use of textiles in Laos – showcasing samples of different textiles, discussing their function and the meaning of motifs – what is a Naga?
The weavers at work – a walk through the Ock Pop Tok weaving area to watch our skilled artisans at work.
Discussion – question and answer time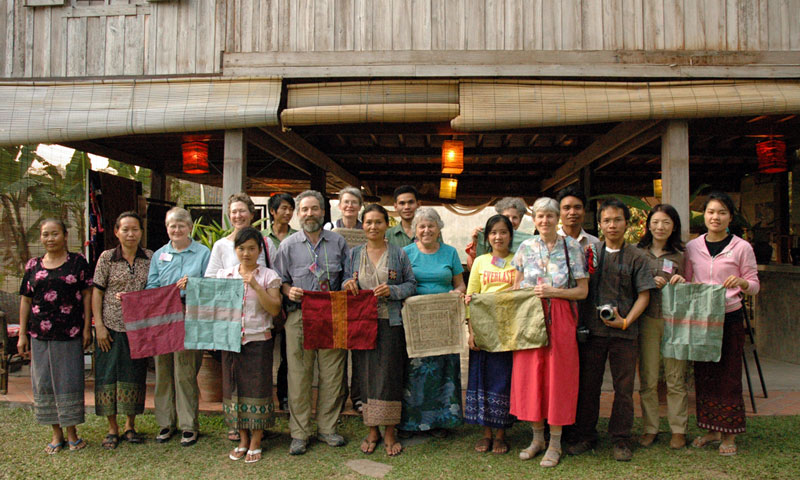 Other possible textile interaction programs
½ Day Natural Dyes Class in Luang Prabang (9am -12)
An introduction to silk worms and silk making. Prepare dye sources grown in the garden and dye silk yarns. Take home the results.
1 Day Natural Dyes & Weaving Class (9am – 4pm)
Start the day with natural dyes class, in the afternoon weave a placemat with Lao motif. Includes home-style Lao lunch.
2   Day: Weave your own Lao Scarf in Luang Prabang
Start the first day with the natural dyes class, and then master the art of 'kit' weaving. (9am-4pm)
3 Day Make an Ikat Scarf in Luang Prabang
Tie, dye and weave your own ikat scarf, includes natural dyes class. (9am-4pm daily includes lunch)
Draw your own Hmong Batik (9am-12noon or 1-4pm)
First an introduction to Hmong culture. Working with a Hmong artist, you draw a traditional design on hemp cloth
Afternoon Workshop & sunset cocktails (1.30pm – 5pm)
This is ideal for a family group or group of friends, need a minimum of 3 people.
Learn about silk worms and silk making, then prepare a natural colour and dye your own silk scarf to take home. After all the hard work enjoy Lao style cocktails (alcoholic and non-alcoholic available) and canapés overlooking the Mekong River.
Classes are small so bookings are recommended.
Activities are available for larger groups,
please enquire for more information.