Vang Vieng has changed…

Vang Vieng Travel Information
Things to do in Vang Vieng

The crazy reputation of Vang Vieng once has made it one of the most touristy towns in Laos with more than 100,000 party hungry visitors per year. Also the riverside "party" has become the principal activity of the once peaceful small town. But (thanks god there is a "but")…as things have slowly changed in Vang Vieng. Now there is by far less riverside parties, less drugs and yet the grand natural  beauty to be explored in the simply amazing surroundings of the Vang Vieng & nam Song river valley. The authenticity of rural Laos can again be found in Vang Vieng, if you take a little bit of time to stay here…
How to get to Vang Vieng?
The small town of Vang Vieng is located 170 km from Vientiane on road 13 leading to Luang Prabang. A pleasant, easy to book 3+ hour bus ride from Vientiane. The natural setting is breathtaking, punctuated by sumptuous karst mountain formations and it makes the perfect stop over town on your overland trip from the capital to Luang Prabang, through the majestic mountains of Lao hill country. If you are on a loose schedule, at least stay 2 days, better more…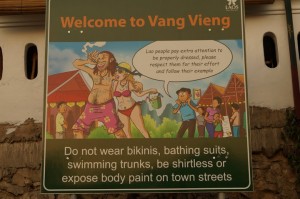 Truly, the landscape over Vang Vieng is one of the MOST spectacular and beautiful in Laos, even if not in the whole area of South East Asia.
Here is a list of things you can do in Vang Vieng, Laos. Not each of the activities is enough for a full day, but if you combine things you would still have enough to do for 4-5 full days, including a day of hanging out. Some travelers told us they were staying a full week,…not getting bored in Vang Vieng, I believe them.
CRUISE: Cruise on the river after arrival on the first day,…here you are!
KAYAKING: Take a kayak tour on the Nam Song including some explorations of the local caves, a lunch BBQ and usually fun and friendly local guides who speak English
BIKE: Get a bike (or motorcycle) over to the other side of the river and go explore
WATERFALL: And ask for the waterfall on the other side of town which can also be reached by bike
CAVES OF VANG VIENG: …there is so many of them…you can't see them all
CLIMBING: Really, don't be afraid, go for a day of climbing, even if you have never done, it's a great experience and can be done by nearly everyone.
BLUE LAGOON: Visit the Blue Lagoon by bike, but go early as it fills up with just a bit toooo many foreigners and more beers the later you go
HOT AIR BALLOON: If you can afford it and come in season (not rainy season) go for the HOt Air Vang Vieng BALLOON experience
FARM: Visit the Local Farm Projects in the area, for example the Organic Farm where you can enjoy some local food and take in some learning.
TUBING: Ahh, well, yes,…and you can still go tubing. There is no more crazy bar zone, but there are places you can have a beer and float on.
HIKING: Join a trekking tour into nearby, or far away, villages, there is plenty of nature to discover.
LAZY: 10 things not enough,…? Add a day of doing NOTHING and get a room with the view over the scenery
MORE VANG VIENG: Not enough yet,…go on a guided QUAD / ATV Tour,…or book yourself a fancy night in the upper class places, just like Riverside Boutique Resort!?
Landscape of Vang Vieng:
Vang Vieng lies near the Nam Song River, many activities such as kayaking, rafting or swimming are possible. The more adventurous will be delighted to know that the area around Vang Vieng is full of waterfalls to discover, caves to explore and limestone cliffs to climbed.
We personally found it very special and nice to withdraw a little bit from the town of Vang Vieng with a rental motorbike which made us getting lost in the dramatic mountain landscapes north of the town. There is plenty small villages populated by the Hmong and Yao which are worth wandering around. Also, compared to a few years ago, we really enjoyed a good and quiet Lao meal in a local restaurant.
One thing is certain is that the discovery does not lack in Vang Vieng, the city and its surroundings is full of unusual places. The blue lagoon remains the first touristic site with its deep turquoise water that invites for swimming (and a bit of drinking)…
The caves would give you enough to explore for weeks and some are truly spectacular. There is plenty of stuff you probably have never seen in your life, and just as amazing as quirky stone formations to lok at in the cool darkness of these caves. Some of them contain huge lakes, open halls, deep holes and drops where other caves host several families of bats…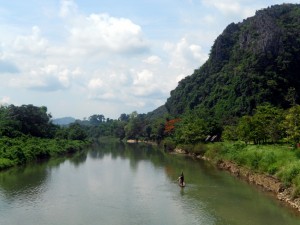 After a day of adventure it is good to be in a small Laotian restaurant around a succulent fish with lemongrass, admiring the sunset which will slowly to disappear behind the mountains of Vang Vieng.
After all, Vang Vieng has not lost any of its charm over the years and every visitor is welcome. There is everything, and for all tastes.
My tip of the day for Vang Vieng:
forget everything you heard or read about Vang Vieng because there is nothing more exciting than getting there and just go explore by yourself…it's worth every minute!!
Need help, ask us, Discover and Enjoy :)
Further reading on other Laos travel blogs, Beyond the tubing