Community Based Tourism
in ASEAN Countries
As part of their commitment to social responsibility, Tiger Trail sent me as a Fair Trek representative (as well as a representative from Laos) to join a two day conference in Bangkok organized by the Thailand Community Based Tourism Institute. 
The conference included researchers, community representatives, government, and academic groups from several ASEAN (Association of South East Asian Nations) countries including Indonesia, Thailand, Malaysia, Philippines, Vietnam, Burma, Cambodia, and of course, Laos.  A forum like this is important as travel and tourism is estimated to account for nearly 11% of ASEAN GDP and indirectly supports about 25 million jobs [ASEAN Travel & Tourism Competitiveness Report 2012]!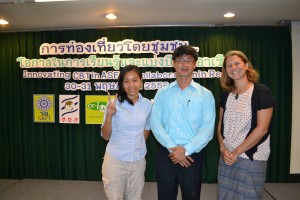 The first day, the main focus of the meeting was around the need for a community based tourism standard for all ASEAN countries.  This has been a challenging undertaking for many years for Thailand CBT-I, which seems to be the leader in community programs in ASEAN.  Other conference themes included best practices in CBT, how to engage stakeholders, challenges in developing and implementing guidelines, and targeting the CBT market.
Day two was very interesting!  Wonderful presentations were made by Indonesia, Laos, Myanmar,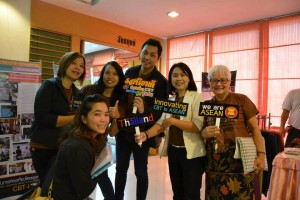 Cambodia, and Vietnam about their experiences in creating communities.  It was eye-opening and comforting to know that we have so many shared challenges among the various countries.  We are all grasping at the opportunity to find answers on how to best deal with our challenges….  How do we engage and empower the community in a positive way, how do we increase the community's understanding of the benefits of CBT, how do we encourage protection of natural resources and local traditions…?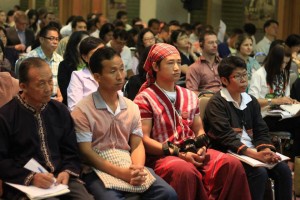 Myanmar had the most interesting report because they are newly opened to tourism.  Impressively, they are already making great strides to benefiting their local communities.  Wonderful projects, like the Inle Princess Resort, which had naturally created a social business without knowing that CBT was a "thing", have already long been active.
The presenter for Laos was Mr. Somsavath of the Luang Namtha Tourism Department, who was invited by CBT-I to talk about the first eco-tourism project in Laos.  He presented background and information about Eco-Tourism in Luang Namtha.
Tiger Trail Fair Trek also has wonderful initiatives such as the CLAY SCHOOL PROJECT, and more recently the ECO-BUNGALOW PROJECTS.  Tiger Trail Fair Trek continues to make efforts to strengthen our commitment to community work in a way that will use tourism to benefit communities.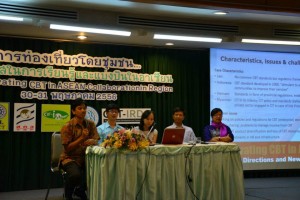 This was my second encounter with something organized by CBT-I, so it was really fantastic to see some familiar smiling faces and get to meet some new folks who are all working towards a similar cause.  The energy level was high and there was genuine interest to understand the challenges and benefits of working with remote villages. I hope to see them again next year!  [photo credits to Mr. Somsavath Namintha & Thailand CBT-I]
Thank YOU CBT-I for all the learning and the sharing!  
Thank YOU Tiger Trail for supporting communities in Laos!