Family relationships form the true heart of Lao culture. To many Lao people, these connections far supersede anything else in importance. If you're lucky enough to travel in the country during a festival time or holiday — such as Pi Mai, the Lao New Year, or the Fire Boat Festival — you'll see for yourself that family bonds are the most primary, as family groups get together to socialize in their neighborhoods.
Lao people won't be surprised to see you traveling with children. On the contrary: they may in fact express disbelief at the idea that you left your children at home (and be prepared to be asked if you have children). In Laos, traveling together with your family will be seen as natural.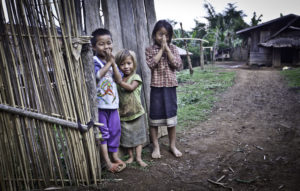 The Lao adore and may shower attention on children, who will readily find playmates among their Lao peers and a temporary nanny service at practically every stop. Like many places in Southeast Asia, travelling with children in Laos can be a lot of fun as long as you come prepared with the right attitude.
The wide range of options for travel in Laos means that there are activities for every kind of family, from ziplines and canoes to puppet theatre and hands-on experiences with local craft-making. Like to ride bikes together at home? Perfect, you can do that here, too. Or sit on a shady veranda along a quiet river and read all afternoon. The possibilities are limitless. Below, we take a stab at identifying just a few.
Practically, it's good to understand a few basics: baby formula and nappies (diapers) are available at mini markets in most towns and cities, but bring along a sufficient supply to rural areas. For the most part parents needn't worry too much about health concerns, although it pays to lay down a few ground rules, such as regular hand-washing or using hand-cleansing gel to head off potential medical problems. In other words, all the usual health precautions apply.
Here are a few great options for family tours in Luang Prabang. Want to design your own adventure or learn more? Let us know.
Luang Prabang with Family
Sights and activities abound for family travellers, from butterflies to elephants and everything in-between. If you're visiting Luang Prabang for the first time, consider taking a family bike tour for a fun introduction to the city and its history.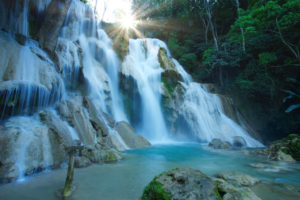 Family Travel to the Kuangsi Falls, Bear Rescue Centre, and Butterfly Park
With or without your whole family, this is among the best trio of sights and activities in Luang Prabang. The cool, clearwater pools of Kuangsi Falls are enough to keep children — and their parents — happy for hours, and you can spot rescued Asian sun bears enjoying their natural habitat in a preserve along the way. rather than going bu tuk-tuk why not visit a local Hmong village first and then walk approx 3 hours through beautiful jungle to the falls. Nearby, a butterfly-filled park sits in the quiet of the jungle. In between, local artisans offer crafts for sale and Lao food stalls serve up local treats. Have a look at our tours to learn about how you can add a visit to a working rice farm along the way!
Tad Sae Waterfalls trip with your family
Another set of beautiful, cascading falls, Tad Sae features different swimming holes, a zip-line experience, and hiking trails that'll have your family away from the crowds and into the jungle in minutes. Just getting to Tad Sae is memorable, as it involves a longboat ride along a quiet stretch of the Nam Khan river. You can combine a visit to Tad Sae with a short trek to a Khmu village or a bike ride to the falls and discover sights out of town on your way.
Elephants! A Family travel must…
Who doesn't love elephants? Combine a visit to the Tad Sae falls with an up-close experience of these gentle beasts. Tiger Trail have a number of elephant experiences nearby the falls at Elephant Camps that take Elephant Welfare seriously.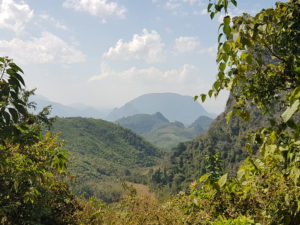 Trekking and Overnight Village Stay with your family
For an unforgettable journey that will give your entire family an authentic taste of life in rural Laos, consider a trek combined with an overnight village stay. A 1-2 hour walk through the jungle – accompanied by an experienced local guide – will lead you to a quiet ethnic village in the mountains outside Luang Prabang, where you'll connect with and learn about the everyday lives of those who live there.
Hillside Resort Stay – and Hike into the Lao nature
The ideal combination of comfort and adventure if you travel with your family in Laos, the Hillside Resort is just a short ride from Luang Prabang but is surrounded by hiking trails winding through the quiet mountain jungle. It's a great place to explore the flora and fauna of northern Laos on your own, with the advantage of an inviting swimming pool awaiting you on your return.
Pha Tad Ke Botanical Garden
This newly-opened garden, which features educational programs and tours for visitors of all ages, is the only place in the entire country dedicated to collecting and preserving information about the rich diversity of flora in this country. Bonus: getting there means a trip on a boat across the Mekong!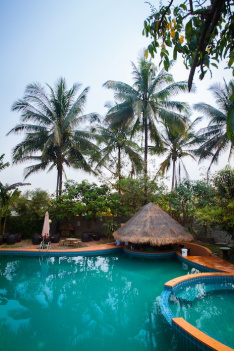 La Pistoche – A pool experience for the entire family
It can get hot in Laos, particularly from March through May. La Pistoche offers fun, family-friendly swimming pools, plenty of space to sit (in the shade), and food and drinks to order. It's a terrific spot for kids to socialise with some Lao peers, too.
Big Brother Mouse
This non-profit publishing enterprise is dedicated to producing books — in Lao language and English — so that children in rural areas can have access to reading materials. A visit to Big Brother Mouse is worth it just to browse the books themselves — there's something for all ages (a favourite is "What's in the Market," an introduction to the foods that form the base of the Lao diet). But if you drop in during English language practice time — usually an hour in the morning and an hour in the late afternoon — you'll have the opportunity to talk to regular Lao people (including novice monks) who want to practice their English. It's a great way to see a little deeper into this culture.
Take a trip to the other side.
Grab some bikes and see what life is like on the other side of the Nam Khan river (across the old bridge). Crossing the "Old bridge" is an experience in itself (it is only open to cycles and motorbikes and has walking platforms for pedestrians either side). During low water season, you can cross one of the two bamboo bridges on the Nam Khan river side of the peninsula. Here are some activities:
LEOT English and Computer School
This non-profit project across the old bridge provide free education for impoverished Lao youth and has been operating in Laos for 11 years. Funded entirely by donations, every year over 300 students are taught English and Computer skills by Lao teachers to help them gain better employment opportunities. Visitors are welcome to participate in conversation groups outside of classroom time. Enquire about assisting.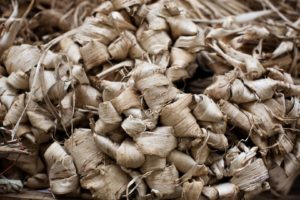 Music for Everyone School (MES)
Are you a musician? Would you love to play with eager Lao youth keen to play music together? MES provides free tuition to those wanting to learn and they love having visitors pop in to play.
Saa Paper-making and Weaving
Further on from LEOT School, is a traditional paper-making village and a weaving village. Check out these local handicrafts and how paper is made and observe weaving looms in action.