I took an unforgettable 3-day trekking adventure through the Lao jungle to remote Hmomg and Khmu ethnic villages experiencing stunning scenery along the way. It was magic.
Our 3-day adventure started with a drive from Luang Prabang (in Northern Laos) by minivan about 1.5 hours on sealed roads along the Mekong and Nam Xeuang rivers to an outlying village where we crossed a small river by boat.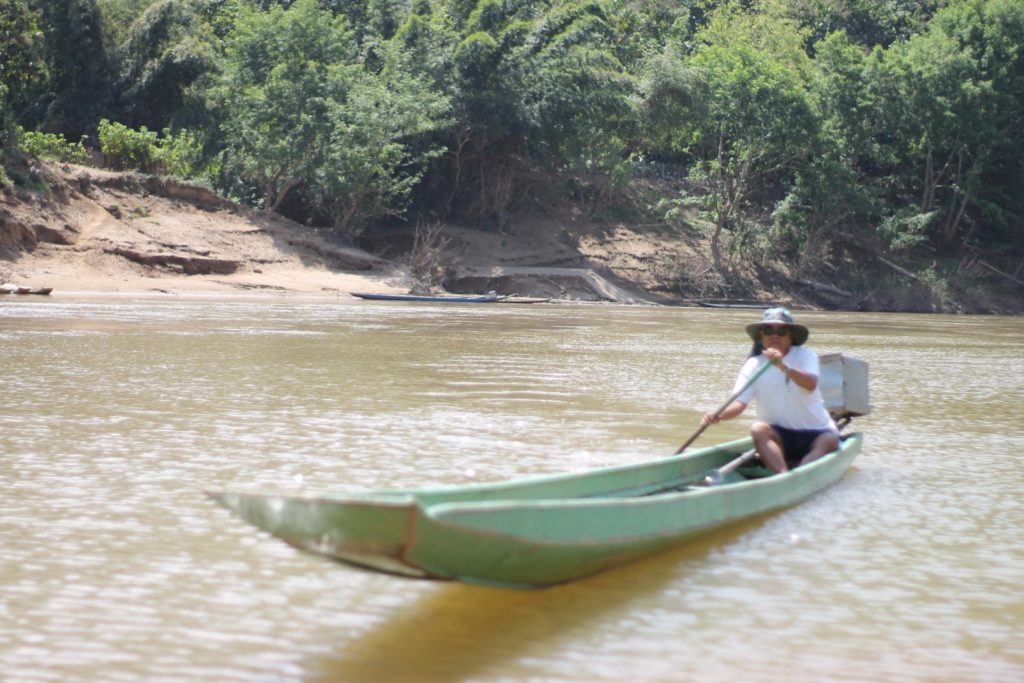 Over the next 4 hours we trekked through lush rice paddies and native jungle.
The walking was of a medium grade and we covered a variety of terrain including crossing trickling streams where we sat and enjoyed a mouth-watering lunch packed in a banana leaves listening to the gentle sound of water and the silence that surrounded us. It was just us and nature. The views were stunning as we continued walking. We passed cows and buffalo lazing about and two men near a remote hut, that provided shelter from the sun, making traditional bamboo baskets. It was fascinating to watch and I wondered where they had come from.
Our guide spotted a starfruit tree and in no time had produced a knife and sliced the fruit up for us to taste. He looked like a professional but nearly all Lao people are from villages outside the towns and learn such skills at a young age. The sourness and juiciness of the starfruit was a delight after the hours we had spent trekking. We soon approached a local village where we would spend our first night.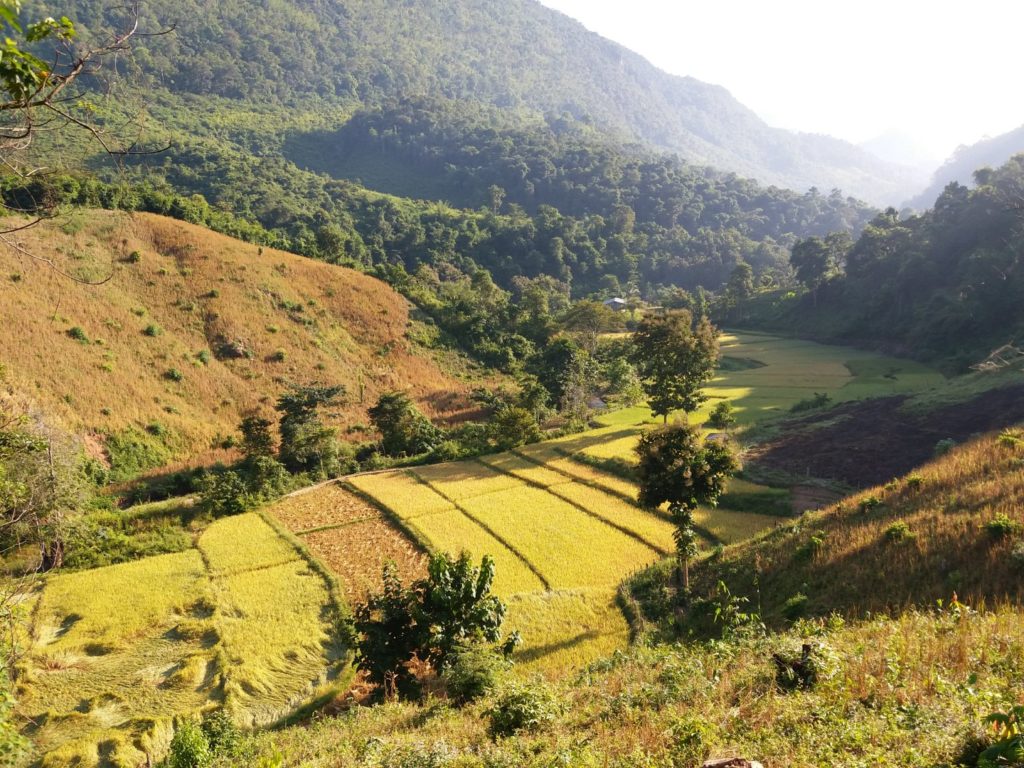 We passed a few people from the village waling slowly with their dog on the dirt path leading to the village (Ban Long Nget). It was 4pm and the sun was beginning to fall lower in the sky.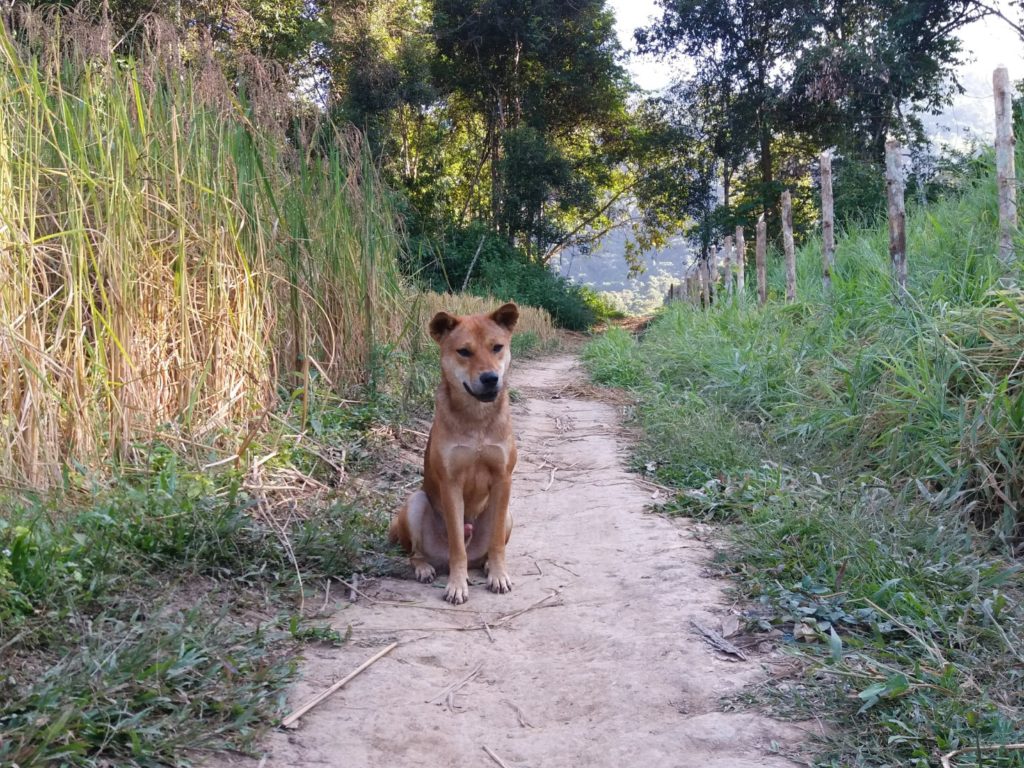 Hmong people greet each other with spoken words and men shake hands. Shaking hands is a new behavior for Hmong women and sometimes they might be embarrassed shaking hands with a male. I say Noysong" to say hello in Hmong language. It is also polite to accept food or drink if offered and can cause offense if you decline and our guide is helpful in advising us on this.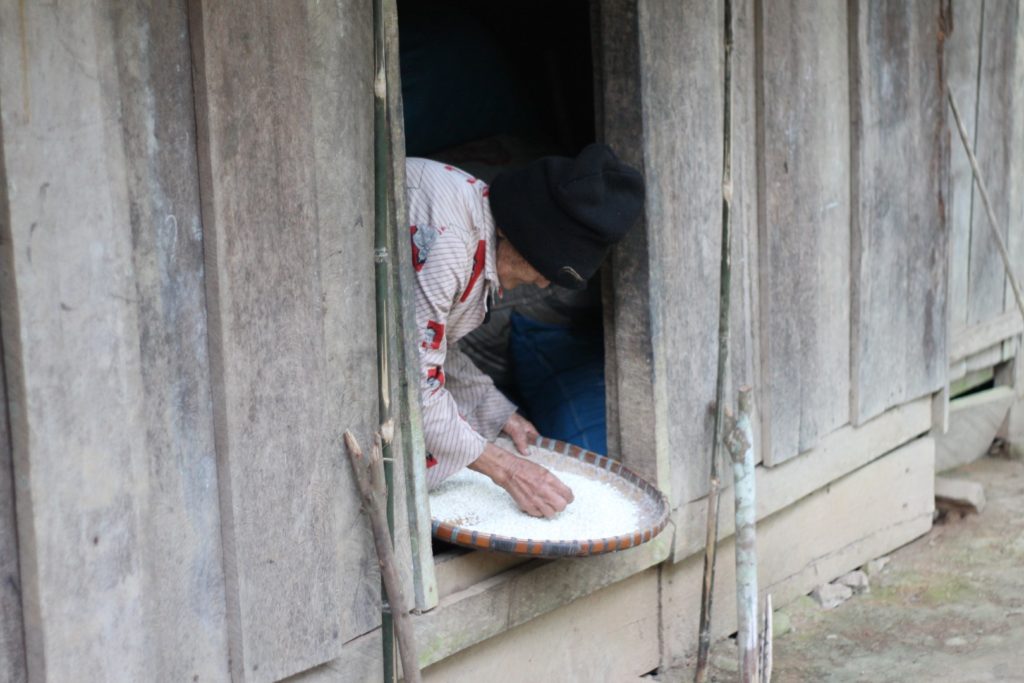 We had time to wander around the village before sunset. We saw people going about their daily routines, many were returning from their farms and school children were walking back from the basic wooden school at the end of the village. People were preparing their meals and showering. Our home-stay had it's own private bathroom next door to the room (basic and equipped with a water trough and bucket) so we didn't have to shower publicly "local style".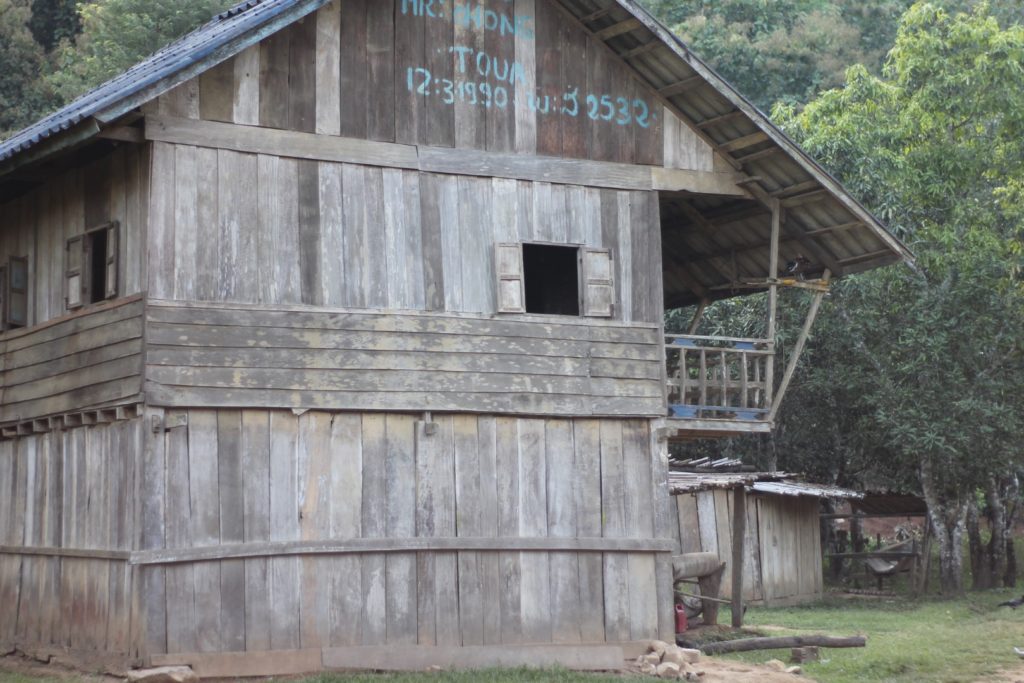 Hmong people visit each other anytime, there is usually nothing prearranged. If visitors arrived at meal-time you would be invited to share and you would have to eat something, even a little, otherwise, everyone would stop eating and wait.
However watch for a taboo sign outside the front of a Hmong house indicating the family should not be disturbed because the house is being protected from evil spirits. The sign may look like a cross, made of bamboo with some leaves. If seen, do not knock or enter the house.
Most traditional Hmong elders, particularly men, do not want strangers to touch their (or their children's) heads due to their religious beliefs. It is also considered dangerous to remark out loud about the cuteness or positive qualities their children, as spirits may hear and steal the child's soul.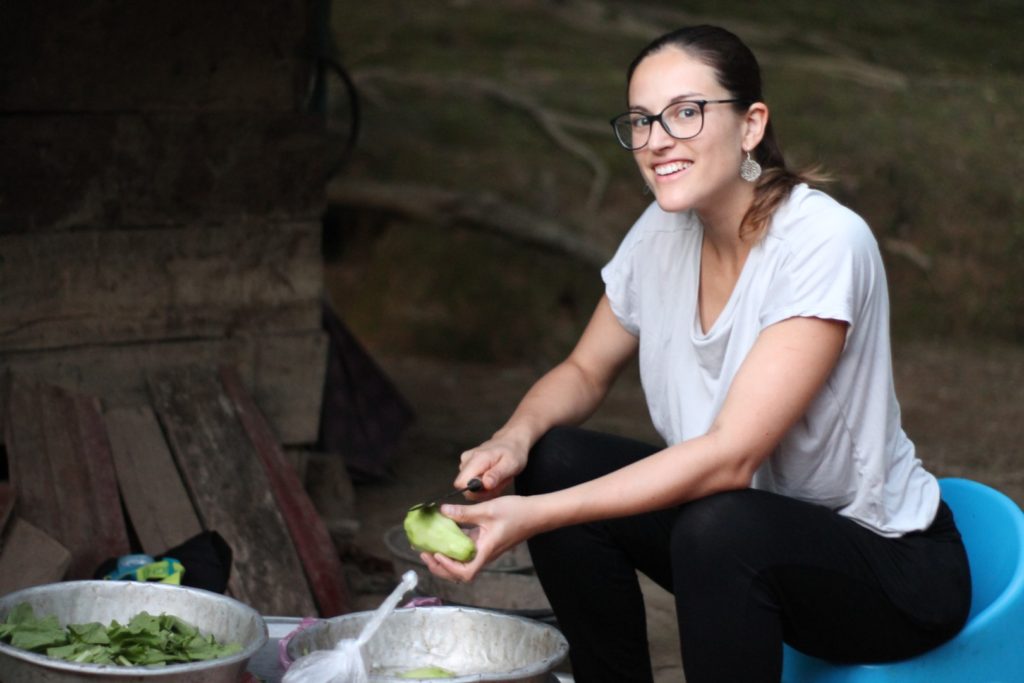 After exploring, we returned to our home-stay and helped our guide prepare our dinner. We enjoyed sitting together, chopping up vegetables and learning about the ways of life here. One of my favourites, pumpkin (or maak fuk in Lao) is sliced and cooked in a wok and was delicious. We had plenty of other vegetables as well. Eating in villages is very dependent on what is available and at times there is no meat which is a great reason to enjoy local vegetables. We never went hungry and had plenty of tasty food to eat.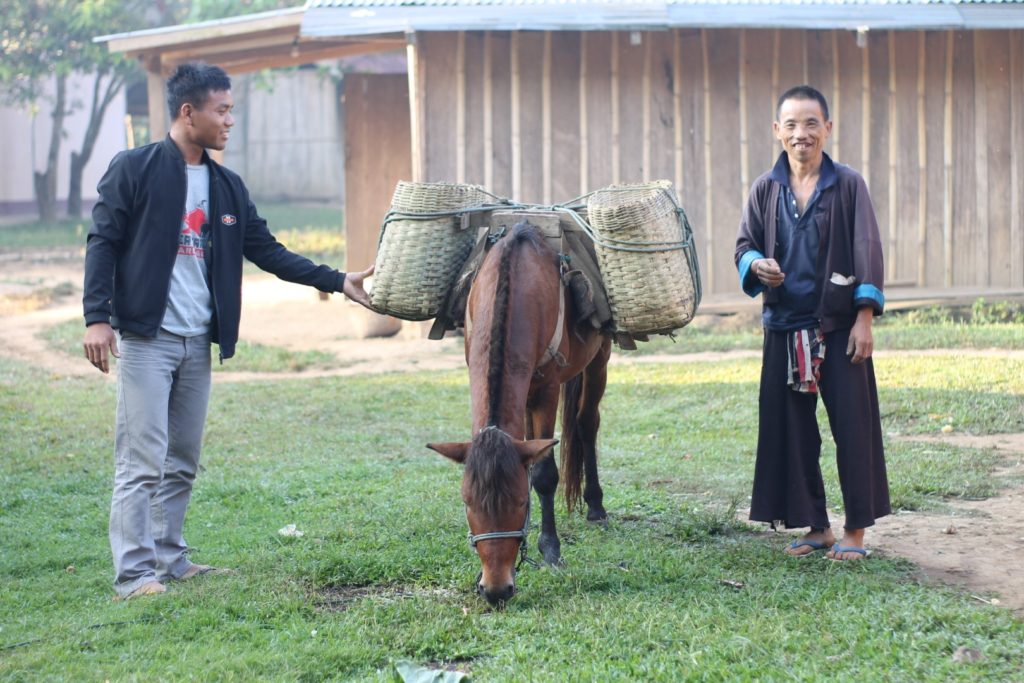 Day 2. After a great sleep, we rose and enjoyed a cooked breakfast (lots of scrummy eggs and coffee) and have a simple chat with the locals as they get ready for work. This man was super friendly and delighted to have his picture taken and as I promised, I later sent a copy to him with Tiger Trail Travel.
We begin our trekking saying goodbye to the village children and crossing shallow streams. We managed the streams in our shoes most of the time but at times we changed into our flip-flops to spare our shoes from getting wet as we would need shoes to walk up the steep hills that day.
We passed through a local Khmu village, welcomed by chillies out drying in the sun and an empty wooden school building as it was a day off today. Many homes had ornaments hanging above their doors to ward off bad spirits (a monkey skull and bees nest in this case).
It started to get steep this morning once we left the gentle stream and headed straight up hill. We passed a man out shooting for birds. We stopped now and then for a rest as it's a moderate climb to the top. Photos got fewer as much of the day was spent trekking.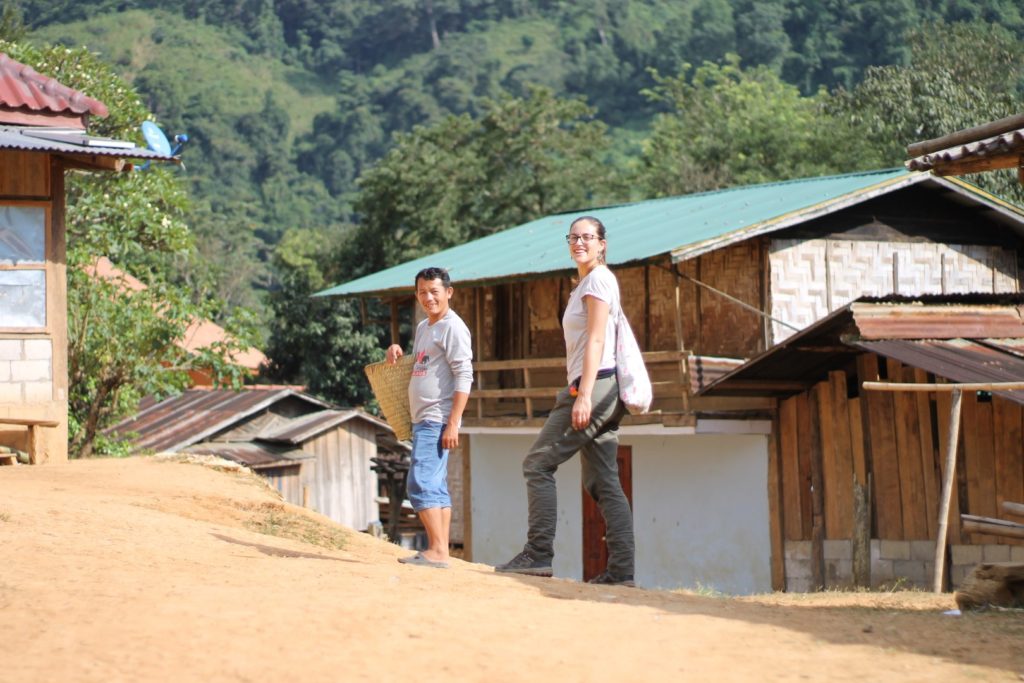 We arrive at Ban Galak Gong early afternoon, with only a few people we made good time. We meet our family hosts for the night. It's a small Khmu house and the husband and wife are welcoming and friendly. We had time to relax as the trek was steep but not so long. We changed into our flip flops and explored the Khmu village and met people. We had no electricity in villages so I went prepared with a charged mobile phone and camera which lasted the whole 3 days for photos. It was blissful being away from emails and messages and totally into this simple way of life – even if for only a few days.
Children were having great fun playing a spinning top game called "Tou Lou". They were laughing and very competent at it. They wrap a sting around the wooden top and throw it to spin. Others then try to knock their opponents top out of the way.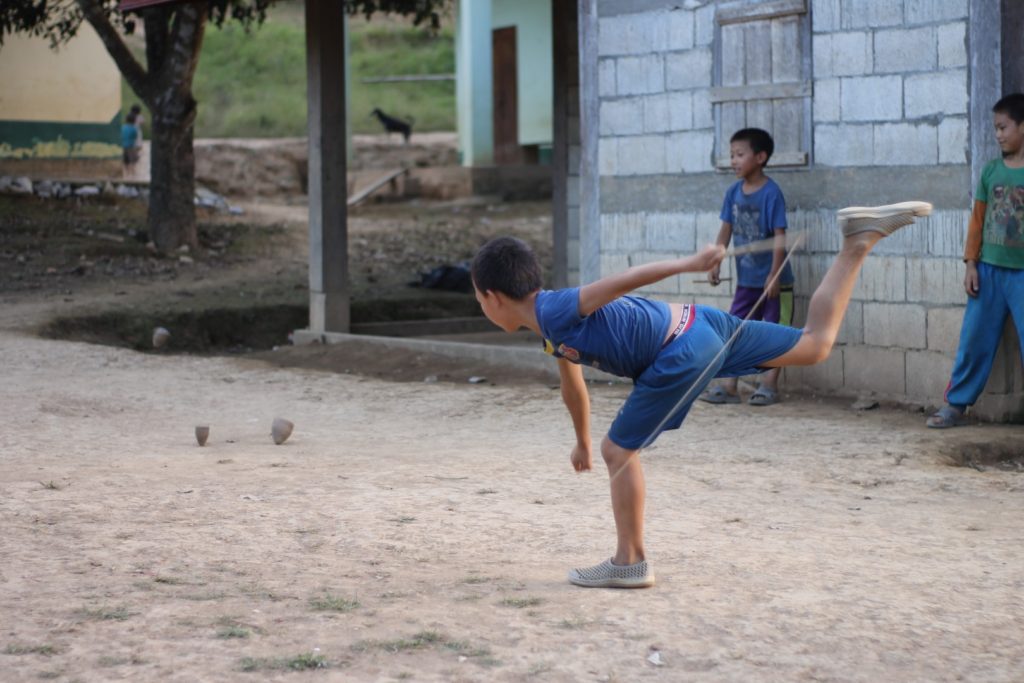 We made a short trek to the neighboring Hmong village. It is a large village and again we saw the spinning top game in full swing. It was exciting to watch and appeared like it needed a lot of skill.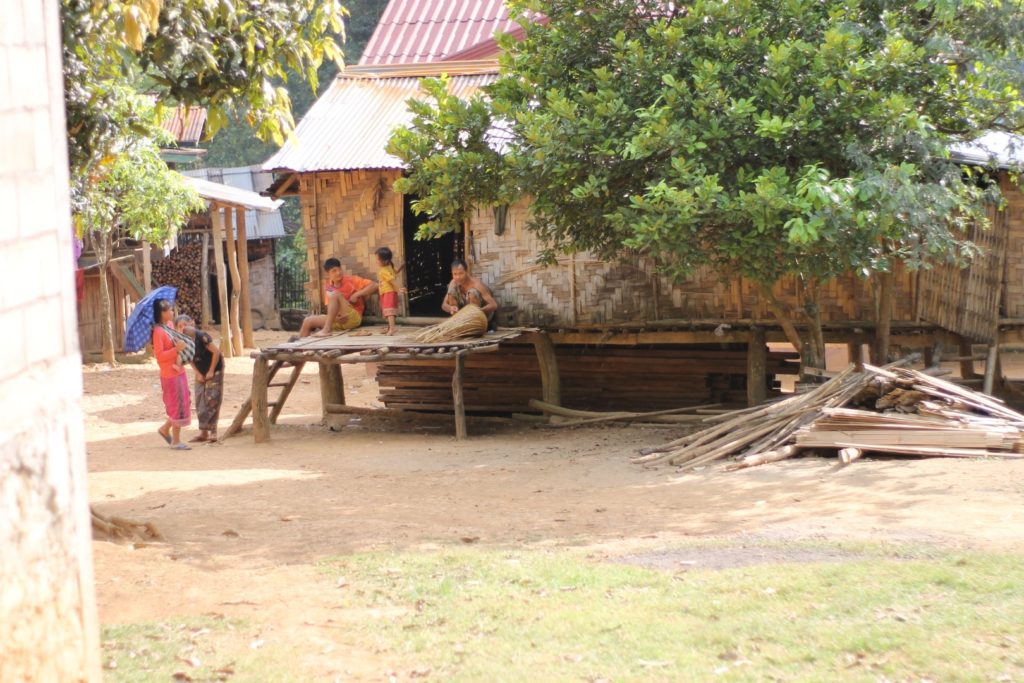 We saw more baskets being made in the village and observed a while. We couldn't resist and bought some. We began to prepare our dinner in the families kitchen and after our meal we sat around and made straps for our new purchases in the dark under the light of a headlamp. We then retired upstairs in a large open room with plenty of bedding and mosquito nets for guests.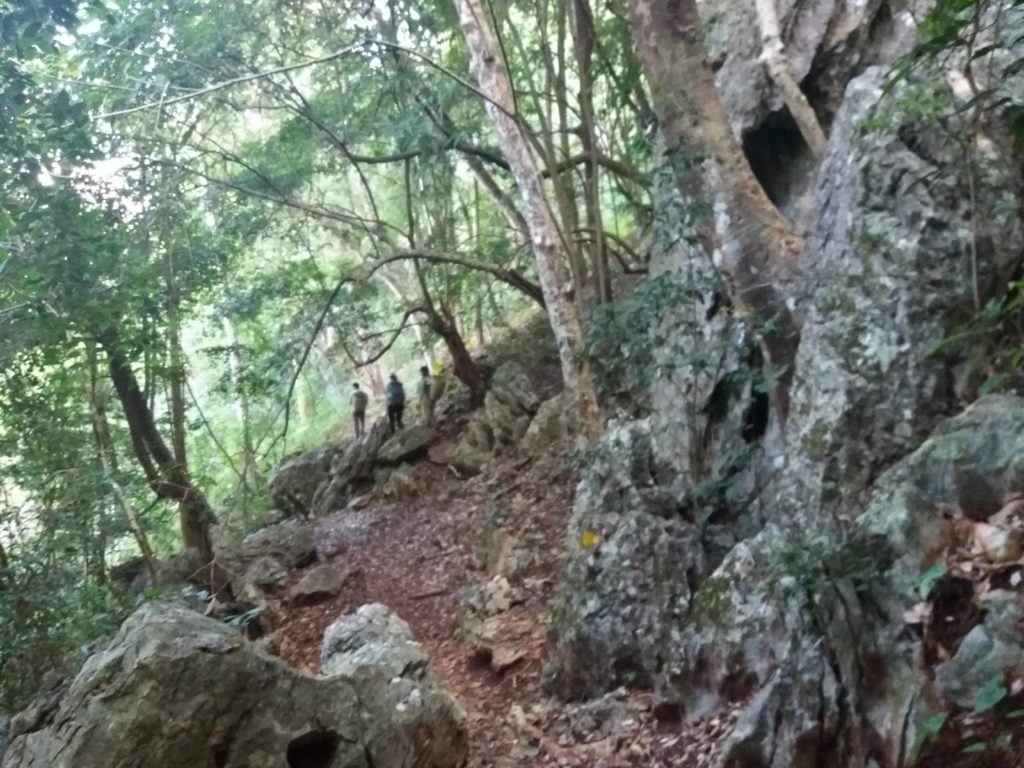 We left the village about 8am and began our final day of trekking, an estimated 6 hours. It was going to be a day trekking through lush Lao jungle some of which was full of large rocks and tall trees. We were heading to the mountain tops today.
We come across the Ta Prohm of Laos and a large gnarly tree which gave a good photo opportunity. The terrain was different with areas of expansive rock, vines and trees.
We arrive at Ban Phou Nor Van, an abandoned Hmong mountain top village. The villagers now use the village for livestock. We saw animals dotted around and got great panoramic views from the top. We could see where we had been staying and the villages we trekked through.
The final part of day 3 is walking about 6 hours to the mountain top and back down hill to the river, the last stretch on a dirt road. We could see the river and final destination down below. We stopped on the way for our lunch which was made in the village in the morning. A large helping of Phad Thai (or Phad Lao as they like to call it here).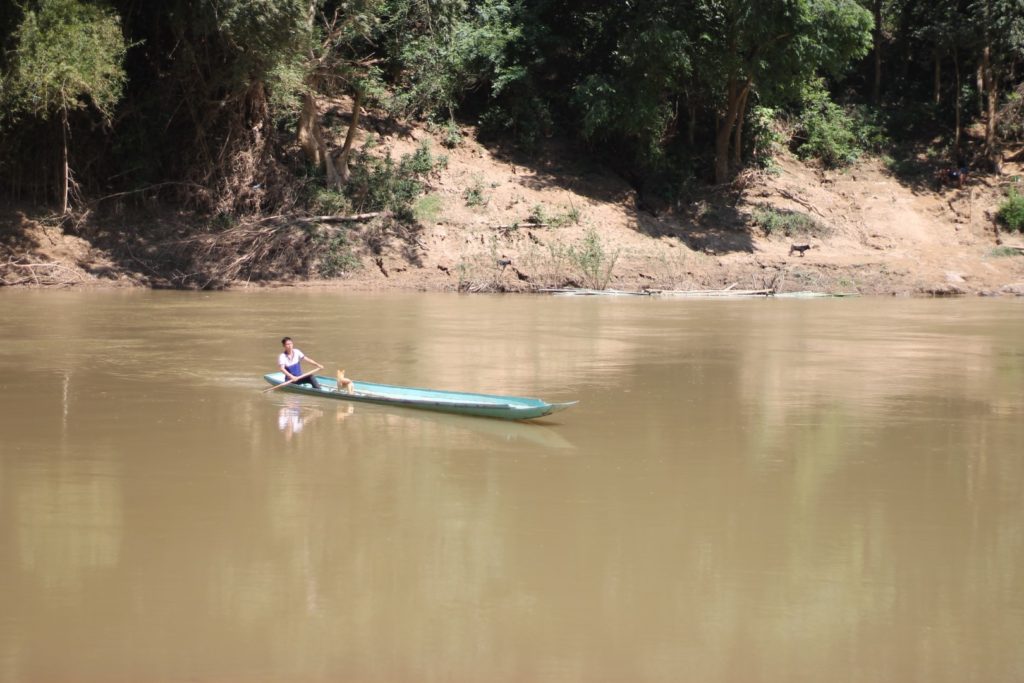 We make it to the bottom to the river and the boat driver arrived to take us to the other side. We walk through a village up to the road where a comfortable mini-van was awaiting us. It was a welcome sight and comfy 90 min ride back to Luang Prabang.
It was an incredible three days. The highlight being the spectacular ever-changing scenery, everything we learned from the friendly and helpful guide and being welcomed into people's homes that live deep in the mountains outside Luang Prabang.
David Allan – February 2019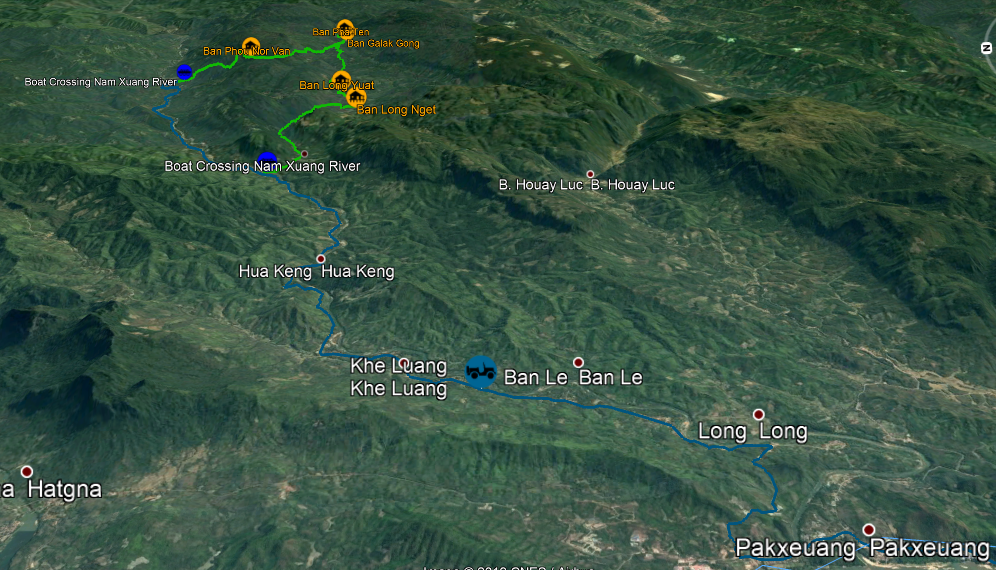 You can experience this "TPX-3" tour too with Tiger trail Travel.