I've just come back from a 60km biking tour outside Luang Prabang. I was a bit worried about the distance, not being the most experienced or fittest cyclist, however it was a really fun day and a moderate cycling level. The route is a wonderful mix or on and off-road and took us through local villages where everyone greeted us with smiles and Sabaidee.
From town we cycled out to Pak Ou and saw the bridge where the new train is being built towards Ban Pakxeuang. This is the main Road, the only way out-of-town, but there was not a lot of traffic. Still we rode single file as the roads are not wide.
After 25 km of cycling on sealed roads we hit the dirt road. We were out in the country-side now and had already passed people harvesting rice. It was a lovely October day. There was some cloud cover and leaving at 8.30 meant we avoided the heavy sun. This time of year is the time to visit northern Laos as it's getting a little cooler and the countryside looks stunning with the light green rice fields ready for harvesting.
The roads were mainly smooth, there was the odd rough and bumpy patch. We were now passing more and more people going about their tasks. Any children we passed shouted out Sabaidee (hello) or put out their hands for us to slap as we cycled by.
We passed through two villages and many people outside their houses or working in the fields along the way. Most villages are Khmu and Lao mixed. The cycling was not strenuous, there was no traffic except the odd motorbike and seeing the smiles on locals faces as we passed by was pleasant, some stopped their work and briefly chatted.
We arrived at Ban Pic Nyai and stopped for a water break. We were lucky we struck a cloudy day as it made the cycling easier. So far, no gripes from anyone, we were all enjoying our adventure.
We soon hit the Nam Khan river. We'd seen so much – the industry along the main road through to local houses and restaurants further out of Luang Prabang, lots of village life, families, workers and farm animals and now we were experiencing crossing the river with our bikes in a long-boat.
We weren't particularly hungry but it was lunch time so we stopped on the other side and enjoyed delicious pad thai supplied by Tiger Trail Travel. It was a lot but very welcome. The sun was out now and it was hot. Beerlao cooled with ice cubes has never tasted so great.
We headed back to Luang Prabang taking the longer route. There was a bit of a hill, that was a little hard going, but the bikes had very low gears and a moderate challenge is welcome. Most of the route was flat or downhill so that was fun and enjoyable with a breeze in the face. At this time of day there was little traffic too. This was a moderate tour, and a great way to see real life in the area with a slight biking challenge. It did not seem like 60km and I am very pleased I not only completed the ride, but saw previously unseen sides of Lao life.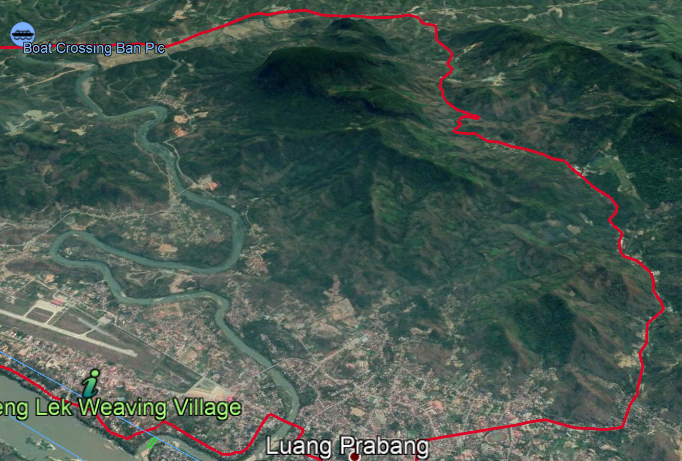 See this country-side mountain-bike explorer tour at Tiger Trail Travel.