The Living Land Farm 
 a community Business in Luang Prabang
An interview with the project and
business founder, Mr. Mark Schnebli
The Living Land Farm was created some 7 years ago by combining the rice fields of 9 farmers into a community project. Some of the owners were elderly and found it difficult to farm the land but still needed the rice to eat or the income from their land. 

We engaged some younger members of Phong Van village who did not own any land (this is a poor village and not many people have their own  land).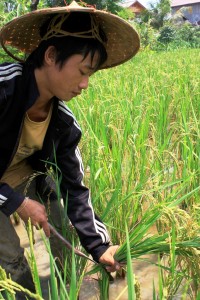 They were trained in the various techniques of farming and at the same time we sent some of them for further education and some to english classes in town. Some of them could not read or write, never had a paid job and their prospects were not good.
Today we employ young people on the organic vegetable farm and on the rice farm. We supply the major restaurants and hotels with our vegetables, salads and herbs. We are the only grower of organic produce in Luang Prabang.
Some of the older farmers work for the community as blacksmiths, weavers of baskets used for steaming rice and making hats from bamboo.
They are asssured an income and are proud to be useful members of the community and they play an important part in passing on knowledge and experience to the younger generation.
We now have a group of young workers who are rapidly becoming proficient in english and enjoy the contact with our guests from abroad. They work as helpers on the rice farm and assist with the Rice is Life presentations.
When you visit our Living Land Farm you will find an enthusiastic team of local people, young and old, who work together for the better of all. Your visit, for example with the famous Rice is Life Tour, also enables the Community to operate an emergency fund for medical fees which are often beyond the financial means of the locals.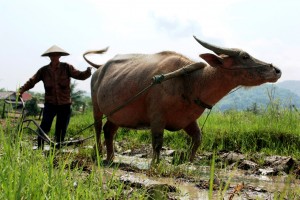 Our next project is to sink a well on our farm and then pump the water to a part of the village which has no water at all. In the West we take water for granted, here it is a luxury many people do not enjoy: they carry water in buckets from a dirty stream nearby.
Last year we organized the revival of the rice harvesting festival, the first time in 20 years that this has taken place in Phong Van. The whole village attended and the ceremonies were conducted by Monks and Novices from the 4 nearby temples. We are proud to have helped with this cultural event and hope to repeat it this year.
The Living Land Community project is building on its success but it would not be possible without the interest and participation of our foreign visitors.
So come and meet Susan our buffalo and get stuck into the 13 steps of rice cultivation!
Mark Schnebli
THE LIVING LAND COMPANY
A COMMUNITY ENTERPRISE