A charming visit at the Le Sen Boutique Hotel in Luang Prabang.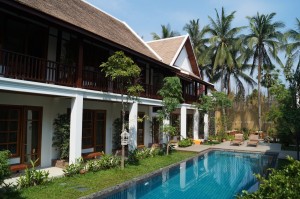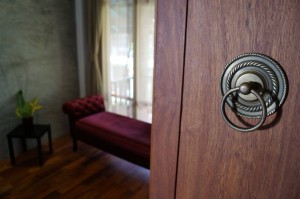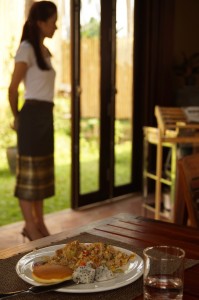 Le Sen Boutique Hotel is a very recent addition to the mid-range collection of charming boutique hotels in Luang Prabang.
Opened in December 2012, and located on Mano it's not too far from the town; 5 minutes on a bicycle which is provided at the hotel, or the scheduled shuttle service. All staff in the hotel are friendly, warm welcome, alert and helpful, and the surrounds are simple, beautifully presented and quiet.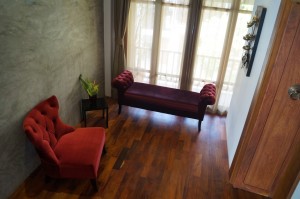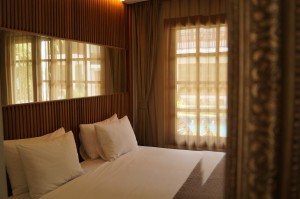 Le Sen Hotel
has 16 Deluxe rooms, 2 gorgeous Suites (both with a bedroom and lounge area, 2 bathrooms and terrace), and 1 Villa for those looking for extra privacy.  The two hotel buildings face each other with views of the swimming pool in between, begging to be enjoyed!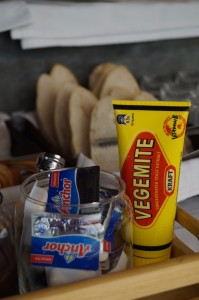 The Tiger Trail team experienced a great Le Sen style breakfast at the restaurant beside a small grassy garden and water feature to help you boost your appetite!
The Le Sen team sampled the large range of breakfast food options on offer, including both western and Lao food. The food was delicious, beautifully presented, and served by the friendly and smiley staff.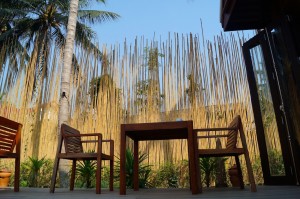 CUSTOMER FEEDBACK:
My husband and I stayed here for 5 nights. Before we arrived, we mentioned to the hotel we were on our honeymoon. They put flower petals on the bed in a heart shape, and in the bathroom too. Absolutely beautiful and so nice of them. A great start to our stay! The room was spotless and very modern and comfortable. The pool was a few steps from our door and very refreshing after after days spent wandering around the town. Breakfast was very good and, as an Aussie, I must admit I loved that they had Vegemite! The free bicycles came in handy to cycle around Luang Prabang – much more efficient than Ealing and easy, given the relatively quiet streets. Service was very friendly and warm. A blissful place to relax and unwind. Sourced from: Tripadvisor.com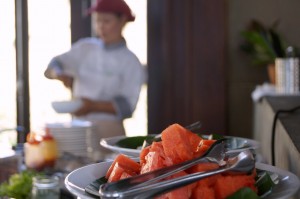 Le Sen's increasingly popular gym has been open for guests and members for just a month, and adds to this boutique hotel's appeal. It is air conditioned, comes with clean and nicely appointed change rooms and bathrooms. A great option even for a day of workout, before heading out to explore Luang Prabang world heritage town.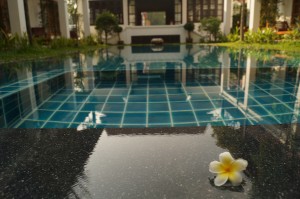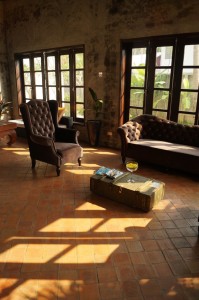 Le Sen Boutique hotel follows a contemporary Asian but charming aesthetic design. The conveniently located hotel offers comfortable accommodation and is decorated with soothing neutral tones, teak wood designs and exposed natural stone. Each room has its own private balcony overlooking the swimming pool and inner court. The swimming pool area is surrounded by lush green lawn in its courtyard garden setting.
Le Sen also offers a small private villa,
which has a private terrace and garden, a perfect hide away for couples or small families, this could be one of the most interesting places to stay around Luang Prabang. The villa and suites each feature a private jacuzzi.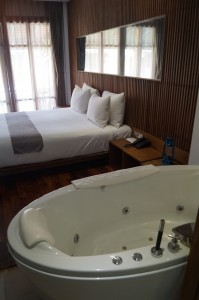 Le Sen has recently received a lot of praise and good customer reviews, one of them said this:  "They are generous in: the service, the smiles, the food, the amenities, the room, the restaurant. This is hospitality the way we forgot about many years ago in Europe. It's not about your money here, it's about your stay here."