Luang Prabang has long been a destination for elephant interaction and elephant riding. But since the world of tourism is re-thinking the way elephant tours should be conducted, also Luang Prabang has undergone changes in the various offerings for Elephant tours. We as a leading travel management company in Laos, see our responsibility on promoting those who are innovative, showing personal engagement and new ideas towards sustainability in tourism in Laos.
MandaLao is a quite new elephant sanctuary just about 30 minuted drive outside of Luang Prabang. We have conducted various visits and sent visitors to this camp/sanctuary and received a very good impression on the Elephant programs and interaction provides. With the professional help of project manager and elephant veteran Mr. Prasop Tipprasert (serving elephants since about 30 years) a new component has been added to the interaction programs with elephants. It's all about learning, and a true personal experience here. We believe Manda Lao has become good non-group-touristy tour alternative for Elephant lovers. In cooperation with our various Tours and Programs, we like to invite visitors to Luang Prabang to enjoy a longer and personal package tour that shall include a visit to Mandalao.
Here is an example of one of the tours that can be included into a larger package tour around Luang Prabang
Therapeutic Trek: Communicating with Elephants (6-person max)
Explore the mysterious beauty of the Lao jungle with 3 recently rescued elephants as your companions. This journey is a perfect way for these happy elephants to enjoy a walk in their natural habitat after decades of hard labor in logging camps. It also offers you a once-in-a-lifetime experience to learn from and absorb their calming energy.
MandaLao's guides and mahouts will teach you how to understand the ways in which elephants and humans communicate with one another. Once this connection is made it's almost impossible not see many of our own emotions in them—a life-changing experience with animals so seemingly different than us.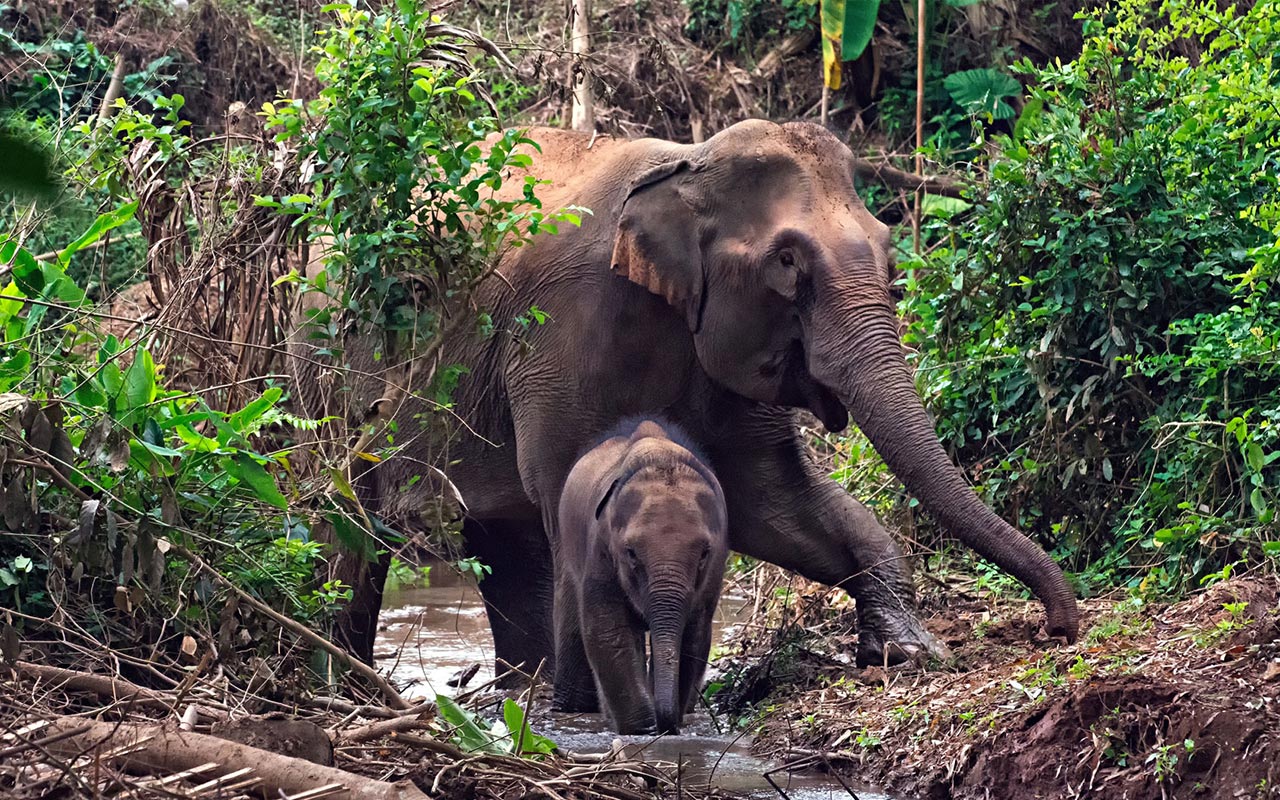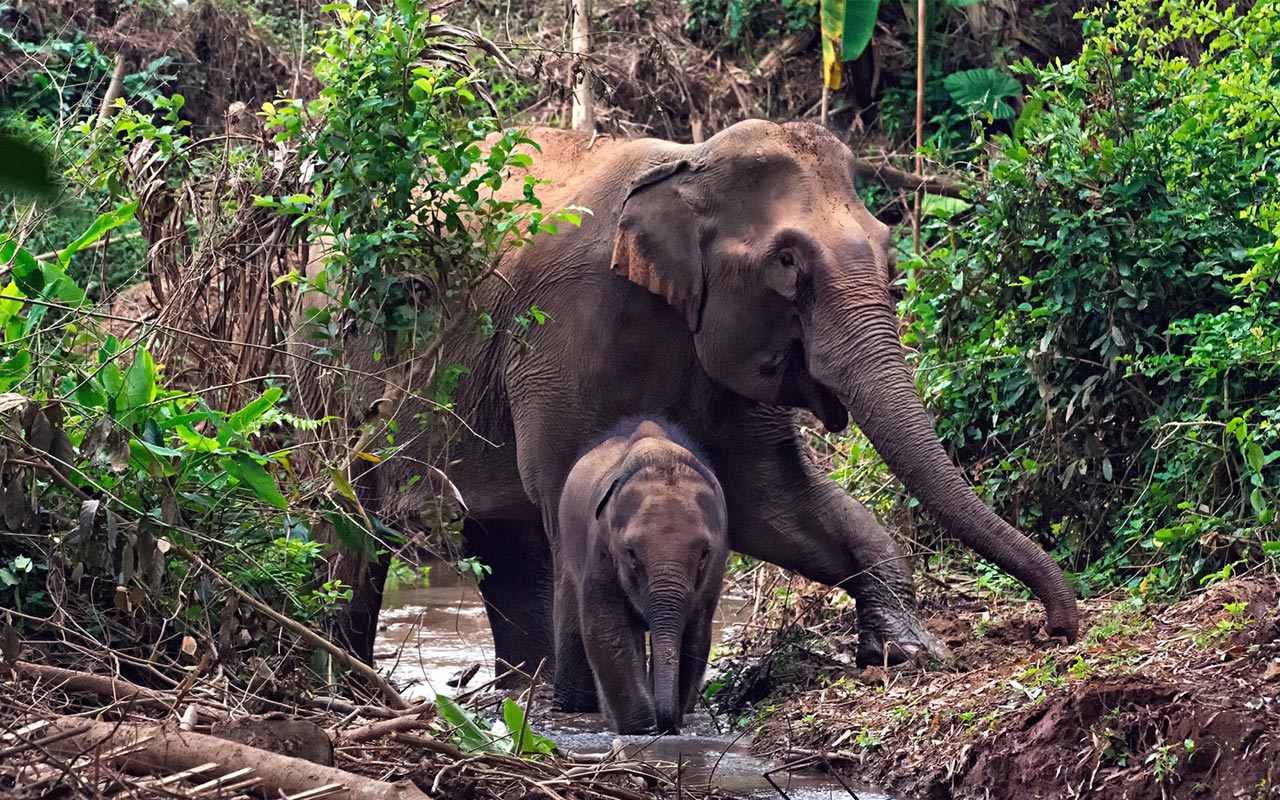 MANDALAO Elephant Itinerary
Start of this Elephant Interaction Program
After picking you up from town or your hotel we will leave Luang Prabang around 08:30 for the nearby village of Xieng Lom. Upon arrival you are invited to have coffee or tea as your guide for the day provides an in-depth introduction to elephant behavior and the ways we should interact with them.
First Meeting with the Elephants:
A quick boat ride across the Nam Khan River will deliver you to the waiting elephants. You will be introduced to your new friends and feed them some special treats—a sure way to begin an instant friendship.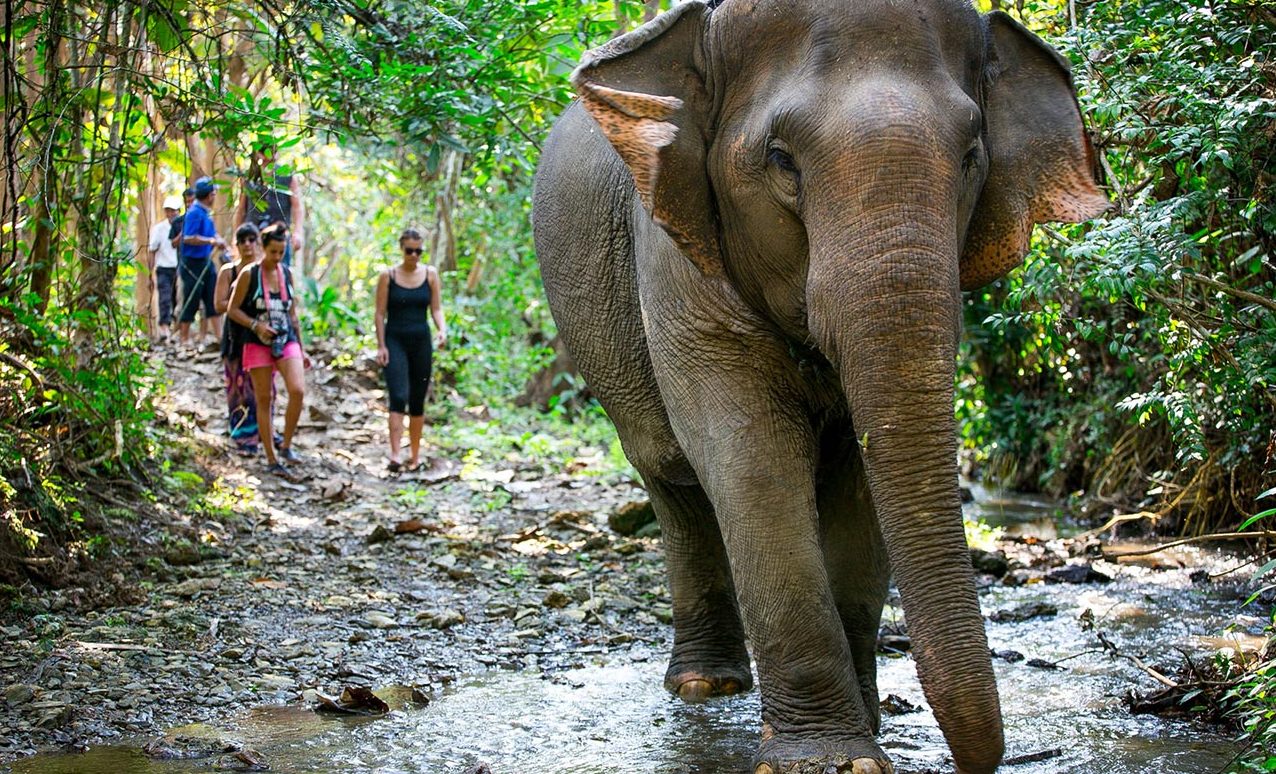 Elephant Bath Time:
Our bathing/spa experience involves using special materials found in the jungle that you can use to scrub down and rinse the elephants before beginning the trek. Guest are urged to join and help the elephants in the process and delight in their pure enjoyment of being in the river.
The Elephant Trek:
After crossing through a beautiful stretch of traditional Lao gardens you will arrive at the jungle-covered Huay Nok stream. As you walk alongside the elephants and crisscross through the cool water you will experience a profound sense of understanding, respect, and caring for these amazing animals. As you prepare to start your walk back to MandaLao, you will bid farewell to your new friends with more treats and goodbye hugs.
Lunch with a view:
When you get back to MandaLao, you will head to the restaurant and enjoy a delicious fresh Lao meal made from our own organically grown produce. There you can relax, kick-back, and process the day's experiences on the veranda overlooking the river and misty mountains.
End of the Elephant Interaction day:
Following lunch you will take the short ride back into Luang Prabang and have one more chance to ask your guides any lingering questions. You will arrive back by approximately 13:30.