The Story of Noy – an orphan baby Elephant in Laos.
The Elephant Conservation Center is located in Sayaboury, in Northwestern Laos. This area is home for most of the domesticated elephants in the country. It has been chosen to establish the first elephant hospital in Laos, as well as an Eco touristic camp.
5h30 am, a strong trumpeting noise rises in the jungle of the Elephant Conservation Center, it is Noy, the orphaned baby elephant rescued a few months ago. No rooster in here, the guests, staff and veterinary team wake up with the sound of the small elephant, feeding time!
While Emma, the vet on duty prepares the baby breakfast, the sun rises on Nam Thien Lake, enlightening the surrounding mountains and forest. The jungle noises intensify: birds, secalas, other insects start their daily activities. The bottle is ready, the small elephant receives 4 L of soy milk, steamed rice and fruits chunks.
Noy arrived in ECC at the end of May, he is an orphaned elephant, spotted by villagers in a farm, close from Nam Pouy's protected area. Elephants have been poached and Noy has been left alone.
Feedings are all day long, 9 am, 1, 4, 7 and 10 pm. The vet team's work is organized according to the young elephant appetite. He will receive more than 22 L milk and 2 kg steamed rice for one day.
Laos, once country of the million elephants hosts today less than 500 domesticated elephants, and even less wild elephants. Poaching, for ivory and traditional medicine trades, accelerates the programmed Asian elephant extinction. This orphan's rescue has a strong meaning for a country in which the elephant has long been a symbol.
Anabel and Laura, two motivated volunteers help the vets in the daily care of Noy.
The schedule is intense: feedings, enclosure cleansing, gathering herbs and plants, bringing him for walks and baths, designing toys and enrichments.
The paradisiac area of the center offers Noy lots of things to discover. Jungle paths to walk and get familiarize with the vegetation, mud to roll in and protect the skin against sunburns and insects, the lake to drink and bath.
Kan, the hospital assistant comes back from the garden, carrying a huge banana tree on his back. Every day, he cuts sugar canes, buffalo grasses and banana trees for Noy. The baby elephant doesn't eat that much greens yet, but offering him a large choice of plants will develop his taste.
Everyone works hard to give this baby elephant all the attention and care he needs to grow up. However, he is still vulnerable. In the wild, elephants stay with their mother around ten years, they can drink milk until they are five years old. They bound to a family group for years, as they are social animals. It is necessary to offer Noy a family. Bounding to one single person would make difficult every separation. In here, five people take daily care of the baby, and tourists can visit him. He is a social and loved baby elephant.
Mae BounNam, our youngest female has a very similar history, she once lost a calf. One day, she came to eat crops too close from a village and was shot, the bullet killed her fetus, and she joined the center to be treated. She is now involved in the center's breeding program. She is in contact with a male, one hour a day in a protected area, to enable mating.
When Noy arrived in ECC, it was obvious that Mae BounNam was the best candidate to become a foster mum. At first, she was quite afraid of Noy, but with time and food as a reward they learned to know each other. She started to be very protective and to interact a lot with him. Noy, who was not interested in the first place, then got closer from Boun Nam teats. No milk of course, but a nice relationship was born.
Since then, every afternoon, visitors can observe their interactions. They can see a lot of tenderness and complicity. Should Boun Nam goes a bit far to eat particularly delicious plants, she would always come back at Noy's first call. This relationship is great for the baby, who learns to communicate with his pairs.
5 pm, Hanna, the volunteer vet takes Noy to the lake for his bath. He lays down in the water, dives, get out covered in weeds, dives again, turns upside down, he seems to be smiling.
In Lao, Noy means « small »; it is the generic name for every baby elephant before the age of three. At three years old, elephants are trained by their future mahout, to respond different cues, in order to work with humans. A shaman organizes this important journey, where the elephant leaves the forest world for the human world. At the end of the training, the young elephant is offered three sugar canes, on which are written names. The name on the first sugarcane he picks up will be his.
We don't know yet which name will be chosen by Noy. He still has several years to wait before being trained. Several years among people, to love them with all his enthusiasm and generosity. People destroyed his family; people offered him a second chance.
10 pm, night fell hours ago in the ECC, and the jungle noises are still loud. A cry in the night, last feeding and Noy will fall asleep under his shelter for a good rest. The team goes to bed as well, days are long in here, and start early.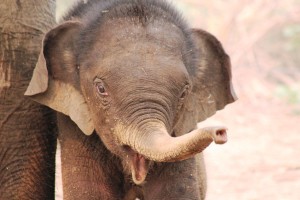 Help us make sure Noy has a happier future than his early life. 80% of your donation will go to the elephant hospital at the Elephant Conservation Centre to support the provision of care & food to Noy. The remaining 20% will be allocated to ElefantAsia conservation programs.
Noy's case is not unique. Destruction of the forests, human elephant conflicts and poaching cause every year the death of many wild elephants. Lots of babies lose their families. In Sri Lanka, Indonesia, Thailand, India, Cambodia and several African countries, elephant orphanages try to help them to become strong and healthy. However, some of them cannot be rescued and some of them are not strong enough to fight for life. The elephant has always been a special animal. He is impressive by his size, intelligence, patience and slowness. Slow to mate, slow to grow up, he is often left behind in this fast moving world. It is our responsibility to leave him time, before it is too late.
By Emmanuelle Chave,
Head Veterinarian, Elephant Conservation Center
Caring and feeding Noy costs the Elephant Hospital 500€ per month. This includes producing 22 liters of milk formula every day (soy milk + vitamins & minerals supplements, rice), maintaining the enclosure and shelter, buying toys and employing 2 full-time volunteers to care and feed him. A 130€ donation will cover these costs for one week.
YOU CAN HELP NOY BY DONATING VIA PAYPAL ON THIS SITE