After a few days in central Luang Prabang, only getting a glimpse of the beautiful nature surrounding it, you really want to get out there and experience it first hand!
As a new intern with Tiger Trail Fair Trek, for four days I had already heard much of the beautiful Kuang Si waterfall, about 30 km from town. Curious of the place, two friends and me decided to rent mopeds one Friday afternoon.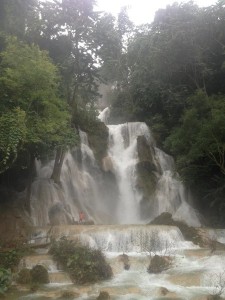 On Saturday morning we put on our helmets and started driving. The mopeds were easy to drive and driving there yourself is the way to go in my opinion. We could stop wherever we wanted on the way to enjoy the sights, visit a temple or just have a glass of juice by the Mekong River.
After driving for about two hours, we finally reached the Kuang Si waterfall. It's good to bring some small money in your wallet, for the 3000 LAK parking fee. As we entered the waterfall I was fascinated! We passed a bridge and climbed up the hill for awhile, which was pretty tough, but ten times as rewarding. At the top we could wade in the pools and go all the way to the fenced edge of the fall. The view was simply amazing. Going down on the other side we encountered what has to be the most beautiful stairs I've ever seen. The stairs were in a smaller stream off the side of the waterfall, constantly covered in water.
Down below the waterfall again we stopped for an amazingly refreshing swim in the pools. If you're tired from the walking, you can just wade into the water, but if you're a bit more adventurous you may climb a tree and jump from a few meters into the pool. If you're lucky you may encounter some bears in the rescued bear shelter on your way out, unfortunately we weren't so lucky.  It was a full afternoon spent at the waterfall and will definitely be some of my best memories of Luang Prabang.  I hope to make it back there before the end of my internship!