An Intern's Unforeseen Adventure in Laos….
It all started off as a typical day here in Laos, Luang Prabang….
A colleague, and me (a Tiger Trail intern) drove to Nongkhuay to deliver some clay bricks for our ECO Bungalow being built there. After picking up the bricks, we drove about 40 minutes away from Luang Prabang into Xieng Ngeun District, to get to a smaller road, leading to Ban Nongkhuay.  Ban Nongkuay is a quaint little village that sits atop a small mountain.  Beautiful views and clean fresh air greeted us at the top!
This road isn't paved and has a few steep falls on the sides of it, so it took us about 20 more minutes before we got to the ECO Bungalow, just outside of the village.
Here we unloaded the bricks to the workers laying the ground structure of the bungalow.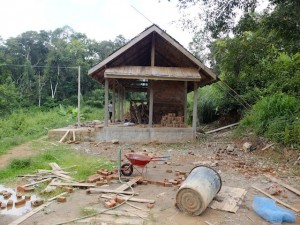 After a short inspection of the progress and work in the bungalow we went into the village, where some locals and the children who just finished school greeted us. We had brought two footballs for the children, so they were very happy. However, after a quick walk around the village, the sky roared out thunderously and soon after, the rain started pouring. Within a few minutes, the unpaved road was quickly getting full of small puddles.  It was then the village chief announced that we would not be able to traverse the road that evening.  Leaving the village by car would be impossible.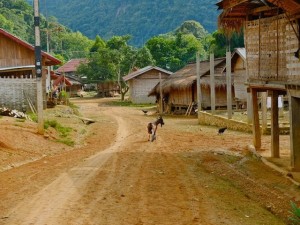 We waited out the rain in the village chief's hut, but it would be hours before the road was safe again.  So to kill time, we took a longer walk around the beautiful village, playing with some of the kids, enjoying the view and exploring some of the surroundings.
Some hours later we went back to the hospitable village chief who welcomed us to join his family for dinner. The food was simple, yet very tasty. After dinner we sat on his terrace, just talking and listening to the sounds of the jungle. When we'd had enough of the mosquitoes we went inside the hut and watched Lao snake fighters on the telly before going to sleep.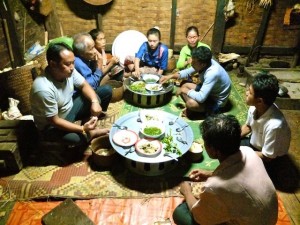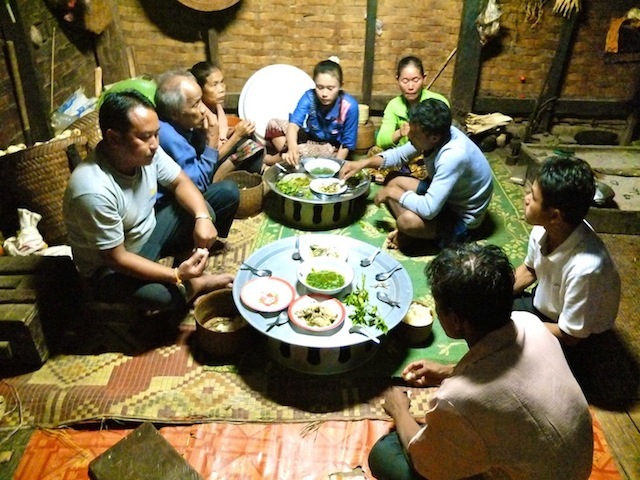 Fortunately it didn't rain during the night, and after a wonderful breakfast of sticky rice and bamboo shoots, we drove back along the devious mud road to Luang Prabang.
Even though I at first was a bit frustrated we got stuck there, I'm really happy it started raining. The experience was different and to spend a day among the villagers was just amazing!
Come and visit Laos and experience your own adventure