Source: Vientiane Times
Boun Hor Khaopadapdin is an annual festival during which the people of Laos "feed" spirits with home-made parcels of food, reflecting their love, respect and gratitude for their deceased ancestors and guardians.
The festival is celebrated on the 15th day of the ninth month in the Lao lunar calendar. It is a day of the waning moon, which is believed to be the time when the spirits are released and are free to roam at will. It is also recognised as the right time to feed them.
People believe that the controllers of hell release the spirits on this day and this happens only once a year.
When they are released, the spirits travel to Earth and search for the offerings of food that their relatives have prepared and left for them.
The spirits can come out only on this occasion and it's important that they are satisfied by being given food.
Mr Xaiphone, 50, a resident of Chanthabouly district in Vientiane, said feeding the spirits is a long-held tradition.
"Now, we call it a festival and I take part in the rituals every year. This year, my family has prepared a number of food parcels to give to our deceased relatives and guardians, as well as to spirits that don't have any relatives to take care of them."
Lao people nationwide greatly enjoy this tradition and celebrate the Hor Khaopadapdin festival by making merit throughout the day.
Devotees woke up before dawn this morning and placed their food offerings outside their homes, on roadsides, at corners around their house or village, at the base of stupas, and along the walls of temples.
After doing this, they lit candles and incense sticks, and silently invited the spirits to eat the food in the darkness, because it is believed that they are allowed to wander freely only before sunrise.
People also believe that spirits who don't find any food will be disappointed and hungry, and will have to wait for food given to them by other spirits. In the worst case, they might get nothing and become sad or angry.
Many people stay awake late into the night to make sure they are able to feed the spirits before sunrise.
Most people wake up at 3 am or even earlier, because they believe that deceased relatives who have not returned to Earth to be born again are detained in a "spirit hell" and suffering. They also believe that some are wandering the Earth and are very hungry because they haven't eaten for a long time, and that they need help from relatives, friends or someone else.
Some people like to feed spirits that have no families or friends, or those whose relatives didn't transfer merit to them, or to other hungry evil spirits. They also bestow wishes on the spirits in the hope that they can free themselves of their suffering.
Boun Hor Khaopadapdin is an important religious occasion and Buddhists enjoy observing and preserving the tradition of making offerings to monks and other people. Boun means a festival or merit, hor means food parcels, and khaopadipdin means placing them on the ground.
A few days before the festival, families assemble the materials they need to make the food parcels and other offerings that will be presented to monks to earn merit for their deceased relatives.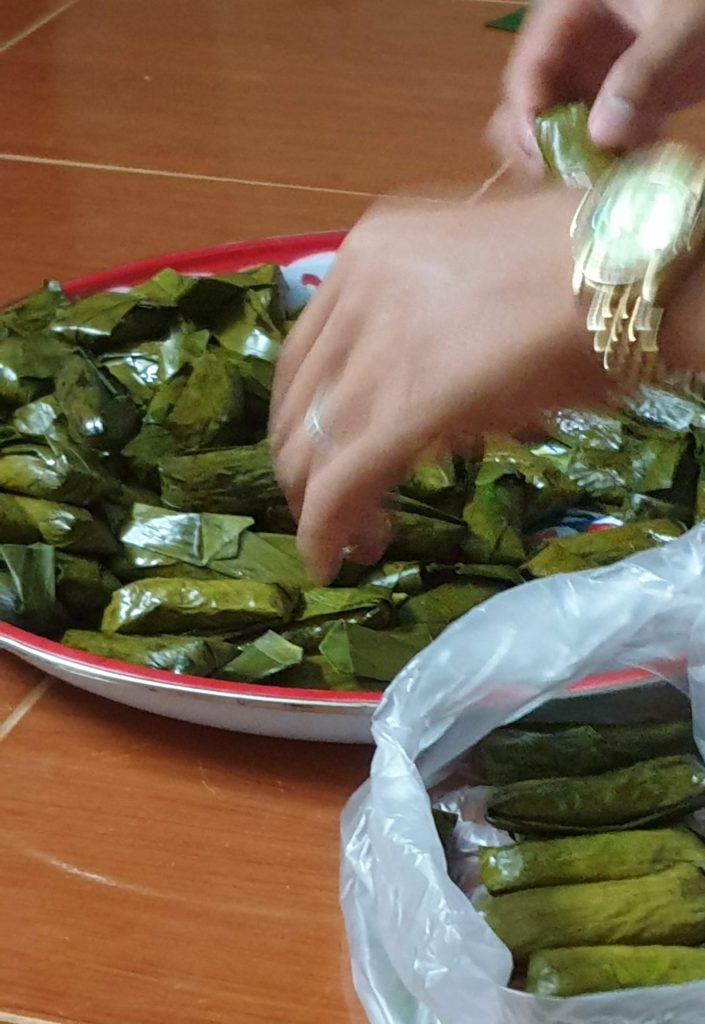 Rice, food and fruit are placed inside banana leaves or plastic, and some people also add flowers, money, cigarettes, juice, candles or incense to the offering.
Some people make food parcels for sale so they can earn some extra money during the festival.
The Venerable Bounma Homesomebath from Nongda village temple in Sitkhottabong district said "Boun Hor Khaopadapdin is one of the 12 main festivals that have been observed throughout the country for centuries."
"As with other festivals, Hor Khaopadapdin is a time when people engage in various rituals, make merit and do good deeds. On the day itself, people participate in religious activities, such as giving alms in the morning, making offerings during the day, listening to Dhamma teachings, and attending candlelight processions in the evening."
Fifteen days after this festival, Boun Hor Khaosalark will be observed. The festival occurs on the full moon day of the ninth lunar month, when baskets of offerings will be presented to monks.
Coinciding with Hor Khaopadapdin, the annual boat racing festival takes place in Luang Prabang. This marks the official start of boat races around the country, which continue until the end of Buddhist Lent.
The Luang Prabang boat races symbolise the town's important as the former royal capital of Laos. They take place at this time of the year after the rice crop has been planted and people have time to train for the races. In the past the boats were fast and could protect the city against enemy invasion. Today, the people of Luang Prabang perpetuate the tradition and crews can be seen training hard on the river.