No Beers for Bears…

A story about an amazing bear brain surgery at the Luang Prabang bear rescue center.
Free the Bears is a not-for-profit fund, founded by Mary Hutton of Perth, Australia. It was formed after Hutton learned of the disturbing conditions that illegally captured Asiatic Black bears endure when the bile from their gall bladders is used for traditional medicines or when they are trained to entertain tourists. Hutton's not-for-profit fund has helped rescue more than 816 bears since 1995.
The donations that go to Free the Bears have helped create a variety of initiatives in South East Asia that maintain rescue projects and build sanctuaries for those bears that are rescued from illegal captivity. One of those projects is the Tat Kuang Si Bear Rescue Centre located 30 km from the UNESCO World Heritage city of Luang Prabang.  Here visitors can learn about the threats to the endangered Asiatic Black Bears (Moon Bears) of Laos.  The center currently takes care of 25 Moon bears.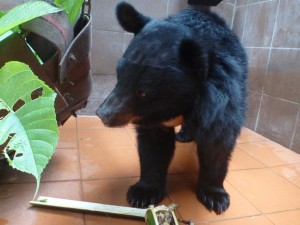 This past April Free the Bears (Laos) made history by facilitating the first ever brain surgery of one of their rescued bears – Champa – who was diagnosed with hydrocephalis also known as "fluid on the brain".  
Together with the Luang Prabang staff, a veterinarian from the Edinburgh Zoo in Scotland performed a 6-hour surgery to correct Champa's condition. The surgery involved the placement of a thin tube into the brain.  From there the tube was maneuvered under the skin to the abdomen where the fluid from the brain would drain and be reabsorbed.
Sometimes help comes from the most unusual places and this surgery is one of those funny examples. Part of the surgery required the veterinarian to inflate Champa's abdominal cavity but unfortunately Free the Bears was having a hard time finding a compressed gas cylinder to accomplish this task.  Luckily one of their staff realized that one of his favorite local watering holes – Hive Bar and Smokehouse in Luang Prabang – had a draft beer system that utilized compressed C02 cylinders.
The owner of

Hive Bar and Smokehouse

, Troy Matusow, didn't think his customers would mind not having draft beer for a few days and generously donated the CO2 cylinder for Champa's operation
.
We are very happy to say that Champa has fully recovered and is doing great following his surgery.  As well, the draft beer is flowing once again at Hive.
When you visit Luang Prabang be sure to explore the Tat Kuang Si Bear Rescue Centre and see Champa the miracle beer.   On your way back to your hotel or guesthouse why not stop in at Hive Bar and Smokehouse for a cold draft beer.
 Support the bears: Free The Bears Laos Website
Go to Hive:  HIVE BAR & SMOKEHOUSE  
Hive Bar Facebook:  FACEBOOK HIVE BAR you may just LIKE  IT
Book awesome tours: Visit The Bears on a Day Trek, 1 day Kuang Si Hike