Laos Elephant Conservation Centre
in Sayaboury
– Video release "Way of the Mahout" –

We are happy to share with you this wonderful video about Lao elephants in Sayaboury. A short film showing the Elephant Conservation Centre in Sayaboury in Northern Laos in full HD quality. Laos used to be famous for large amounts of elephants roaming the country but at present the numbers are declining at an alarming rate. The Lao based Elephant Conservation Centre is working on creating more awareness about the plight of this majestic giant, the Asian Elephant. Share the story, share the mission to safe elephants in Laos.

An Elephant Hospital in Laos
The Elephant Conservation Center hosts Laos' first hospital dedicated to elephant victims of logging accidents and affected by diseases. Staffed with an international team of elephant veterinarians, our hospital offers veterinary care services, an emergency unit, laboratory and facilities to control animals prior to surgery.
Working in the logging industry is a dangerous occupation for elephants in Laos, connected with a great amount of suffering from serious injuries and disease. Administrating effective treatment cannot usually be conducted in the field. Previously there were no safe option for elephants with heavy wounds and severe infections to receive proper attention.
Now, with the Elephant Hospital from the Elephant Conservation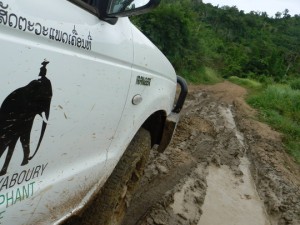 Centre fully operational, it is possible to transport sick or injured elephants to the Center where they will receive the best medical care currently available in Laos. With ElefantAsia teams are operating in Laos since 2005 to help the Lao elephants. A nationwide elephant and mahout database was created and together with two mobile veterinary clinics built into 4wheel jeeps, the Elephant Center staff can contact, diagnose, transport and treat elephants in an unprecedented way. (we will inform you about the mobile clinic in a special feature post, stay tuned;-)
Every visitor to Laos should encouraged to visit the Elephant Conservation Center, simply to show the interest in these slowly disappearing species on the planet.
Your visit at the Elephant Center contributes to the funding of our missions and treatment administered at our hospital. Not only for the elephants you can see here, residing at the Center, but for ALL elephants across Laos.
If you wish to visit the Elephant Conservation center on a 3 to 6 interaction program, please contact us for further information and travel tips.
We are especially thankful for the work and
engagement that Mr. Adri Berger has given to the
center and to the great amount of  video productions
about Laos. His channel can be visited here / click link.