The first place I went to in Luang Prabang, Laos was Utopia, a restaurant and bar just 50 meters from my guest house, which truly is as they say "zen by day and groovy by night". You walk down an alley and if it's your first time walking there you probably will tell yourself "are we going the right way?". With a view over the river Nam Khan you can just chill on the bamboo balcony with a good book and a BeerLao during the days, and in the nights the place is often packed with tourists, backpackers and ex pats (ex patriots). At Utopia, you will listen to great music and meet people from all around the world in an atmosphere made for interesting connections.
The food at Utopia is really good, they have homemade French fries and tasty baguettes. My favorite food is the Luang Panang curry, but the stir fried chicken with vegetables is also really delicious. Except the food, they have a wide range of refreshing fruit shakes, drinks, red and white wine. And oh, if you traveled a long time in Asia wine is often scarce or really expensive, but here in Luang Prabang you can order really good wines. You can buy red, white, rose wine and even champagne for reasonable prices, a remnant from the French colony times, which a wine enthusiast like me really enjoy!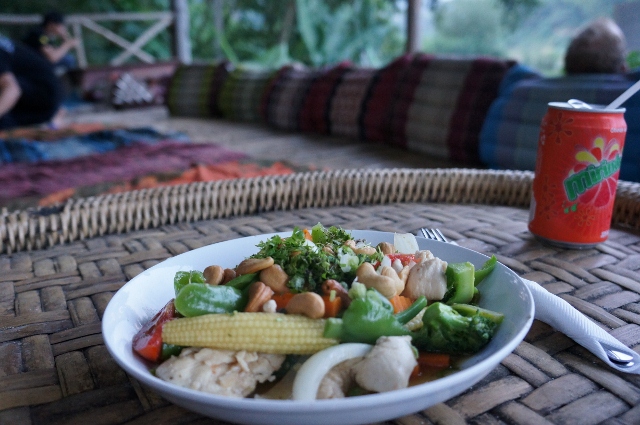 If you feel like doing some exercise Utopia is the place to be, during morning and evenings there is yoga classes and for those who like more active sports, there is a volleyball court. Almost every day at around 4 p.m. the locals play volleyball as workout and everyone who wants can join!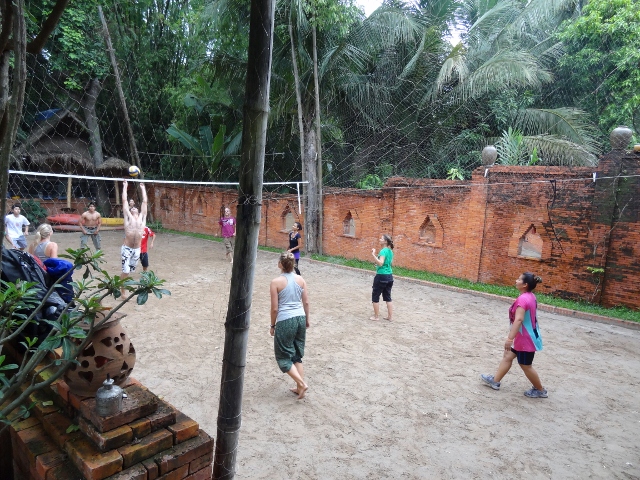 If you feel like taking it slow, Utopia has a lot of different board games that you can borrow and play with either your friends or the staff, which by the way is really friendly, often asks you questions and wants to practice their English on you, which I think is really nice!
If you ever pass Luang Prabang in Laos you should definitely visit this place, a true pearl of South East Asia!
That's all for me/ Hanna