I went on a one day "Fair Trek" Hiking and Kayaking tour with Tiger Trail in Luang Prabang.
Trekking in Laos really is a great opportunity to explore the country in depth. We were dropped off by the tuk tuk near the location of the Elephant Village and first we took a short boat ride, crossing the Nam Khan river, about 20 km from Luang Prabang. I was finally able to walk up those beautiful mountains that I first saw a few weeks ago!
I was amazed at how green and lush it is, the vegetation is so thick so in certain places you can only see a few meters in, it is truly a real jungle out there.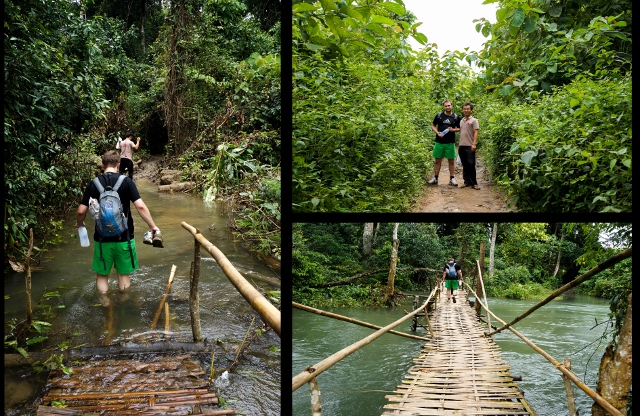 The trek around Luang Prabang started wet and muddy since the water is so high this time of year, really good exercise! You could tell that our guide Mek was more used to these conditions knowing where to put your feet so that you don't get stuck in the mud, while I was trying my hardest to follow his footsteps. At some places the water was so high so we had to take off our shoes and wade through the streams which gave us a cool and refreshing break.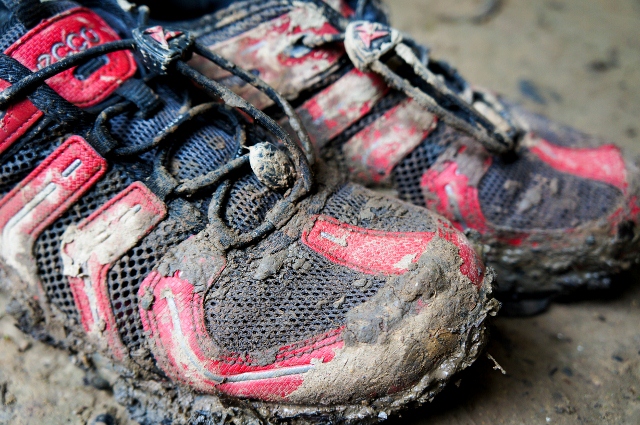 We walked up the hills, through green rice paddies and rice fields with a background of beautiful lime-stone karst mountains. The view and the walk, both took our breath away. Our guide was fantastic, telling us about the surroundings on the way, about medicinal herbs and plants and animals that live in the area. Once in awhile we met some of the locals on the trail, and we greeted each other and they often laughed at our muddy clothes, wonderful!
After a few hours of trekking through the Lao countryside
we arrived to a Khamu village, and our guide told us the history of the village and its people. We walked around a bit saying hi to the locals and then we took a break before we continued our walk to Tad Sae Waterfalls. We walked along the waterfall and once we arrived we ate some lunch and took a dip into the cool water. From there we took a boat back to Elephant Village and it was time for our Kayak tour!
First, we strapped on our life-jackets and helmets then Mek taught us how we control the kayak and then we took off! Nam Khan during this time of year is really high and the water is fast, Mek explained that during dry season it takes four hours to get from our location to the end point, now it would take only two hours! That is fast! However, most of the kayaking was calm, peaceful and relaxing but a few times we had to go through some rapids which was a bit scary but a lot of fun too! We didn't end up in the water, even though that can happen and Mek prepared us for that. Maybe this will be a new hobby once I'm back in Sweden!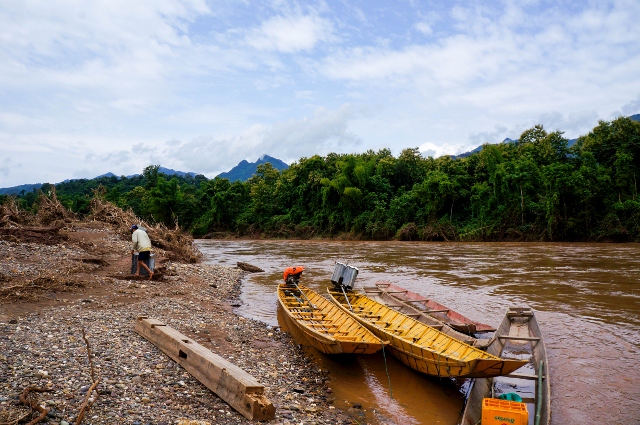 If you feel like doing a bit more then walking only the streets of Luang Prabang, your should go out to join a trekking and kayaking tour in Luang Prabang. You can find more information and current rates on the one day Trek and Kayak tour here!
Luang Prabang Travel Tip:
Ask the local Tiger Trail office for JOIN IN TOURS which makes a Trekking or Kayaking tour cheaper and more fun while joining other like-minded travalers in Laos.