LAO FOOD : Top 10 Lao Dishes You Must Try!
In Laos, food is the most important activity throughout the day. In the local language, it is quite common for people to greet each other by immediately asking, "Have you eaten food?" ("Kin khao laeo bor?"). Food is often the topic of many conversations, especially when eating and sharing dishes between friends and family. Additionally, Lao people take great passion in sharing traditional dishes with curious travelers.
Lao people were originally migrants from Southern China, composing of many different ethnic groups with distinct languages and cultures. As they moved further South, they brought their traditions along with them. Due to historical Lao migration from the Lao PDR into Thailand and neighboring countries, Lao cuisine has a much broader recognition in the world. According to Arne Kislenko, there are more ethnic Lao living in Northern Thailand than Lao itself, leading to certain Lao dishes being found far beyond the borders of the Lao PDR. In fact, much of the food in Thailand that is called "Isan" is traditionally Lao rather than Thai. However, we believe that the best way to try Lao food is by exploring the diversity of cuisines found inside the borders of Laos.
We have compiled a list below of the top ten most famous Lao dishes to try when traveling through the country. If you are adventurous, we recommend exploring local markets for a truly unique culinary experience!
1. Sticky rice (Khao Niaw)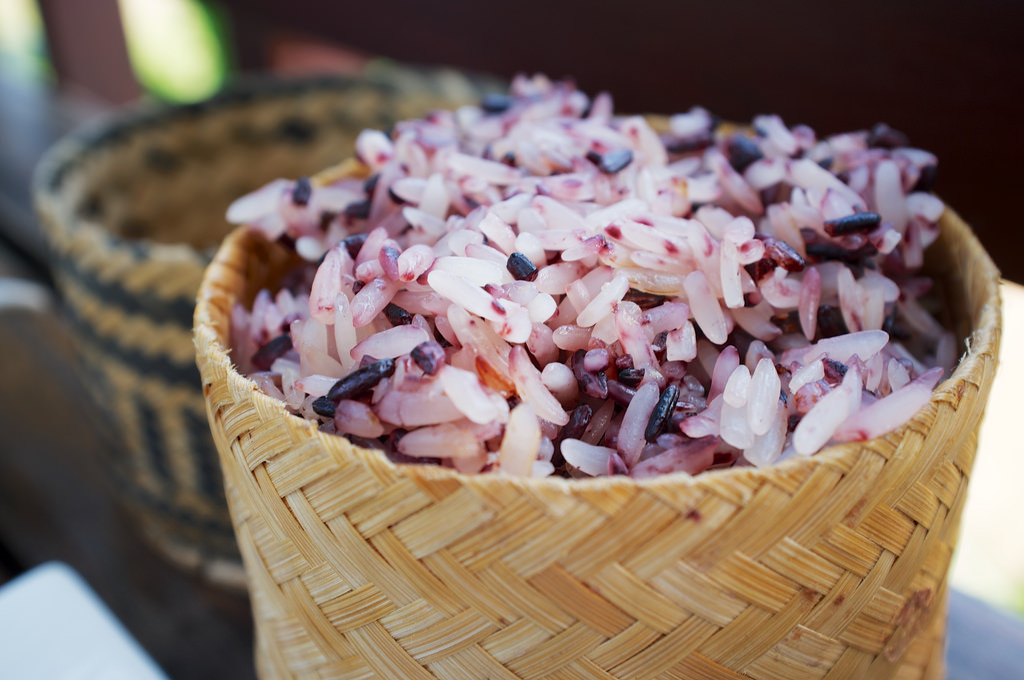 Sticky rice is a staple throughout the country. It is commonly said that Lao citizens eat more sticky rice than anyone else in the world. It is traditionally steamed in a cone-shaped bamboo basket, and placed in a covered basket where it is eaten alongside many dishes. In Laos, there should always be sticky rice available to eat at any time of day.
2. Minced Meat Salad (Larb)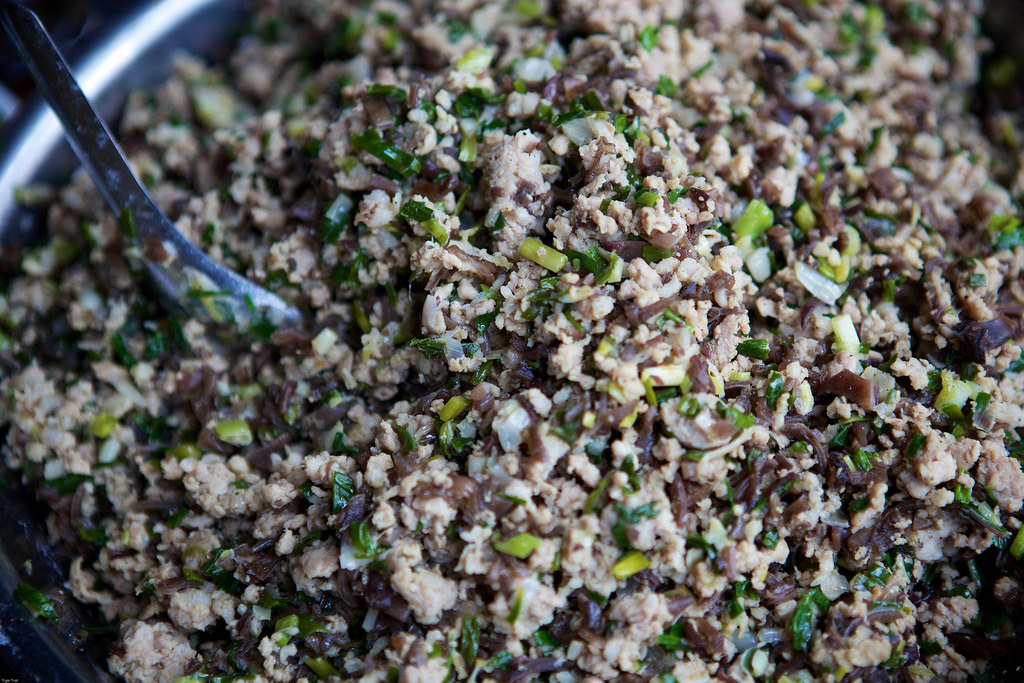 This dish is a type of minced meat salad, and widely considered to be the national dish of Laos. You can find Larb made with chicken, beef, duck, fish, or pork. It is usually flavored with fish sauce, lime juice, fermented fish juice, ground rice, and fresh herbs. It will usually come with a few chili peppers, which you can avoid eating if you cannot handle spicy food. Larb is an essential dish to pair with sticky rice.

3. Green Papaya Salad (Tam Mak Hoong)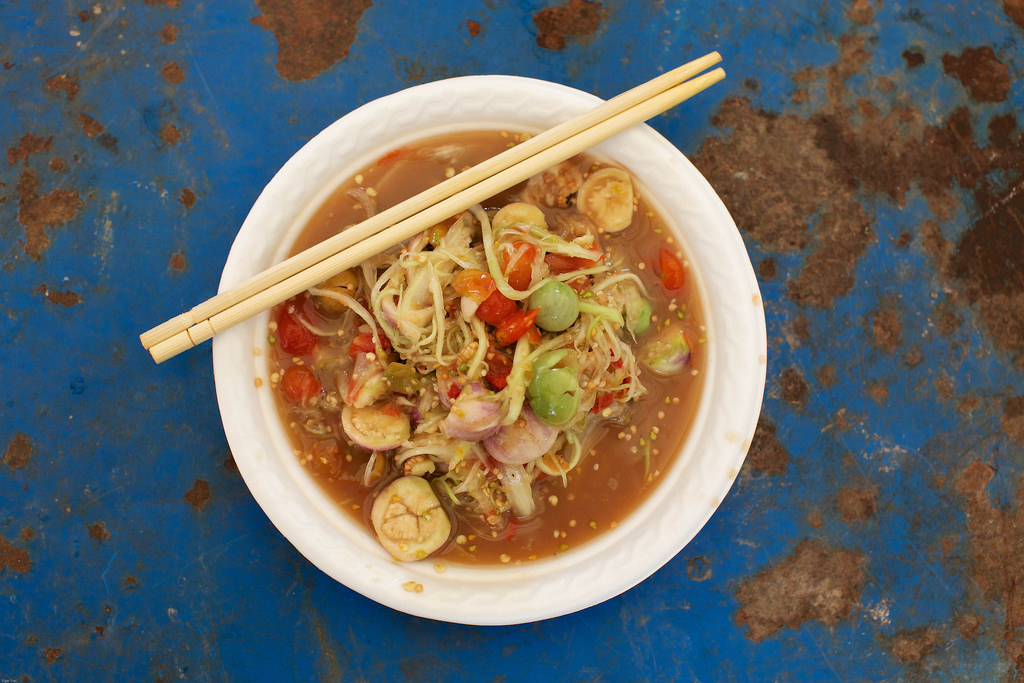 Green Papaya Salad is typically made with shreds of unripe papaya. It is of Lao origin, but served in different varieties around the region. Green Papaya Salad was a dish imported to Bangkok from Lao immigrants. It is similar to Thailand's Som Tam dish, but does not contain peanuts and is usually made with fermented fish sauce. Other ingredients include palm sugar, lime, garlic, tomatoes, dried shrimp, chilis, and raw eggplant. All of these ingredients are pounded together in a traditional mortar and pestle.
4. Steamed Fish (Mok Pa)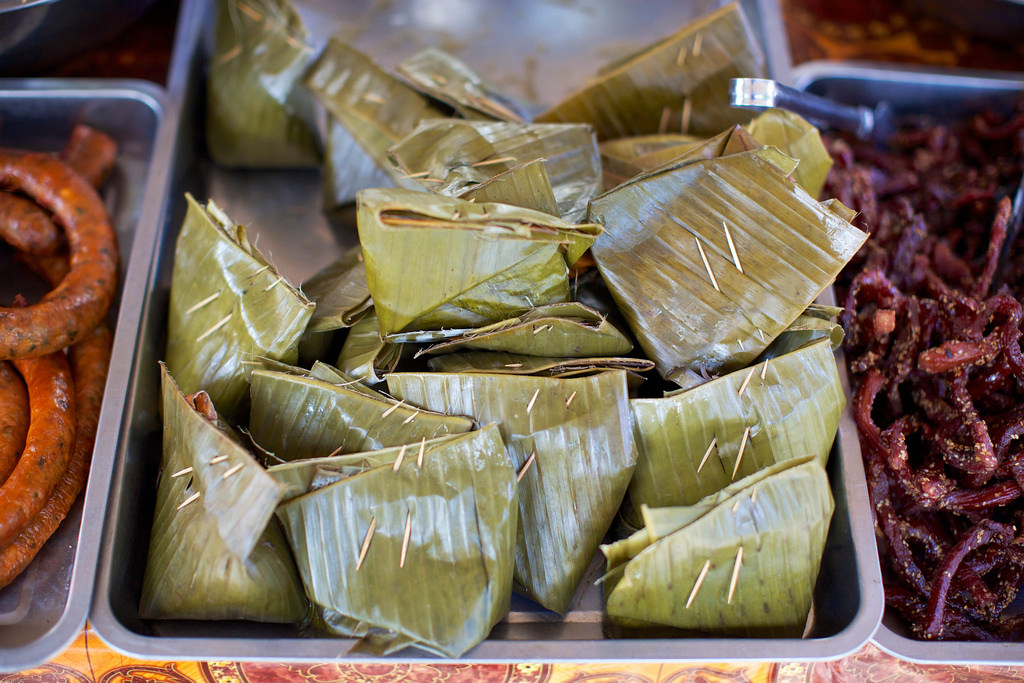 Mok Pa is steamed fish that is typically wrapped up in banana leaves and tied with bamboo string. It is prepared with lemongrass, kaffir leaves, green onions, fish sauce, green chilis, shrimp paste, and fresh dill. All these ingredients are mixed together with steamed fish. Mok Pa should never be served dry, and is also another dish that must be paired with sticky rice.
5. Baguette Paté (Khao Jii Paté)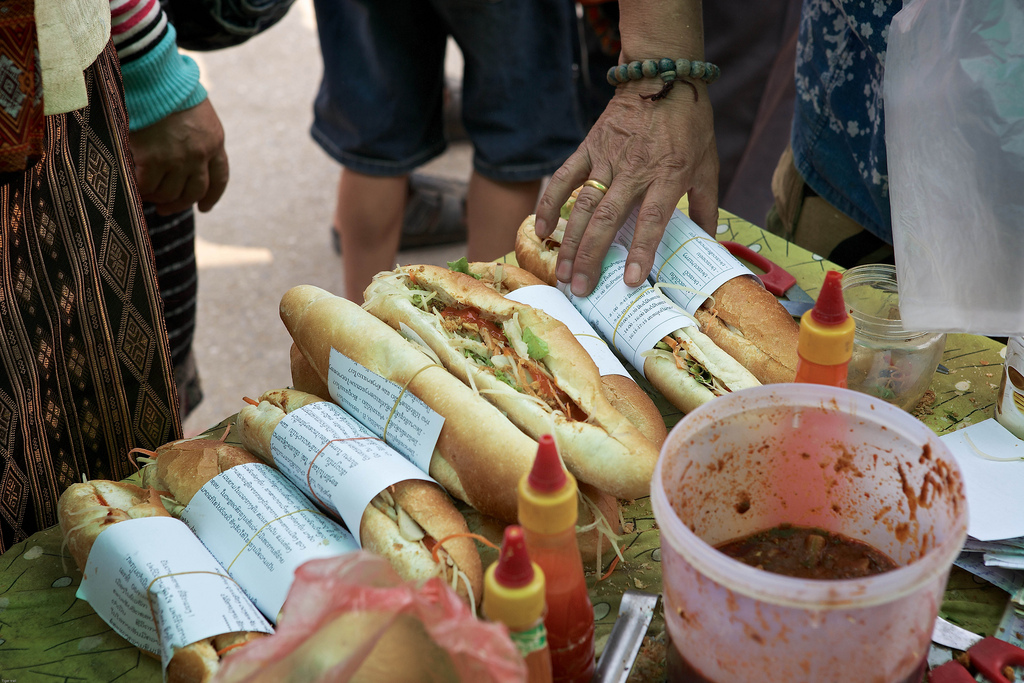 Due to its French influence, delicious baguettes are commonly found on many streets in Laos. This baguette sandwich largely resembles a Vietnamese Banh Mi, but instead of using cilantro and pickles, the Lao version consists of watercress, grated carrots, and a good amount of chile-garlic sauce. It is a quick meal that can be enjoyed on the go for either breakfast or lunch.
6. Wet Noodles (Khao Piak Sen)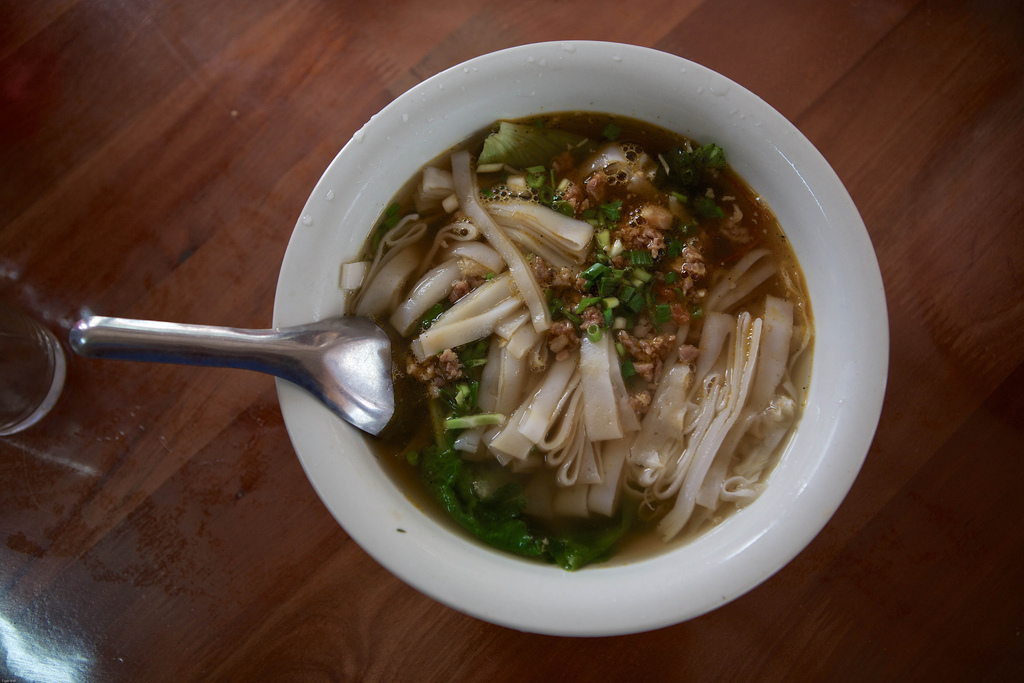 Khao Piak Sen is a chewy noodle soup that has a similar consistency to Udon, but it is made with rice instead of wheat. It is considered to be a comfort food in Laos, typically made with pork or chicken, lemongrass, galangal, shallots, garlic, chopped coriander leaves, bean sprouts, and served with freshly sliced limes. The most crucial factor is the broth, which should be slowly cooked with bones for the best flavor. At many restaurants, you will be encouraged to add in your own amount of sugar, chili sauce, dried chili powder, fish sauce, or soy sauce.
7. Crispy Rice Salad (Naem Khao Tod)

Image sourced from KQED.org
Nam Khao Tod is a fresh salad from Laos that is made with deep-fried rice balls, chunks of soured pork sausage, peanuts, grated coconut, fish sauce, dried chili peppers, and other ingredients. It is traditionally eaten as a warp by filling the individual lettuce leaves with the Nam Khao mixture, topped with fresh herbs and dried chilis. Crispy Rice Salad is usually served as an appetizer and it is slowly gaining popularity in the West. However, we recommend eating this dish with locals in Laos for a truly authentic experience.
8. Lao Sausages (Sai Uah, Sai Gok)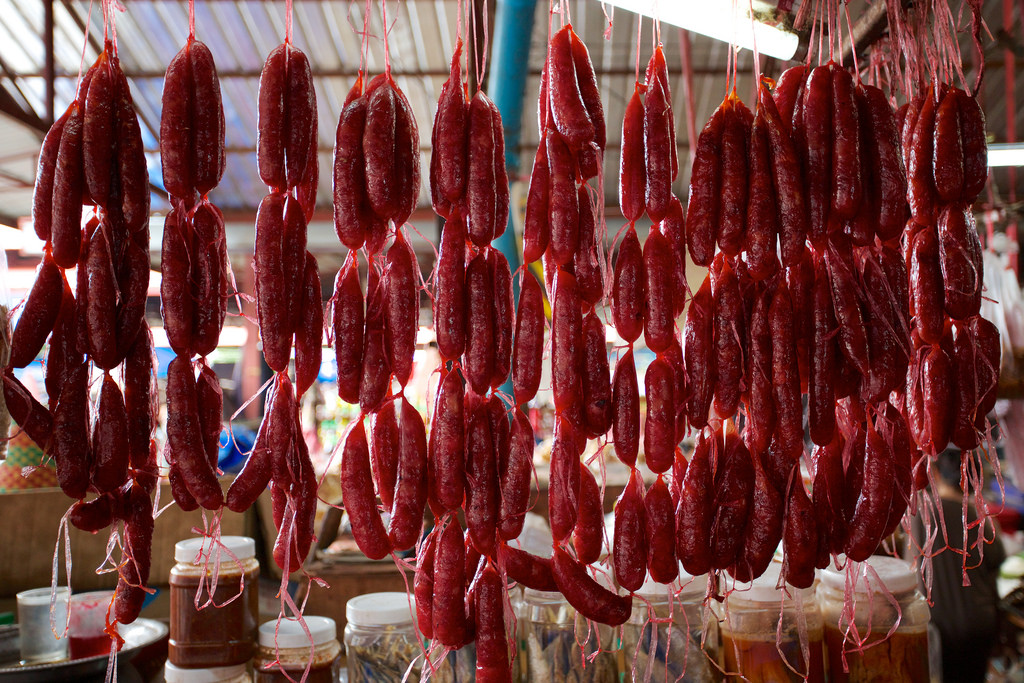 Lao-style sausages are an herb-infused meat that are unlike any other sausage you have tried before. These pork sausages are mixed with lemongrass, galangal, kaffir leaves, shallots, cilantro, chillies, and fish sauce. You may also find another variant of this sausage in Laos, known as Soured Lao sausage. In addition to the above ingredients, sticky rice is included and the sausage sits outside for a couple of days before it becomes sour. Sausages are essential to many dishes, and must be eaten by hand with sticky rice.
9. Noodle Soup (Phor)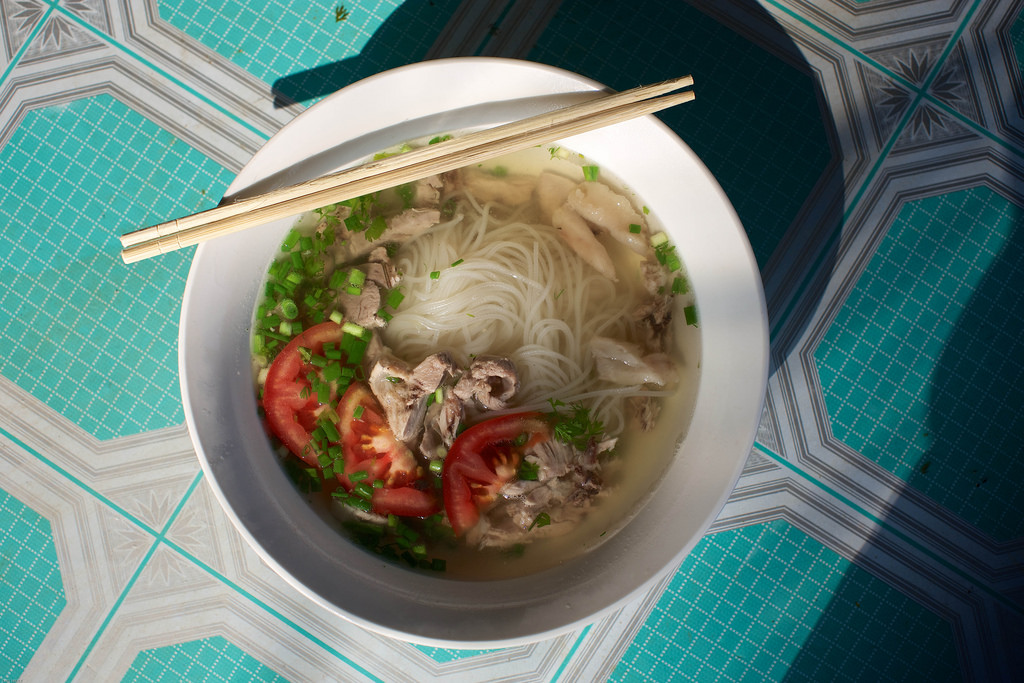 This noodle soup is a variant of the Vietnamese soup, Phô. It is prepared in a beef broth, and served with alongside a basket of fresh herbs, chilis, limes, and bean sprouts. It is one of the most common soup dishes to find in the country, and the ingredients vary depending on if you are visiting the North or the South of Laos. When ordering a bowl of Pho, you will usually be asked if you want thin or thick rice noodles. After being served, add in some sugar or fresh chilis to match your desired taste and enjoy!
10. Lao Beer (Bia Lao)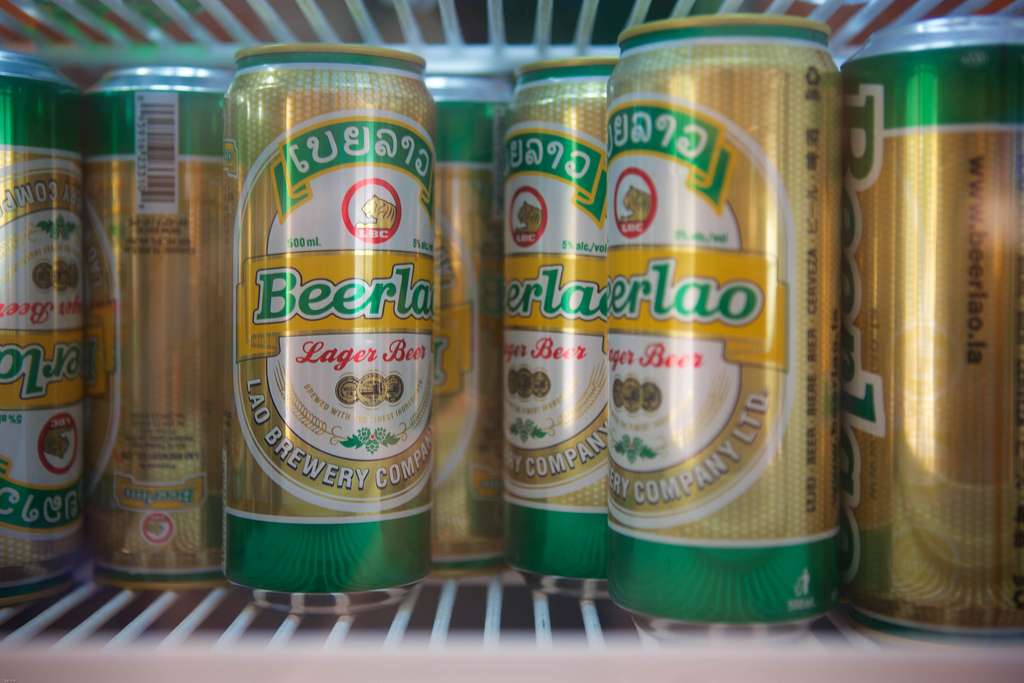 While Lao beer is not technically food, it is an essential companion to any dish when you are in Laos. It is the most famous brand of beer found in Laos, and is widely considered to be the best-tasting beer in the region. Lao beer is traditionally served with ice in small glasses, where it is enjoyed amongst friends and families. If you find yourself invited for a glass, be prepared to finish a few more bottles than you may expect!
Join A Culinary Tour
Looking for a culinary adventure in Laos? Try a hands-on Lao cooking class at the Tamarind Restaurant, located along the riverside in central Luang Prabang. Explore the heart of Lao cuisine by making some of the most popular Lao dishes with then guidance of local chefs. 
Tiger Trail Travel has a half day street food tour which starts near the morning market, takes in local Lao coffee by the Mekong River and includes nearby local restaurants that are a quick bicycle ride away. Local places are frequently changing so this is a great way to discover hidden places favored by locals. It's an inexpensive and easy biking tour (bikes and gear supplied) and you'll discover places you wouldn't otherwise see.
Original post by Kyle Wagner 2014. More Lao Food information.