Hi. I'm Tom, the newly appointed Biking Manager at Tiger Trail Travel and I have a confession to make. I am not really a cycling guy, I have spent 42 years avoiding Lycra and skid lids*, but I love adventure, the wind in my hair and the sense of achievement you get when you push yourself to do something new! So here I am a novice bike nut.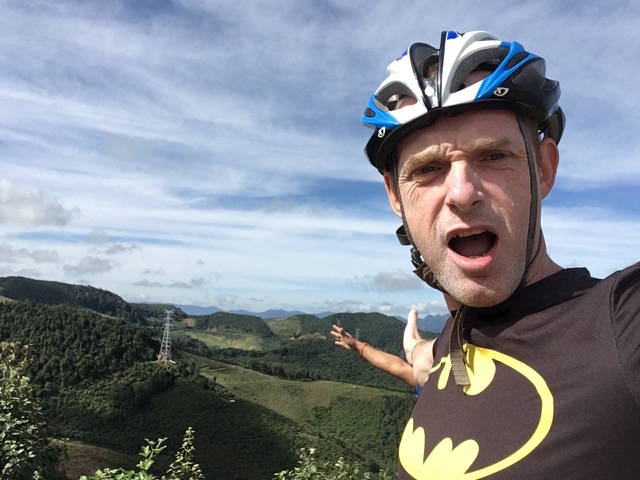 The big perk for my new job is that I get to meet amazing people and go out and test the products.
The Four Day Northern Loop is spectacular ride through some of the most dramatic scenery in Laos the total distance for this trip is 380km, this figure seemed a little daunting to myself and Neguin, my new travelling buddy.
Slim, Smiley and full of energy, Neguin was the perfect partner for this first trip both of use have a little cycling experience but have never tried to cover this distance before. Both of us wanted a little adventure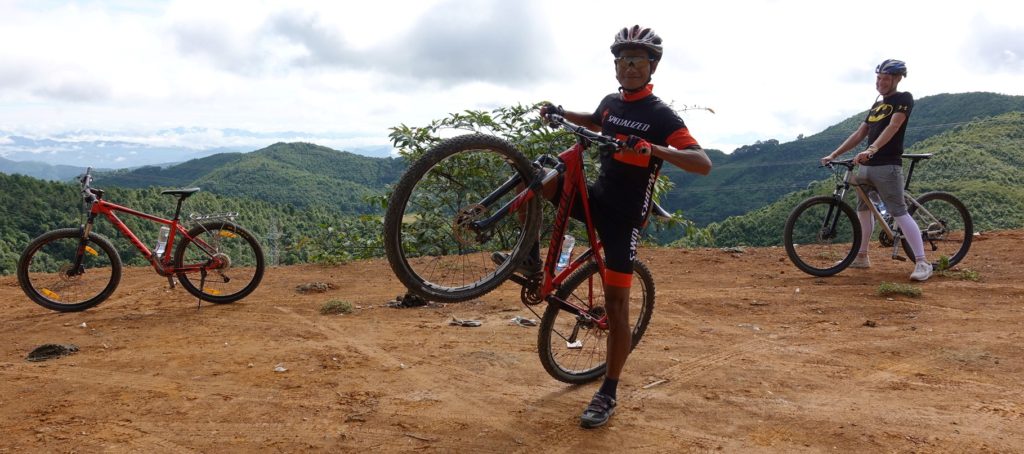 We were fitted for our bikes at the Tiger Trail Travel bike shop the night before departure and gather a few pedalling tips from the expert team (Myself excluded). Tip #1 make sure your seat is the right height. The seat should be level with the top of your hip when you stand next to the bike, this creates a longer leg extension and takes pressure off your knees allowing you to pedal more efficiently and for longer…see I am learning already.
Neguin and I meet our Guide Mr Ked at 7.30am ready to catch the Slow Boat. The traditional wooden hulled long-boat 'Put-Put's' Steadily up the Mighty Mekong for 8 hours ,towards the quaint travellers rest of Pakbeang, This gave us plenty of time to get acquainted,ask questions and learn about the people and culture of Laos. Fact #1 There are over 176 species of fish in the Mekong River.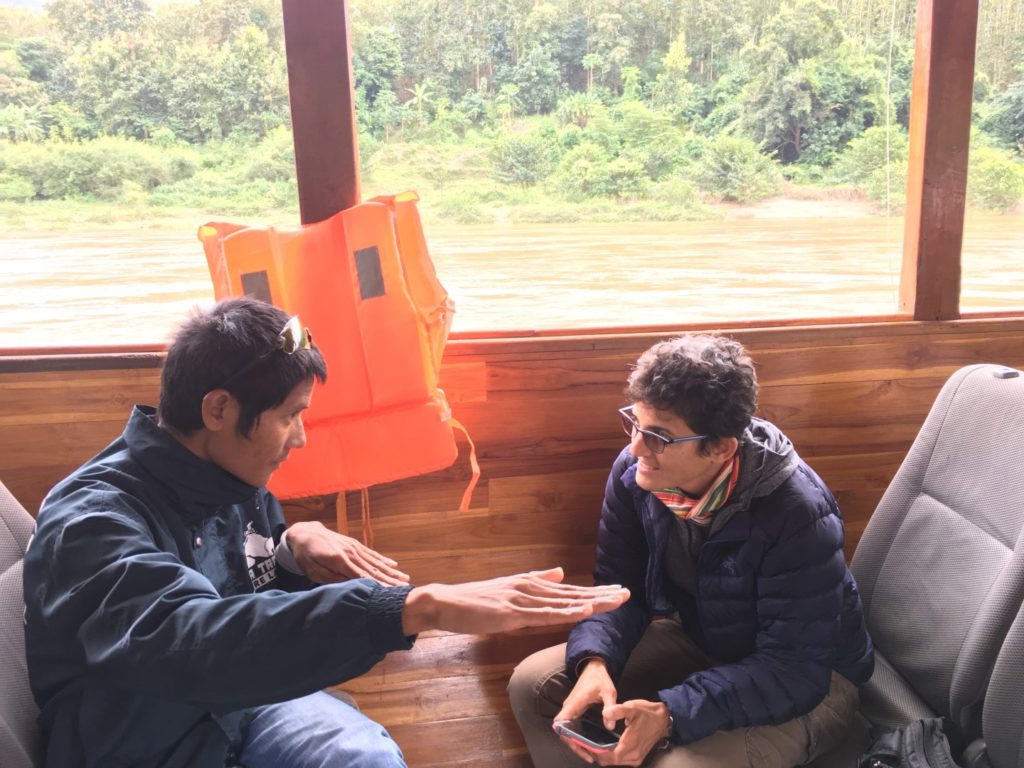 Nestled under chiselled limestone mountains Pakbeang is a lively meeting point for travellers heading to and from the Thai border, everyone has a cool tale to tell. Friends are easily made over a welcome Beer Lao.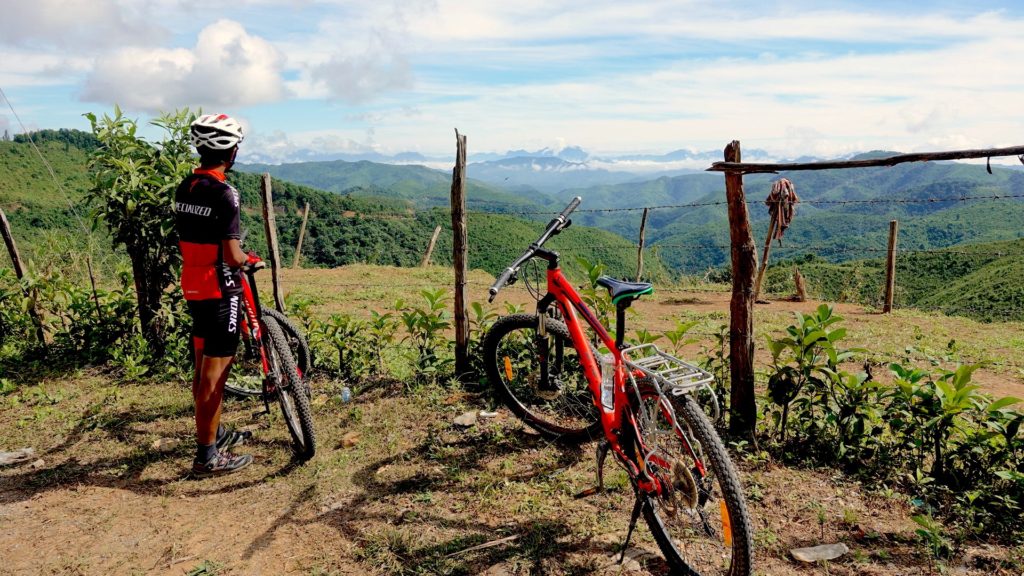 Day one of Cycling begins with a gentle 150 km ride towards the Provincial capital Oudomxai. We start at a steady pace and the road ambles along the Riverside though pretty Khmu Villages with hundreds of children calling after us, waving frantically. We pass lush green rice fields with stilted shacks. Sugar cane and Banana Groves. Abundant fruit ripens in the intense glare of the sun. It's very soothing the cycling lark, I can almost smell the stress lift from my bones and my perpetual revolutions calm my busy mind. We rode with smiles on our faces and comfortably cover 60km before stopping for a Lao Lunch of Laab (Ground Meat and Herb Salad), Sticky rice and grilled fish with a sweet and tangy chilli paste.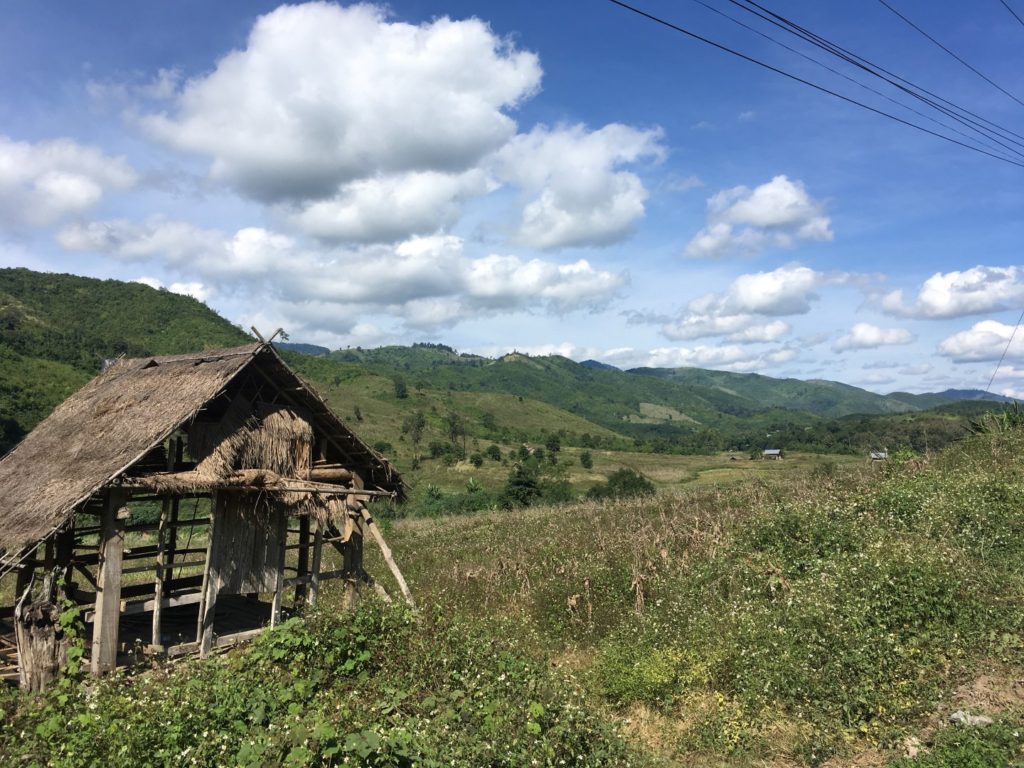 After lunch we push on for another 30km before calling it a day and taking the van to the city. I arrived at the hotel with a mild case of jelly legs but after a Lao Massage by a large forceful lady with very big hands I felt good as new… well as good as I am going get.
After a breakfast consisting of Noodles and a couple of strong coffees served on a massive dollop of sweet milk, We pedal through day 2, which starts like with the biggest climb ever to the rooftop of the province! This is the most challenging part of the trip the mountain road out of Oudomxai is a real lung buster and you climb a 1000m over a 9km uphill push. I am not going to lie..we took a van.
The View from the top is jaw dropping, I swear you can see Vietnam, if unicorns lived anywhere it would be here! Thick whipped marsh mallow clouds cling desperately to the peaks and evaporate before your eyes as the mid morning sun warms your back. (I am getting a little emotional typing this.)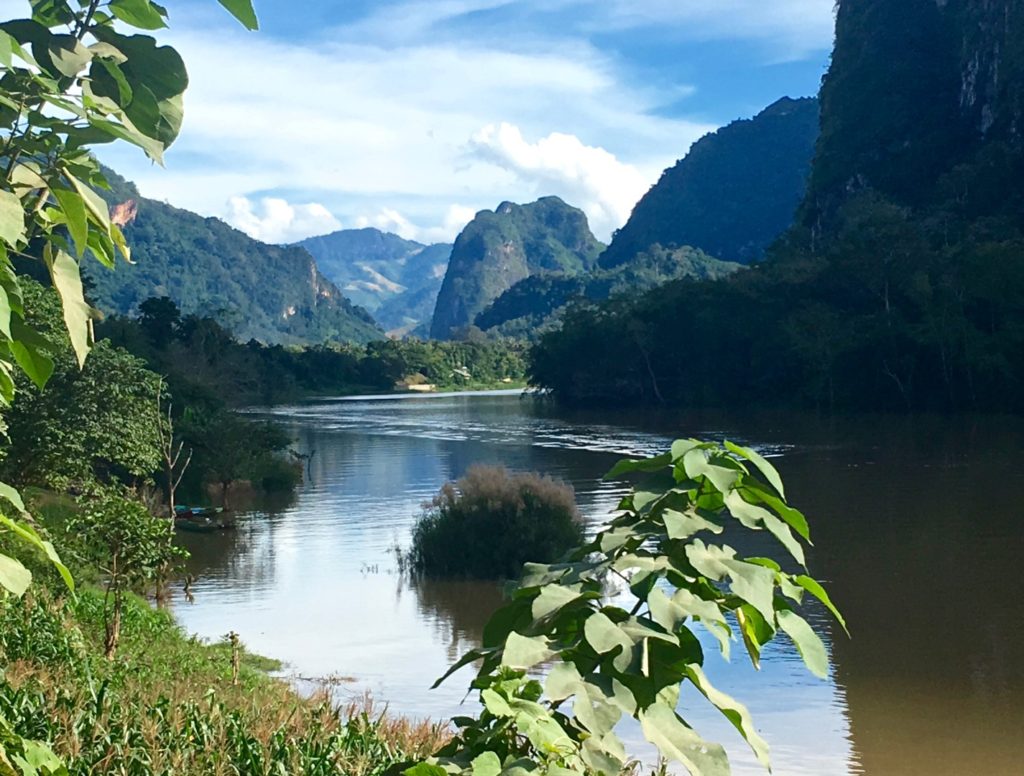 What goes up must come down! Time to test the brakes, the tough climb is rewarded with a brake burning 28, yes 28km descent to the village crossroads of Pakmong on almost perfect tarmac. the final stage of day 3 is a scenic saunter into the beautiful hidden backpacker paradise of Nong Khiew. This idyllic little town is perfect place to unwind after such a thrilling ride. Neguin and I are both feeling very at home in the saddle now, and Ked is the perfect host and we watch the sunset over the river laughing like we have known each other for a life time.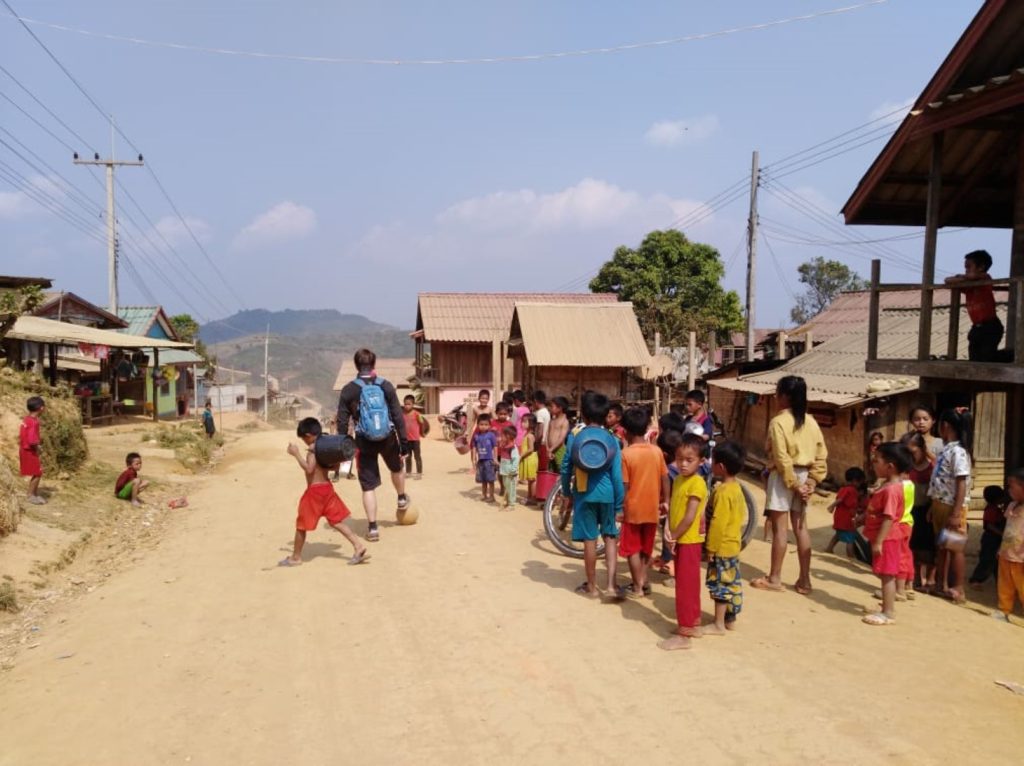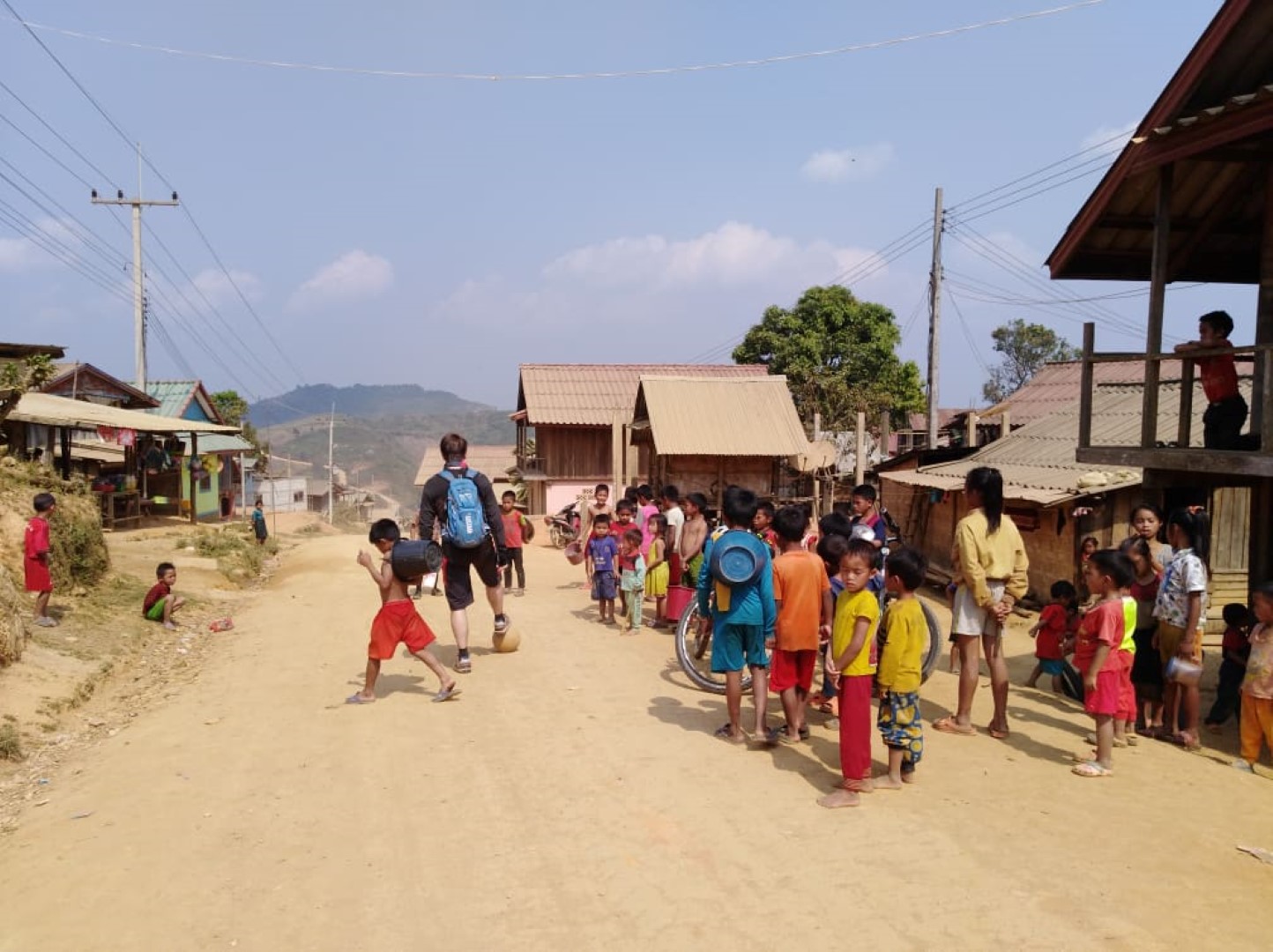 I would have loved an extra day in Nong Khiew, there is so much to do here, trekking, kayaking boat trips. it's an adventure playground, but my new chiselled quads are aching for the road home and the last day is broken into two parts. A boat on the Nam Ou, then a cycle along the river's edge. We ride by the Famous Pak Ou cave and onwards towards journeys end and Home, Luang Prabang.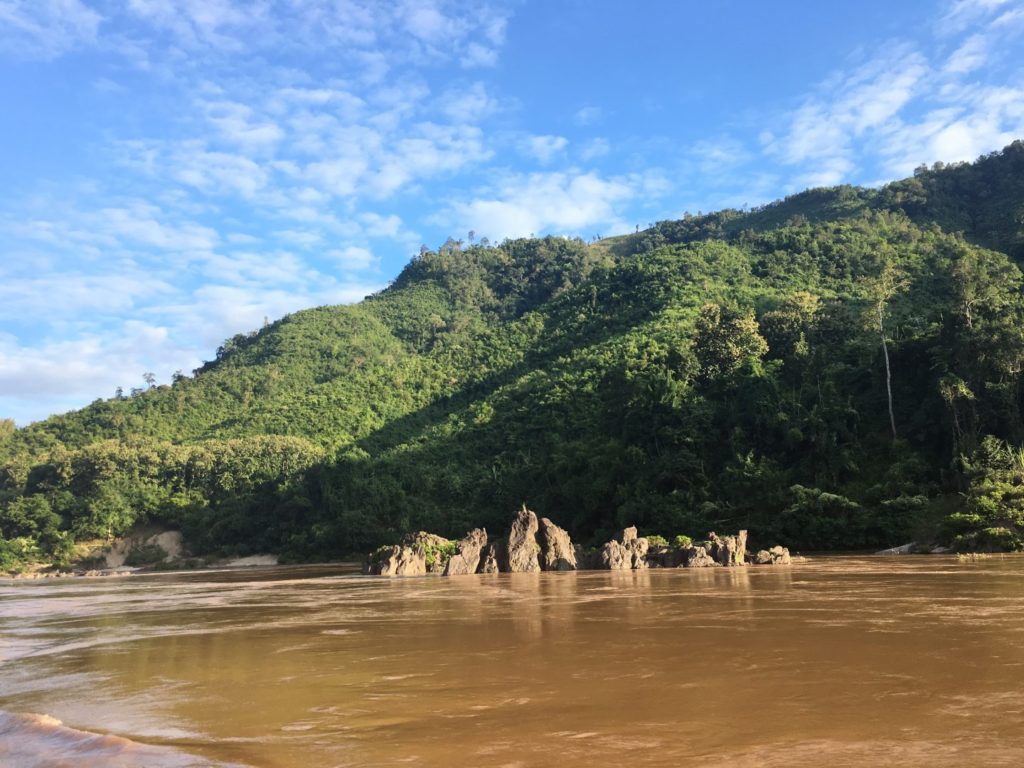 As a person of modest fitness I can happily say that anyone and everyone can enjoy the same exhilaration, buzz and pure satisfaction of a cycling trip in Northern Laos. You should come and try, the friends, memories, the selfies you take will last a life time.
From completing this trip with Neguin and Ked I have really caught the cycling bugI am happy to call myself a bicyclist and I wear Lycra padded shorts quite proudly, although not every day. I am Inspired, Laos is the perfect place to pedal, in Laos even the interstates are beautiful.
Over the next twelve months I hope to cover Phonsaly in the North, Biking and Caving in Thakek and the popular trip from Luang Prabang to Vientiane all of which promise to be spectacular rides.
Tiger Trail travel can arrange the northern loop tour for groups of any size and experience we also operate a join-in tour every month. Please get in touch for more information.
* Cycling Helmet, the most important part of a cyclists wardrobe (Cycling Slang #1)