My name is David Allan, Manager at Tiger Trail Travel. Recently I enjoyed some customers on a two-day Fairtrek out of Luang Prabang into the countryside for an overnight adventure and insight into the 2-day experience we provide to travellers.
We started off at the Tiger Trail bike shop in town where we met up and sized up our mountain bikes. Our guide, Bounchanh helped us with our safety gear and instructed us on the use of our bikes. Gears can be a little tricky for some newcomers but it only takes a few minutes to get used to. In the background is one of our biking staff who checks the bikes everyday to ensure they are in good 'nick' for the next tours.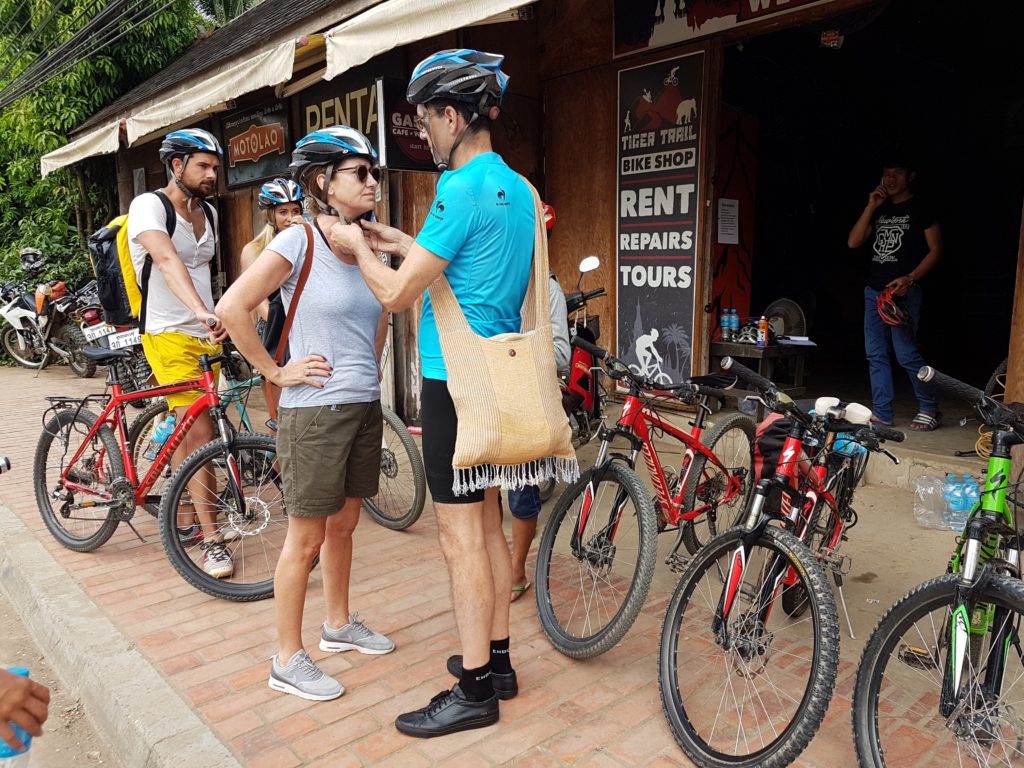 We headed a short distance out of town to the golden temple on the hill you can see from many places around Luang Prabang. It's not Phousi Mountain but What Phon Phao which has a panoramic view of town and is one of my favorite places to look out over Luang Prabang from. There are way fewer tourists as well. This is one of the few temples that is home to nuns as well as monks.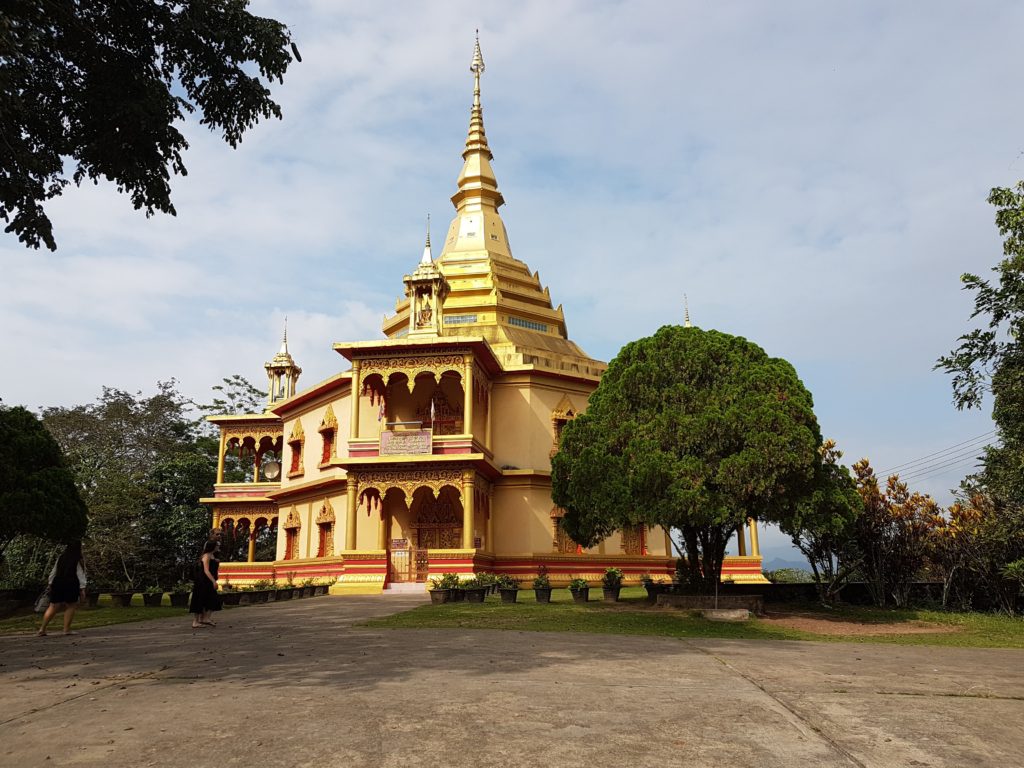 We descended back downhill to the nearby village of Ban Phanom where we saw a silver jewelry shop and weaving at the local weaving center.  It is a great place to learn more about the silkworm,  weaving and to buy a few handmade scarfs too. I have bought a lot from here, there is no pressure and you get good fair prices.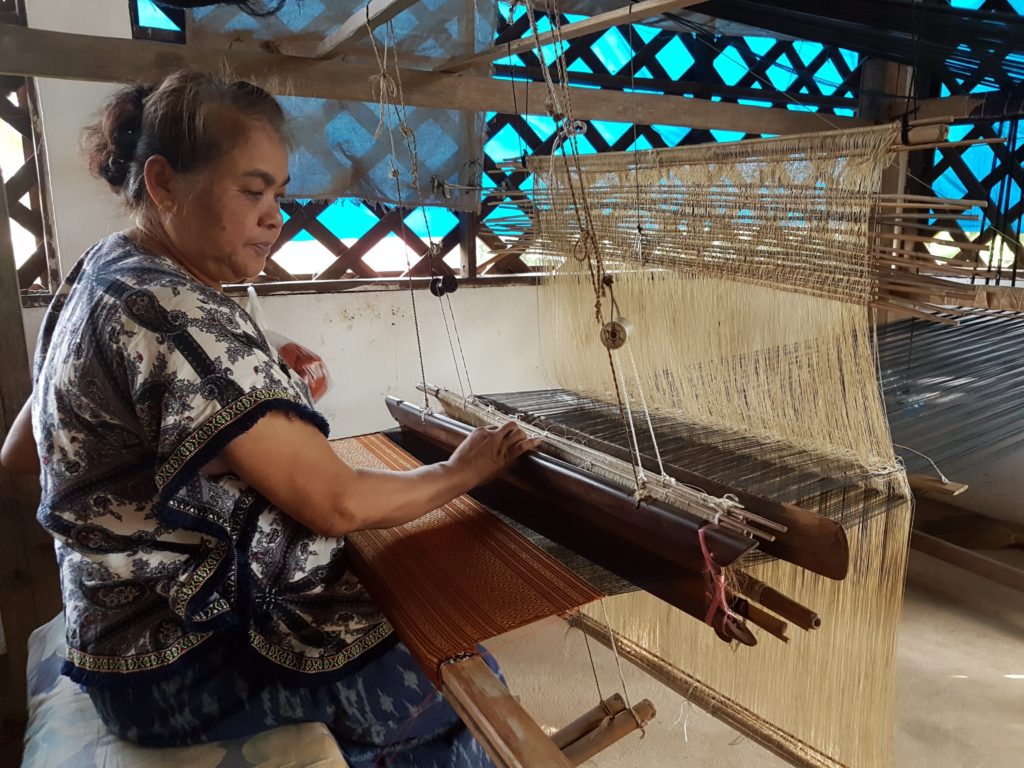 We departed along a road out of town alongside the Nam Khan river and came to the resting place of Henri Mahout, a French explorer who popularized Angkor Wat and later died of malaria in Luang Prabang. It is a quiet spot and hard to find if you didn't know he was resting here. Many people don't know there is a tomb here and are often surprised, especially those who have drank at the neighboring beer hut and have no idea.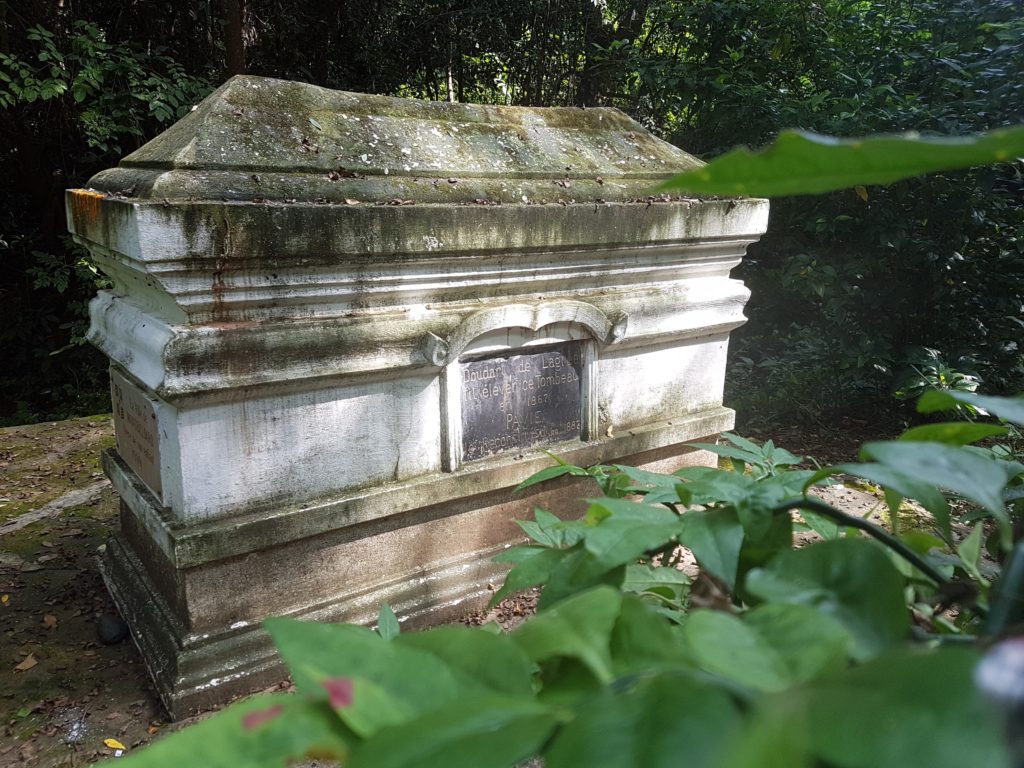 We continue along a dirt road towards the Nam Khan river where Tiger Trail has its camp beside the river. The odd truck passed us by and it was nice to see the countryside. The pace was good so we had plenty of time to take in the scenery. We dropped our bikes at the camp and boarded Tiger Trail's tiger boat upstream heading for Tad Sae waterfalls. That's a wonderful guide Bounchanh at the front of the boat.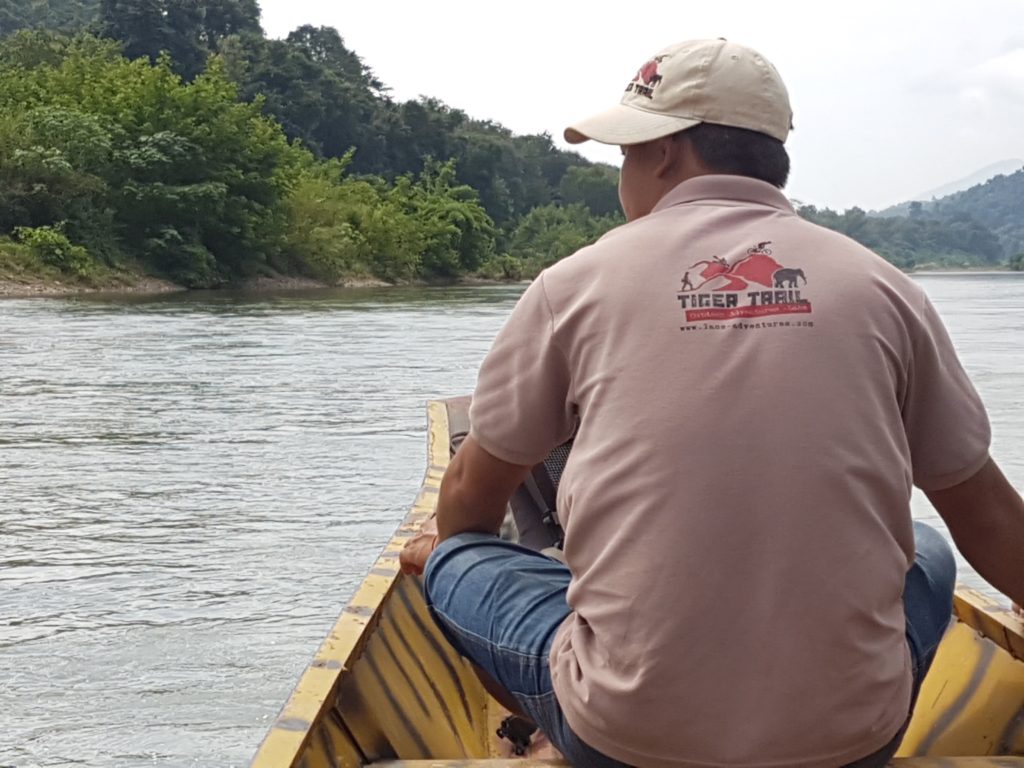 After a hot cycle ride, a refreshing dip in the waterfalls was welcome. The water level can be low in dry season so swimming is not always possible. It is a nice place for a rest and a spectacular sight. Shops also have ice cream and supplies too if needed. Amongst our group, we managed a coke, Beerlao, water and ice cream.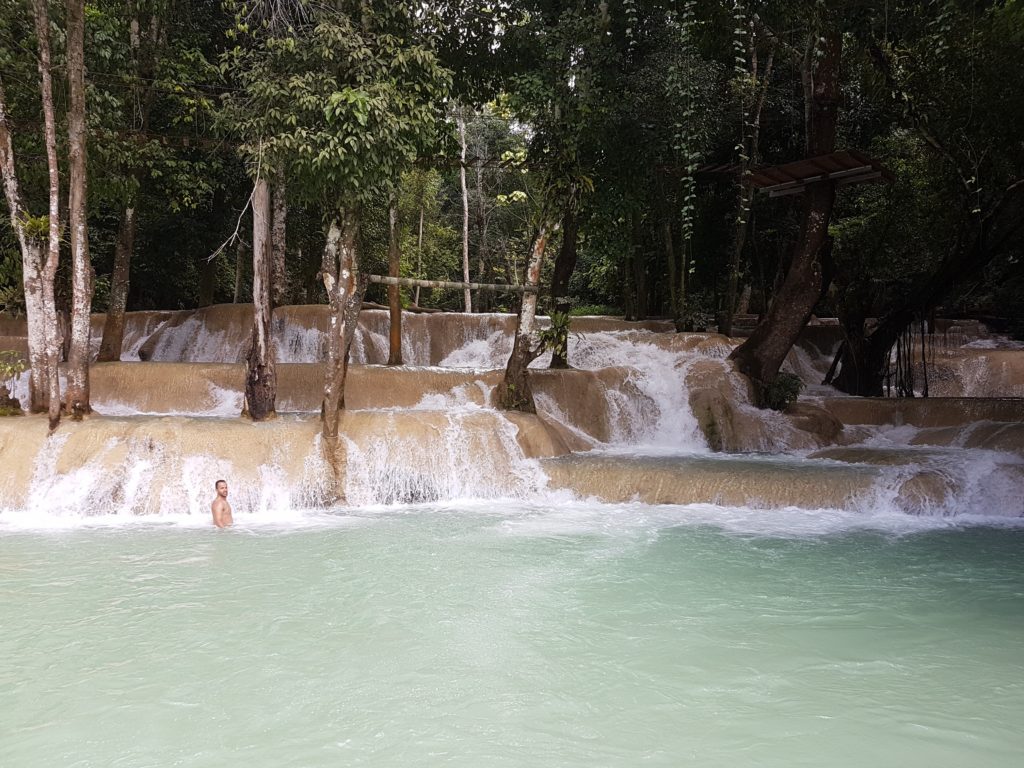 After resting at Tad Sae, we headed off up through the scenic jungle, at time along quite wide tracks. We had plenty of water and the trekking was not difficult but rather made for an enjoyable afternoon. At this time of year the rubber trees were being tapped. Tapping can only occur during a certain season and it was interesting to see the milky latex rubber being collected in bowls. It really is sticky stuff!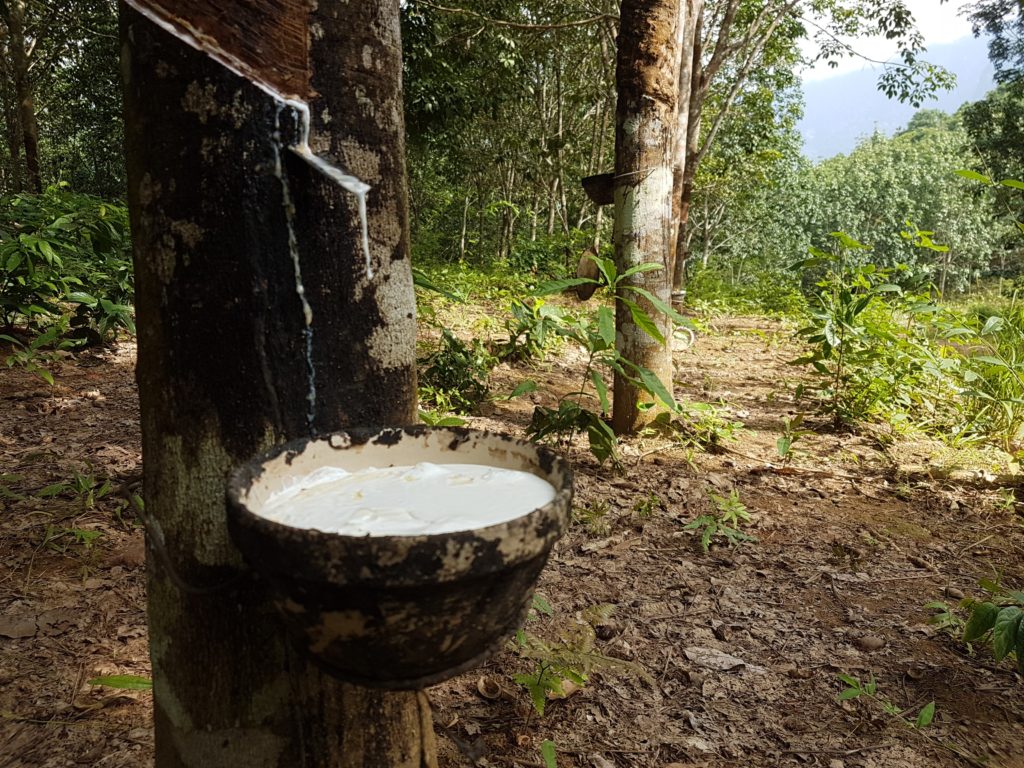 Heading towards Ban Huay Fai village we were treated to wonderful vistas of Lao jungle with looming mountains in the background.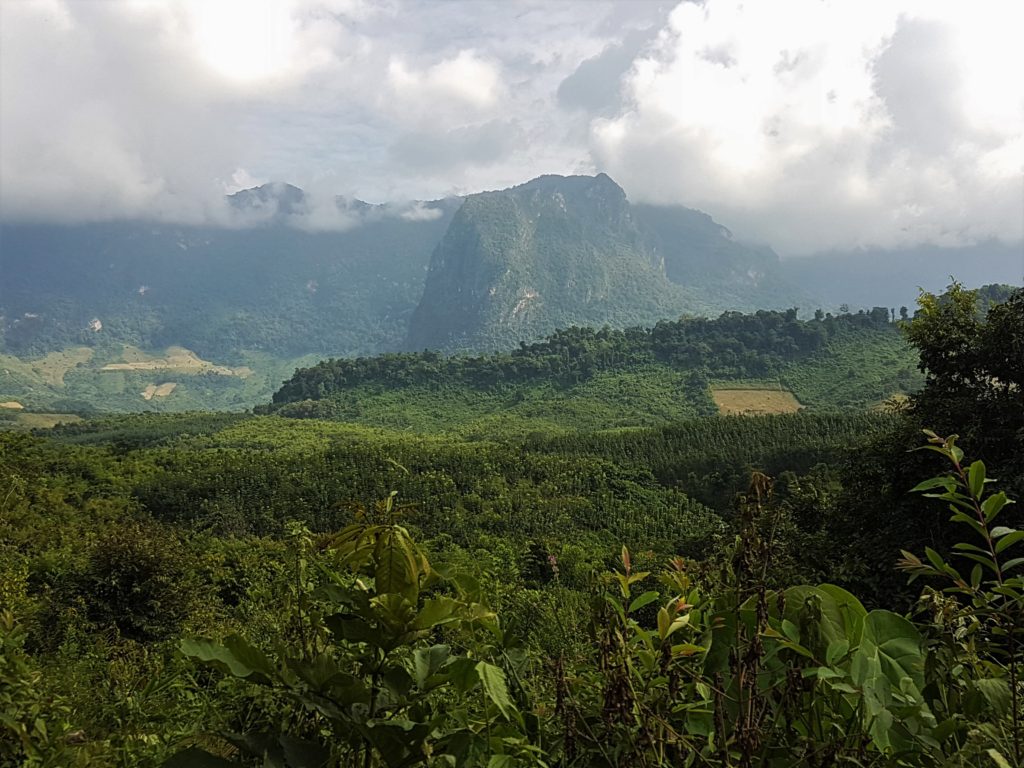 As we neared the local Khmu village an elephant and Mahout were returning from the waterfall, heading out into the jungle for the night.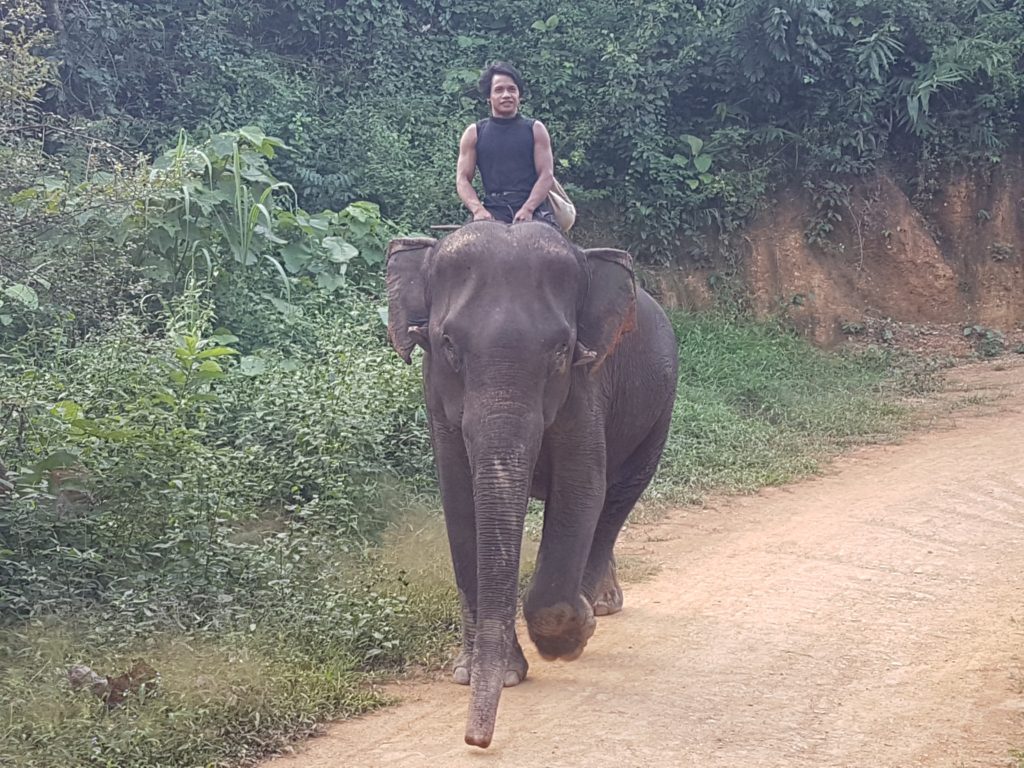 We arrived at the village (Ban Huay Fai) and were guided around and introduced to local villagers going about their duties. Some were returning home on their tractor, children were just out of their local village school and others were drying rice. The village has spectacular views. People went about their normal activities and didn't pay us much attention which made for an authentic experience. The Khmu people were very friendly with loads of smiles. The village is in a Fairtrek area where the village directly profits from the tour.
Our home stay accomodation
Ban Huay Fai
Children on their tractor
Ban Huay Fai
Ban Huay Fai
Ban Huay Fai
Bounchanh our guide and local family started preparing our evening meal while we were left to explore. Food in local villages is more basic then you would find in town but what a treat to be cooked a lovely meal and sit with our new friends and eat. We certainly couldn't have asked for more. We chose to walk a short way to the river and cross the bamboo bridge to shower in the river. There are local washing facilities for tourists in the village behind the homestay. Later in the evening, we sat around talking with each other by candlelight.
We weren't up very late and the next morning we enjoyed breakfast and trekked about 90 minutes back to the river to Ban Xieng Lom where we collected our kayaks and paddled down the Nam Khan river for about 3 hours. We passed local villages, people swimming and farms. The few rapids we navigated were fun and manageable.


It was a great tour. Our guide was very helpful, explained a lot and the right level of friendly. If you only have 2 days available then this is a great way to spend it if you want to see local village life and get out into rural Laos while supporting a local community – it's not too difficult either.
See BTK-2 at Tiger Trail Travel.
For other biking tours in Laos see Biking-Laos