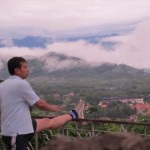 After one and a half months living and working in Luang Prabang, I've started to be familiar with the place.
Usually, I don't really enjoy big cities. I quickly feel oppressed by the pollution and the touristic trap! I need open space and greenery to be comfortable. Luang Prabang is not a really big town, especially measured in Asian comparison, but it is still the most visited place in Laos. Out of this I felt it may become hard for me to stay here, but it all came a little bit different…
I will tell you about the small details that for me makes all the difference here in Luang Prabang and for my life here.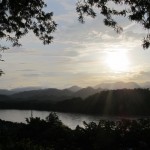 First, it is a beautiful place, recognized by UNESCO world heritage department. The mountains which surround the city and the Nam Khan river joining the Mekong, have become Luang Prabang's signature. It is very relaxing to see water flowing and it contributes to a truly awesome sunset! The particular French-Asian architecture and the multitude of majestic golden temples give a lot of charm to Luang Prabang, for tourists and expats and locals who live here…
There are also several ethnic groups living around the city
who create a very interesting cultural heritage. If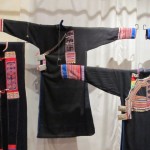 you want to enhance your understanding of Laos' ethnic culture I really advise you the Traditional Arts & Ethnology Center. You can find more information on www.taeclaos.org
There is also another factor that contributes to an enjoyable stay : good company !
Even in such a lovely place like this, if you don't make a friendly connection with nice  people, something is missing. And fortunately, I've met a lot of great people here in Luang Prabang, Lao and foreigners alike…! I think first about one really crazy Greek guy and the people of the Fair Trek / Tiger Trail team. This is not the place for advertising but it is a pleasure to work with people who do their best to be more fair for all involved.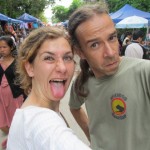 In Luang Prabang, there are a lot of small pleasures, like :
The fresh orange juice at 5OOOKip (0,50 €) in a small street shop which also fixes bikes. The owners look like an old couple with very funny behavior after sharing their life for 40 years ! Now when the grandmother sees me stopping in front of her white and blue house, she starts pressing the orange in a hurried but careful way. What a pleasure to start your day !
When you're walking around you cannot miss the sound of a school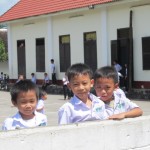 playground. It instantly makes me smile, in a good mood… We see a lot of students with their blue and white uniforms eating ice cream or biking around with their umbrella…
In the evening time, when you can appreciate some fresh air, people of all ages, from children to young adults meet each other in school playgrounds, public places or just in the street to join in sports and share laughs. They play a lot football, basketball and badminton in a respectful way.
I didn't dare yet to join them, it could be a great time ! What else ?
I really enjoy biking from one place to another through the small streets of Luang Prabang.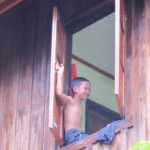 From the open door we can catch some everyday scene like people laying on a mat eating, watching TV or cradling a baby… Their way of life looks peaceful and simple.
We can find fruit so easily with a wide variety! Everyone can find one for his taste !   Few day ago I try for the first time some jujube : excellent ! Fruit is a perfect snack instead of the usual 4 o'clock biscuit, isn't it ?!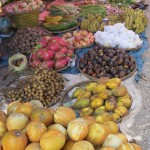 The storekeepers are usually not aggressive. They propose you their services. "Massa Massa" (for massage) or "Tuk Tuk waterfall" are very common. Their funny accent and their frequent lack of conviction makes it laughable !
A lot of temples also means a lot of monks! Their beautiful orange robes often make a wonderful combination with the shiny green of the tropical nature. Monks or other young people can came to you to improve their English and to share time.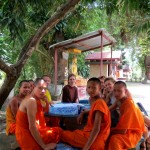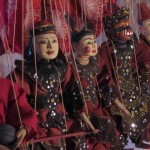 Writing this article makes me feel grateful for all these simple and wonderful moments.
I hope you  will enjoy your stay in Luang Prabang !
Sok deeeeee !  [ Good Luck ]
Marine