One day Luang Prabang
Bike Tour Tad Sae Waterfall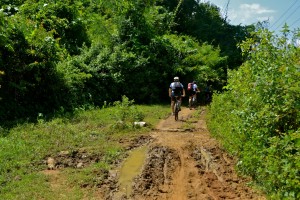 A quick road test down the tranquil side street of the Tiger Trail bike shop and we're off.  Cycling through the streets of Luang Prabang may to the untrained eye appear utter chaos, yet there exists an innate flow the general populace is tapped into. Disregard that 12 year-old duo driving a motorbike down the wrong side of the street while texting. That's called multitasking; merging whilst bolstering thy social network.  Simply go with that previously mentioned flow, forget all those rules of the road you've been taught, and grasp that inner Qi.  You'll be fine.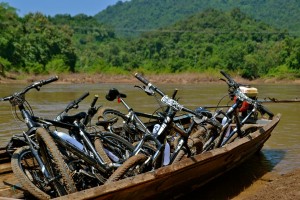 We wind our way out of the city, past the sparkling new airport, and dive onto a dirt road for which these sturdy Trek mountain bikes are made.  Consistent rolling hills mixed in with some good short splits of 10% grades get the sweat dripping.  Unless the last few months can be summarized with your derriere parked on a box of donuts in front of the television, you can pull off this ride.  Challenging, yet enjoyable.
Our patient and well-informed Tiger Trail guide makes frequent stops for hydration purposes and educational chats on the local flora and fauna, and soon we come to a small village where my inquisitions on Lao whisky lands me a shooter for the road.  We cut a hard right out of the village and plunge into some welcome single track, slaloming a spattering of water buffalo just before dipping to the Nham Khan River, where we catch a ride across on one of a dozen boats shuffling gravel to the opposite bank and waiting trucks.  I am humbled, as usual, by a majority female group of rock-solid villagers vertically heaving heaps of gravel twice their stature from boats to truck beds. The intricacies of everyday survival is often more stunning than the tourist appeal which initially draws us in.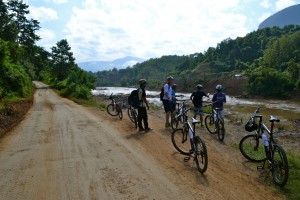 We pedal on down a decidedly more horizontal road, weaving our way through picturesque rice fields until we come upon what appears to be the Tiger Trail river transport hub, buzzing with tiger striped boats.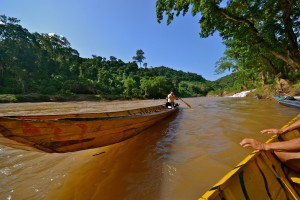 We hop aboard one such vessel and in 10 minutes are arriving at the Tad Sae waterfall for a well-deserved plunge in its waters and delicious lunch of fried rice artfully encased in banana leaves.  Now time for a shady early afternoon snooze while elephants meander close by, and we're once again aboard one of the long, slim boats headed downstream to our bikes.  The final stretch back to Luang Prabang is a winding 30 minute cruise coupled with a pit stop at a local textile cooperative.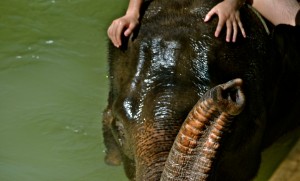 In summary, a splendid day of mountain biking covering all terrain, from the bustling streets of Luang Prabang to the muddy single track on the banks of the Nham Khan.  Top that with a rewarding dip in the Tad Sae waterfall and you'll be geared up for more.