Heritage Line is a luxury, boutique river cruise company started in 2009. They operate a fleet of seven unique vessels on the waterways of Vietnam, Cambodia, and Myanmar and soon to Laos!
A brand new ship named "Anouvong" (after the last ruler of the Kingdom of Vientiane), is currently under construction. The Anouvong will honor the early 19th-century era embracing traditional Laotian artwork fused with French-colonial elegance.
Expected to set sail from late September 2020, offering extravagant onboard accommodation and journeys on the upper Mekong River in Laos, the vessel will feature ten intricately designed rooms, including two spectacular large Signature Suites with a jacuzzi and private balcony on the bow of the ship. The staterooms are spread over two decks and public amenities include a café-bar & lounge, expansive spa, dining hall with delectable local and international cuisine and, of course, a relaxing terrace deck with fabulous, panoramic views of the Mekong.
The upper Mekong River, known to the locals as the "Mae Nam Khong" or "Mother of Waters", is the most prominent waterway in Southeast Asia, giving life to tens of millions living near its banks. To slowly meander along this river means to understand and become one with the deep-rooted spiritual nature, the unchanged local life and the captivating riverscape of charming Laos.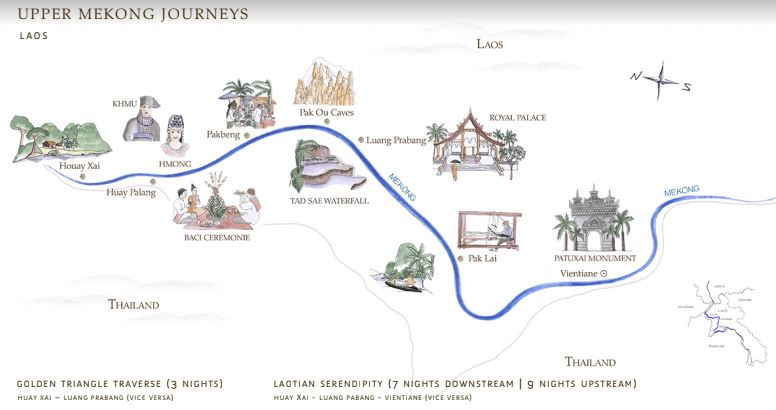 Two unforgettable cruise options have been created to experience all this aboard the luxurious Anouvong:
Golden Triangle Traverse: 3-nights between Huay Xay and Luang Prabang (or vice versa)
Laotian Serendipity: 7 (downstream) or 9 (upstream) nights between Huay Xay and Vientiane (or vice versa)
Heritage Line offers its guests an intimate experience. The company painstakingly crafts ships to re-create the past (an era gone-by). They are boutique operators and craft the most memorable on- and off-shore experiences and bring to life untold stories with the right mix of comfort, adventure, culture, history, luxury, and tradition.