From trekking to kayaking to interacting with elephants, Tiger Trail has adventure tours in Luang Prabang to suit you.
Here are our top 10 traveller's choice adventure tours in Luang Prabang (ranging from 1 to 5 days).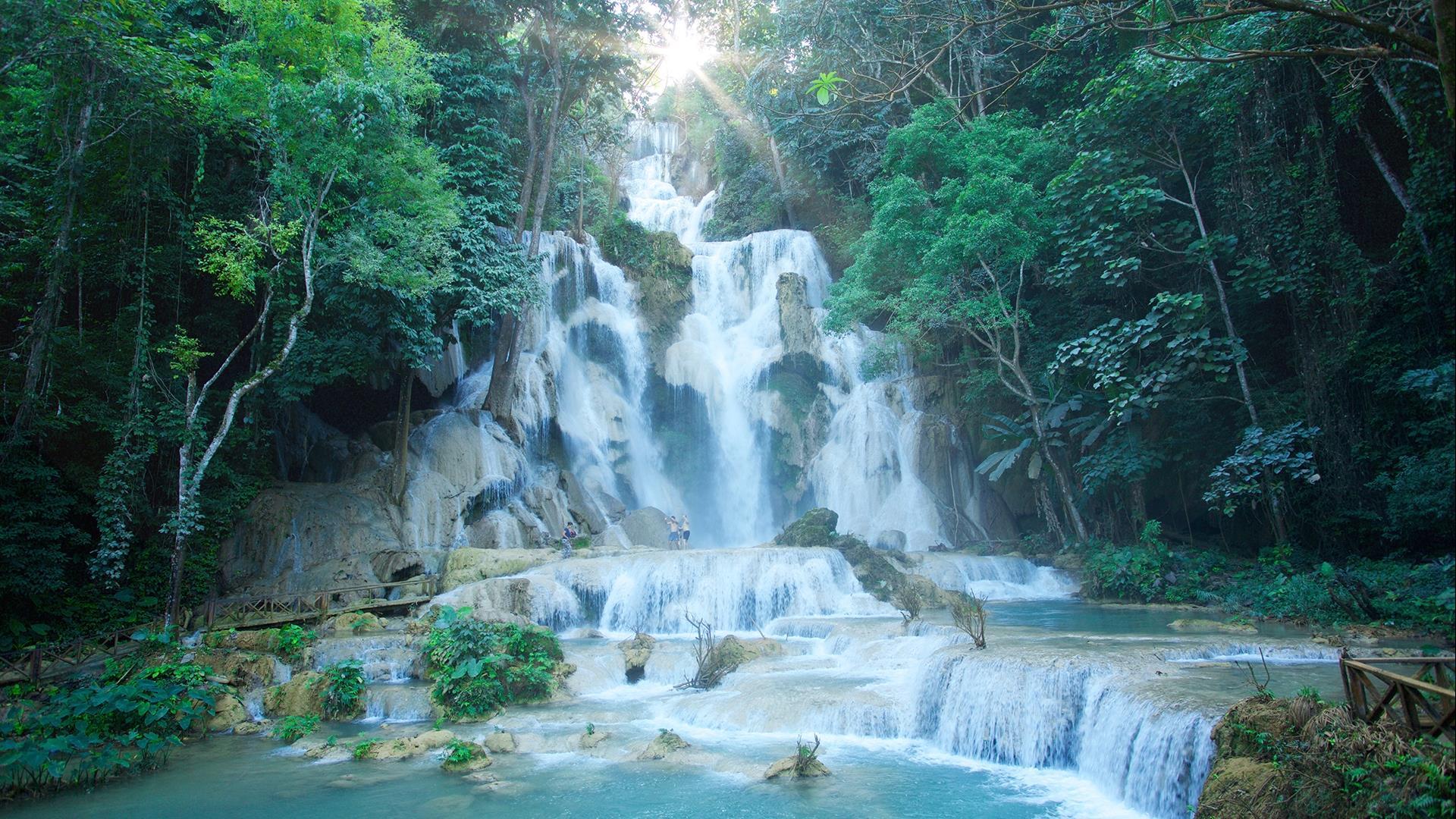 1 DAY | HIKE, SWIM, EXPLORE AND RELAX
This tour is among our adventure tour staples in Luang Prabang and offers the best way to see the beautiful Kuang Si Waterfall. You'll start your 3-hour trek walking through a lush forest trail. Along the way, you'll come across stunning mountain landscape vistas while passing through orchards, rice fields, vegetable gardens, and a local Hmong village, giving you the opportunity to get a glimpse into Lao rural life. The hike ends at the stunning turquoise pools of the Kuang Si Waterfall, where you'll have time to cool down, and swim. Also, enjoy the rescue center for moon bears located there.
Total trekking distance is 9 km (5.5 mi), medium difficulty, slippery when wet.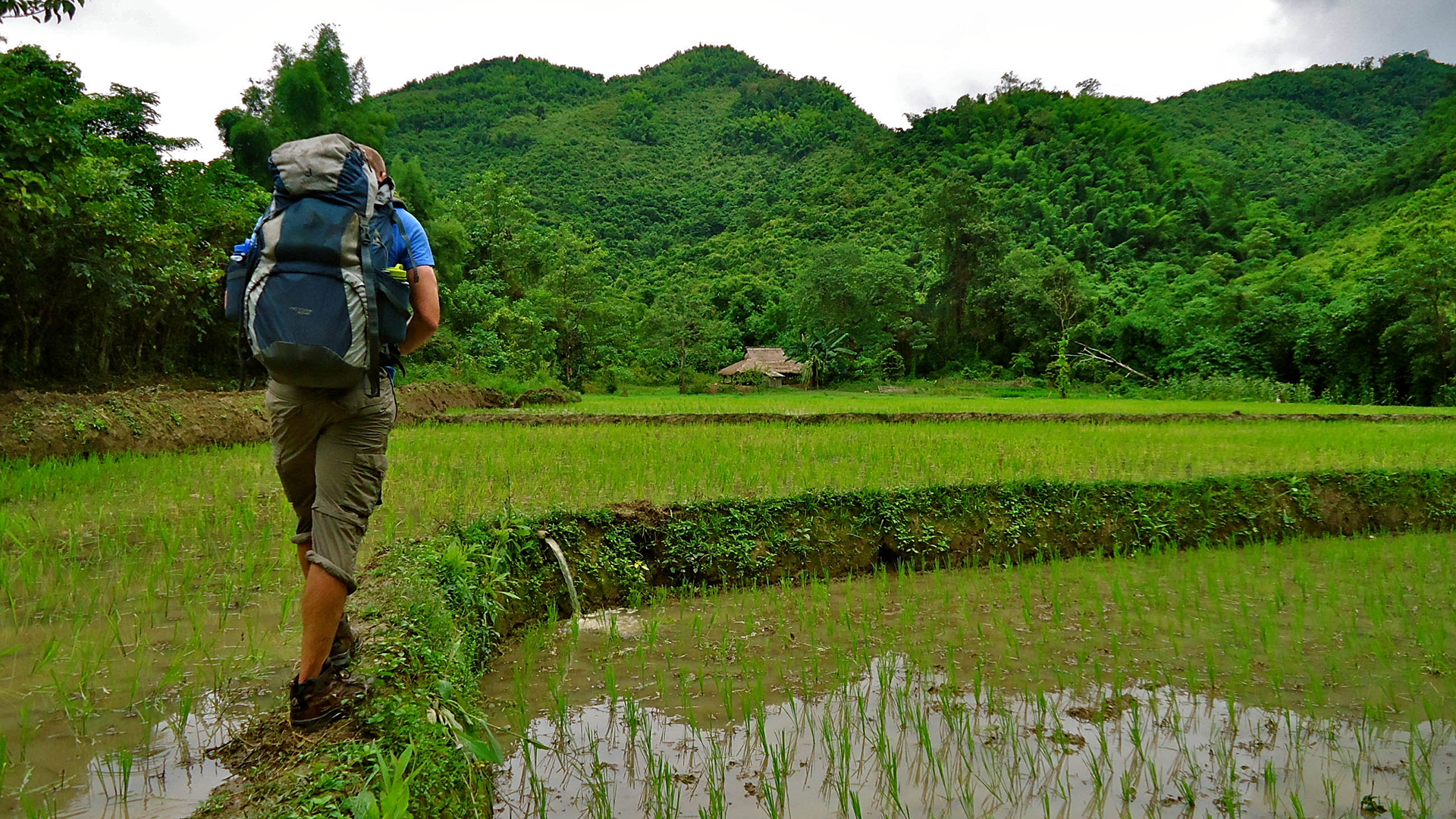 1 DAY | IN THE FOOTSTEPS OF THE LOCALS: TREK THE THIN PHA TRAIL
With this "FairTrek" tour you'll get the chance to help out the local communities that you hike out to visit.* Your guide will start by taking you on a boat ride to cross the scenic Nam Khan river before you begin your hike through rice paddies, jungle brush and up through the foothills of beautiful limestone mountains, grottos, and ridges that are typical in northern Laos. You'll stop in local Hmong and Khmu hill tribe villages along the way, with the opportunity to learn about local life and customs. If you visit during the wet season, you'll visit the refreshing Tad Sae waterfall. Dip in for a swim after a long day of hiking and enjoy.
*Funds from this FairTrek tour help support the local community. Find out more at FairTrek.org.
Total trekking is about 12 km (7.5 mi) taking 4-5 hours through 300-900 m of deciduous forest and farmland. Light hiking – much less arduous. The visit to Tad Sae Waterfall is seasonal.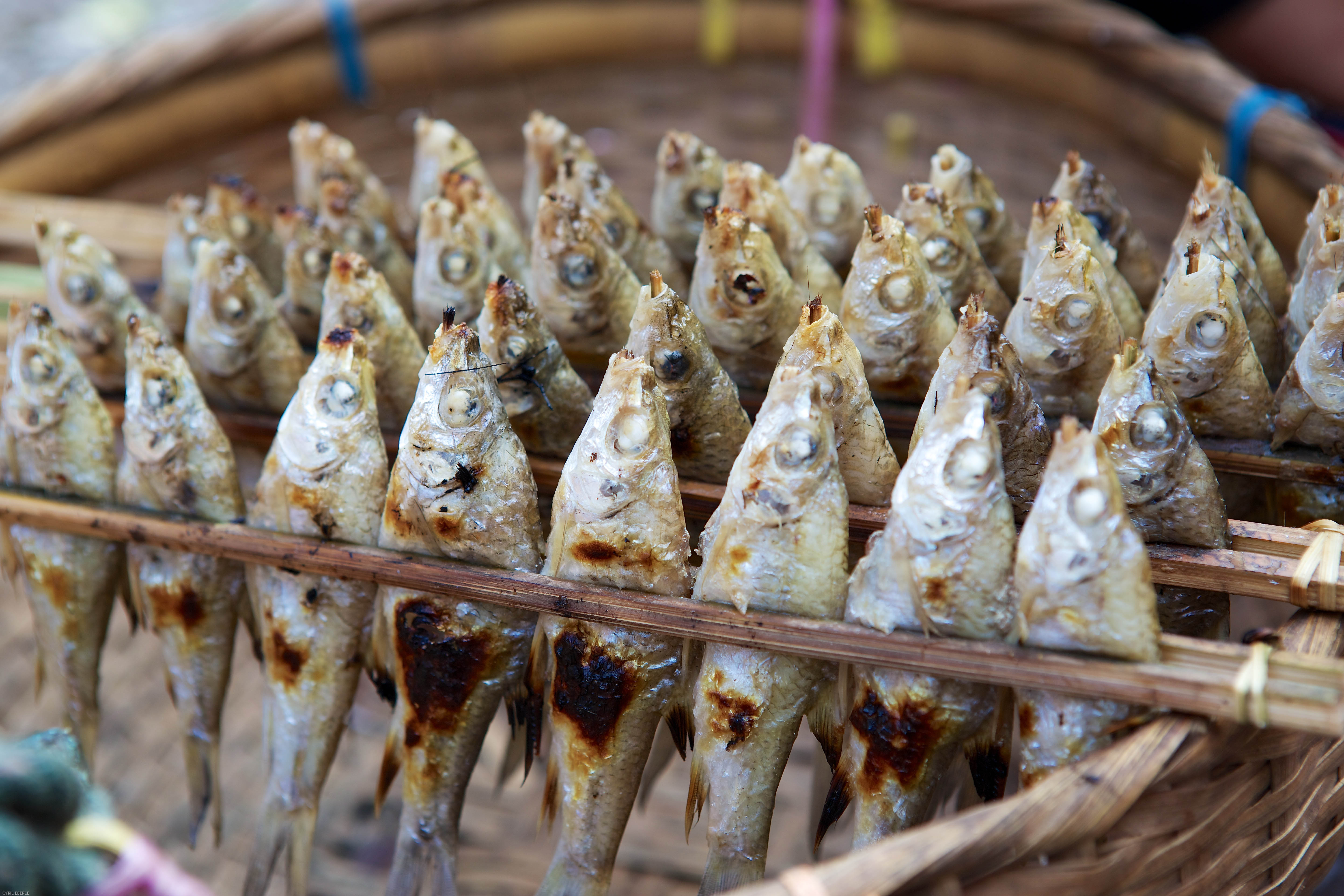 1 DAY | TREASURES OF LUANG PRABANG
On this guided sightseeing tour of Luang Prabang by minivan you'll discover why the city is called the Jewel of the Mekong. You visit the fascinating the morning market, ancient temples, war relics, local crafts, and the National Museum and learn the history from our guides about the former Lao kingdoms.
Luang Prabang is among the best-preserved traditional cities in Southeast Asia. Its tranquility and tropical charm, combined with its splendid natural scenery and cultural riches, make it one of the most alluring destinations in Laos.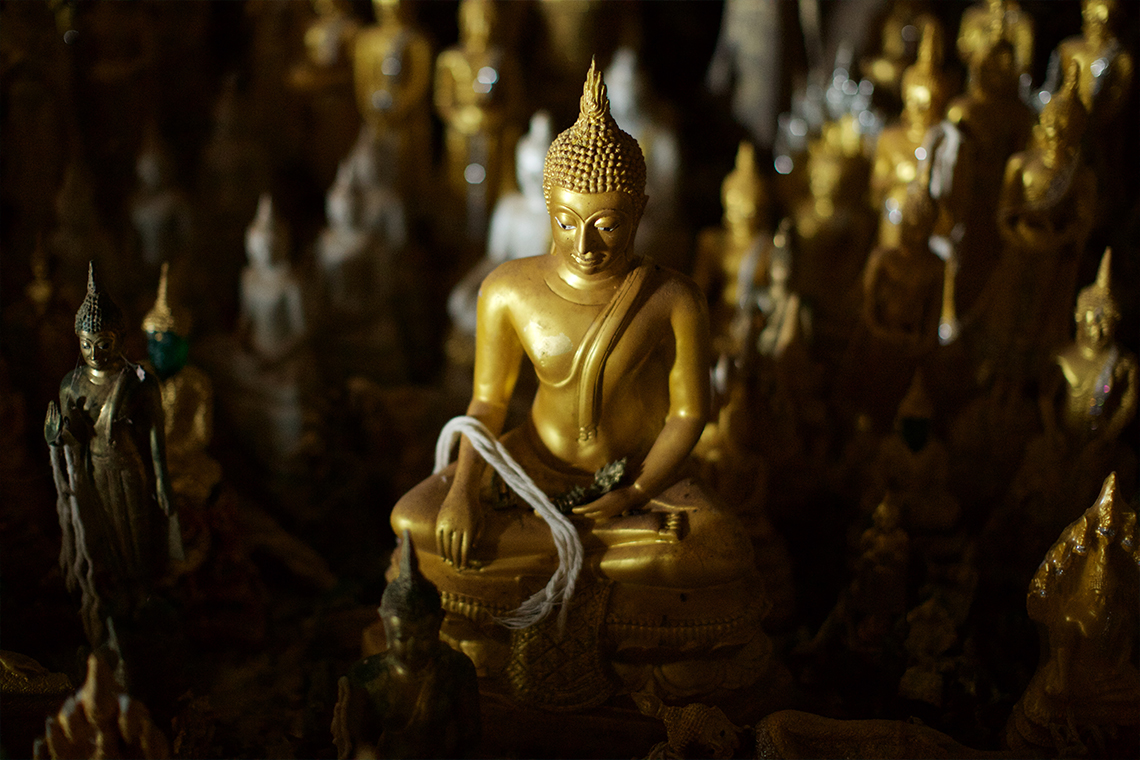 1 DAY | LUANG PRABANG'S MOST FAMOUS SITES
Want to see two of Luang Prabang's most popular attractions without biking or trekking? In the morning, you'll enjoy a drive by minivan to the confluence of the Mekong and Nam Ou Rivers where you'll cross the Mekong River by boat to explore the upper and lower Pak Ou Caves, famous for the thousands of Buddhist statues. After a drive along the Mekong River in the warmer afternoon hours, you'll enjoy the refreshing Kuang Si Waterfall in beautiful jungle canopy and visit the Bear Sanctuary before returning to Luang Prabang.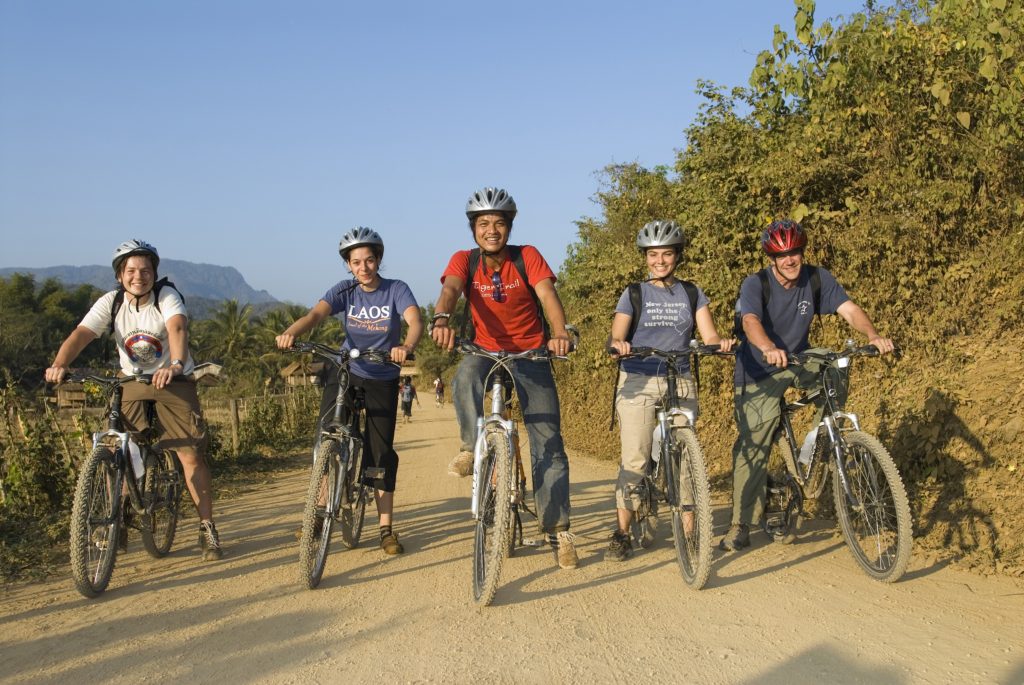 1 DAY | MIXED ON/OFF-ROAD LONG CIRCUIT MOUNTAIN BIKING
This 60km ride takes you along four rivers on mixed paved and dirt paths out of the city. Travel through countryside to Hmong and Khmu villages – all in one tour. It's an amazing day. During rice season the hills are green and people smile and wave as you ride through local villages.
You'll ride along the Mekong, Xuang, Pa, and Khan Rivers through beautiful jungle with a crossing by local boat with your bike over the last. We'll cover a lot of ground, have lunch in a local village, and climb one good hill before returning to Luang Prabang.

2 DAYS | FAIR TREK 
Trek through verdant mountains and take in the splendor of Kuang Si waterfall all while learning about about Laos's fascinating diverse ethnic culture. You'll start off your first day by hiking for 3-4 hours uphill through bamboo forests and jungle. Eventually you make your way up to the summit with breathtaking panoramic views. Then, settle in for the evening in the Hmong village of Long Lao Mai, where our Eco Bungalow is located (profits from the bungalow will go directly to the community). Your guide will introduce you to the village. Take some time to learn a few Hmong phrases and play a pickup game of football. Later, you can unwind in the comfort of your bungalow with a hot shower and an enjoyable dinner under the stars, prepared by the villagers.
Day 2 will see you bright and early with breakfast and another scenic trek through the wilderness. The hike will take about 3 hours, ending at the famous Kuang Si waterfall for a nice cool down swim.
All of our Fair Trek hikes are focused around community-based tourism initiatives and the profits are dedicated to creating tourism that leaves a positive impact on local communities. Find out more at FairTrek.org.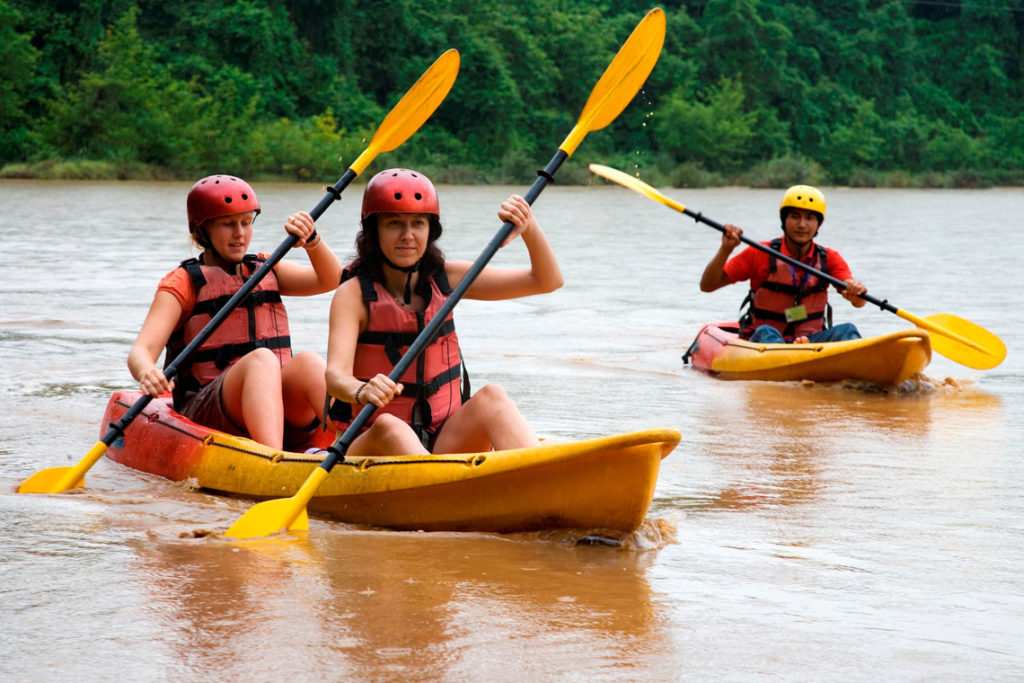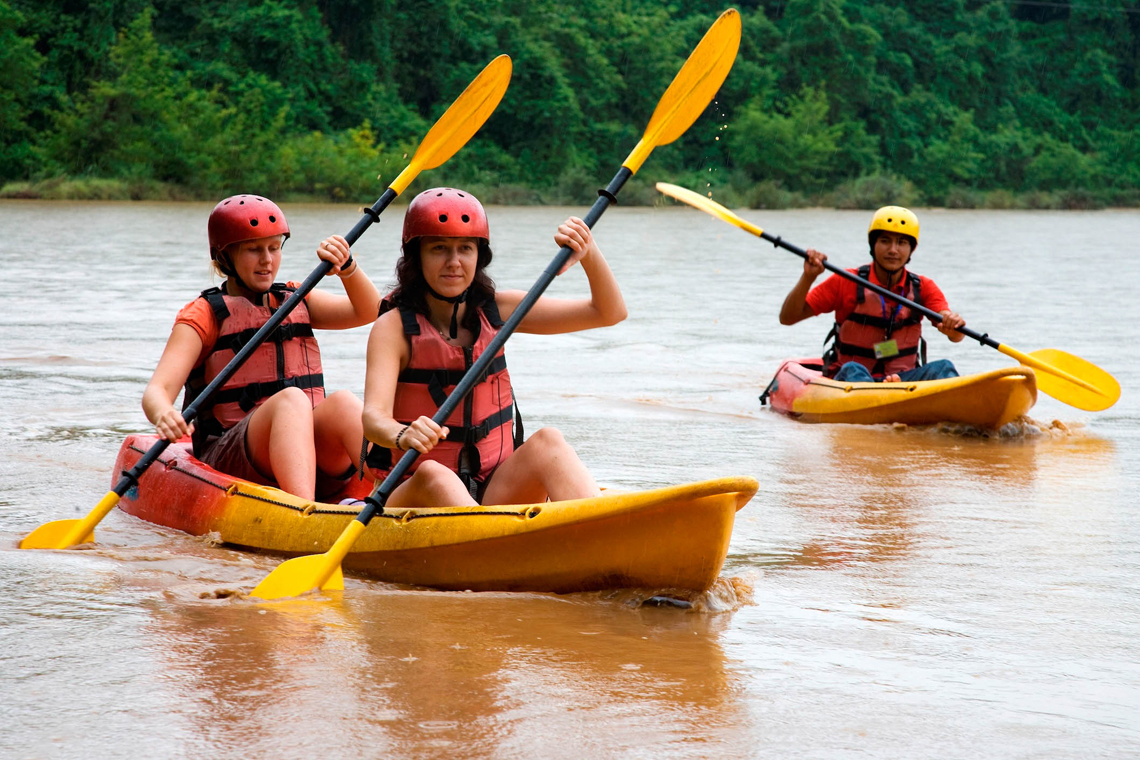 2 DAYS | GET OUT, BE ACTIVE, AND SEE THE REAL COUNTRYSIDE
This 2-day adventure combines the best of everything- hiking through beautiful landscapes, cycling the Nam Khan valley, kayaking down river, and visiting villages. You'll hike up in the hills to spend a night under the starts at a local FairTrek home stay. The next day, after a hearty breakfast, you'll trek to the Nam Khan River. Once there, you'll hop on a kayak and paddle back to historic Luang Prabang. It's a perfect 2-day light adventure package that brings you to the heart of Laos.
**Funds from this FairTrek tour help support the local community. Find out more at FairTrek.org.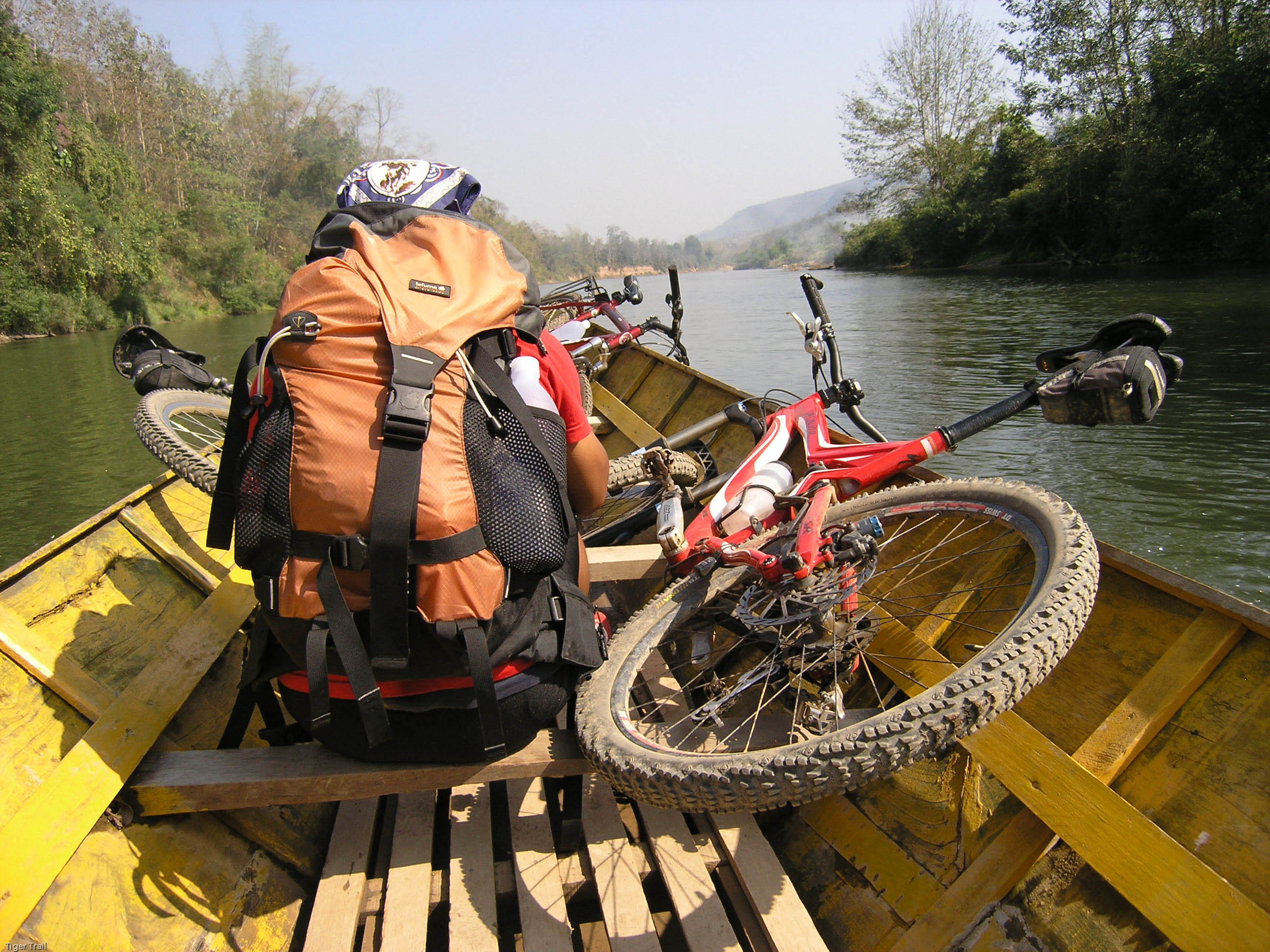 3 DAYS | BIKING, HIKING, ELEPHANTS, KAYAKING, & HILLTRIBE HOMESTAYS
3 days means more time for more adventure. This is our do-it-all tour with mountain biking, waterfalls, elephant interaction, village home stays, trekking, and kayaking. All conveniently located in the beautiful mountains surrounding Luang Prabang UNESCO World Heritage town. You'll visit isolated Hmong, Lao Lum, and Khmu villages, learning about their lives and cultures, and observing weaving and other trades. You'll pass through everything from banana and teak plantations, rice paddies, terrace pineapple fields, to karst, limestone mountains and jungle brush, stopping at Tad Sae Waterfall along the way. A perfect mix of activity, adventure, culture, and relaxation. Certainly, it will be the highlight of your experiences here in Laos.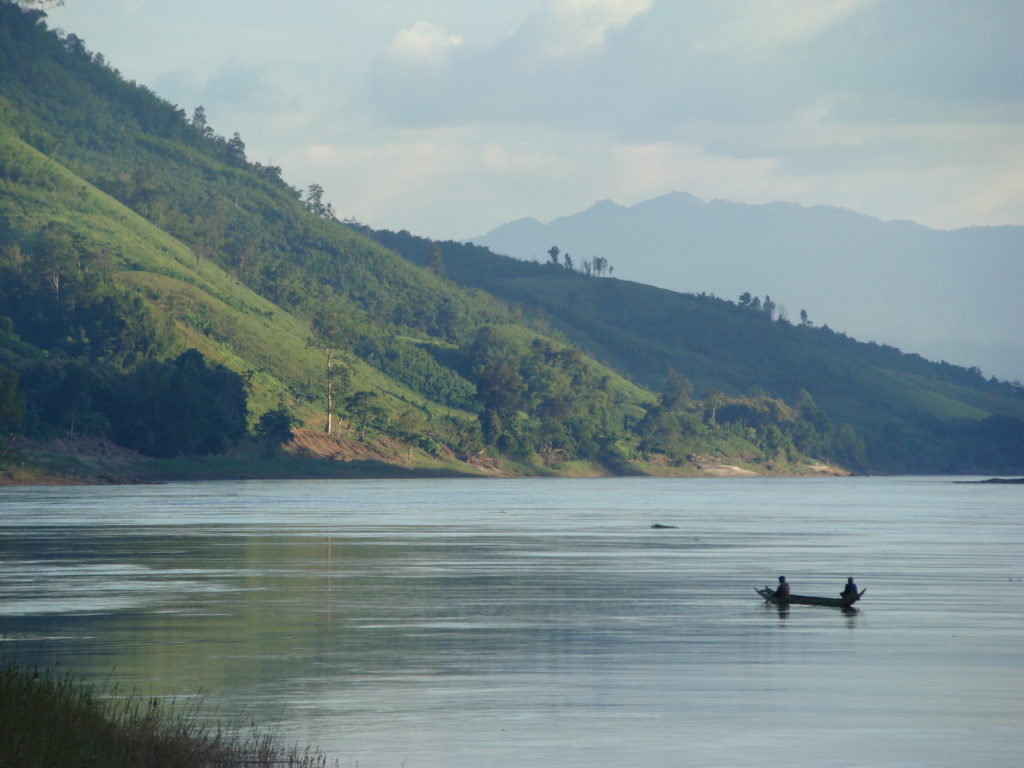 9. REMOTE TREKKING CULTURAL HOMESTAY
3 DAYS | DEEP MOUNTAIN HILLTRIBE EXPLORER
Store your luggage with Tiger Trail and take only what you need to travel light. You'll drive north along the Mekong and then the Nam Xeuang Rivers about 1.5 hours. Then cross the river by local boat to the trail head and trek straight into the jungle on trails that locals use daily as their routes to and between these remote villages.
Trekking is 4-5 hours of medium grade walking through rice paddies and jungle. Overnight in a welcoming Hmong village with basic, comfortable conditions to explore local and meet the locals. Dinner will be prepared by your guide and the local family.
DAY 02  – Rise to the sounds and activities of daily Hmong hill-tribe life and breakfast prepared by your guide. Today is the shortest hike, 4 hours along valley streams to an amazing remote and very large mixed Hmong and Khmu village situated in a valley surrounded by large mountains. Your guide will help you explore the villages and experience the local life. Enjoy your evening and relax for tomorrow's mountain peak hike.
Day 3 – Hike 6-7 hours to mountain tops with panoramic views looking over the villages where you just stayed and down to the Nam Xeuang River where our trekking ends. You hike the very trails that locals take to tend their steep mountain-top rice fields. Along the way, visit a Hmong mountain village. You can go for a well deserved swim in the river at the trail's end before our return trip about 1.5 hours to Luang Prabang from this unforgettable adventure trip. This is a great opportunity to sample and really experience the lifestyle including the food of mountain villages.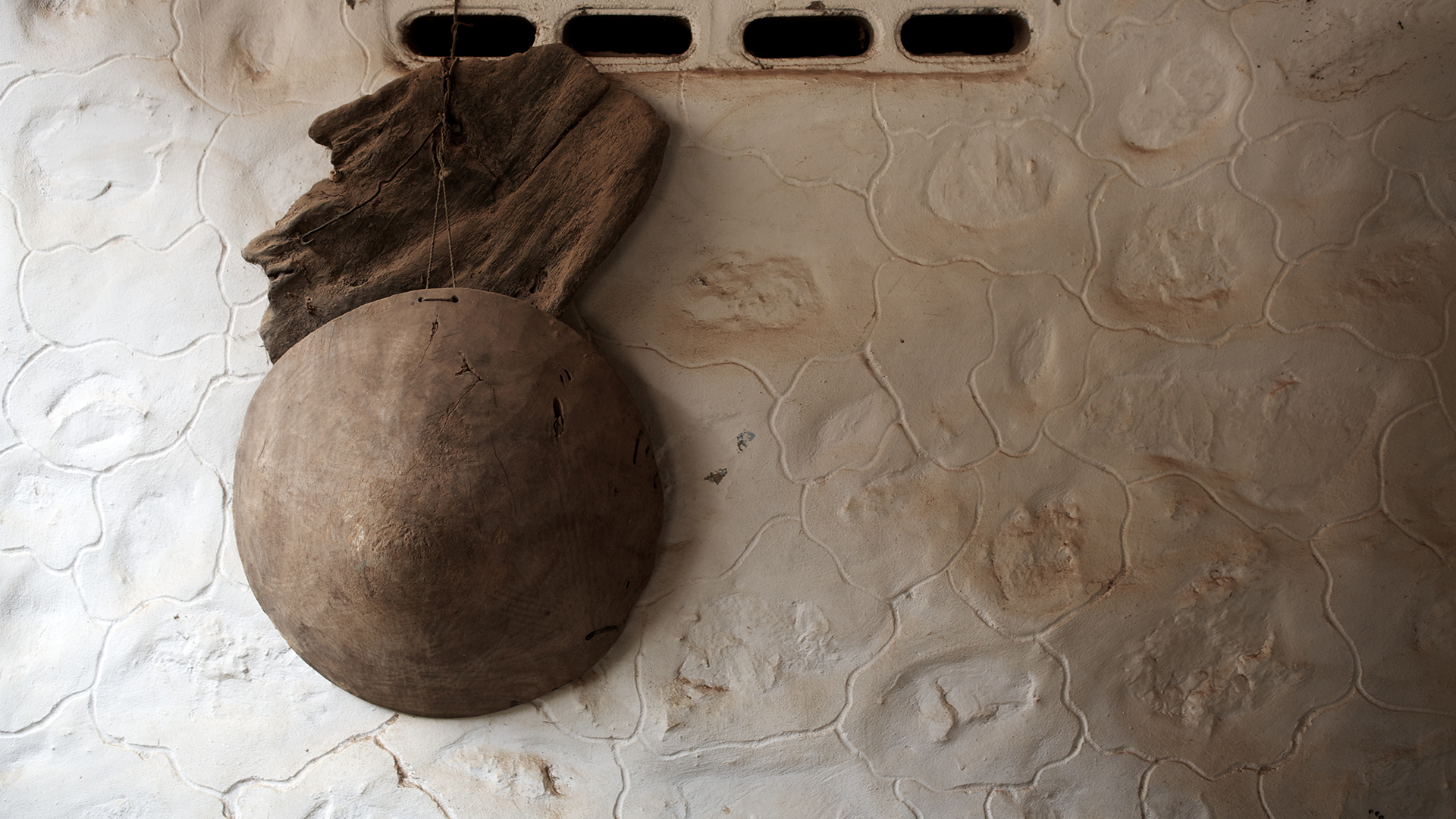 5 DAYS | ULTIMATE ACTIVE NORTHERN LAOS ADVENTURE
While our short 1-2 day tours are great, we highly recommend checking out some of our longer tours to experience more of Laos and get off the beaten path.
This is an awesome tour for those that are athletic and adventurous. It's packed with activities that will take you from Luang Prabang to Nong Khiaw and Muang Ngoi. Both places are known for their remote and stunning mountainous landscapes set on the Nam Ou River. Enjoy some of the best biking, trekking, kayaking, and boat rides in northern Laos. You'll go on our 100 Waterfall Tour (with Tiger Trail-discovered falls), and explore the famous Pak Ou Caves north of Luang Prabang. Overnight accommodation will be a great mix of home-stays in villages and riverside lodges, where'll you get the opportunity to kick back on the porch after a day of adventure and absorb in night sounds. There is nothing but the forest, mountains, and the river surrounding you. However, for a truly amazing experiences, we recommend checking out tours that go up to Nong Kiaw.