Discover Laos through textiles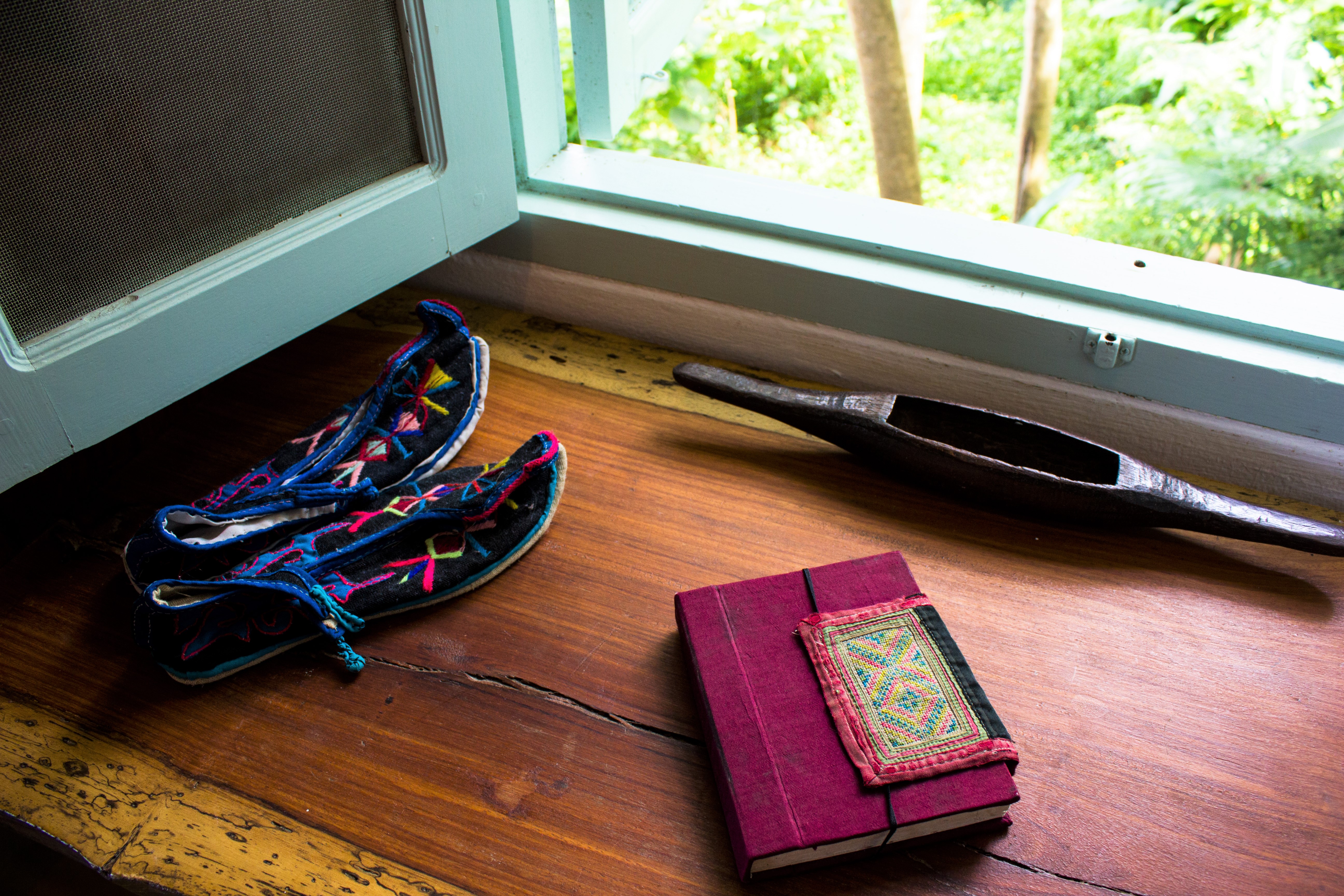 When I first mentioned that I was traveling to Luang Prabang, I had received a few recommendations from my friends in Vientiane to visit Ock Pop Tok, a very popular textile shop in Luang Prabang. With great reviews listed on Tripadvisor, I made a mental note to stop by their store as I strolled around this tiny town, visiting a few wats along the way. And although their shop was beautifully set up, little did I know that just a short bicycle ride out of town, Ock Pop Tok also has an equally beautiful a Living Crafts Centre (LCC) open to the public. The centre includes a fair trade weaving workshop, a restaurant called Silk Road Cafe that serves Asian fusion fare, and a villa nestled in a serene location overlooking the Mekong.
To get the full Ock Pop Tok experience, I booked a night at the villa. The bed & breakfast has 4 bedrooms each styled with textiles from a separate tribe – I stayed a night in the spacious Hmong bedroom and had a very relaxing stay.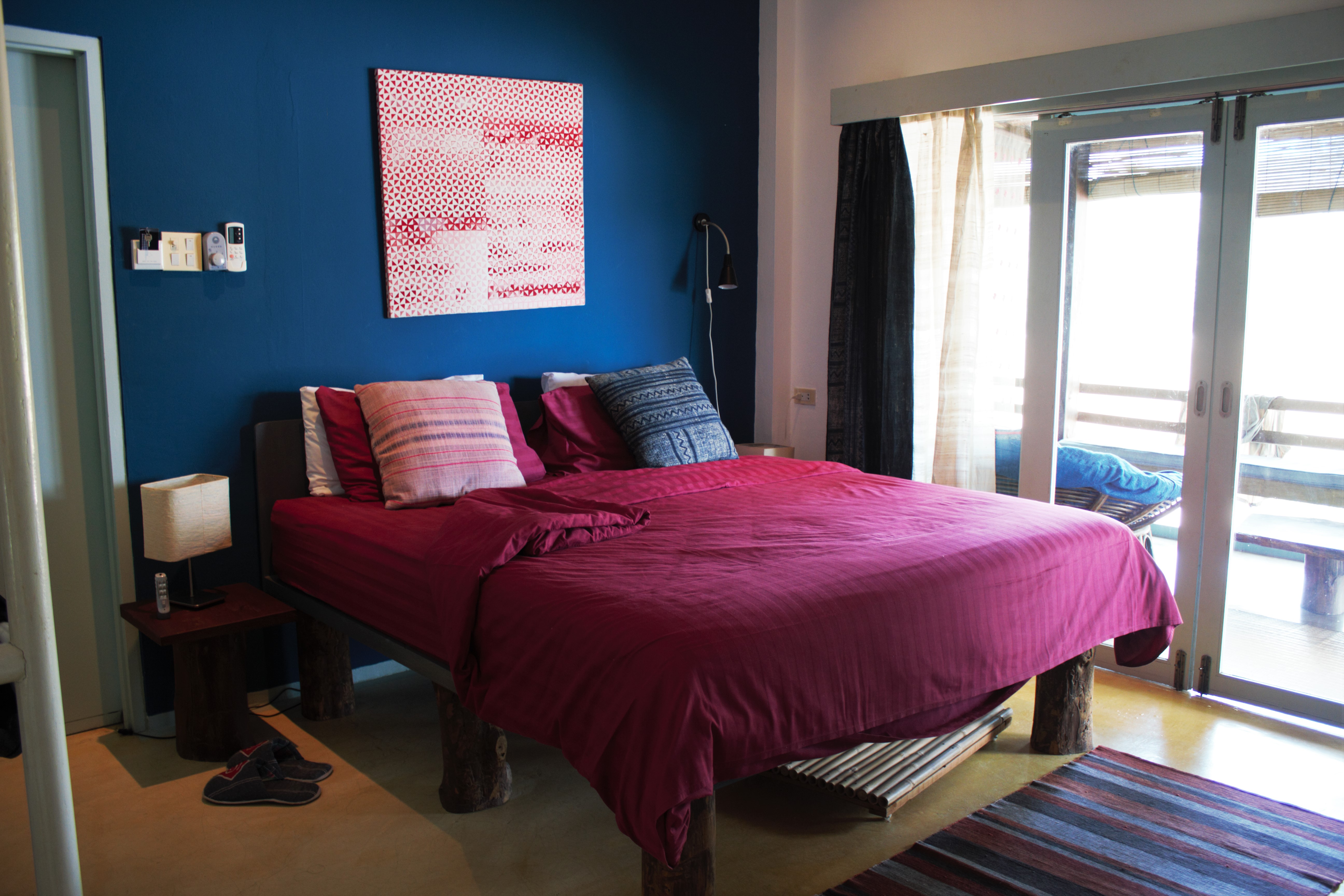 The villa is tastefully decorated with minimalist lines and colors that let the fabrics do all the talking. Beautiful batik lines the walls and throw pillows, giving off a modern yet rustic Lao charm. The rooms open out to a balcony overlooking the river, where one can comfortably sink into a mushroom chair with a book and some tea to sip, by the riverside.
A night at the villa also includes these complimentary services:
a free shuttle to the town centre between 8 am – 5 pm
free bicycle rentals
a free Fibre2Fabric tour of their weaving workshop
wifi in the room and throughout property
24-hour, on-site staff available for assistance
a free breakfast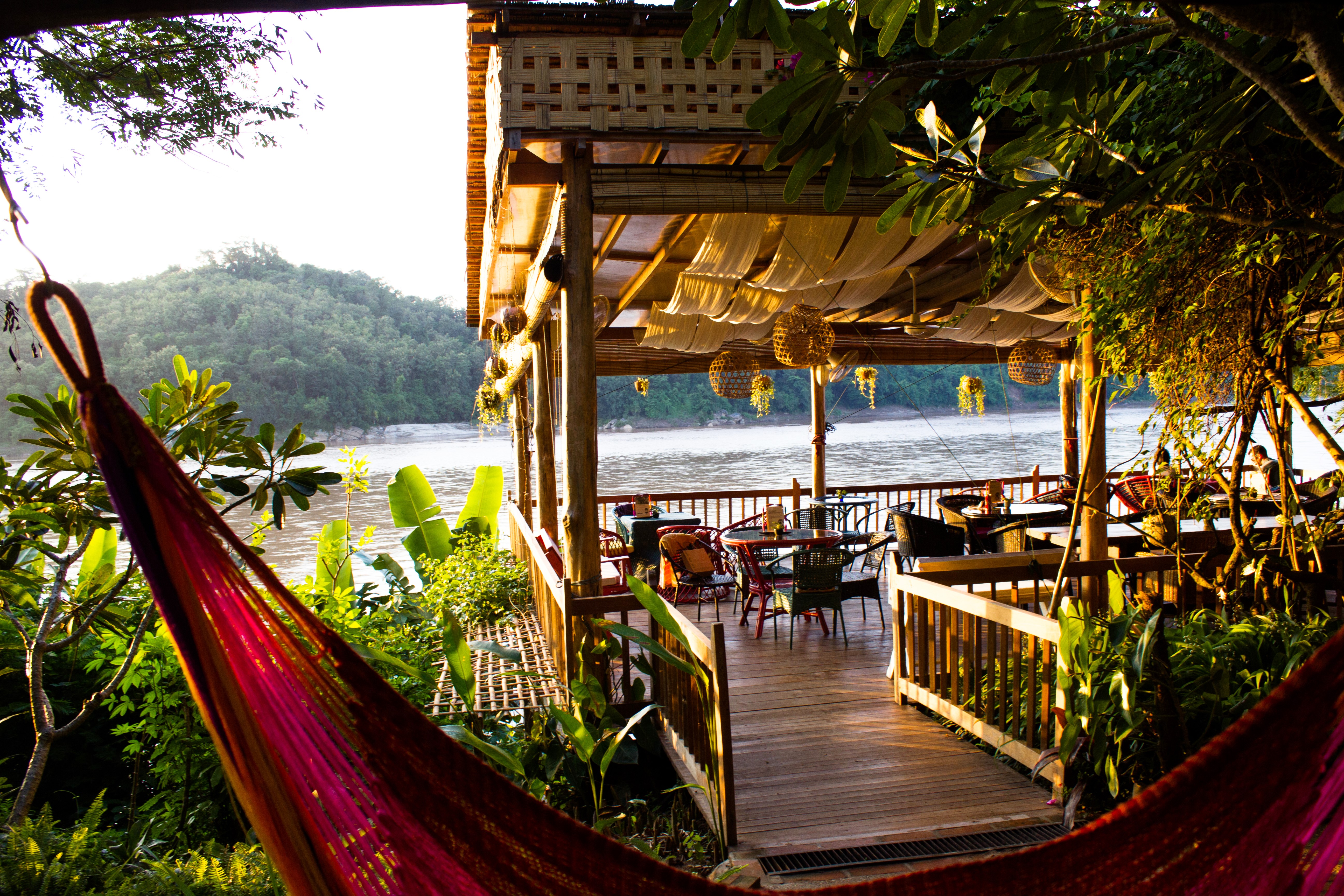 Since breakfast comes with the package, when I woke up, I walked through their garden next door to their beautiful riverside restaurant. The Silk Road Café serves Lao and western fusion fare in a carefully-thought out menu and it's open for breakfast, brunch, and lunch.
I sat down to a fantastically-prepared morning meal of eggs benedict with salmon, and lingered at the cafe to work remotely under the cool shade of the garden.
So when lunchtime approached, I tried their special which that day was khao soi, a chicken dish in a slighty-spicy coconut broth with veggies, bean sprouts, and mee or egg noodes (although gluten-free rice noodles as a substitute are also available upon request). So although I can't give any specific lunchtime recommendations, I can vouch for the fact that their food is indeed good.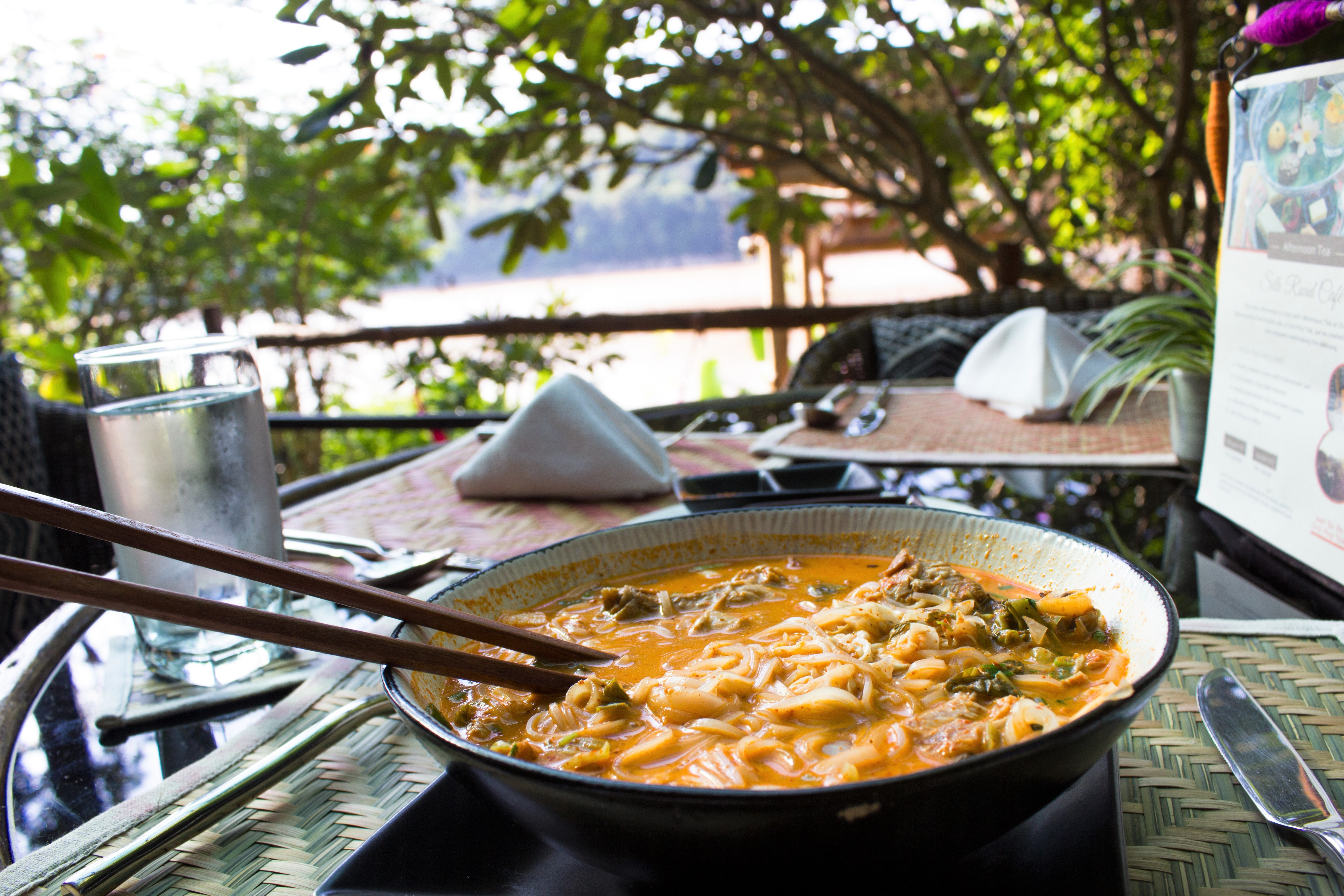 After lunch, I took a free Fibre2Fabric informational tour of the workshop. Featuring weavers from various tribes here in Laos, Ock Pop Tok has set up the Living Crafts Center precisely for people to come and view the weaving process in an effort to understand all that goes into crafting the intricate textiles of Laos. Informative English tours run quite frequently (around every half hour depending on demand), so you can just show up and join the next tour group. The centre open from 9-5 (although it's probably best to show up in the morning).
Our guide, Doua took us through- first explaining the process of growing silk worms and making silk. He then showed us the various natural products used to dye fabrics and led us through the weaving workshop, where the ladies from each tribe were weaving away on their handlooms. The tour was short but engaging and informative, and ended with us staring over the shoulders of those visitors who had signed up for weaving, dying and batik classes.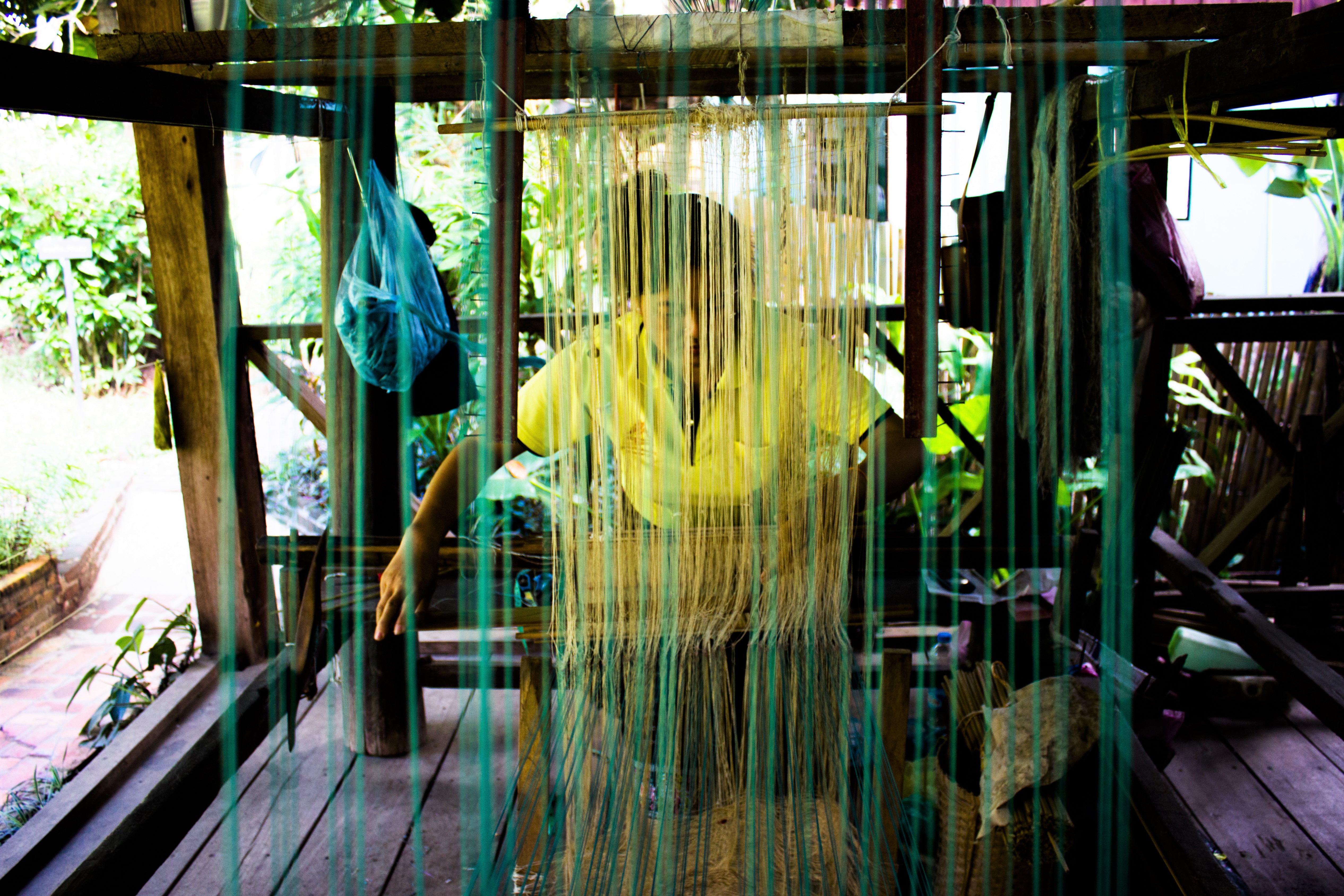 If you're interested in learning how to work a handloom or make your own Lao scarf, check out the single and multiple-day classes offered.
Although it's set out of town, the Ock Pop Tok centre is definitely worth a visit. Whether you just have a meal relaxing in a beautiful setting along the Mekong, stay a night at the villa, or take a fun and hands-on textile making class, it's a great place to kick back and spend a day.