Luang Prabang Half Marathon: La Procession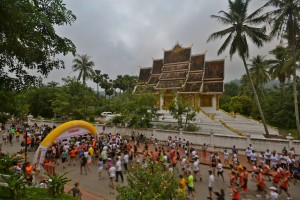 Belated high five and complimentary ice pack to all those hearty souls that participated in the inaugural Luang Prabang Half Marathon: La Procession on October 5.  Even with a 6:30am start time, the heat and humidity can be quite a challenge, so we  ll deserved congratulations to all those who gave it a go, which pulling from race results looks like nearly 300 participants!
Kicking off on Sisavangvong Road in front of the National Museum, the 7k circuit brought runners past some of this UNESCO World Heritage Sight's most prized landmarks and along the banks of the Nam Khan and Mekong rivers, completing the home straight on Sakkaline Road and back to the National Museum.  7k finishers stopped here, while 14k and half marathoners pressed on, fed by the cheers of race fans and yummy snacks along the route.  Though a decidedly international crowd toed the line, Lao national Somchan Bounyawong brought home the win in the half marathon with a blistering time of 01:29:33.  He's fast.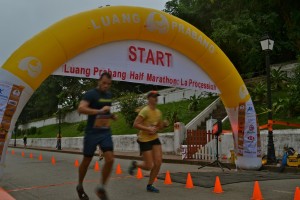 Touted by CNN travel as one of Asia's top destination races (CNN Travel) 'La Procession' was also for a good cause.  Runners did not pay race fees, but rather raised donations for Friends International (Friends International), a NGO reaching out to marginalized youth and their families in South East Asia and around the world through programs engaging in community and street outreach, educational and vocational training, and family support to name a few.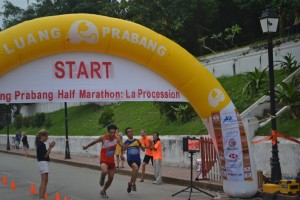 Friends International looks to implement its successful training restaurant model, à la "Makphet" (its Vientiane branch), in Luang Prabang.  The proposed project would establish a vocational training restaurant in Luang Prabang, able to train up to 18 students at once, followed by job search support in the local hospitality industry.  Students would also receive general education as well as be provided with medical care, counseling, life skills education, and housing support.  Shops are also attached to each Friends International restaurant, selling recycled products crafted by family members of students, generating additional income for programs as well as boosting financial independence for families.
Since 2001 Friends International has implemented five of these vocational training restaurants in Cambodia and Laos.  All have been operating profitably since year one.  Suffice to say this program would address some contemporary issues in Luang Prabang: the need for qualified Lao staff in the ever-growing hospitality industry, the absence of training opportunities for young people, and the influx of highly vulnerable youth seeking employment in the city.
Running is good for you.  Running for a good cause is better for you.  Congrats to the organizers, donors, and participants on a successful run.  Hope to see it back next year.