Mandala Ou – Opening Weekend!
Magical Scenic Memories on the Nam Ou River in Nong Khiau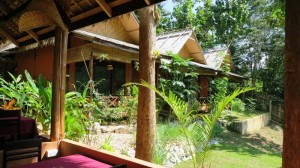 Congratulations to Mandala Ou!! After two years of planning and construction, their long-awaited grand opening happened at the start of November.
Nong Khiaw is located about 130 km North of Luang Prabang. As an expat living in Luang Prabang, it is a must to have a local getaway from the hustle and bustle of "city" life. Nong Khiaw provides that with its quaint size and cute little restaurants lining the two main streets. The view is what will bring you there but the peacefulness and solemnity is what will keep you there. It is a place to recharge.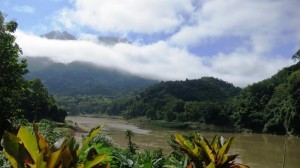 As we pulled up into the long driveway leading to the resort, we were greeted with the beautiful view of the karst limestone mountains plunging out of the Nam Ou River. This drew us out of our minivan, happy for the opportunity to stretch our legs. Like a trance, we were drawn into the resort restaurant to take in the beauty of the spectacular scenery of Nong Khiaw.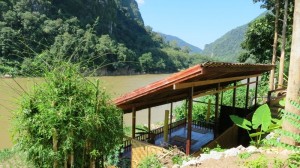 Perfectly juxtaposed alongside the banks of the Nam Ou River, Mandala Ou has 10 detached and spacious bungalows, six of which open up to balconies with a river view. There are many wonderful features to this resort, but my personal favorite is the riverside sala that is meant to be home to monthly yoga retreats.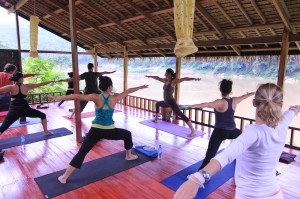 The bungalows are places amongst lush foliage and well-landscaped paths. The land used to be a thick jungle and one can see that much careful thought went into the preservation of large trees on the land. So much so that one of the bungalows has a tree in the middle of its balcony! The rooms have comfortable beds and spacious bathrooms. Complimentary tea and coffee make it a perfect scene as you sit on your balcony in the early morning and enjoy a warm beverage.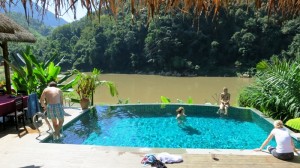 Something also quite unforgettable is the "infinity-edge pool", actually the only swimming pool in Nong Khiaw, which seamlessly flows into the Nam Ou River itself! All in all, a wonderful place to visit (and kid friendly)! We will certainly return for a weekend getaway some time soon!!