A film by Houmphanph Phahongchanh
Aynoi is a middle-aged dancer, artist, and teacher in the Phralak Phralam tradition in Luang Prabang, Laos, who is devoted to teaching the younger generation of artists and dancers in the traditional way: they serve as apprentices, learning as they work, and Aynoi supports their education. However, the older man becomes jaded when a group of his own students break away to form their own competing troupe. His response is to discontinue his practice for four years. When the same students return to ask forgiveness and work, Aynoi denies, but he has now returned with a new student… and a newfound passion for Phralak Phralam.
Phralak Phralam is the national epic of the Lao people, which has been adapted from an earlier Sanskrit epic poem, the Ramayana, writen by Valmiki in the second century BCE. The Ramayana is considered to be one of the four largest epics (the other three being the Mahabharata, Iliad, and Odyssey), and it is arguably the oldest tradition of storytelling in the world. Literally meaning "Rama's Journey," this epic played an important role in Hindu literature and Hinduism. It is a story about a disturbance of peace and order, the balance of power in the world is so broken that it requires a devine being to put it back into equilibrium.
Throughout time, the Lao version of this epic lost its association with Hinduism and instead depicts the previous life of the Buddha. The epic was first brought to Laos centuries ago by Buddhist missions. In Laos, the story of the Rama is featured in many mural paintings and wood relief carvings on doors and on windows of Buddhist temples. There are two known versions of the Ramayana story in Laos: the Luang Prabang version in the Royal Capital and the Vientiane version that is painted on the walls of the Wat Pa Khe temple. Phralak Phralam became one of the most popular themes in the repertoire of the Lao Royal Ballet until 1975, but this tradition has since been revived in 2002 by the Royal Ballet Theatre in Luang Prabang.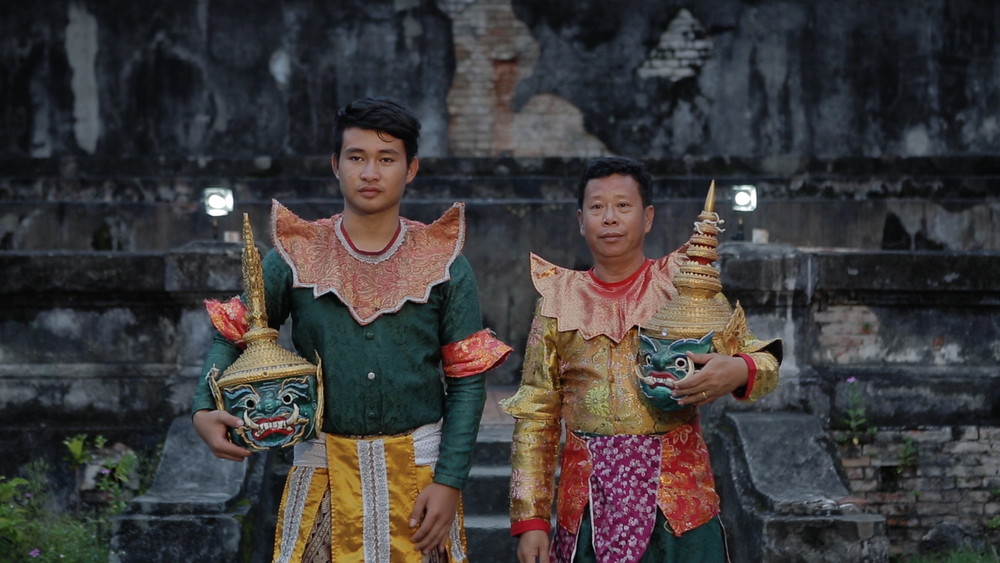 A shorter version of the Phralak Phralam national epic, Lam Pha Lam, was written on palm-leaves. This version was easy to transport to all regions in Laos and could be sung by a Mor Lum, a traditional expert singer accompanied by a Khaen, a bamboo mouth organ.
The story of Phralak Phralam involves many divine characters, and retells the story of Prince Phra Ram (Rama) and his love for Princess Sida (Sita). However, this love is disturbed by Totsakhan, who kidnaps the Princess out of jealousy and takes her to Lanka Island (Niaks, Rakshasa). The vulture king, Jatayu, brings proof of this kidnapping to Phra Ram by showing him Sida's lost ring during her journey to Lanka Island. Phra Lak's brother, Lakshami, who is helped by Hanuman's monkey army on this quest for Phra Ram's lost love, kills Totsakhan and all of the giants on Lanka Island. He rescues Sida and returns her safely to Phra Ram. However, Phra Ram doubts whether Sida is actually loyal to him after being captured and staying with the enemy. Sida proves her faithfulness to Prince Phra Ram by submitting herself to self-immolation, where the story ends with a restoration of order and peace in the world.
If you are interested, you can read Vo Thu Thinh's abridged translation of Phralak Phralam taken from a manuscript from Wat Kang Tha in Vientiane, Laos in 1938.
About the Filmmaker
Houmphanph Phahongchagh is an emerging Lao filmmaker and entrepreneur from Luang Prabang, Laos. He attended multiple video and photography workshops in Laos and in Southeast Asia in order to develop his filmmaking skills and to share stories about his country. He has created numerous short documentary films that highlight some of the most important festivals in Luang Prabang, including Phralak Phralam.
Credits
Created for the Directing the Documentary Workshop in Luang Prabang (2015)