Laos Home Stay Experience
in a Lao Hmong Village
I work as an intern on a Community Based Tourism (CBT) project for Tiger Trail Fair Trek. Tourism benefiting communities translates into an alternative way of tourism through cooperation with the locals. This is one of the definitions I found:
"CBT is tourism that takes environmental, social and cultural sustainability into account. It is managed and owned by the community, for the community, with the purpose of enabling visitors to increase their awareness and learn about the community and local ways of life." (REST Project, 1997)
With the construction of an Eco Bungalow for a new CBT project,
I got the opportunity to spend five nights in a traditional village!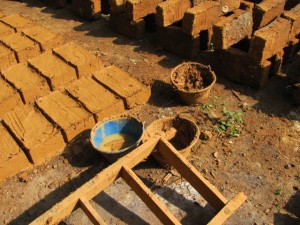 I lent my muscles, my sweat, and my laughter to the construction of an Eco-Bungalow!  I found myself with clay up to my knees standing in a two meter dirt pit making bricks the natural way. I was helping here and there, preparing materials and work stations for each small group. It was great to learn for awhile from Ms. Non, the clay expert! She worked through cooperation, brainstorming and experiencing cultural exchange. I really enjoyed learning about the adobe house construction, especially in this rewarding way.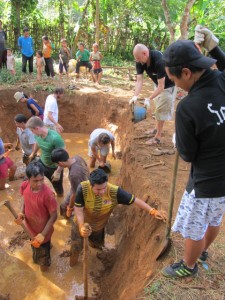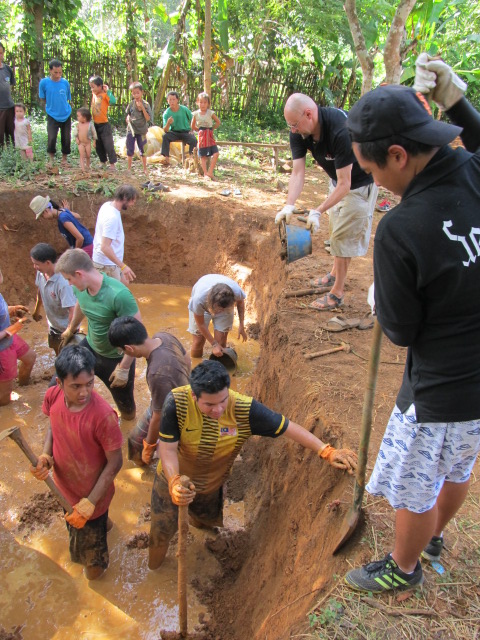 I'm glad to discover how to build a house, especially in an environmentally friendly manner! It is basic life knowledge!
Home stay in an ethnic village allow the guest to experience the local lifestyle, to improve his language ability or at least get a better understanding of the local culture.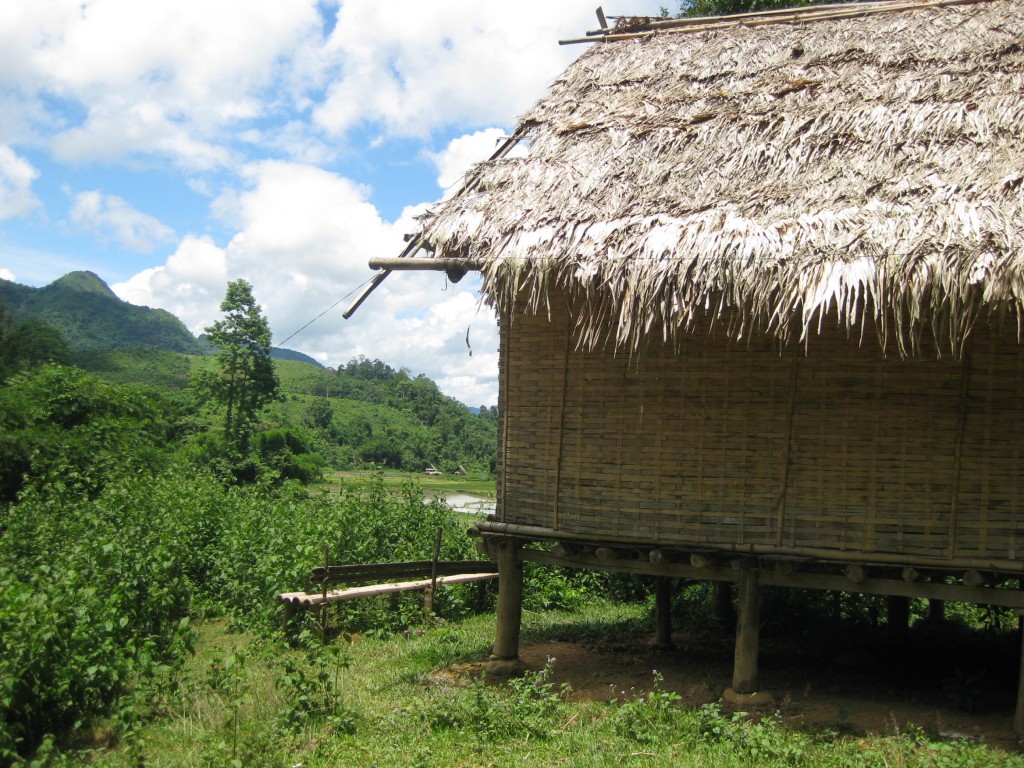 Long Lao Mai village is located about 25km South East of Luang Prabang. It is quite a big village with 675 people including 482 noisy children. 94% of the villagers are farmers. They grow mainly rice but also corn, hops, vegetables, fruits, sugar cane, peanuts, some medicinal plants. At the time of my visit, local people were harvesting rice so the village was quite empty during the day, only grandparents and children!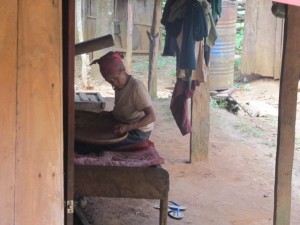 There is mainly wood houses with dry bamboo and grass roofs. There is no asphalt road, no wifi, and very few cars… Even if the people don't wear the traditional Hmong clothes, you can feel a
different ambiance there! Maybe because of the mountains all around, you feel more free in a full green open space!
When I walk around in the village I saw one mama sleeping on a mat behind the house, another one weaving or looking after her children.  We can see farmers passing by and carrying veggies in a wooden basket on their backs.  When the water comes, it's time to wash clothes and take a shower!  It is very interesting and nice to share this simple daily life, closer to Mother Nature.
Right and left, we see bands of children with ten year old girls carrying small babies! I saw a lot of solidarity between them, playing a lot together and hugging the ones crying… One of my strongest memories will be the bond I felt with the children. I spend a lot of time with them, playing in the school yard, walking around the village and they even followed me to the outdoor shower!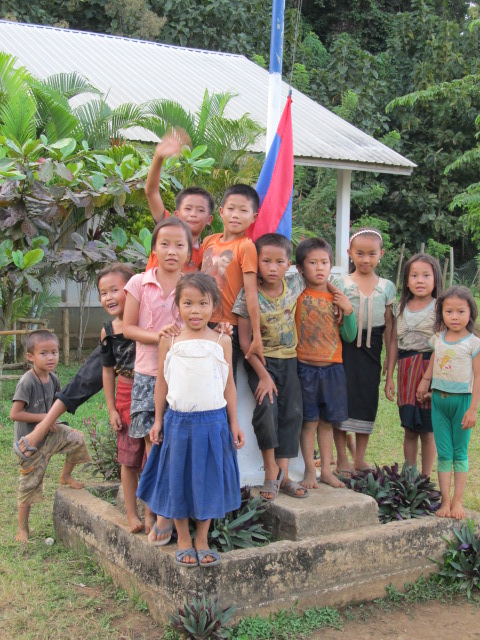 Since the first day of the bungalow construction, the children watched us working. I invited them to come give a hand. They helped us carry tools, clean and shape bricks, and cover the bricks in the evening. The boys were so skillful, working tediously and quickly!  On the other hand it's little bit scary to see little boys wielding machetes!
I know only a few Lao words so the communication was sometimes difficult, they were speaking to me (in Hmong or Lao), asking questions and waiting for answers! But still, it was so cute!  One time, they picked some flowers and started coming back, looking at me and
pushing each other a bit… The group finally pushed to the front one of the smallest children to give me a beautiful bouquet of red flowers! They are so shy! Some other young child were afraid of me, I made them cry just by smiling and looking at them!
Two useful Hmong phrases:
Yo Jong : Good morning
Wo Djao : Thank you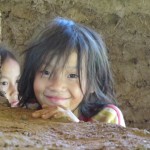 I was lucky to get to home stay with with Mr. Kor parent's. I know him as one of Tiger Trail's tour guides. It was interesting to be with him in a totally different environment. He grew up in Long Lao Mai and now he lives with his wife and two kids closer to Luang Prabang. He has a very grateful behavior toward his parents. They worked harder to allow him to go to school. I saw Kor's mother with his sisters and brother in-laws cleaning and packing hundreds of salads at 11pm! At about two o'clock in the morning they went to sell the vegetables at the Luang Prabang morning market! They usually come back around 9 or 10 o'clock and keep on working all day long. It is a hard way of life, especially with the garden far away up along the mountain side. Kor told me that it was the 10.000 kip ($1.25 USD) from selling the vegetables that had paid for his school each week!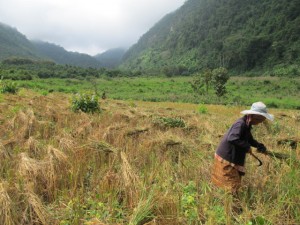 I see Laos as a surprisingly beautiful country mainly inhabited by welcoming and peaceful people. I  want to avoid, as much as I can, to bring any western capitalism and consumerism influence. Community Based Tourism is a worthy initiative! I came here to enjoy a different life style, closer to nature and more respectful of all human beings.  I'm glad to contribute, at my level, towards a better wealth distribution between the touristy places and the poorer countryside in Laos.
So to sum up, I improved my skills links to the adobe house construction, I learn about the Hmong culture and experienced a bit of their daily life. It is very interesting to be a tourist giving benefit to and receiving benefit from a community, you chose to give your money to the local, for the local and you are with the local.
It has been more than an internship,
I'm learning a new and authentic way of life !
You can find more details about the village and the project on the Fair Trek website.