Internship in Laos, Luang Prabang
After a long night and tiring 12 hour bus ride from Vientiane I finally reached Luang Prabang, a charming small city nestled between
the Nam Khan and Mekong River.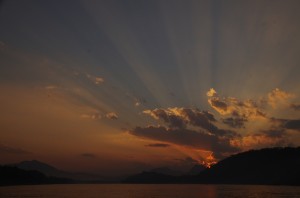 As I got off the bus in Luang Prabang, dark clouds and a bit of rain were my first welcome in this old UNESCO world heritage town which used to be the first capital of Laos. I could see saffron colored monks, walking along Sisavangvong Road to collect food from the local people in the early morning. What an amazing sight for a first impression.

It truly was an intense experience for me to watch the orange glowing queue of monks and novices walking through the empty streets of Luang Prabang.
I spent the rest of the day recovering from the bus ride as well as exploring the small city center. There was also another attraction that caught my attention: The Luang Prabang Film Festival. It was like in an open-air-cinema and I enjoyed my first Lao-movies with English-subtitles. Lots of them took place in Vientiane so I recognized some of the spots I used to stay in.

The next day I started my internship at Tiger Trail which was quite exciting as I got a chance to practice my poor Lao a bit. It was also quite nice to get some practical experience about mapping and writing blog entries.

One of the most interesting things I have done was working on a detailed plan for an adobe bed frame that was going to be built in Long Lao Mai, a small village about 1 hour from Luang Prabang and part of a community-based tourism project managed by Tiger Trail.
I also enjoyed getting to know my workmates as well as meeting other travelers in my guesthouse who also decided to stay longer as interns or volunteers in Laos.
One of the most spectacular things to do in Luang Prabang is watching the sunset.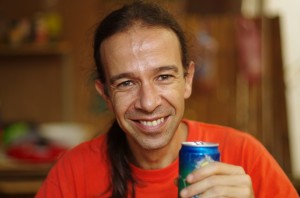 There are plenty of opportunities and one of the nicest one is to climb Wat Phou Si. It's a short but steep climb and as soon as you approach the temple you have a wonderful view of the Mekong and some high mountains in the back. On my first weekend I met a nice french girl (Delphine) who was also working in Luang Prabang. We decided to book a sunset cruise and enjoyed the quiet scenery on the Mekong River which was actually my first time on a boat since a long time. It's really worth it.
My hosting company for this internship, Tiger Trail actually offers spectacular long boat trips on the Mekong and the Nam Khan river. For more information check out the website: www.laos-adventures.com