We are not a ticketing agent and provide the information below for your convenience only. See China-Laos Railway Company for current information.
The bullet train, named Lane Xang, opened on 2 Dec 2021. The streamlined "China-standard" bullet train, or the Electric Multiple Unit (EMU) train, designed and built by Chinese companies, can run at 160 km/hour. It is operated by the Laos-China Railway Company. The express train is named Lane Xang and is equipped with snack and beverage bars, facilities for people with disabilities and information services in Lao, Chinese and English. It has 9 carriages – a control car, a dining car, a first-class car with 56 seats and 6 second-class coaches. There are 720 air-conditioned seats in total. Each seat has an electrical power outlet.
Train Fares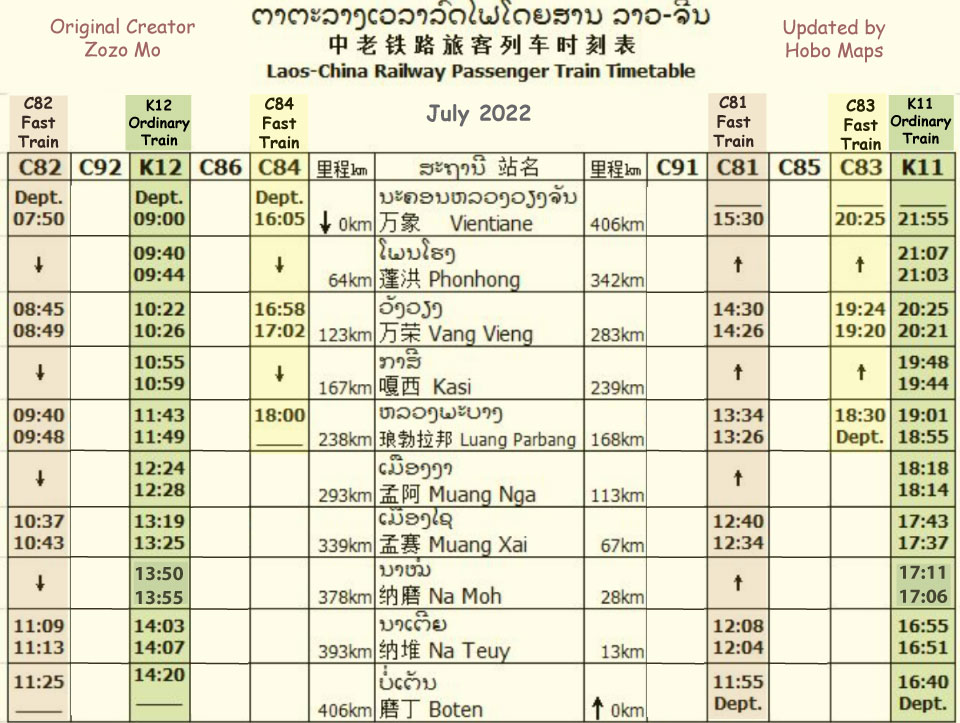 Purchasing Train Tickets
The railway stations ticket offices are open around when trains are scheduled to arrive or depart. At most train stations advance tickets can be purchased up to 3 days before the departure date and payment must be in cash. Passengers may not able to purchase return tickets at the same time as the departing ticket.
Non-railway ticket offices are open in central Luang Prabang and on the ground floor of Vientiane Center in central Vientiane. Hours are 10:00 am to 12:00 noon and from 12:30 pm to 15:30 pm each day. Each person may only purchase 2 tickets. You must show valid ID and COVID-19 vaccination certificate (green card). Payment can only be made by UnionPay card or by QR Code (OnePay, UnionPay, Alipay and Wechat) at a POS machine. Cash is not accepted. A service fee of 20,000 kip per ticket is charged.
As of 13 September 2022, to ensure safety and reduce re-sale of tickets, the Lao-China Railway Company announced the Lao Government now required a Passport ID at the time of purchasing tickets. For Lao citizens without a passport, ID or family book can be used.
You must show your tickets as you leave the destination station or face a fine of the maximum ticket price.
If you don't have a ticket, you should arrive at least two hours before departure time since you need to queue for ticket purchase and again for entry to the station and then go through security checks.
The main railway station interiors are only open a little before and after scheduled train departure times and no toilets or other services such as food or drinks or seats are available outside the stations. Not a good place to wait for very long and not much shade. From October 2022, outside toilets are being provided by a 3rd party and can use used for a small fee.
Due to the pandemic, no food or beverage service are available at the stations or in the railway carriages. Passengers should bring their own food and drinks.
You should arrive at the station at least one hour before departure time and remain in the waiting area for the inspection of tickets and documents. All passengers need to wear protective masks and observe social distancing recommendations. Temperature checks will be carried out and anyone with a temperature higher than 37.3 Centigrade will not be allowed to enter the station.
Luggage
Passengers will be allowed to carry more baggage with them on K11/K12 slow trains.
The express train has a 20-kilogram limit per passenger.

Laos-China Railway stations
| Station name | Type |
| --- | --- |
| Bo Ten | Passenger station |
| Na Toey | Passenger station – Major station |
| Na Moh | Passenger station |
| Na Thong | Cargo station |
| Mueang Xai | Passenger station – Major station |
| Na Khok | Cargo station |
| Mueang Nga | Passenger station |
| Huay Han | Cargo station |
| Luang Phrabang | Passenger station – Major station |
| Xiang Ngoen | Cargo station |
| Sala Phu Khun | Cargo station |
| Mueang Kasi | Passenger station |
| Ban Pha Daeng | Cargo station |
| Vang Vieng | Passenger station – Major station |
| Vang Khee | Cargo station |
| Phone Hong | Passenger station |
| Ban Saka | Cargo station |
| Vientiane North | Cargo station |
| Vientiane | Passenger station – Major station |
| Vientiane South | Cargo station |
There are 32 stations along the Laos-China Railway line. These are the 20 main stations, including 10 passenger stations and 10 cargo stations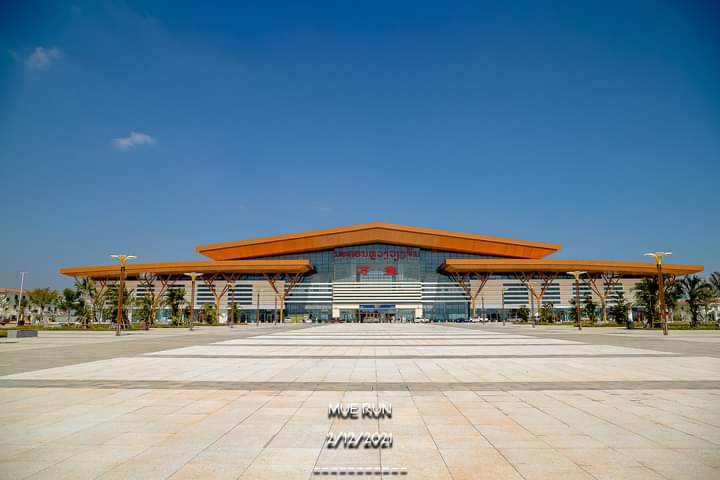 Information on the Laos-China Railway
The railway is 422.4 km long.
Passenger trains operate during the day and freight trains at night.
The railway was officially opened on 2 Dec 2021, Lao National Day (1 year ahead of schedule).
Construction began in December 2016. In the north, the line will be connected to the Chinese rail system in Mohan, through the Yuxi–Mohan Railway. In the south, it meets the existing metre-gauge railway in Thanaleng, linking it via Nong Khai in Thailand to Bangkok. A high-speed, standard gauge extension to Bangkok is also under construction – and scheduled for completion in 2028. When finished, the Boten–Vientiane Railway will form an important part of the Kunming–Singapore Railway.
Video of Fast Train – Ordinary Train – Freight Train captured by hobo Maps at Vang Vien in April 2022.
For tour ideas while you are in Luang Prabang and Vientiane see Tiger Trail Travel.