Tucked away in the Laos Jungle, the cascading tiers of the Kuang Si Falls captivate tourists worldwide who come to marvel at the scenic vacation spot. This destination in Luang Prabang's beautiful countryside has a lot to offer in terms of outdoor fun. Tourists at Kaung Si Falls can swim, hike, picnic, or simply enjoy the breathtaking scenery of this tropical paradise.
Nothing is as refreshing as swimming through cooling natural pools during a warm afternoon. Whether jumping off the turquoise waterfalls from incredible heights or enjoying fish therapy on the feet by the poolside, here is a guide to swimming in Kuang Si Falls.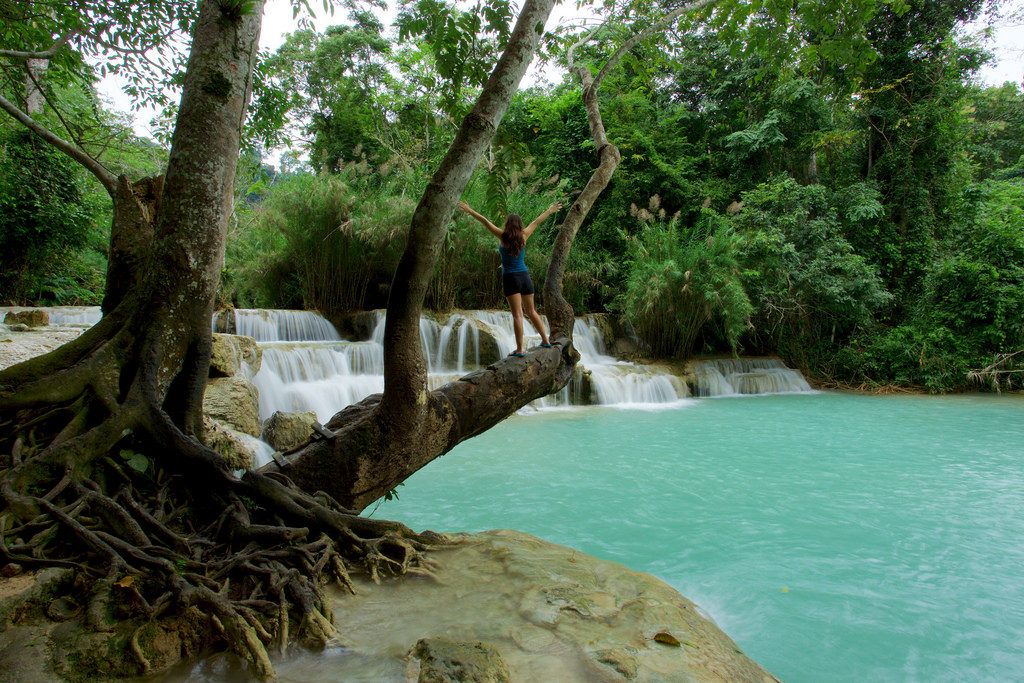 How to Get There
Kuangsi Falls are a 45 minute drive from Luang Prabang city. You can take a tuk-tuk for about $20 or a songtaew (a covered pickup truck featuring two benches in the back) ride to Kuang Si Falls costs about $17 to $23. If you are an experienced motorbike rider you can hire a motorbike for about $15. A good proportion of tourists have accidents on the road so it's best to avoid if you are not experienced.
You can also cycle to Kuangsi Falls or trek to Kuangsi and come in from the top of the falls which is a beautiful experience.
The pools are shallow enough for the comfort of most swimmers, skilled or unskilled. The lower pools are the best places to swim, with fewer people as one goes further up above these sections. The destination features little wooden huts near the pools that serve as dressing rooms where visitors can change into their swimwear. Swimmers are advised to carry modest swimming gear as a way of respect for the local population's conservative nature.
There are great jumping points from trees and rocks, but caution should be taken to avoid injury. Unfortunately, there are no lifeguards at Kuang Si Falls. Swimming areas that are forbidden have a sign by their side. Most forbidden areas have restricted access for safety reasons, but some pools are not permitted because they are considered sacred places by the locals.
Although there are vendors selling various items at the destination's entrance, visitors can also carry their essential items for the trip. Items that might be useful at Kuang Si Falls include a towel, bathing suit, toilet paper, snacks, and bottled water.
Here are the best times to visit Kuang Si Falls.
December To May
This is the best time to visit the incredible Kuang Si Falls, as the monsoon season has already ended in Laos. During these months, the waterfalls have settled, moving slowly over the limestones, resulting in a blue turquoise color. This is also the best time for photography as the destination becomes an incredible spot for Instagrammable photos. However, a handy tip for first-timers is to visit this place during the weekdays to avoid huge crowds at the falls.
June To October
Hiking and swimming can be dangerous in Kuang Si Falls during the monsoon season. Roads are usually closed or unsafe as many towns in Laos are likely to be flooded. The only positive during this season is that Kuang Si Falls is less crowded.
The best time to tour the falls in both seasons is in the morning. Arriving before 10:00 a.m is an excellent way to beat the busload of crowds that will stream throughout the day. In addition, the early morning visits deliver refreshing serenity and spectacular views during hiking and better photography without any intruder ruining the snapshots.
Hours open: 8:00 AM to 5:00 AM, daily
Entrance charges: $1.3 per person
by Dominic Horner from The Travel