One of the harder transitions I am having here in Laos is eating a heavy meal for breakfast. I still dream about eating my giant bowl of chilled almond milk poured over a mound of crunchy granola that I was so used to in the United States.
I asked someone what Lao people eat for breakfast, and they responded, "the same thing we eat for both lunch and dinner!"
For me, it is a transition that I am still getting used to. Though after reading "The best noodle soup in Luang Prabang" written by Cindy of So Many Miles, I knew this noodle place had to be next on my list. Now that the 'secret' is out of the box for the entire world to see, I wonder if this little joint really lives up to all this hype it's receiving.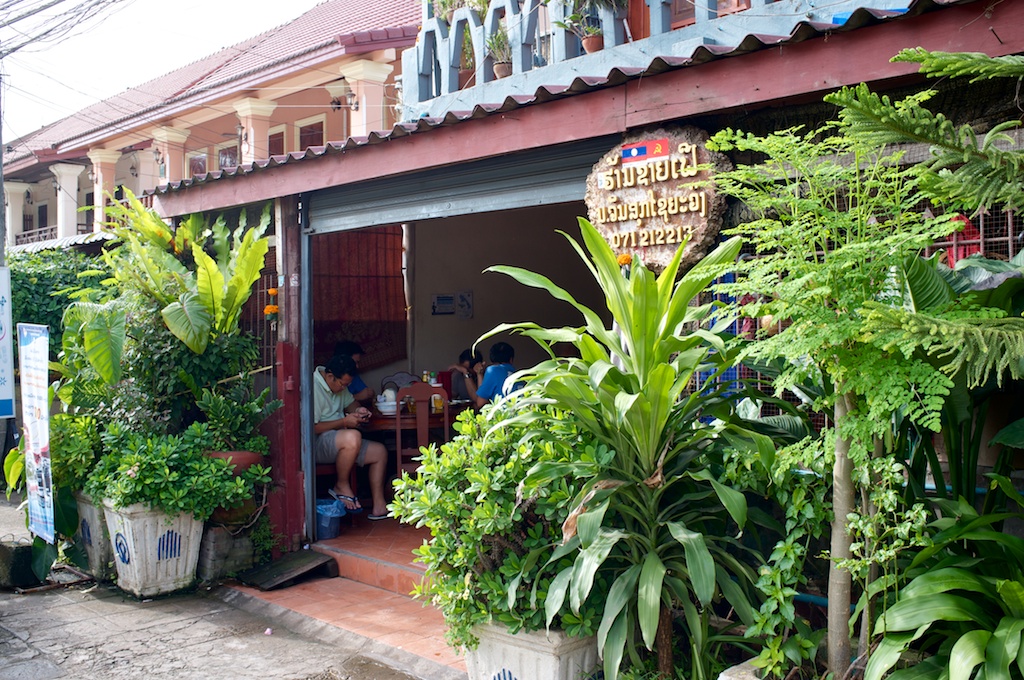 This hidden place is located off of Phouvao Road, a road that has a heavy Chinese presence with its recent influx of restaurants, hotels, guest houses, and tourists. As I approached the little restaurant seemingly camouflaged behind a wall of shrubbery, I noticed only one other hungry Lao sitting down and slurping a bowl of Pho for breakfast. Though this quickly changed as a giant group of about fifteen Chinese tourists came in to eat their breakfast. I quickly ordered my bowl of pork Pho with thin noodles in Lao and sat down. Upon first impression, this little restaurant seems fairly classy for a place where supposedly a large amount of locals flock everyday to discard their lime wedges and tissues all over the ground. The interior is complete with mahogany chairs and tables with almost every condiment that you can think of located in the center of each table. This is a place that I would consider bringing a guest to enjoy a nice bowl of Pho, and not a place where I imagine that local Lao stop by routinely for their morning bowl of Pho. For 20,000 kip (US$2.48), it is somewhat of a steep price to pay for a bowl of Pho located a good distance from the main city center. This restaurant is also extremely clean and tidy compared to many other local eateries that I have routinely stopped at in Luang Prabang.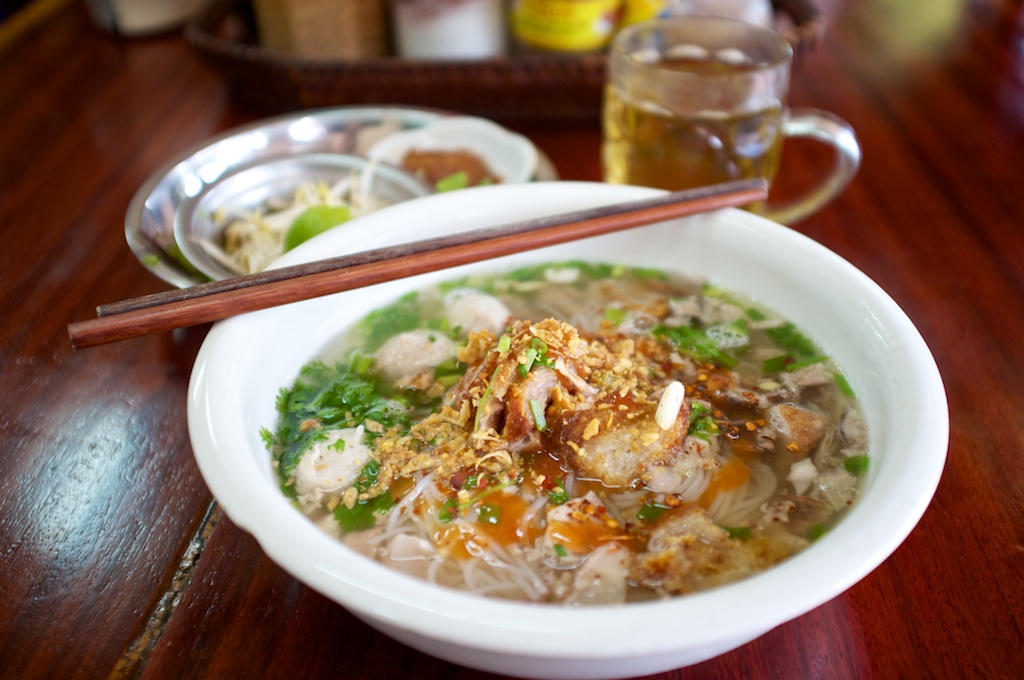 Pho, also pronounced "fuerr" by some here in Lao PDR, is a noodle dish with its origins in Vietnam in the early 20th century. The broth, where most of the flavor comes from, usually consists slow boiling a few bones of meat, large chunks of onion, and an array of spices that is neatly cinched in a small bag. The noodles can come either in a large size like what would be served in chicken noodle soup, or skinny like vermicelli noodles for spaghetti. You then have your choice of either beef, chicken or pork for the meat. It is then served with a bowl of herbs, long beans, bean sprouts, lime wedges, and some jeow (sauce). My favorite thing about eating Pho is how customizable it can be. With the expansive selection of condiments on the table, no two bowls are bound to be the same.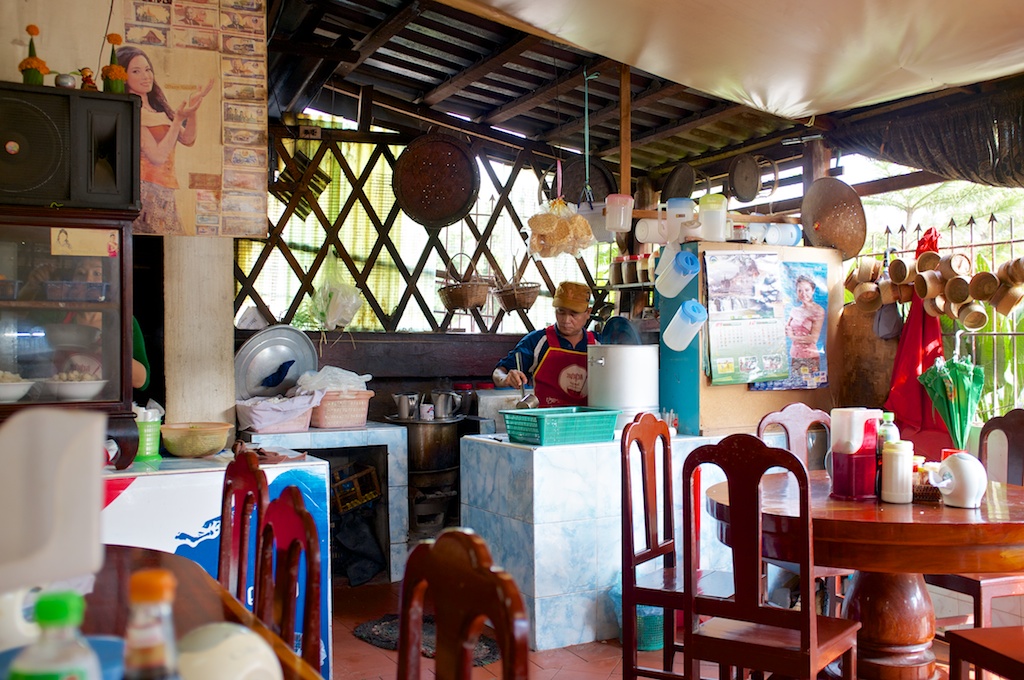 While I do enjoy the constant soundtrack of traditional Lao music playing in the background, the ambience is a little cleaner and more orderly than most local roadside stalls that I tend to go grab my daily bowl of noodles. The Pho itself, however, was extremely delicious. It is served in a very large bowl, and I had a tough time finishing all of it for breakfast. This restaurant even gives you large fish meatballs, which I have not seen in any bowl of Pho that I have eaten at other places. So, does this restaurant live up to the hype? For me, it is a great place to experience a nice bowl of Pho that is devoid of many western tourists. However, I prefer to stick with my personal 'secret' noodle soup spot in Luang Prabang – one that I will use as my rebuttal in a future post.