One group's experience biking from Luang Prabang to Vang Vieng with Tiger Trail's help!
In our research on Laos, Tina had read some time ago of a special experience, which is to ride a bike from Luang Prabang to Vang Vieng. This route is considered by many cycling enthusiasts from all over the world as particularly beautiful, some have even said the most beautiful track in the world. This was enough motivation for us to take a closer look and make it happen. Since we only wanted to take the route one direction, we needed a transfer for our luggage to the destination and return transportation for the bikes. In addition, the wheels had to be in good condition. It quickly became clear that we needed professional help. Simply to rent a bike like the ones they rent in Luang Prabang at each Guest House, would not work. The provider of our choice was Tiger Trail. On the website of Tiger Trail bike tours are listed, but you can shape the tours individually. The number of guides, the need for an accompanying vehicle, or the daily route length is all variable. We also had a bit of luck and Tiger Trail already had planned transport on the route, which lowered the cost for us. After 12 days in Luang Prabang, it could finally begin.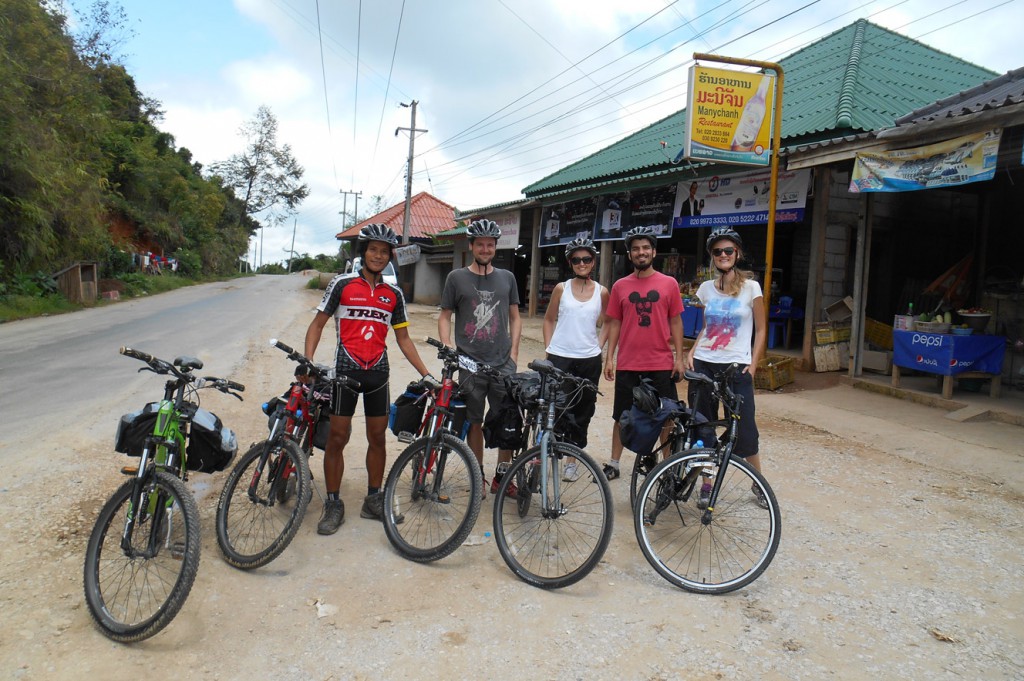 We wanted to complete the ride in 3 days. Because the first section is very stressful and we're all not professionals, we were brought from Luang Prabang to Kiu Kacham by car. That was our real starting point. The ride was divided as follows:
Day Length Short Description
Day 1: Kiu Kacham – Phou Khoun 50 km difficult, often uphill
Day 2: Phou Khoun – Kasi 50 km moderate
Day 3: Kasi – Vang Vieng 58 km moderate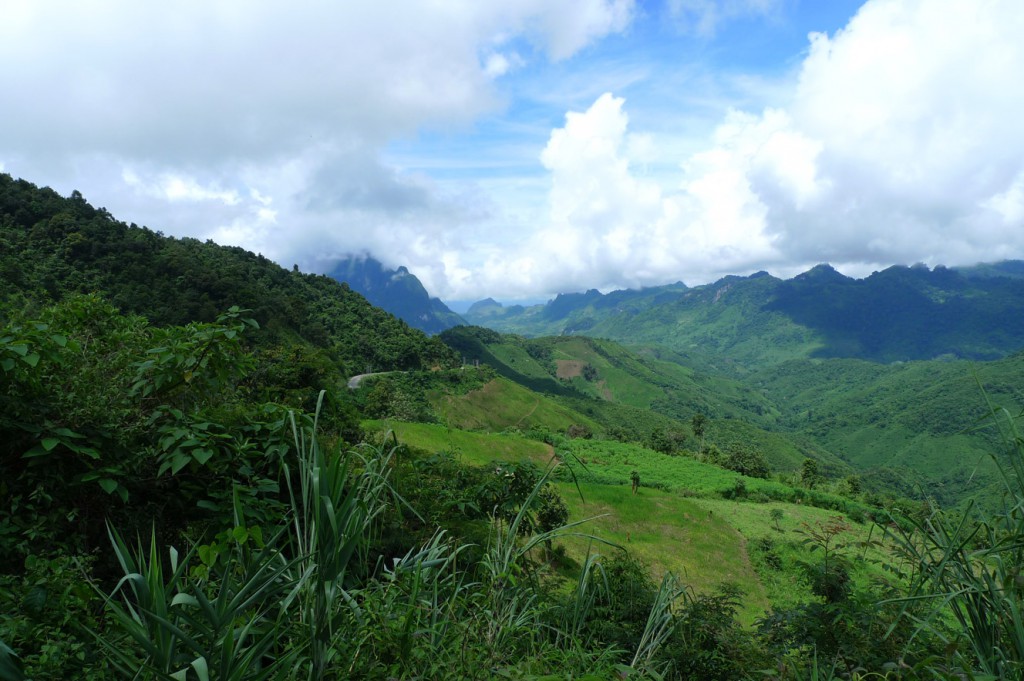 From Kiu Kacham to Phou Khoun
The first day showed us what we had gotten ourselves into. It would often go uphill with occasional downhills followed immediately by uphills. But we quickly realized why we were doing this to ourselves. The landscape is vast and green and hilly and offered many interesting views. In particular, the karst mountains provide unique images. With the weather on the first day, we had absolute happiness. No rain in spite of the rainy season. But the effort and the warm temperatures made our t-shirts and heads soaked with sweat anyways. Our first overnight stop in Phou Khoun was not very spectacular. Using our guide Ked, we managed in one of the local restaurants to order vegetarian or vegan food. The guest house was very basic but served its purpose. We needed a lot of sleep after a tiring day.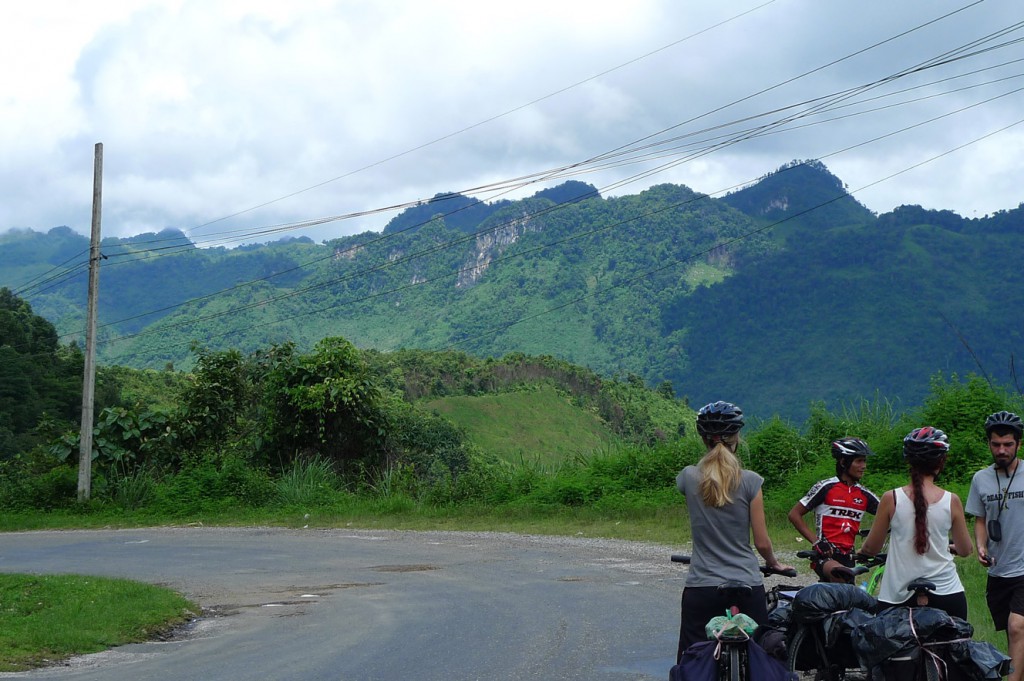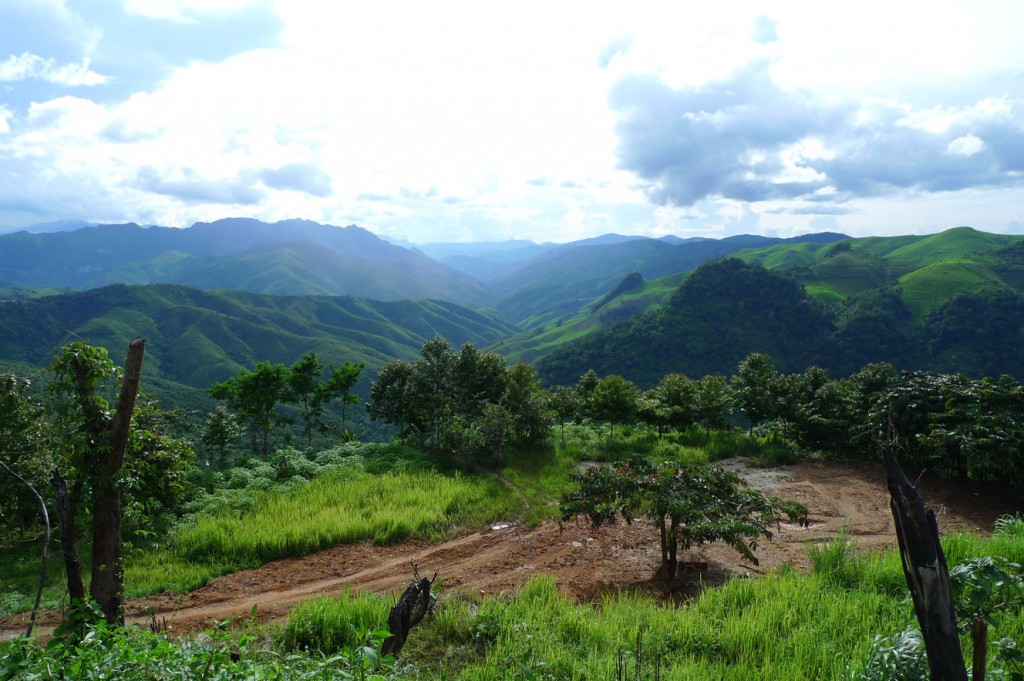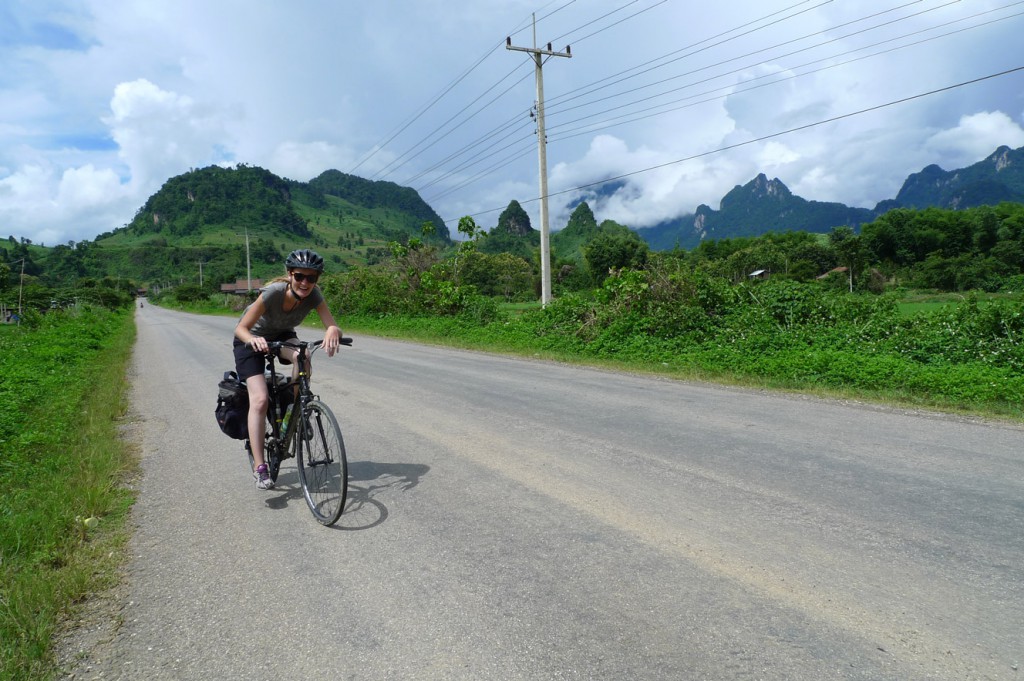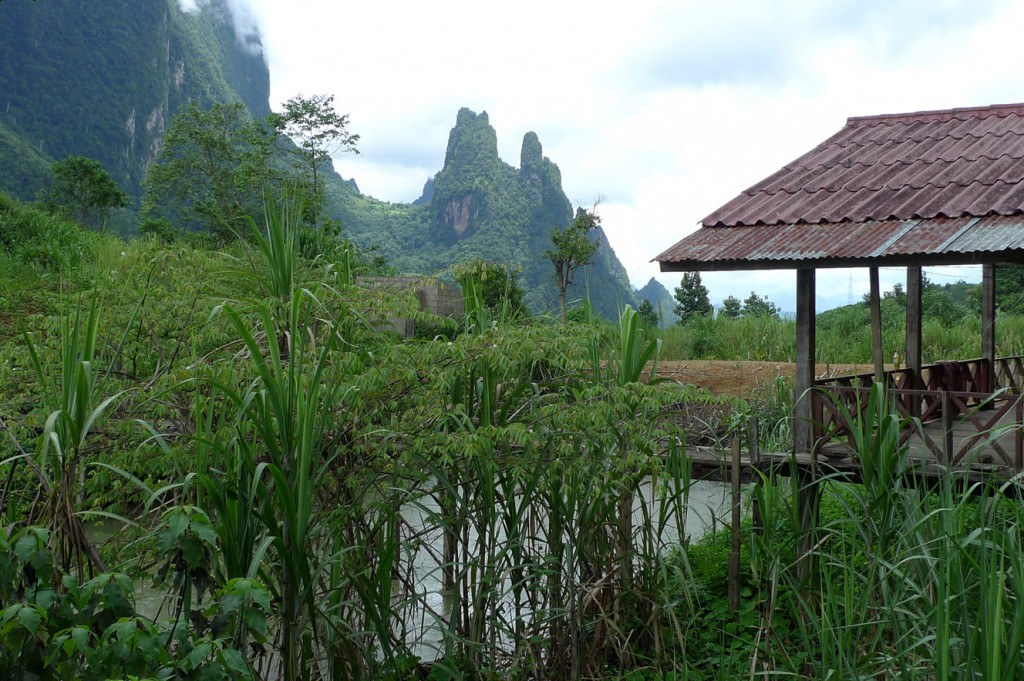 From Phou Khoun to Kasi
The second day started a bit foggy and we prepared our bags with garbage bags against possible rain. We had a breakfast of bananas from the local market and were looking forward to a real breakfast less than 10 miles away in a tourist restaurant. After breakfast and the day could really begin. This second day was marked by the small villages on the route. Whenever we passed through a village, the children shouted us a Sabaidee! (Hello!) We looked forward to it again and again. If you want to experience children cheering after you along the street, try cycling in Laos! This is certainly easier than being an American president or world champion. Even if we paused to buy drinks or snacks, more and more children would gather and look at us curiously.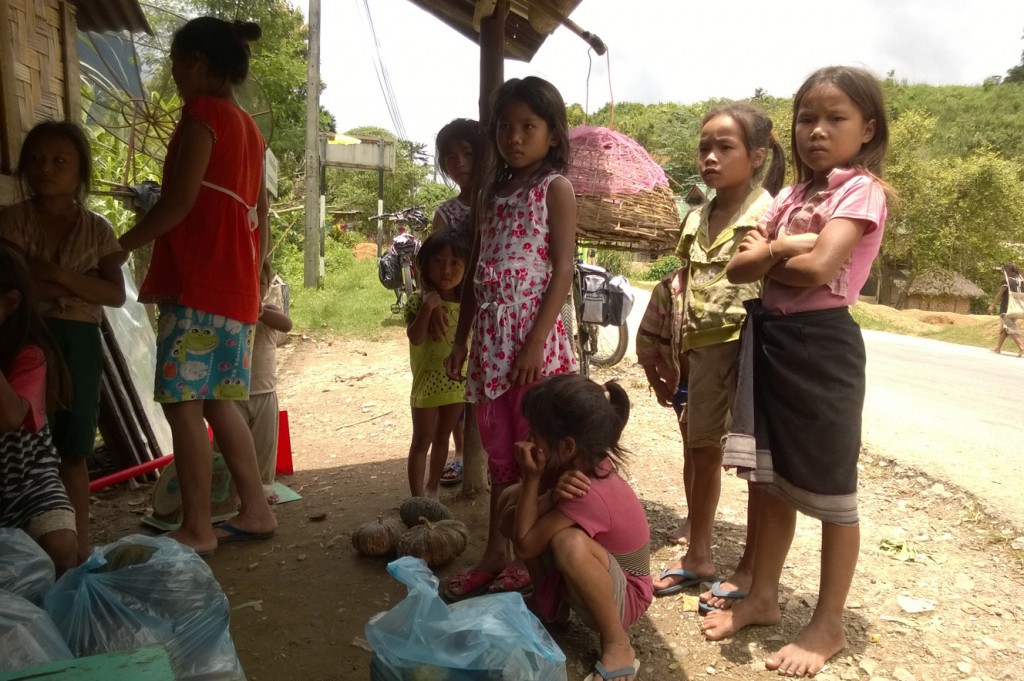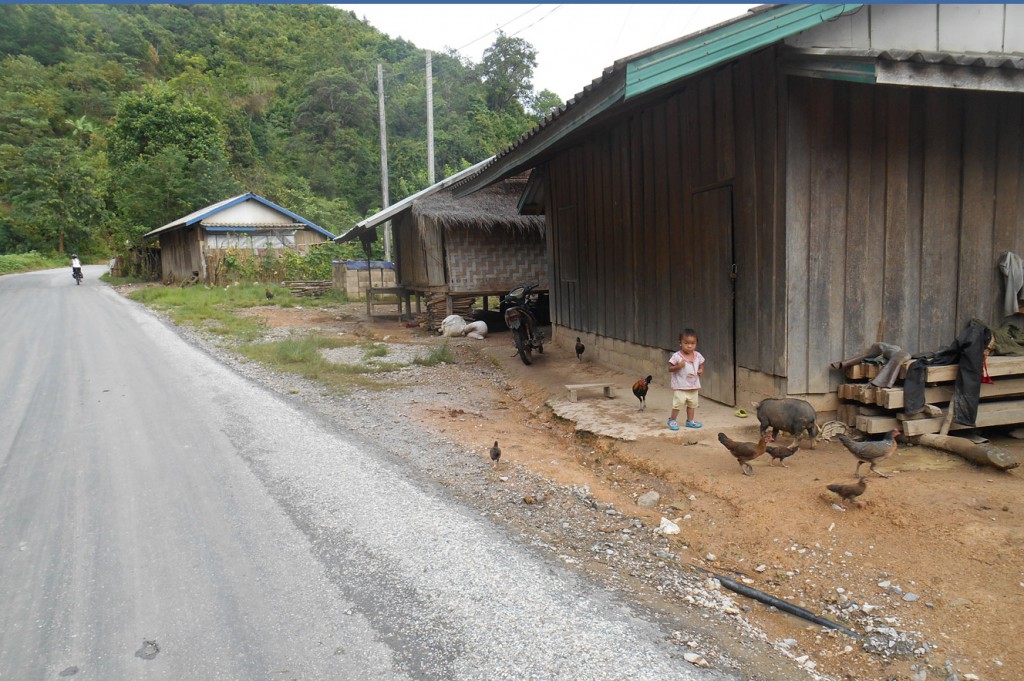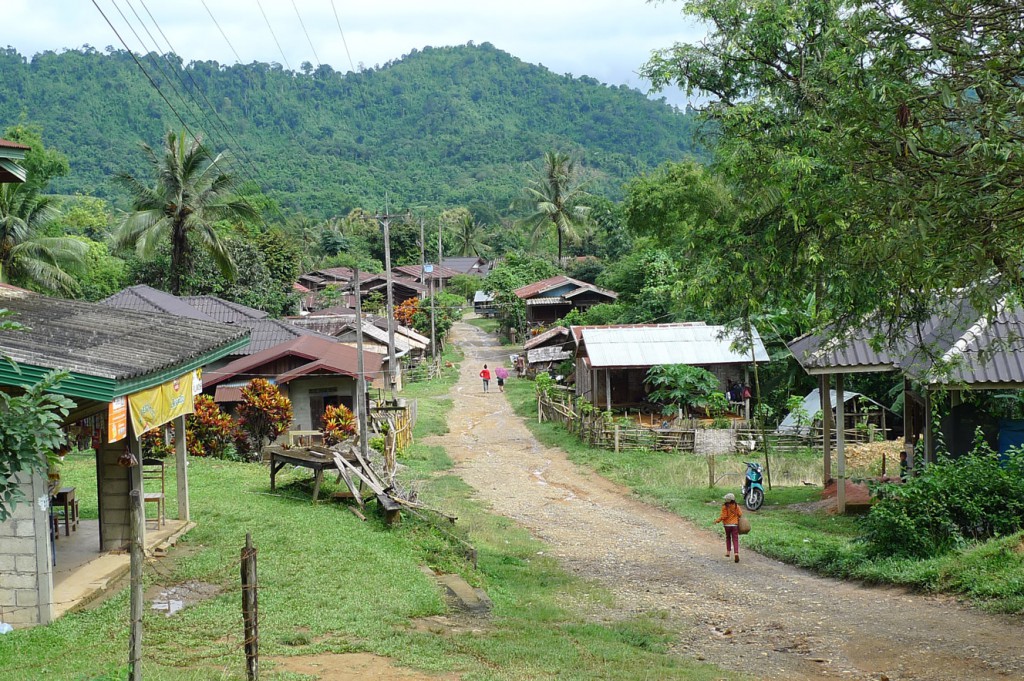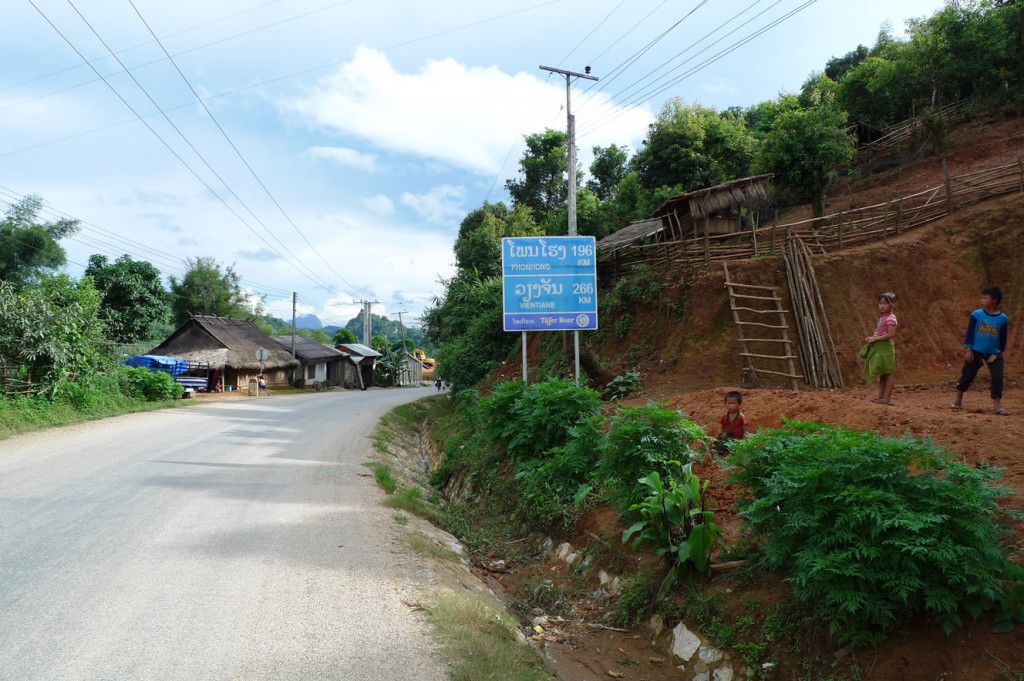 Even the animal village life was interesting. Even though there were fenced off fields with oxen or pigs, animals would still wander freely in the road.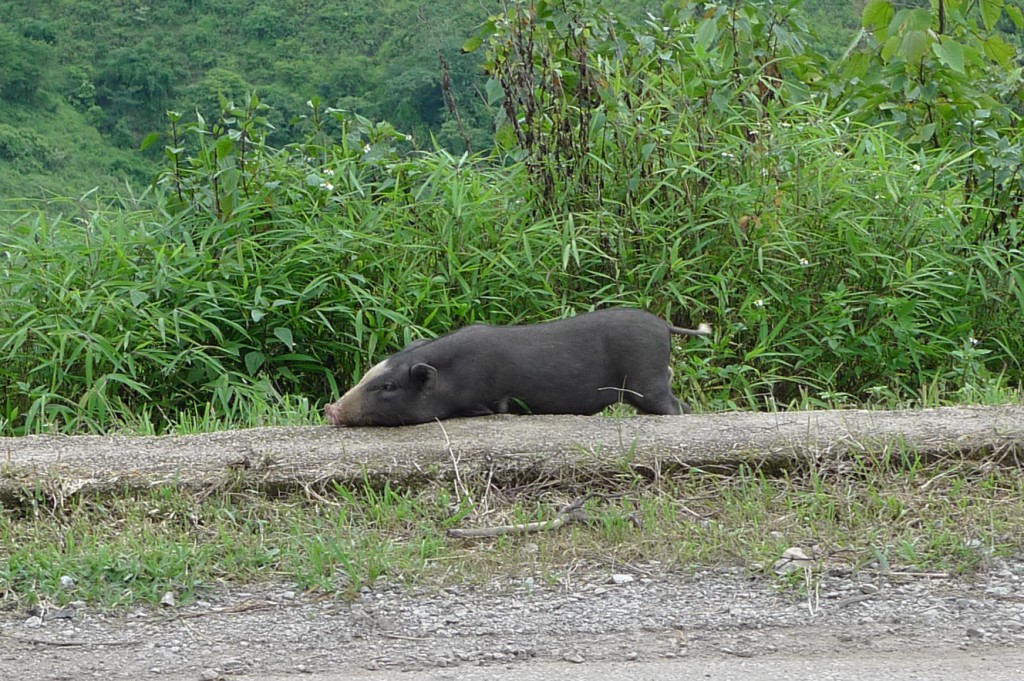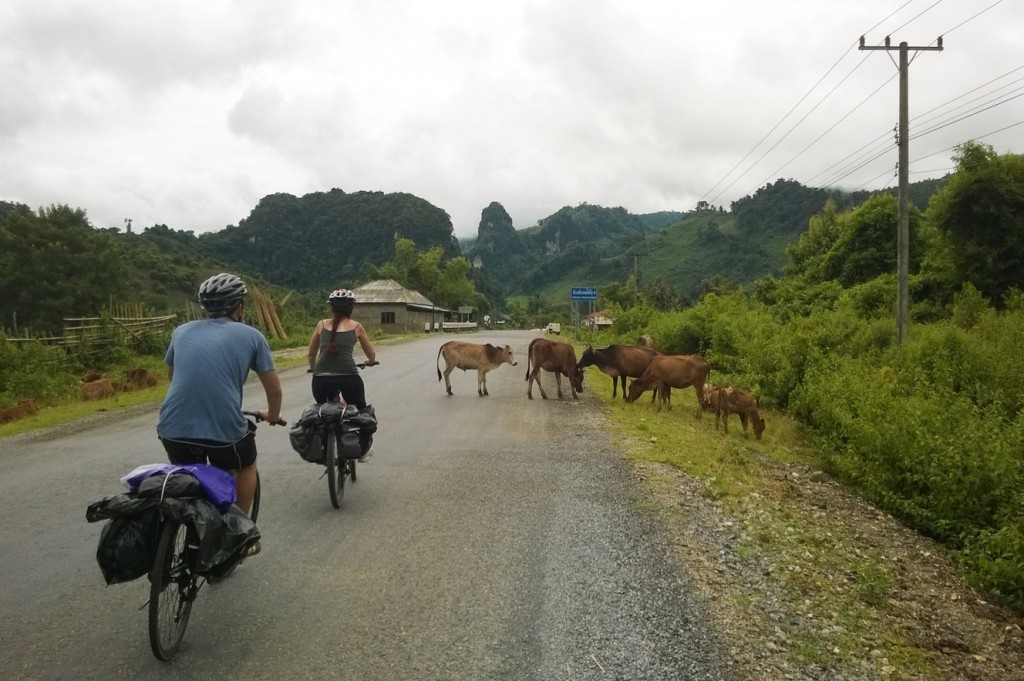 In the late afternoon we arrived in Kasi. Again, we need the help of Ked to eat out, because there were no English menus.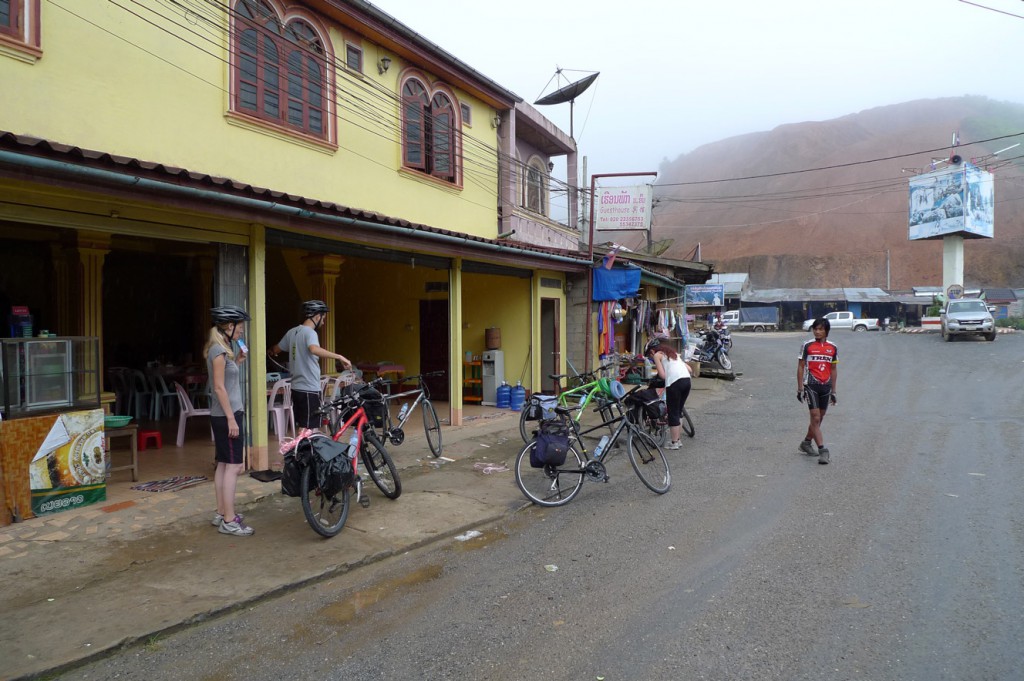 From Kasi to Vang Vieng
The next morning started again only with a small snack because we had selected a restaurant roughly 20 km down the road as our first stopping point. Turns out it was a few kilometers more than we expected and by the time we were there we really needed our strength to be bolstered by food! Since we came back from the mountains to a flatter area, rice cultivation was again more present. We recognized much of what we had learned about rice in Luang Prabang. And then we had finally made it. We arrived in Vang Vieng. The place is a well-known tourist destination in Laos. There is even a vegetarian restaurant. It was great – we also found that several bars played uninterrupted episodes of the TV series "Friends", even though the last episode was in 2004. A crazy everyday phenomenon! From Vang Vieng we took a VIP bus to Vientiane. The air conditioning was not very efficient and we sweated and suffered in the bus. Anyway, we were looking forward to a few days in the capital.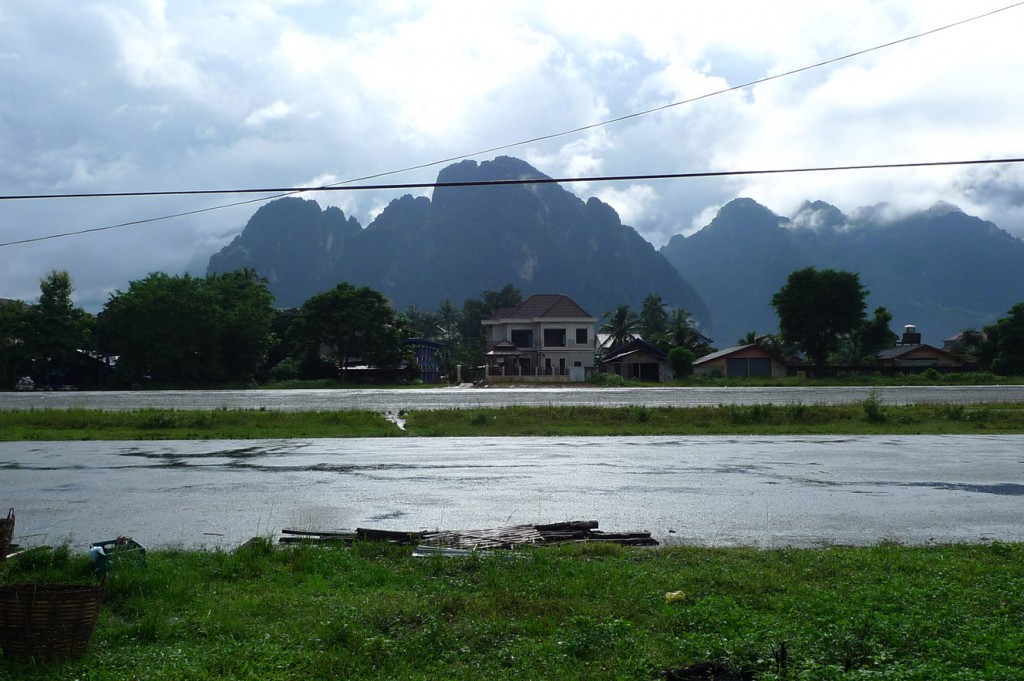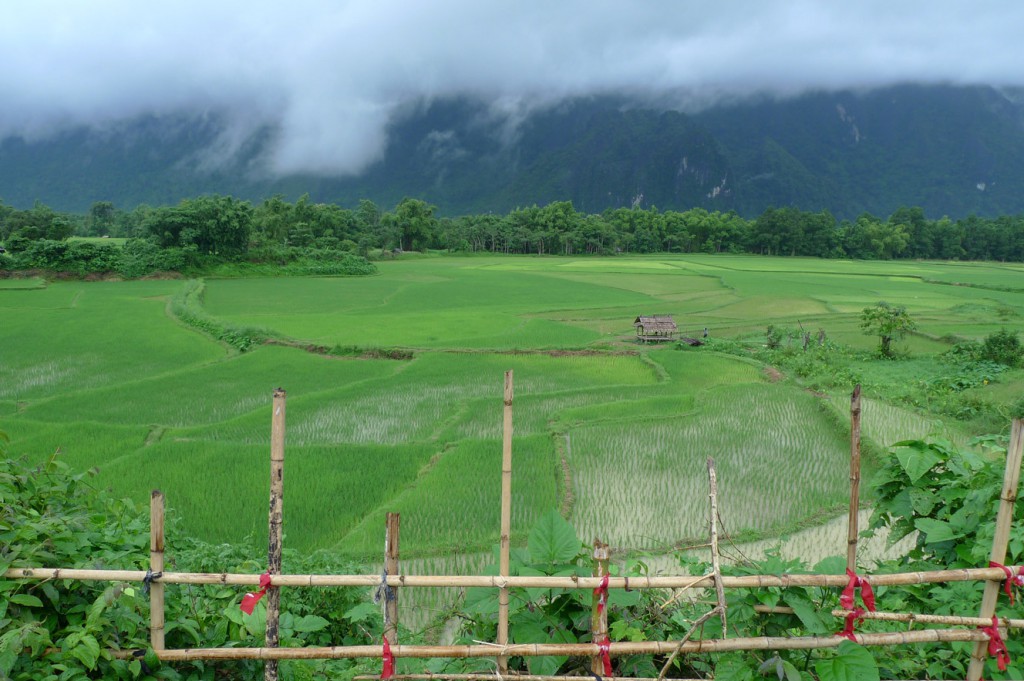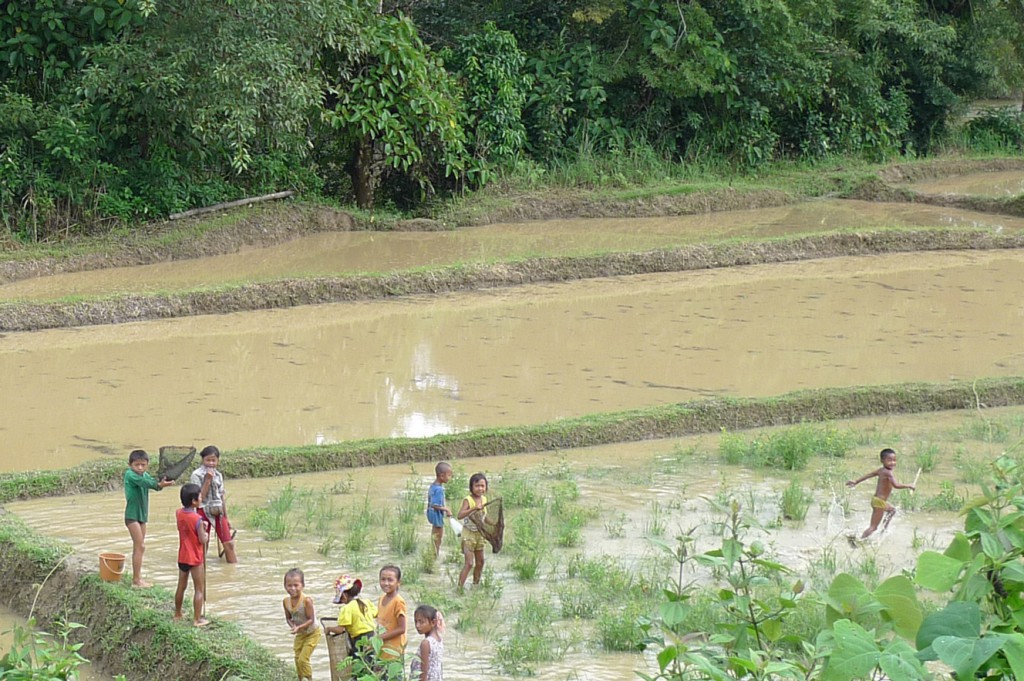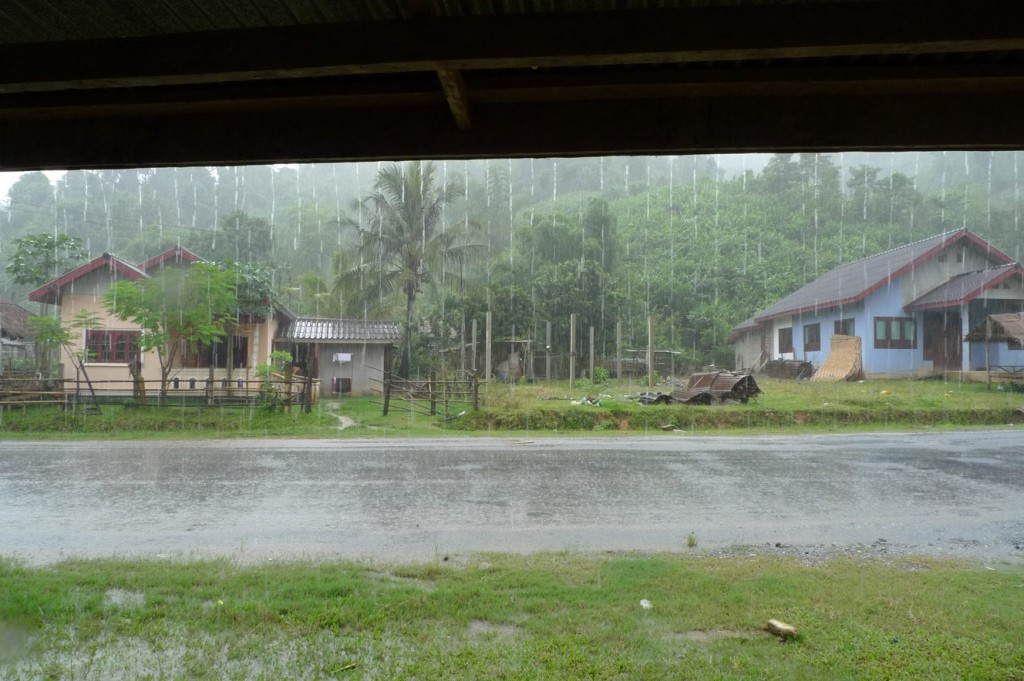 Conclusion
The bike ride was great and one of our best experiences on the whole trip. The closeness to nature but also to the inhabitants of the land cannot be compared at all with van and bus rides. Those who have the time and are not afraid of a little physical effort should take a bike tour to better understand Laos.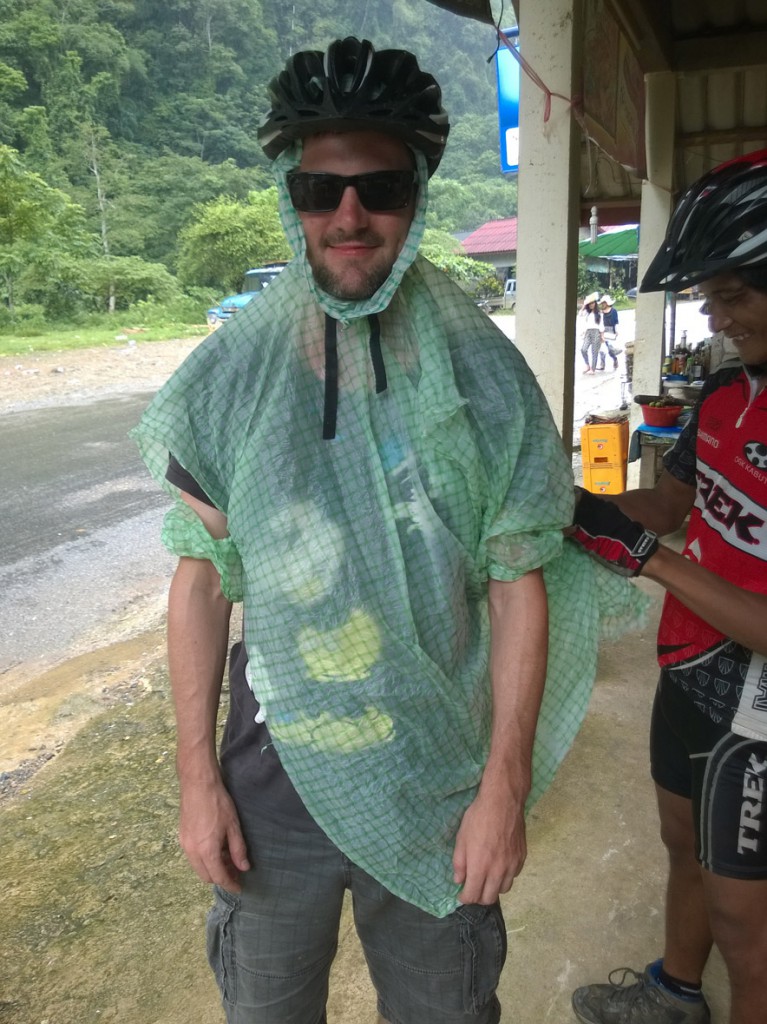 Check out the original blog post (in German)
Take a look at Tiger Trail's other tours like kayaking, elephant interactions, and trekking.