Discover Southern Laos…
A Few Days in 4000 Islands, Don Khone, Don Det and Don Khong.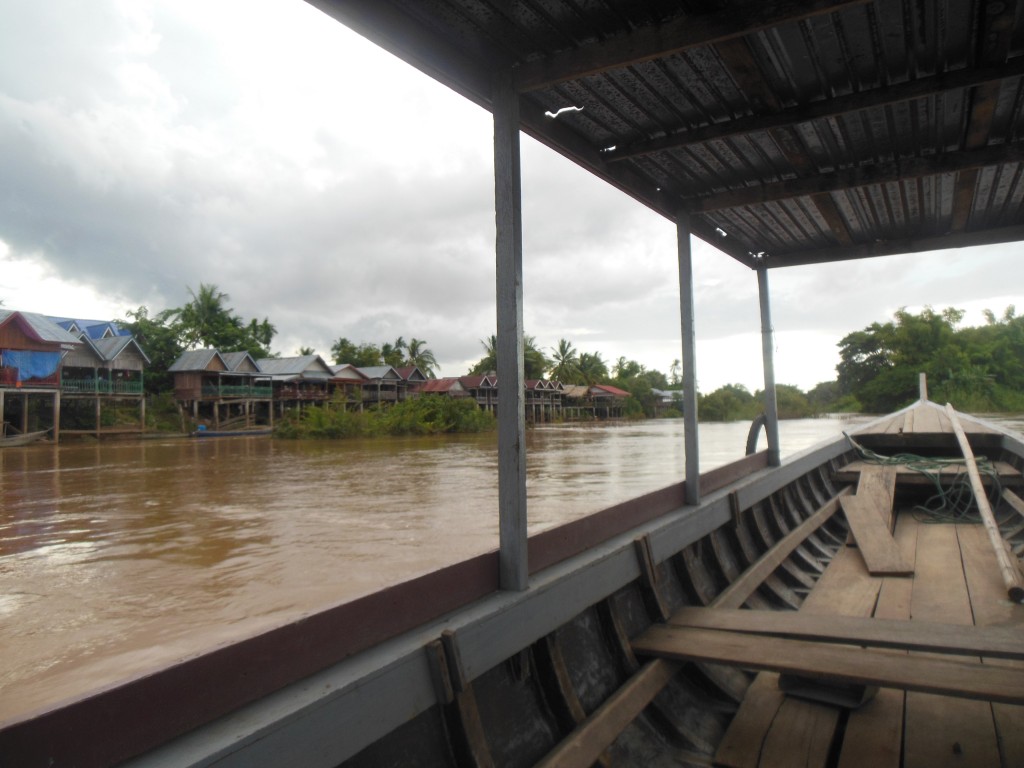 A Southeast Asia Visa Run Vacation
My first three months in Laos just came to a close which meant a necessary trip out of the country for a visa run. It just so happened that my best friend from high school felt the overwhelming need to leave the United States so we quickly formulated plans to meet up in Cambodia and a few weeks later we were strolling through the temples of Angkor complex and navigating the motorbike congested streets of Phnom Penh.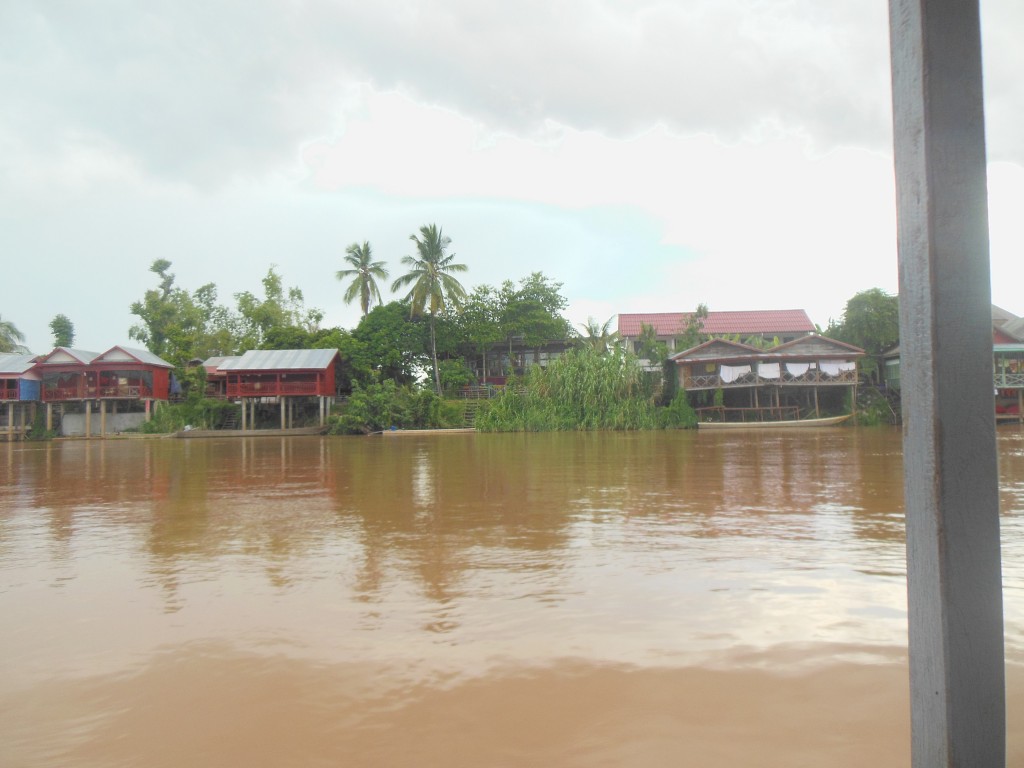 After enjoying a week in Cambodia it was time to return to Laos and we decided that before coming back to Luang Prabang we would take a few days to chill out in 4000 Islands (Si Phan Don).  This is an area right near the border of Cambodia and Laos where the Mekong River is at its widest. During the dry season there are literally thousands of islands.  During the wet season there are fewer islands but the larger ones such as Don Det, Don Khone, and Don Khong are still accessible and the river flows strongly, creating impressive waterfalls and rapids.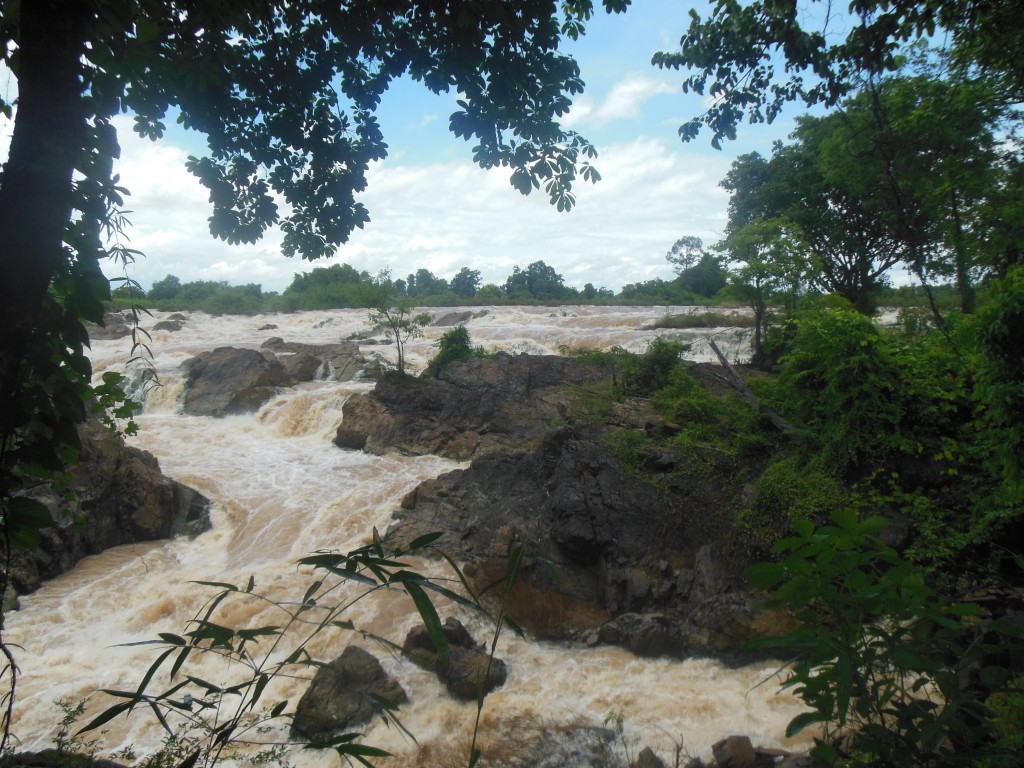 I had heard much about these islands while staying in hostels throughout Thailand, as Don Det is a backpacker favorite.  Our initial plan was to stay on Don Khon and avoid the whole backpacker party scene.  Our bus ended up getting to the mainland village after 8 at night and the only boat was going to Don Det so we walked down the muddy little road to a decent guesthouse where we ate dinner with some people we had met on the bus.
We wanted to go kayaking in the morning and figured out that the sunrise side of the island wasn't nearly as backpacker-oriented as the sunset side, so we decided to stay one more night on Don Det in a ramshackle little bungalow on the river.  Unfortunately we took too long finding a new place to stay and all the kayaking tours had left for the day and businesses don't  rent out kayaks to individuals since the currents of the Mekong can be dangerous. We heeded the caution from the Lao Liverpool football fan that ran the first guesthouse, "If you kayak by yourself call your family first and say bye." and rented bicycles instead.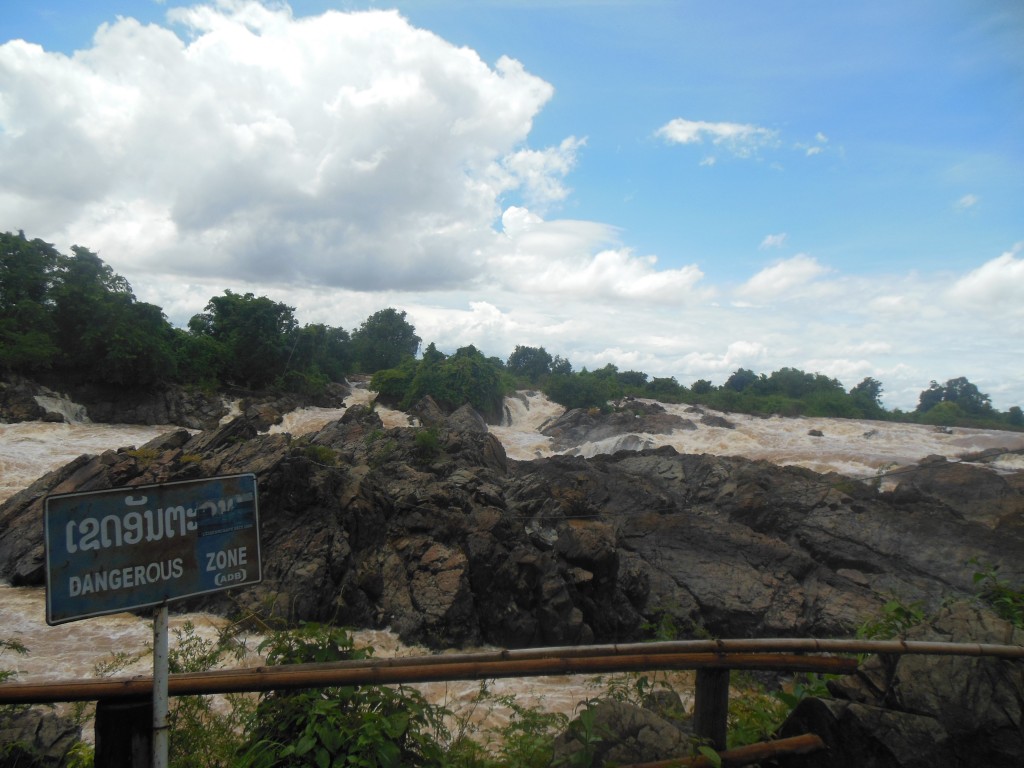 We rode our bikes on the bumpy road south through the vibrant green rice paddies to the old French Bridge that connects to Don Khon.  As soon as we got to the Li Phi waterfalls it started pouring, but as the weather seems to do here it was all sunshine again within an hour. The waterfalls at Don Khon, both Li Phi and Khon Pa Soi are impressive.  You can hear them roaring before you see them.  These are different from the waterfalls that I am used to; instead of being tall and skinny these waterfalls are more like giant rapids.  We hung out at "the beach" near Li Phi – refreshing ourselves with fruit shakes and lounging in the shade until enough dark grey ominous clouds had gathered overhead and we decided it was time to race a storm. Once back on Don Det we just drank cold Beer Lao on our little porch watching the rain hit the Mekong.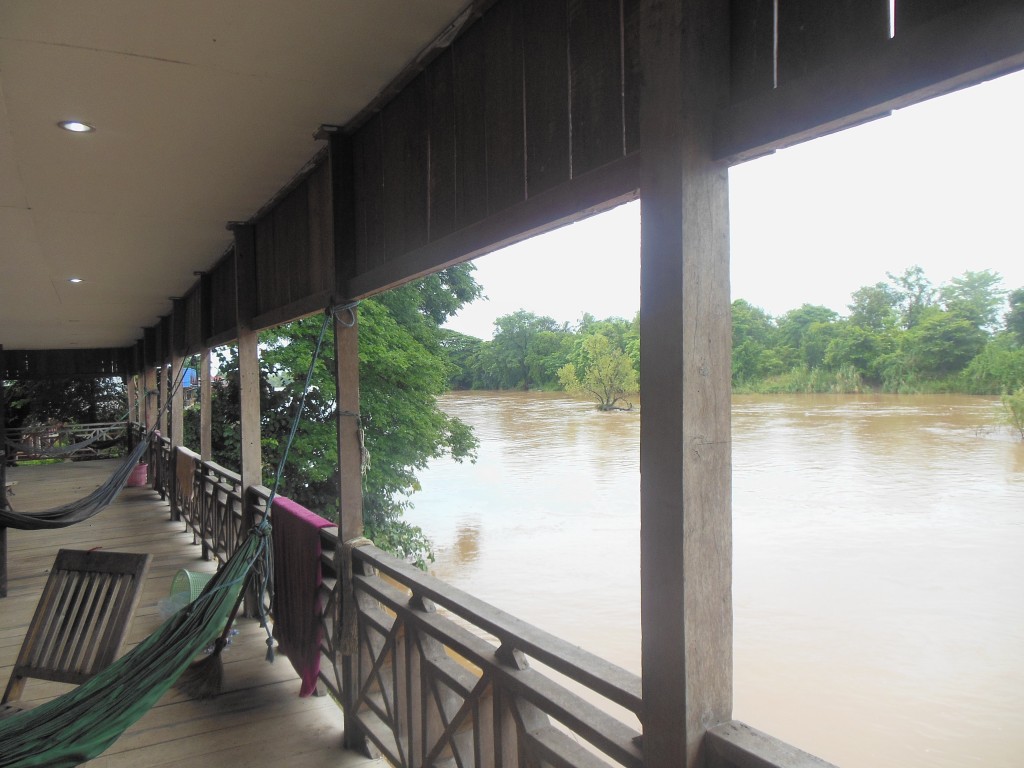 In the morning we climbed down steep ladder-like tree roots to the Mekong where a boat woman in the tiniest wooden long boat I have been on in Laos was waiting to take us to Don Khon. After wobbling around trying to get seated with our backpacks we set off feeling the quiet and cool morning air on our faces.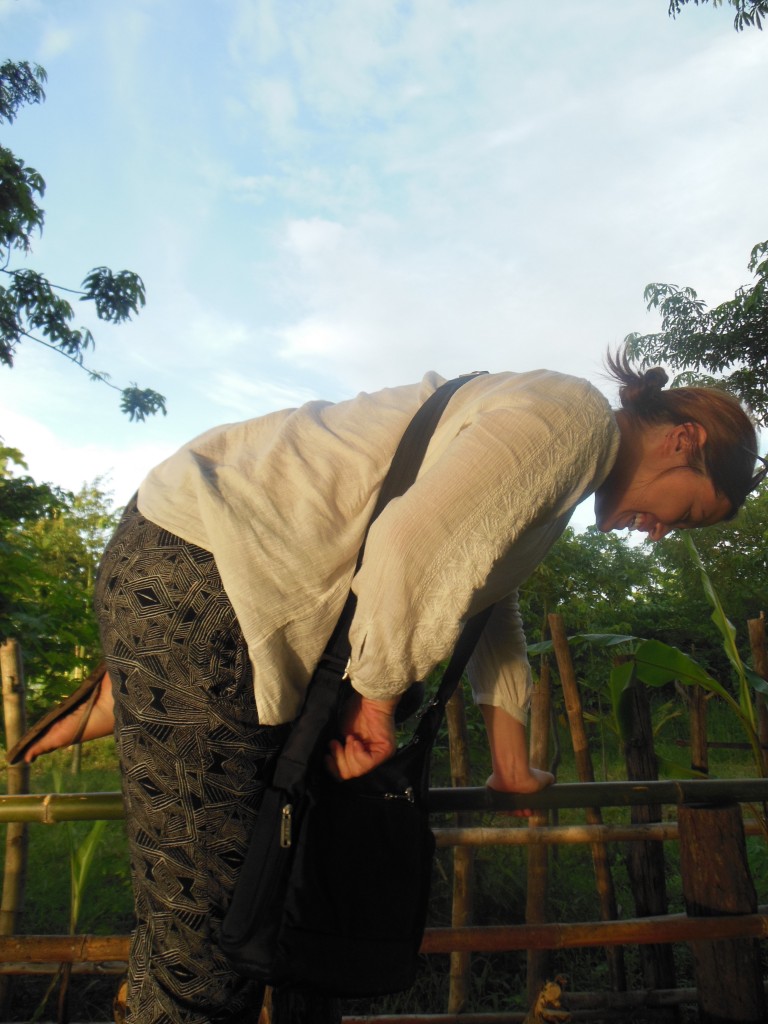 Don Khon had an even more chilled and relaxed atmosphere than Don Det. We found an affordable and comfortable bungalow where we spent an hour in the bathroom battling the hugest mosquitos I have ever seen. After winning the war against giant mosquitos we set out for food on a road that was so muddy that on numerous occasions we had to literally dig our buried flip flops out of the quicksand-like mud. We loved the local feeling of Don Khon and met many friendly children and playful dogs out in the light drizzle. That evening the skies cleared and we took a spontaneous sunset boat ride to a small uninhabited island where we chatted with the boat man and soaked up the beautiful oranges, pinks, and purples to the west.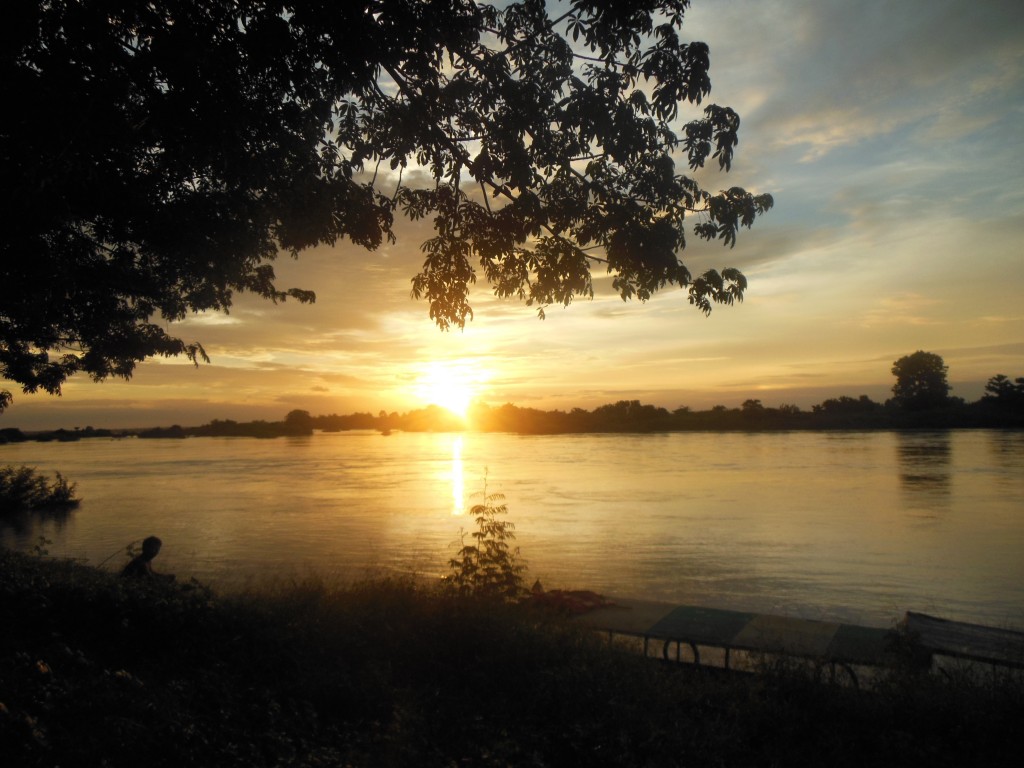 4000 Islands truly does have an island feel despite being in the middle of a river rather than the sea. It was a relaxing and enjoyable few days.