Fair Trek Project:
TRAINING in Luang Prabang
Community-based tourism projects in Laos, and for the world…
FairTrek is an innovative tourism project that aims to assist in the development of communities in need. Adventure is the heart of our activities, yet fairness is the key of our vision. Working with communities, local partners, NGO's and villagers themselves, FairTrek has created exceptional trails and activities that allow visitors to have access to remote villages and thus leads to generating new jobs and alternative income in the communities.
Our vision is to enhance quality of life through tourism


The workshop was based on the following questions:
What is Fair Trek about?
Where does the money go that we give to Fair Trek tours?
What should I do if tourists want to make a financial donation to the village?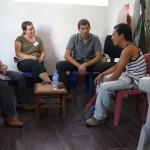 The first Fair Trek responsible tourism training in Luang Prabang was a great success. The above topics are important for key staff members of a travel business to understand the Responsible Tourism Department within the company. Tourism operations, local sales and management does not always realize the effects of responsible tourism. The training was set up to give a clear picture to staff members about our very own responsible tourism project, Fair Trek.  were all topics that we covered in our first annual Fair Trek Training for Tiger Trail guides and sales staff. 
As a social responsible business, Tiger Trail created Fair Trek to focus on community work and "fairness" in tourism.   We've become a small division of 2 full time staff and a plethora of hard-working interns.  Fair Trek has taken on community-based tourism activities that started off with involving villages through home stays which provide service and accommodation.
We've since expanded to larger projects, like the construction of a CLAY  SCHOOL in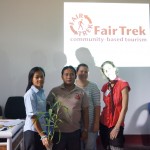 Northern Laos.  And this year, we've started the construction of an ECO-BUNGALOW that will belong to and be managed by the villagers of a remote community. At the Eco Bungalow Project, the aim is to generate an alternative non cash-crop and non-agricultural related income from the outside. A new concept in Laos all together!
But Fair Trek is not just about projects. Fair Trek is a way of thinking and understanding the relevance of responsible travel in modern tourism industry!
It is a conscientious travel – aware of their surroundings, the environment, the local culture, and the impact that is being made through tourism.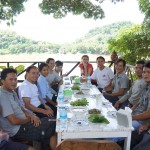 During the training, we delved into discussions about appropriate behavior of guides as well as tourists. We did role-playing of scenarios in sales and during a tour.  The guides and sales staff members had many questions and gave a lot of good feedback about tours and their experiences related to responsible tourism activities in Laos.
We in turn learned a few things too!  Many thanks to Hanna & Marine who did a wonderful job preparing this workshop in cooperation with Tiger Trail Outdoor Adventures.