Vang Vieng Cycling Adventure,
a beautiful day out in Laos.

During my stay in Vang Vieng I had a great opportunity to explore the Lao outdoors on a "lot-thiip" (bicycle). Cycling Laos is truly a great way to explore Laos in a very calm and exciting way.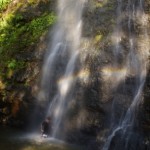 There are plenty of different cycling paths in the area to choose from and most of it is well marked. It is pretty hard work to ride a bicycle in the Lao tropics but the effort is well worth it. After a long day cycling you are able to refresh yourself in one of the pools near the caves of Vang Vieng, in particular of the 'Blue lagoon' which has the most colorful water.
Vang Vieng has also two beautiful waterfalls to offer which are off the beaten track.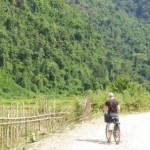 Make sure you bring your bathing clothes as there is a possibility to take a dip directly underneath the Kaeng NyuiKaeng Nyui. I actually had a creepy experience when I was there. There was a Lao family playing underneath the waterfall when a snake dropped down from the top. It disappeared quite quickly but all people who had stayed underneath the waterfall were screaming and left immediately. Never mind! The places you got to see are breathtaking and all the surroundings are extremely lush and green.
If you are interested in doing a long bicycle-trip you can take the big loop around impressive Karst landscapes.
It takes about five hours to complete if you have a simple bicycle like I had, so you might be faster on a good mountain-bike which is a little more expensive but still quite reasonable priced. The bike adventure started in Vang Vieng, from there I went to Nathong Tai, where the actual loop began.  Unfortunately the girl I cycled with had a flat tire on the way back to Vang Vieng so it was quite an experience to get it fixed by the local people in a small village called Phonxay (about 16 Kilometers west of Vang Vieng).  The German girl and I were the main attraction of the village that rarely gets to see any visitors from overseas. After the mechanic fixed the bicycle we had just left that village and…it happened again: Flat tire! We went back to the repair service, this time the son of the mechanic tried to fix it but as the same problem occurred we decided to walk to the next village, Naxom to get a new inner tube for the bicycle. At the end it took the whole day to finish the trip and we were really glad as we reached the Nam Xong River which is the gate to Vang Vieng. After three Beer Laos and a big dinner we enjoyed a perfect end of the day with a nice sunset.
My advice: If you are planning on renting a bicycle make sure it is not too old and get a good map as well.
We payed 10.000 Kip per day but with the cost of fixing the bicycle my cycling mate had to pay 30.000 Kip which is about the same price you would pay for a mountain bike per day. The road around the Vang Vieng imestone landscape is pretty flat but there are a few bridges you need to cross. They are small but expensive; you can save 15.000 Kip in total if you just cross the creeks by walking through it. The water might reach your hips so be aware of any valuables you brought with and that should not get wet.
The way to the Waterfall Kaeng Nyui is quite exhausting if you don't have gears to change on your bicycle. It takes a long time to cycle up to the Falls, we actually had to walk from time to time as it was too steep. However, you will be rewarded with a nice tropical forest and some surprisingly cold water at the bottom of the falls. After the refreshment the ride back to Vang Vieng feels nice as you steadily ride down the hill. Due to governmental restriction most of the Bars of the so called 'Party Island' were shut down and you get excellent rooms on the island for a cheap price.
Finally I can really recommend making a bike tour in Vang Vieng. You can not only experience and explore the great outdoors of Laos but also get in contact with the local people and involve yourself in the Lao culture. Truly, a bike tour in Laos makes any visit a true adventure. If you wish to set up your personal bike adventure in Laos, please contact us for further information.