Best Green Curry in Luang Prabang
What the Delilah's Chefs do to make it the best in town
Since I came to Luang Prabang a couple of month ago the love of Delilah's Green Curry has been common talk all over town. Everybody made my mouth water so I went to Delilah's Restaurant and ordered the large bowl of Green Curry to try myself.  And yes, it is the best in town! Tell me if you find a better one as I probably haven't tried all of them.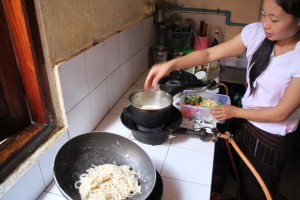 I decided to ask whether the chefs would let me know their secrets. And they did. So here is how the best Luang Prabang Green Curry is made – maybe you want to cook along…
Lao Green Curry Incredients
1 tbsp vegetable oil
some common sage
1 tbsp sugar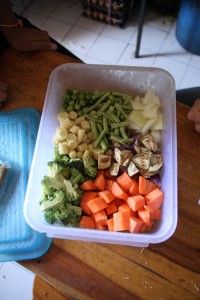 750g/1½lb skinless, boneless chicken, cut into chunks. It'll also work with pork, but I like chicken best.
6 kaffir lime leaves. They'll give a great taste. I dond't eat them, however, when served.
400ml/14fl oz coconut milk
2 tbsp of Asian fish sauce. If you don't like or have it use light soy sauce.
Vegetables: like green beans, eggplant, onions, carrots, broccoli and Asian large peas. All of it a hand full nicely chopped.
of course the  Green Curry paste
Now Let's cook that curry:
heat the oil in a wok. Add the green curry p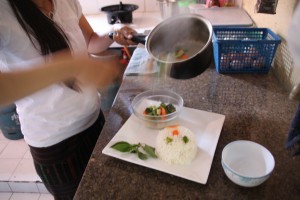 aste and the sage and cook over high heat for half a minute, stir in the meat and lime leaves until coated in the paste.
Add the coconut milk and the fish sauce and the sugar and bring to a simmer, then add the vegetables slowly cooking them for 10 minutes until the Curry thickens slightly. For seasoning, ad more fish sauce if needed.
Serve with fragrant jasmine rice.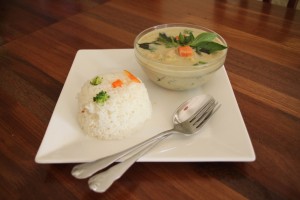 Yummy! If you'd like to try it yourself Delilah's Restaurant is passed the Post Office and JoMa's Café opposite of Wat That in Luang Prabang.