Lao Awk Phansaw Festival

The Full Moon Festival of Lights
Thousand lights, merit making, boat race, decorated temples, banana-leaf boats – see Laos changed!
Also known as Ok Watsa (Awk Watsa), this festival celebrates the end of the Buddhist Lent (Vassa). Lent lasts three month during rainy season. Monks focus on meditation, reviving their vows and fasting. When full moon in late October or early November comes (full moon of the 11th lunar month), the temples all over town are decorated with self-made boats, uncountable candles, lanterns and lights.
The Eve of Ok Phansa (Awk Phansaw) – the full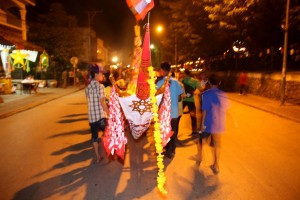 moon night – is celebrated with parties and processions, which end in the so called Van Loi Heua Fai. Smilar to Thailand's Loi Krathong, yet smaller, this ceremony includes the release of illuminated banana-leaf boats on the rivers carrying flowers, candles and incense. This is for the Nagas, river monsters who date back to the animistic believes of the tribal Laotians. They are believed to inhabit the rivers and the little boats are offered as a sacrifice to them. The ancient belief in Nagas found it's way into Lao folk Buddhism. Nagas became the dragon-like snakes guiding the staircases to many Buddhist temples watching over the religion.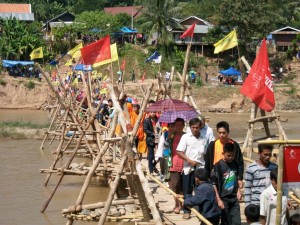 Now, when the October full moon has come, Vassa is over and monks are allowed to leave their monasteries and start to travel again. Ok Phansa is accompanied by Bun Nam, the water festival, with its highly competitive boat races, called Suang Heua. Smaller communities sometimes hold these races on National Day on December, 2nd so that villages don't have to cope with two costly festivals in two months.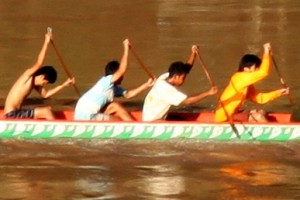 Traveling in Lao river towns such as Vientiane or Luang Prabang, you can spot the boat crews practice already during the weeks before full moon. Unlike the information I got from my guide books the boat races weren't held the day after Awk Phansaw but in the days before. (opposite Luang Prabang on the Mekong on October, 28th. In the village of "what" on the 29th – Awk Phansa being on the 31st) So make sure you ask locals when and where to go.