New Beginnings:
A Baby Elephant Excursion in Luang Prabang
We at Tiger Trail Travel strive to engage in animal welfare and sustainable travel. We constantly look for ways to improve and increase the positive impact through tourism here in Laos. Now a new authentic therapeutic elephant interaction program has opened its doors to a limited number of visitors. Just a short ride outside of Luang Prabang a completely new and redefined Lao Elephant Experience has been created… It completely excludes elephant riding and simplyl concentrated on positive interaction between elephants and humans.
Embark on a once in a lifetime experience and the only one of its kind in Laos. After coming to us from a logging camp in western Laos, our 10-month old baby elephant nicknamed "Kit" has become a key part of our vision for the future. In contrast to traditional training techniques where young elephants are separated from their mothers and broken by abuse and fear, this young elephant will be trained only with positive reinforcement and care. And you as a visitor can be a part of this.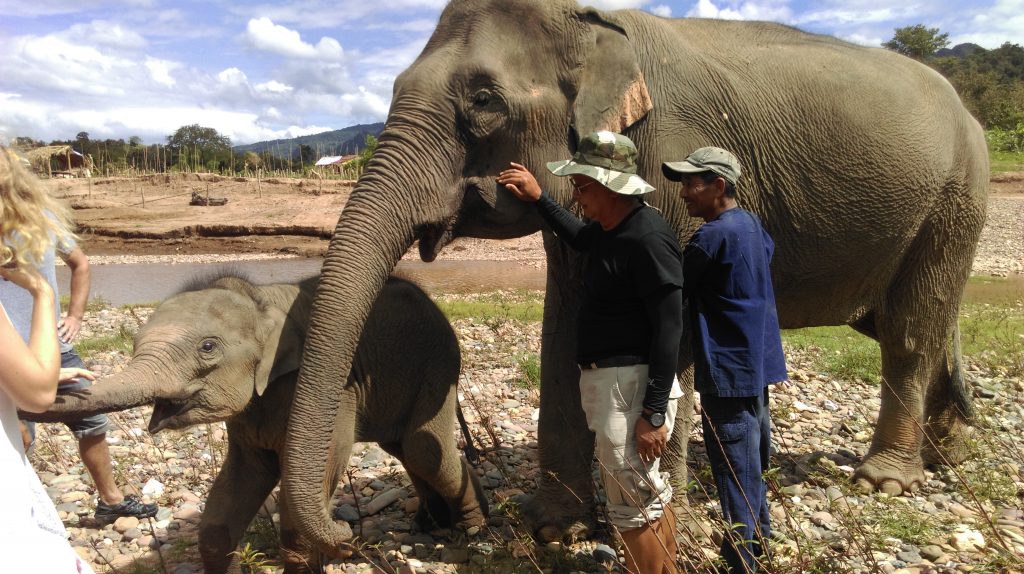 We invite you to participate in this new training process largely pioneered by Mr. Prasop Tipprasert in hopes that these techniques will be adopted throughout the region and in other elephant-inhabited countries. You will have an intimate and exclusive opportunity to get to know this baby elephant while hiking up a cool mountain stream in the jungles of Laos. This is a unique chance to participate in something entirely new with a potential to change the future of elephant welfare in Laos and abroad.
Elephant Interaction Itinerary
Begin: You will leave Luang Prabang around 8:30 for the village of Xieng Lom after we pick you up from town or from your hotel. Upon arrival guests are invited to have coffee or tea as your guide for the day provides an in-depth introduction on elephant behavior, our new training techniques with baby Kit, and how we as humans should interact with him and his mother.
First Meeting with the Elephants:
A quick boat ride across the Nam Khan River will deliver you to the waiting elephants. During this first meeting guests are urged to interact with and feed them—one of the best ways to ensure instant friendship. Trying to get a treat past mom and to Kit can often be a challenge!
Elephant Bath Time:
Our bathing/spa experience involves using special materials found in the jungle that you can use to scrub down and rinse the elephants before beginning the trek. Guest are urged to join and help the elephants in the process and delight in their pure enjoyment of being in the river.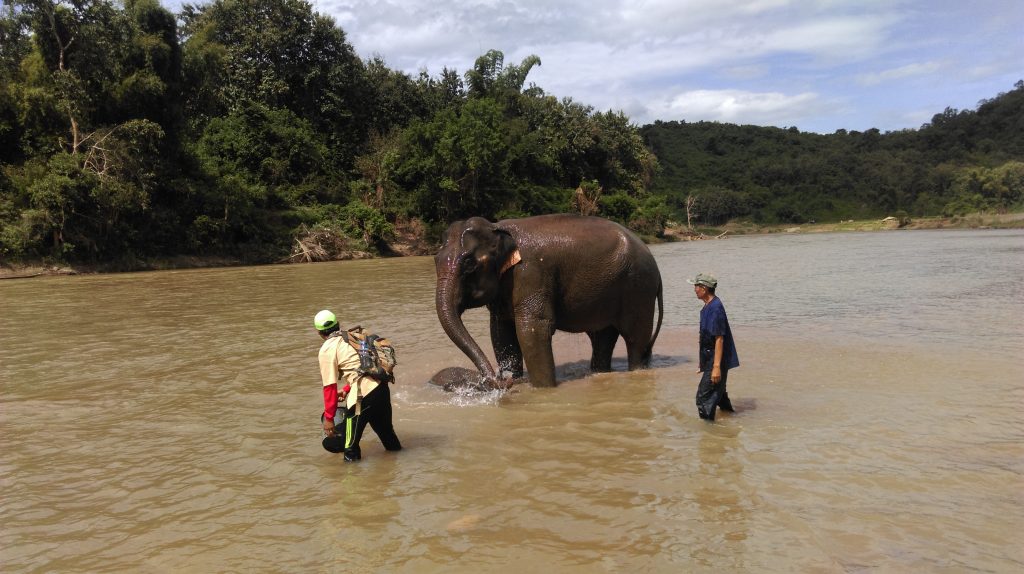 The Elephant Trek:
After crossing through a beautiful stretch of traditional Lao gardens you will arrive at the jungle-covered Huay Nok stream. As you walk alongside the elephants and crisscross through the cool water you will experience a profound sense of understanding, respect, and caring for these amazing animals. Additionally, your guide will show how our training techniques differ from traditional methods and how you being on tour supports baby "Kit." As you prepare to start your walk back to MandaLao, you will bid farewell to your new friends with more treats and goodbye hugs.
Lunch near the Elephants:
When you get back to MandaLao, you will head to the restaurant and enjoy a delicious fresh Lao meal made from our own organically grown produce. There you can relax, kick-back, and process the day's experiences on the veranda overlooking the river and misty mountains.
Finish of the Lao Elephant Excursion:
Following lunch you will take the short ride back into Luang Prabang and have one more chance to ask your guides any lingering questions. You will arrive back by approximately 13:30.