Night train from Bangkok to Laos,
Leaving Bangkok the smooth way
___
5 Thailand to Laos travel recommendations:
There is good information out there helping you to get from Bangkok to Laos by night train, but let me give you my 5 recommendations after taking the trip myself just recently. I hope it'll make your journey into Laos an unforgettable experience – in a positive sense.
 1. Try to book your sleeper train in advance.
Sometimes night trains are sold out. You can even get a refund if you won't be able to make it. I, however, lost half the ticket price returning the ticket on the day of the departure. But at least I got money back.
2. Buy your ticket directly at Hualamphong railway station.
It's a lot cheaper than having somebody do it for you.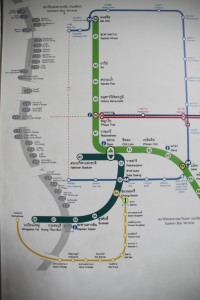 And once you're there you can easily check out China Town which borders on the station. The easiest way to get there is by MRT. The Metro terminates at Hualamphong and is very cheap. On the day of traveling we even took the MRT with all our luggage, which wasn't a problem at all. When you arrive there you will probably be approached by Thai information personell. They are trustworthy, not ripping you off and actually helping. Tickets for 2nd class sleeper express train with A/C to Nong Khai, the city bordering with Laos, are about 700 Baht (~23 US$) for a upper bed. Lower beds are slightly more expensive. Two notes on that: If you want to sit across each other before you go to sleep get one upper and one lower bed. The seats become your beds for the night.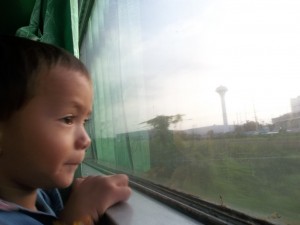 And if you travel with children in the night train, be informed that you pay for seats/ beds and not for people. Friends of ours got three seats (equals three beds) for the two of them and their three children. Just decide on how many kids you want to have in your pretty narrow bed. Lower beds are a little bigger and therefore more comfortable.
3. Get the 6:20 or the 8 p.m. express train. There is also one at 8:45 p.m. Then you will miss the early connecting train across the Mekong into Laos at 9 a.m. in Nong Khai, however. Though there is a second one at 2:45 p.m., Nong Khai isn't exactly the city where you want to be killing 5 hours of time. The ride from Bangkok takes you about 12 hours. Check out also www.railway.co.th for schedule and fares (hit the English button). We took the 8 p.m. one which got us a full day in Bangkok and still plenty of time to get the connecting train into Laos, which would wait anyway, I guess.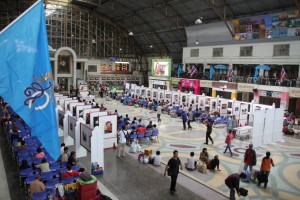 4. Get your provisions for the trip not at Hualamphong.
We still did as we didn't want to carry all the food besides our luggage. But shops at the station are more expensive. If you want to get western food for dinner there is a KFC, but that's about it. There are yummy BBQ sticks for 40 Baht, though. Bring plenty of water as the air-conditioning drys the air. We were surprised by the breakfast served in the train the next morning. They sold it for reasonable prices and it was actually really good. Don't expect freshly brewed coffee, though. They'll have the 3-in-1 mix with coffee, milk and sugar served in a plastic cup.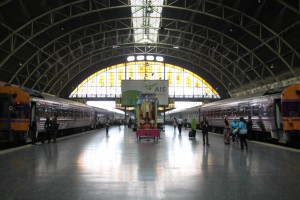 5. The train arrives at Hualamphong one hour early, so can you. For our 8 p.m. ride the train got to the station at around 7 o'clock. What nobody really knows is that you can get on the train right away, store your luggage there and either escape the crowded station for a calm read of your book before the train fills and departs or head back into the station to get your dinner without having to carry your luggage around. We only took our valuables back out, which is probably a good thing to do.
How to get to Laos: Go on here