Night train from Bangkok to Vientiane, Getting to Laos, the smooth way
_____
5 more recommendations for night train travel
from our own travel experience:
1. Don't worry on the train! Once you have left Hua Lamphong train station in Bangkok there is a lot to worry about. At least we did. Don't! You'll arrive just fine. Here are some of our needless worries.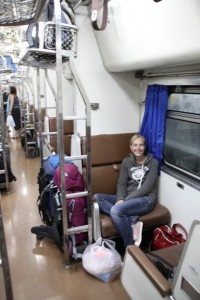 Don't worry about how your seats become beds. One of the railway staff members will come and prepare it for you. If you get tired early just go talk to him and he'll do it right away.
Don't worry about the bathroom on the train. There is toilet paper and there are two toilets for each car. If you end up in one of the bathrooms with a Thai squad toilet just check out the one across. It'll probably be a Western style one. There is also running water and soap. Just bring your own toothbrush and you'll be fine.
Don't worry about oversleeping and missing either breakfast or even Nong Khai. Nong Khai is the last stop and the train will stand at the station for half an hour or so. Railway staff will waken passengers for breakfast by shouting through the car. If you hear others getting their seats back they are either getting off at an earlier station or just tired of sleeping. If someone wants to get up they just have to talk to the attendant and he reverses the bed into a seat. This is pretty loud but doesn't mean you have to get up yourself.
Don't worry about all the noise at night. Well it's annoying but nothing to really worry about. During all my night train rides through Thailand I had these moments when I thought the train just jumped the rails or almost hit another one. We were always totally fine. I just wish Thai engineers would learn to brake more smoothly.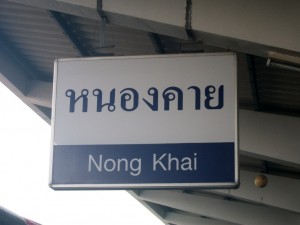 2. Use the connecting train into Laos instead of a tuk tuk to the friendship bridge. The immigration office at Thanaleng train station in Laos will be a lot less crowded than the one at the friendship bridge. The train, which departs from the same platform on wich you arrive, only costs another 40 Baht. It leaves twice a day: At 9 o'clock a.m. and at 2:45 p.m. So when you arrive at Nong Khai station you first want to buy your ticket for the connecting train. There is a ticket office on the platform. Then you go through Thai customs, which is in the back of the platform, and arrive at a waiting area. This is where the train to Thanaleng train station in Laos departs (only train staition in Laos so far). Now enjoy the beautiful ride over the Mekong and then you are in Laos! You can also do this not having a visa yet.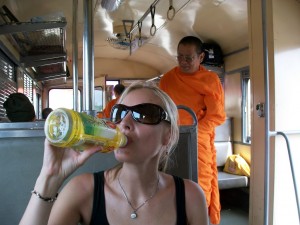 There are visas upon arrival, which cost you 30-45 US $ (depends on your nationality) and one picture. Please make sure to bring actual Dollars and an ID picture along. Even when you are confronted with the Lao way of doing customs you'll be fine: When we got to the immigration office at Thanaleng train station they couldn't start their computer to get us our visa upon arrival. So a friendly Laotian ended up taking us to the big friendship bridge boarder where we entered from behind and got our visas. For 31 $, though as it was a Sunday.
3. Share a minivan to Vientiane.
After checking-in at the immigration office, you will need to take a van or a tuk tuk to bring you to Vientiane.
This is another 13 km from Thanaleng. There are fixed prices. 300 Baht for a tuk tuk and 500 for an air-con minivan. You always pay per car and not per person so try to find other travellers you can share the transportaion with. (up to 6 in a tuk tuk, up to 8 in a minivan)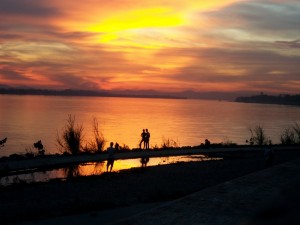 4. Stay at least one night in Vientiane.
You might make it still to Vang Vieng if you are travelling north but getting a cheap guest house and traveling the next day is a lot more relaxing. Luang Prabang was our final goal. But instead of taking an exhausting 10 – 12 hours bus directly we stayed one night in Vientiane, two nights in Vang Vieng before we left for Luang Prabang. All these places are worthwhile checking out and the bus rides are long enough anyway.
5. Go to the Mekong promenade to chek out the sunset.
If you don't stay for Vientiane stay for the sunset at the Mekong river banks.
It's just great to experience this town from this end and especially in the evening.
Amazing selection of tours in Laos you find here