Nong Khiaw – One of the most beautiful and chilled out places in Laos

The night before I left for Southeast Asia I was at my friend's warehouse for a housewarming party. I met a girl who had just returned from Asia and she told me she had really liked Laos, but really loved two village towns called Nong Khiaw and Muang Ngoi.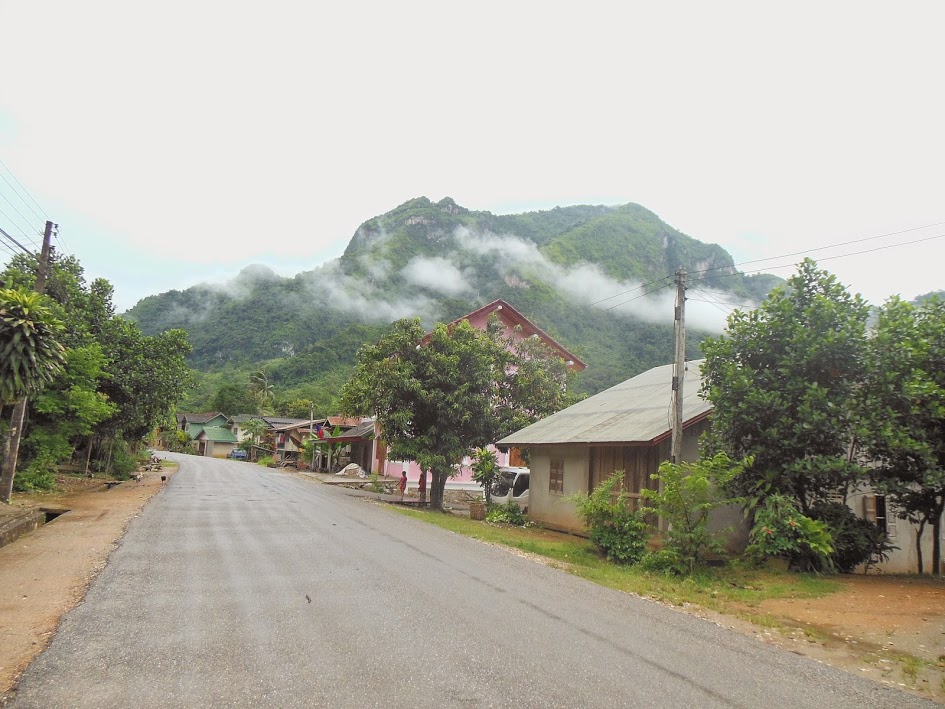 I spent one night in Nong Khiaw several months ago and witnessed a HUGE storm that blew almost the entire town's power off, not to mention a roof or two. It was and intense and beautiful and unexpected (we had been swimming in the Nam Ou river in the sun just an hour before), but left us experiencing Nong Khiaw primarily from the relative safety of our bungalow porch.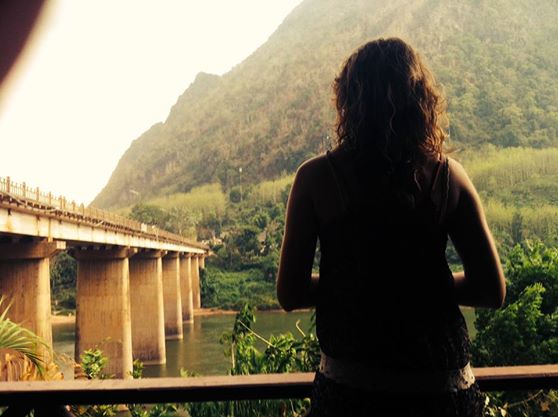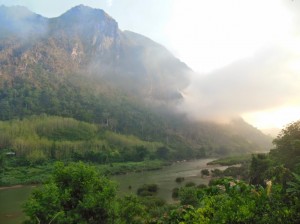 The next morning the sun was out again and we decided to do the Viewpoint Hike. For some reason the rain had us thinking that it was cool and we forgot water but decided that we didn't want to turn back for it. The cool early morning quickly faded into morning and it was HOT and we were hiking straight up a mountain without water. When I want to get through something painful, like a hot steep hungover hike with no water, I go fast. So an hour later we were at the lookout on the top and the view of cute Nong Khiaw nestled between mountains and river was well worth the sweat, fatigue, and dehydration!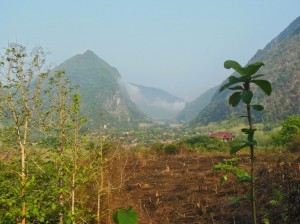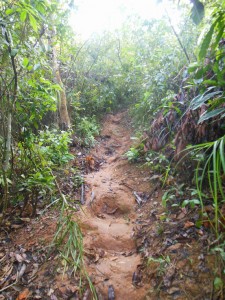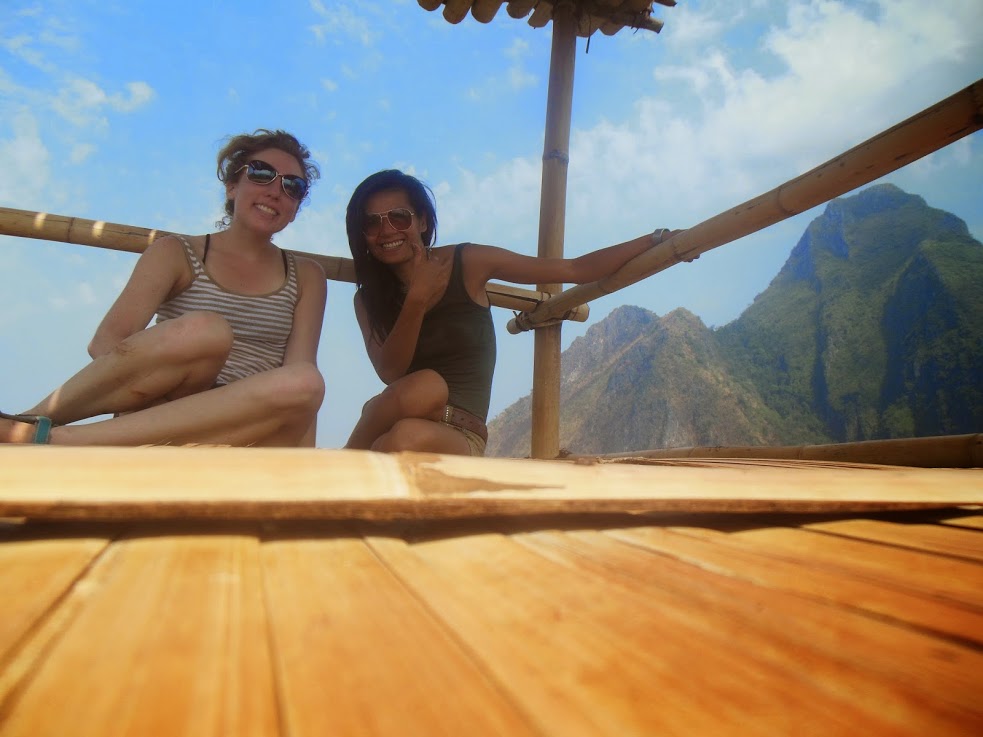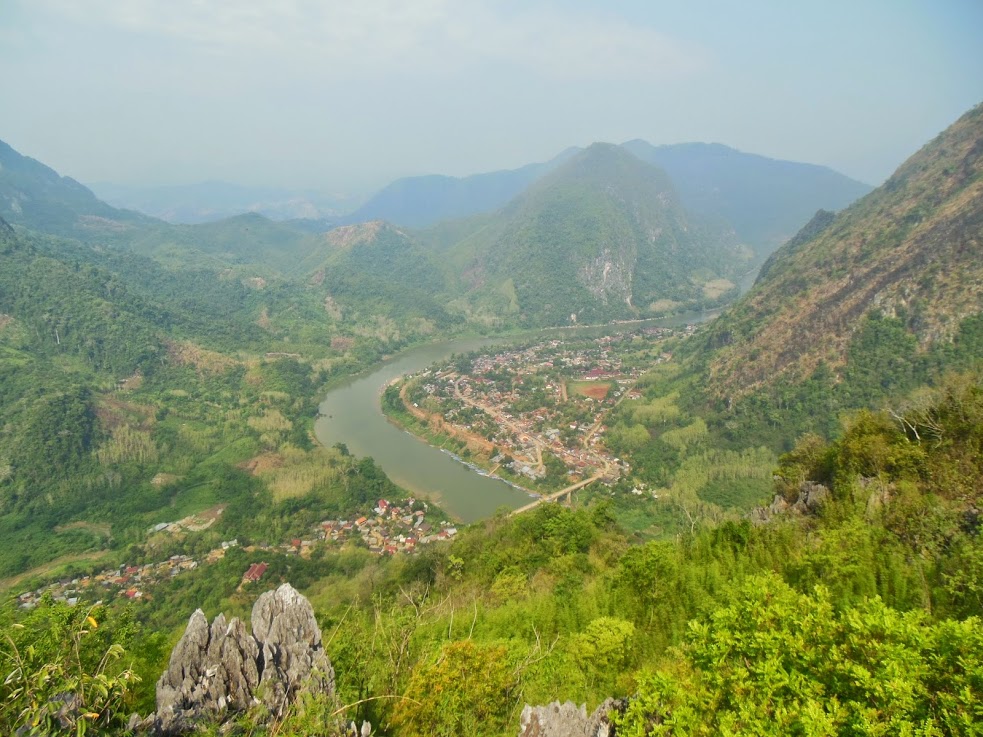 I passed through Nong Khiaw again last month while on my way to Muang Ngoi. You take a one hour boat ride up the Nam Ou from Nong Khiaw. The ride was beautiful (with the exception of the giant spider that stowed away on board). The river winds its way through limestone karst mountains and scenic river villages. It was pouring rain when we got to Muang Ngoi and we slipped and slid our way to a guesthouse a little ways down the muddy street. Besides eating, I spent most of my time in the hammock reading. There are many short hikes to do to more remote villages, through farmland, and to caves – but it was just too muddy for me and my friend! We did spend a good amount of the evening in a bookstore/bar/café/art-gallery/handicraft-shop drinking beer with the awesome owner. He's full of ideas, stories, and laughter – look for his shop!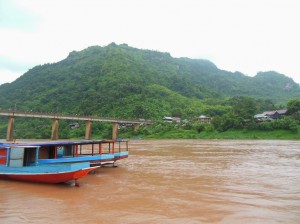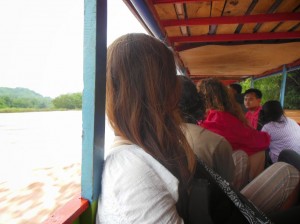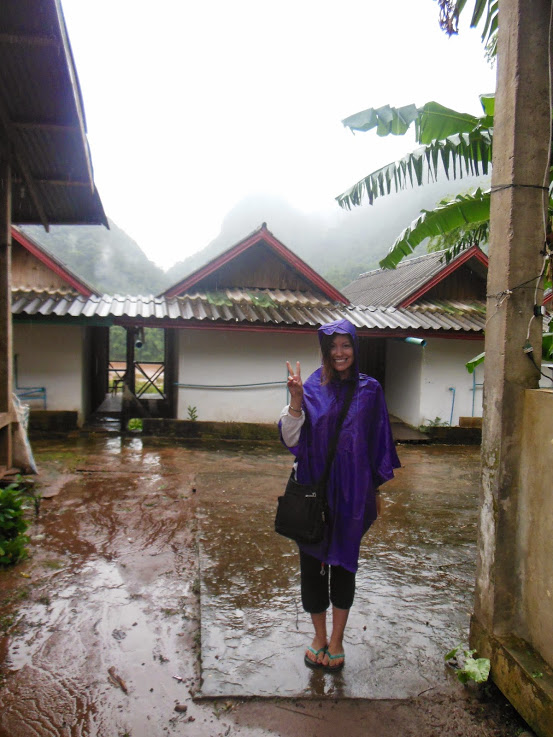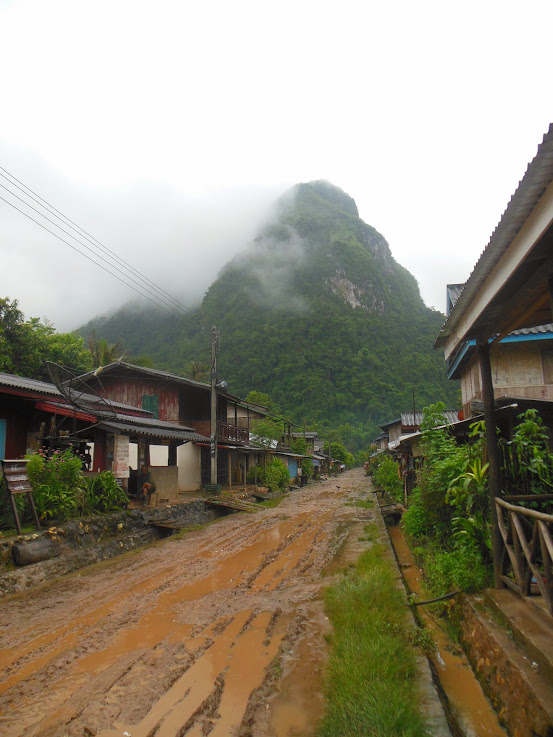 More about Nong Khiaw!
The beautiful and relaxing Mandala Ou Resort
The Mandala Ou has Nong Khiaw's only swimming pool and it is beautiful – an infinity pool that looks like it is spilling right into the Nam Ou. This relaxing resort in a gorgeous setting has 10 individual bungalows, serves delicious food and drinks, provides a Lao steam sauna for guests, and has a serene yoga sala (where occasional yoga retreats are held). Stay here and you'll really feel like you're away from it all.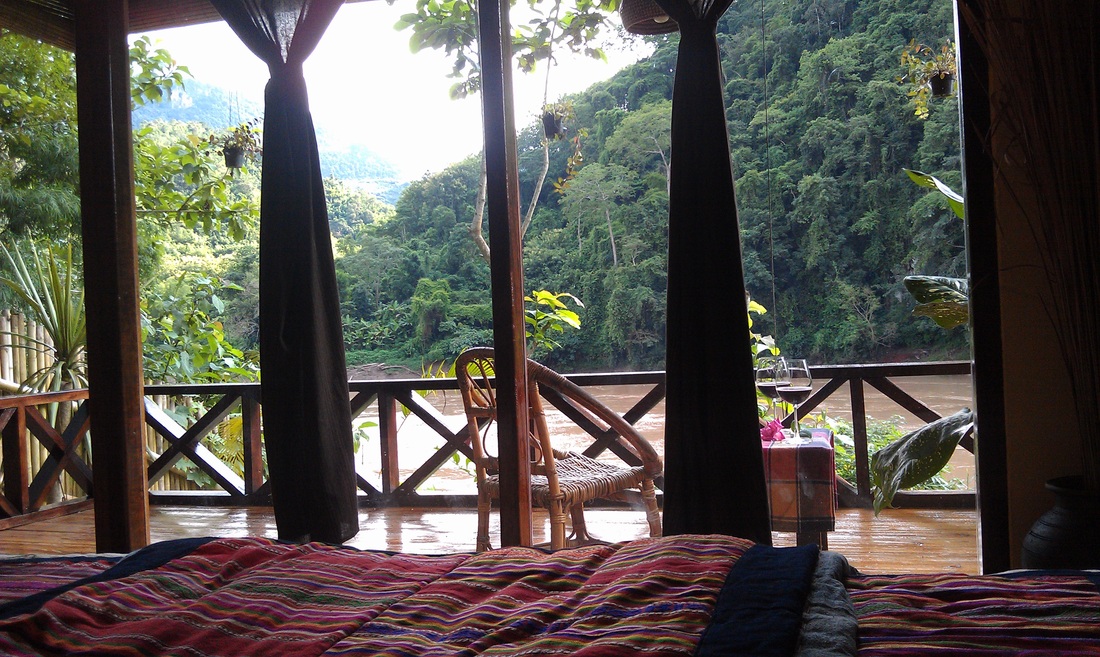 The exciting and exclusive 100 Waterfalls Trek
This trek has the stamp of approval from the original writer of the Southeast Asia Lonely Planet. You won't just see 100 waterfalls, you'll hike through them. Tiger Trail discovered this trek only a few years ago and it's not something you want to miss!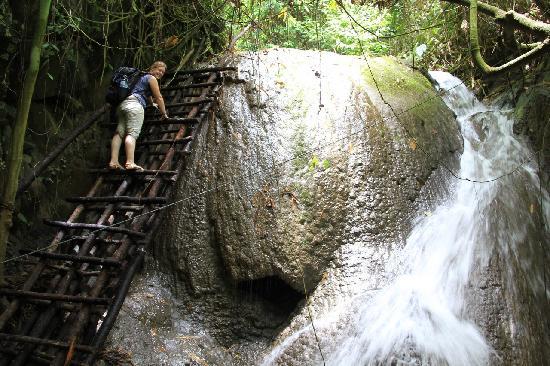 You can also rent a bike and go see the Patok Cave which was used as shelters for villagers during the American bombings and as headquarters by the Pathet Lao.
Nong Khiaw is only a 3 hour bus ride from Luang Prabang. Can be a great weekend (or week long!) trip.