As the Coronavirus (Covid-19) continues to spread, Tiger Trail has up to date information about Laos for travelers.
What is the Visa and Border Situation?
The Lao government has announced it will close all educational institutions and suspend the issuance of visas for foreign visitors for thirty days to prevent a Coronavirus outbreak in Laos. All visa on arrival services for entry into Laos are suspended, including the issuance of electronic visas (E-Visas) and those issued at border checkpoints. As of March 26, the Lao government advises to stay in place.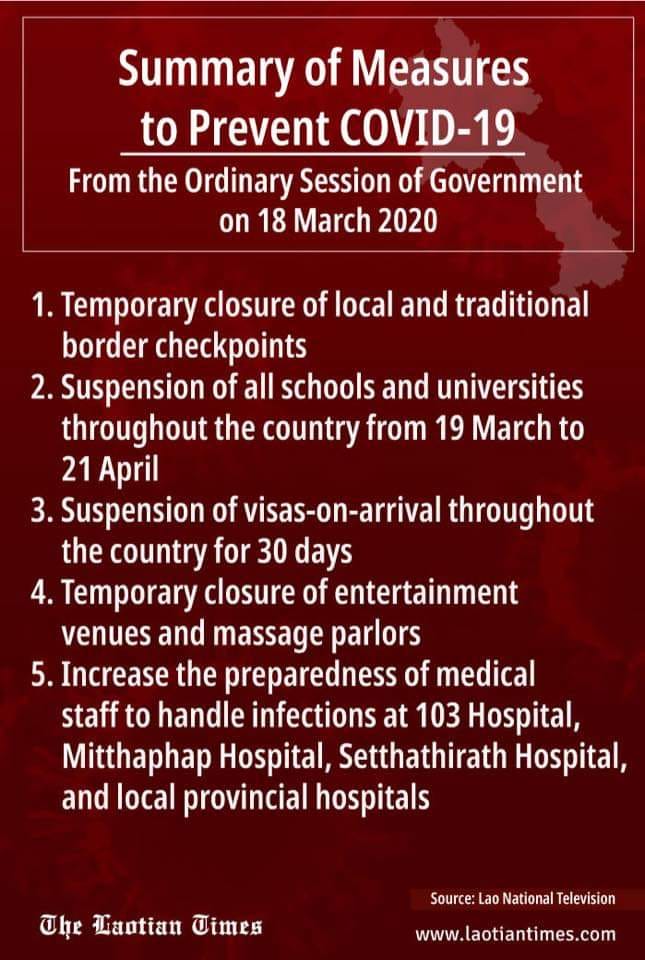 Preventative measures are being rapidly stepped up, despite there being no case of the virus confirmed in Laos. Update as of April 9th, there are 15 confirmed cases total in Vientiane and Luang Prabang.
The PM also announced the closure of entertainment venues, including karaoke rooms and massage parlors. Other types of businesses may continue ordinary operations for now by taking precautions and checking the temperature of customers and providing hand sanitizer on site.
All state and private educational institutions, from preschool to university level, will be closed until further notice. This follows the closures of preschools and kindergartens earlier this week.
More on Self-Isolation Requirements
Update, All arrivals to Laos as of March 25th are required to self isolate for 14 days.
The Task Force also recommends those who are self-isolating to monitoring themselves for symptoms for 14 days.
If you display symptoms or feel you may have contracted Covid-19, please contact the Covid-19 Hotline on 166 or 020-5406-6777." *
* Courtesy of the Laotian Times
How Do the Coronavirus (Covid-19) and Border Closings Affect Our Tours?
Borders with China closed on January 24th and borders with all other countries closed on March 13th.
Tiger Trail continues to operate tours in alignment with the guidelines set by the Lao Government. As we do not visit schools or entertainment venues as defined by the government, there is minimal impact. All tours will continue to run as usual with the exception of our Homestay programs. In an effort to reduce the chance for rural areas to be exposed to Coronavirus, we are not offering Homestay overnight tours for the duration of the border closings. When the borders are re-opened, we will assess the Homestay tours.
Update, we are currently not operating any tours, but are happily taking enquiries.
Cancellation Policy
During this time, our cancellation policy is as follows:
Cancellations are accepted by email during normal working hours 8:30 a.m. to 8:30 p.m. Phone cancellations are not accepted. Notification by phone must be followed by email.
The following cancellation fees apply:
>48 hrs before the given tour meeting time and date – 25% fee in addition to any 3rd party charges.
24 hrs to 48 hrs before the given tour meeting time and date- 50% fee in addition to any 3rd party charges.
0 hrs to 24 hrs before the given tour meeting time and date – No Refund
A credit note will be issued to use within 12 months if you still plan to travel.
If you cannot be on time, please contact TT immediately. Standard join-in tours depart at the latest by 8:45 a.m. as a courtesy to other on-time guests on the same tour. In case of missed pick-ups, please contact one of our offices immediately.
Refunds apply to the cost of the tour and may exclude bank transaction fees. There is a 25% discount on all re-booked tours. Please do not hesitate to contact us with any questions or to re-schedule your current tour. You can reach us here, by emailing info@laos-adventures.com, or calling +856 71 252655.
We thank you for your continued support and understanding during this unprecedented time. We will continue to update this page as information is available so check back.
Are You in Laos and Need to Extend Your Visa?
No need to worry if you are already in Laos with your tourist visa running out. Due to this unforeseen events, the Lao government is allowing extensions without leaving the country. Holders of T-B3 visas simply need to attend the Department of Immigration with the $2USD/day fee (payable as 600,000LAK plus a 20,000LAK fee). Thailand has closed their country to new arrivals as has China. Please stay in place.
Update; Muang Ngoi is closed to all visitors. Do not attempt to reach Muang Ngoi.