Last week we took the Tamarind cooking class in Luang Prabang, Laos. We started the Lao cooking day at 9am and we were whisked off to Phosy Market where Joy the chef taught us about what kind of herbs, vegetables and other Lao food you use in Lao cuisine. The stands sold a lot of different interesting and delicious Lao specialties, Mekong seaweed sheets dappled with sesame and chili, mounds of white- and plum-colored rice and sour Laotian tamarind.
After strolling around in a ocean of different kinds of fruits, vegetables and herbs, we went inside to see what the butcher had to offer, a very interesting experience I must say, it didn't turn me into a vegetarian, but sometimes it crossed my mind. I had many questions about food that were totally new to me. What are the little bags with brown liquid? Oh, its buffalo bile, a bitter ingredient often used in minced-meat salads.
The food culture in Laos is a bit different from what I am used to in Sweden, but still you can find similarities between Lao and Swedish food. In Sweden we use a lot of dill in our food, especially with fish, which is common in Laos as well. Sometimes you forget that Swedish people also eat unusual foods. For instance, In Sweden, we have something called surströmming or fermented Baltic herring, the herring is fermented for 10-12 months and stored in cans. I have never tried it and I heard that you should eat it outside because it smells really bad. In Laos, they have something called 1000 year old eggs, which are fermented eggs. The eggs are dug into the ground and after 100 days you dig them up and eat them, they look like dinosaur eggs!
The location where the Tamarind cooking class is held, is really wonderful, you cook your food in a rural pavilion with green lushness overlooking a fish pond and surrounding mountains. We got to cook over an open sputtering fire just like in the traditional Lao way. We pounded grilled tomatoes, eggplants, chilies and garlic into salsas. We steamed fish, caught the same morning, in banana leaves together with garlic, onion and dill and we stuffed minced chicken with herbs into lemongrass stalks.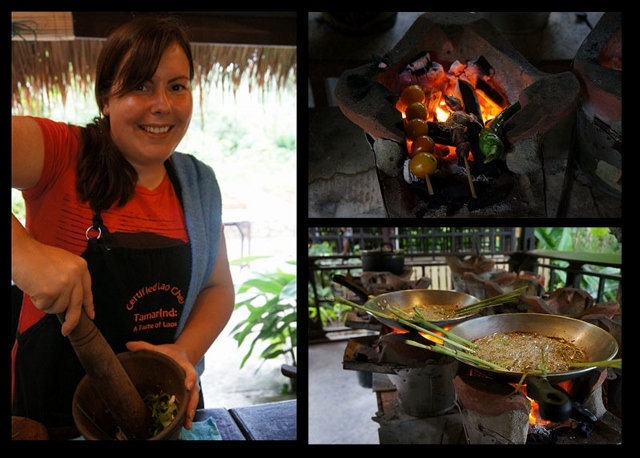 At times I felt a bit confused, what kind of ingredient was it, are we suppose to chop or shred, how do you tie the banana leaf? Eventually, I was able to put together five delicious dishes and I felt pretty happy and proud about that! We got a cookbook with all the recipes; hopefully I am able to cook traditional Lao food for my family and friends in Sweden, although with some tweaks since it will probably be hard to find all the necessary ingredients.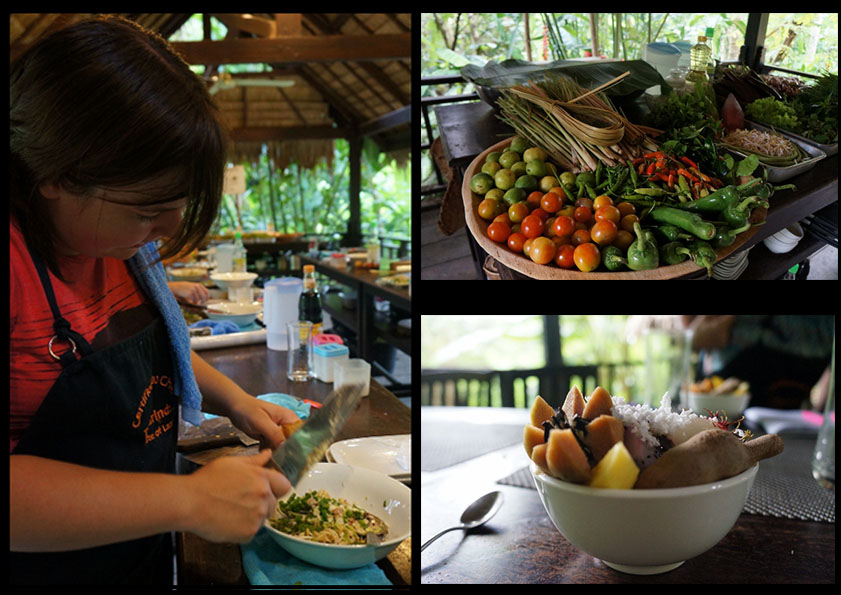 After we were stuffed with delicious Lao food, we were surprised to know that we also get to make a traditional Lao dessert, sticky rice with coconut milk and lots of yummy fruit, luckily I had enough room for it!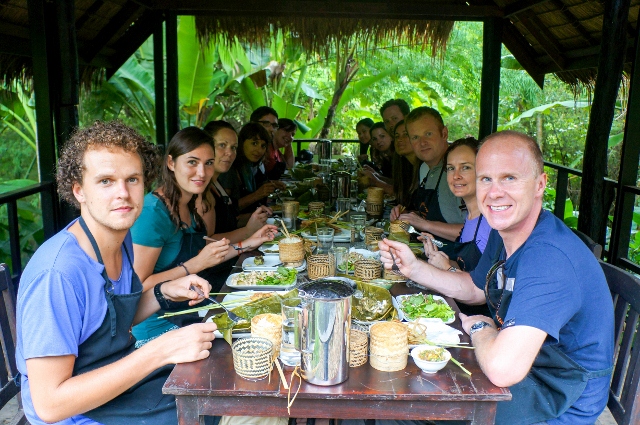 And here is the cooking class members in Luang Prabang at that day. All enjoying their own self-made Lao food!
If you are interested in a Lao cooking class, please feel free to look up more details in our Laos adventures tour website, where we can arrange your visit and Lao cooking experience here in Luang Prabang.