One Day Trekking Luang Prabang
one day three villages, landscapes and a true adventure hike through the Lao hinterland…
A Tiger Trail van scoops us up from a curiously bustling Luang Prabang city street to deliver us to our starting point for our trekking tour. A slim, tiger-striped wooden boat appears from upstream to shuttle us across the Nham Khan river. Setting foot on the other side, our group of four bounds into the jungle with that early morning energy, trailing our local guides Sou and Loun.
We immediately come upon a cheerful group of villagers threshing rice sheaves.  Sou takes the opportunity to explain the rice harvesting process and translate any questions directly to the laborers, who happily oblige in answering our litany of falang inquisitions into their daily lives.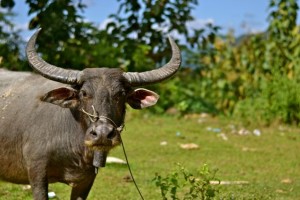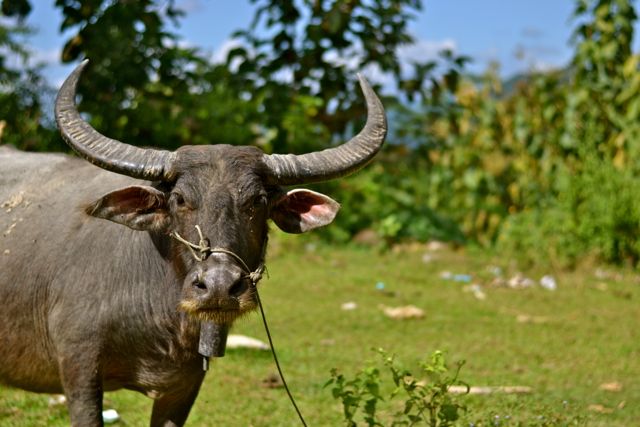 We continue our hike flanked by rice fields and teak groves and in just under an hour we stroll into Huay Nok, the first of three villages we will trek to on the day.  An ostensibly bearded and generally gruff looking water buffalo welcomes us in with a grunt of approval.  A Khmu village of 53 families, Huay Nok provides the perfect introduction to the varying ethnic groups of northern Laos.  In fact, the Khmu are the indigenous inhabitants of northern Laos and still number in the hundreds of thousands here.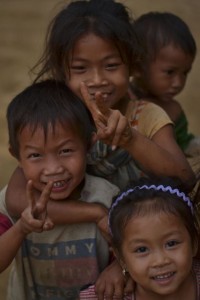 Sou sits us down for some necessary hydration and a chat on the Khmu people, village history, and contemporary issues facing the local population.  These treks are not simply about adventure, but respectfully and quietly immersing oneself to discover the culture and people of Laos. 
Another hour of decidedly uphill trekking brings us to Long Kut, a picturesque Hmong village of only five families, where livestock clearly outnumbers human beings.  Two cows and a calf escort us down the final stretch of trail, bellowing our arrival to the village as children emerge from every nook and cranny to see the spectacle.
Here we sit down to a well-deserved lunch of fried rice skillfully wrapped in banana leaves as little chicks, piglets, and puppies rattle beneath our feet.  The Hmong children produce simple yet beautiful handicrafts, eager to contribute to what is obviously an agricultural and animal based subsistence lifestyle.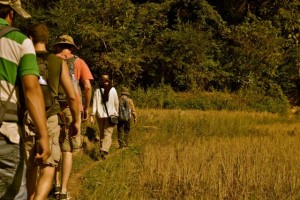 From Long Kut we ascend an arduous and mildly sloppy trail to rewarding panoramic views of the surrounding valleys.  Burning calf muscles immediately melt away as we peer upon this landscape photographer's dream of lush green canopy blanketing hillsides dotted with rice fields and bamboo huts.  This is rural Laos in one shot.  Just to make certain, we all snap off about twenty.
Now for the longest stretch of the day, a welcome two and a half hour downhill or relatively flat trail to Houayfay, the final village on our trek.  Houayfay, another Khmu village of 75 families, is a regular metropolis in comparison to Long Kut.  Sou turns us loose for a quick walkabout the village before we begin the final one hour leg back to the Nham Khan, slightly upriver from where we had started in the morning.
Just out of Houayfay we come to the "Happy Bridge" as pitched to us by Sou.  I immediately find myself using two phrases that seem to always be on the tip of my tongue as a physically large falang in Laos; "What the hell is that?" and "Will this thing hold me?"  (Insert a main course of nervous laughter here with a side dish of accelerated heartbeat.  Now wash that down with a tall glass of highly suspect creaky bamboo bridge. I use the term "bridge" rather loosely here.)  We all survive the crossing, this last micro adventure the cherry on top of a rewarding, moderately strenuous day of Lao adventure trekking.
An hour and a half later we are back in Luang Prabang, weary from a total of five and a half hours of walking, but filled with the beautiful memories of a great day in the Lao countryside.
This Luang Prabang Trekking Tour benefits local communities through the Fair Trek initiative and fits well to the adventure seeker around Luang Prabang. Tiger Trail is offering this tour on a daily base, as private treks as well as join in tours. 1 Day Trekking Tour in Luang Prabang – Link