Nam Et-Phou Louey National Protected Area (NPA and pronounced naam et poo loo-ee), is a protected area in Northern Laos, covering 5,959 km2 in three provinces: Houaphan, Luang Prabang, and Xieng Khouang. The park includes a 3,000 km2 core area where human access and wildlife harvest is prohibited and a 2,950 km2 buffer area where pre-existing villages are allocated land for subsistence living.
The Nam Nern River Overnight Night Safari experience is a must if you are visiting the area. You are unlikely to be passing this area unless you are really exploring Laos, so if you want to get off the usual trails and discover the real Laos this is a great option of you have a few days and even better if you can take a week or more and do the northern loop that we did. We set off to discover what the fuss is all about and spot some wildlife.
A number of ethnic groups inhabit the area including Yao Mien, Hmong, Khmu and Tai Daeng. The 2 day overnight tour starts with a 30 minute walk around the local village.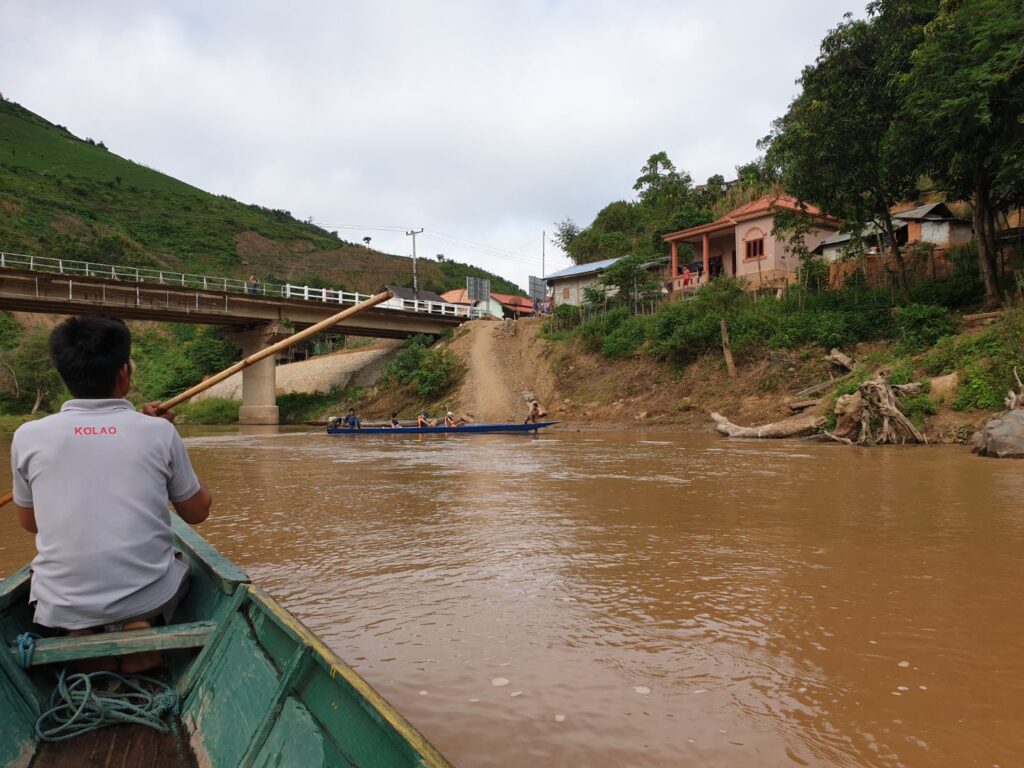 We walk down the path seen above to the river and get in our longboat. We are provided with raincoats, life jackets and helmets.
The excitement builds as we travel upstream to the camp in 2 to a boat crossing over the rapids. The river was low and our boatman had to lever us through with his bamboo pole, at times we had to exit the boat and walk a short distance.
After arriving at the base we were allocated our rooms. Accommodation is basic but comfortable with a bed/mosquito netting in a wooden open-fronted chalet. There is a newly built toilet block with a number of toilets and showers. Perfectly adequate for an overnight experience. We then enjoy lunch. The food is cooked fresh and was substantial.
We set off on a walk for approx an hour, through the jungle. Our friendly and knowledgeable guide explains all the plants. We went during the rainy season so it was lovely and green. While it only lightly drizzled the ground was slippery. Shoes or boots with good grip would be useful to pack. We came across an old stupa where a temple used to be.
In the evening we head further upriver for 2 hours in our boats. Bring a headlamp for walking in the dark and it gets cold so pack warm clothes and perhaps a change of warm clothes as well. We cook on the river edge and have plenty for dinner. When it grows dark we head out with our guides in the boats. The guide instructs you when to turn your headlamp on as they spot wildlife. They know what they are looking for!
We sleep well after a busy day and rise early the next morning. Dress warm as we head back down river for the 2-hour return trip to our starting point. We didn't see a whole lot as promised but even so the experience was worth it. Funds to this fantastic project, keep the area protected so you can feel good that you are supporting a sustainable project and contributing directly to support local families. The guides and boat drivers were outstanding, you could not ask for better staff. It is an experience you will never forget.
Check out the below video from Nam Et Phou Louey for further information and to book use the friendly experts at Tiger Trail Travel who have experienced the magic of the NPA themselves.