Luang Prabang Travel Tip
Tad Thong Waterfall Tour
The best way to explore Laos is by getting off the beaten track. This time we tell you more about a hidden Waterfall Tour outside of Luang Prabang. We visited the Tad Thong waterfall for you.

Luang Prabang Travel Tips – Best waterfalls to visit
Visiting Luang Prabang without seeing one of the beautiful waterfalls is considered a sin! But seeing only the crowded Kuang Si or day-time amusement-park-like Tad Sae waterfall with its Ziplines and Elephants could count as such as well. There are about 5 waterfalls in the region of Luang Prabang that can be reached within a half hour ride, but one waterfall, the smallest and nearest to town, really stands out.
On our recent Luang Prabang waterfall walking tour to one of the less known waterfalls around town we realized how Luang Prabang waterfall visits must have been, let's say about 10 years ago. At this time still the amount of people was about a tenth as well and even the road to the famous Kuang Si waterfall was not even paved. Today bus loads and a huge parking lot awaits visitors at Kuang Si, while at the hardly known Tad Thong someone could still feel like an explorer most of the days all around the year.

As a matter of fact,
Kuang Si waterfall in Luang Prabang is the most visited site in the whole of Laos (north Laos) and a number of up to 500 people daily make their quest to "explore" this so called paradise.
If you are the more adventurous traveler the ultimate travel tip for Luang Prabang and for visiting at least one of the less known waterfalls is to go to Tad Thong. The small waterfall and stream comes out of the jungle and a small forest valley providing nice hiking trails to explore.
How to get to Tad Thong Waterfall, Luang Prabang?
Tad Thong waterfall, Luang Prabang is just a 5 min. drive from town passing the Chinese Market and Southern Busstation of Luang Prabang.Watch out after about 4 km for the sign on the right, you easily pass it. It says Tad Thong waterfall 2.8 km. Once arriving at the waterfall you will not see any parking lots and souvenir stands, only a small house provides with the basics, beer, coke and chips. A small fee will be asked and off you go to explore oone of the most hidden treasures of Luang Prabang, the Tad Thong waterfall nature reserve.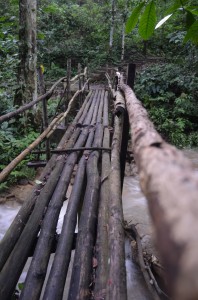 Go in the early afternoon, as the sun hides quickly behind the mountains. Take the time to explore this waterfall by walking at least 30 min. up. There is a few paths to explore. Bring a towel in case you want to refresh yourself. Bring drinking water and camera.
Before you leave, consider the idea of heading through the waterfalls and onwards to the Hillside Lifestyle Resort, which offers superb overnight stays and a swimming pool…
As an Alternative, you can book yourself on a tour in town allowing you to get the most out of your visit to both, the Tad Thong waterfall and the Kuang Si waterfall, all combined in just a perfectly made 2 day tour that is even guided in English and affordable. Rates start as low as about 99 USD per person for the full 2 day tour including Hillside Resort stays, all meals, overnight and both waterfalls.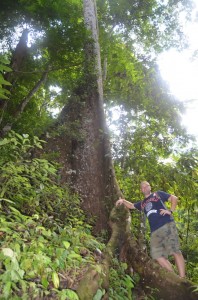 Go Explore, while you visit Luang Prabang and remember to seek the hidden treasures, we will give you new ideas every week. Tad Thong waterfall is one of these special places in Luang Prabang, and an adventurous waterfall tour, just a few minutes outside of Luang Prabang town. Welcome to the jungle…