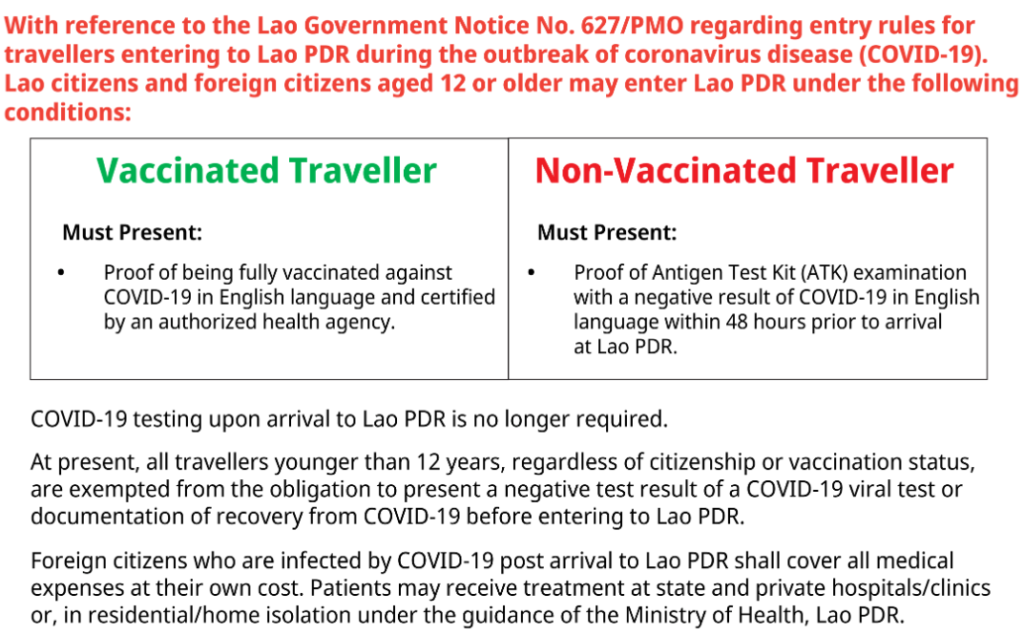 Laos borders are open. From 9 May 2022 entry requirements to Laos are:
All international checkpoints will be open for entry and exit by Lao citizens, foreign residents, tourists, and other types of visitors.
Citizens of countries that have bilateral or unilateral visa waiver agreements with Laos may now enter Laos without the need for a visa.
Citizens of countries that do not have a visa waiver agreement with Laos may now apply for a visa at a Lao embassy or consulate abroad or via the e-Visa online system. Visa on arrivals will also be reinstated at certain international checkpoints.
Fully vaccinated foreigners or Lao citizens carrying a vaccination certificate may enter Laos without any screening or testing for Covid-19 when arriving by land, air, or water.
Non-vaccinated citizens of Laos, foreign citizens, or residents aged 12 years and over must take a Rapid Antigen Test (ATK) not more than 48 hours prior to departure and present the results upon arrival.
Foreign arrivals in Laos that become infected with Covid-19 must bear responsibility for any and all medical costs involved in treatment.
Private vehicles may now enter and exit the territory of Laos via checkpoints as prior to the pandemic. Guidelines regarding this measure will be drafted and publicized by the Ministry of Public Works and Transport.
Safety measures in Laos
All tourism establishments in the zones must be certified with the LaoSafe certification.
LaoSafe, a health and hygiene program for the tourism and hospitality sector, has received official approval from the Ministry of Health (MoH) and the Ministry of Information, Culture, and Tourism (MICT).
The LaoSafe program comprises a series of health and hygiene standards for different subsectors of the tourism and hospitality industry, including accommodation providers, food and beverage outlets, airlines, tourist attractions, tour guides, and drivers.
Travelers can expect to follow standard COVID-19 hygiene measures such as wearing masks in public places, in vehicles, and frequent hand-sanitizing. We have implemented a COVID-19 safety procedure for staff, guides and drivers who will wear masks and hotels will practice contactless check-ins.
See the Laos Travel Guide for more information.
Past Updates on Laos COVID-19 information
We kept this page up to date over the pandemic closure, below are historical updates.
15 April 2022: The National Taskforce for COVID-19 prevention and control has said that they are actively preparing for a full reopening. Under new regulations, travellers will need two tests, one RT-PCR test 72 hours before departure and one rapid antigen test on arrival. Those with negative antigen tests will be able to travel freely in the country. The PM has agreed "in principle" to a reopening and that they should "draw upon lessons from neighbouring countries". Tourists who have recovered from COVID-19 will not need to take a RTPCR test before entering Laos.
01 Apr 2022: 505 international tourists from 26 countries travel to Laos under Green Travel Zone scheme as of 1 Apr. Domestic tourists in 2021 reach just 831,493, down from 2020's 1,581,100./ Laos starting 4th dose of vaccine.
24 Mar 2022: The border gates between Son La in Vietnam and Houaphanh province in Laos are set to reopen on 1 Apr.
17 Mar 2022: The Ministry of Foreign Affairs has eased entry requirements for Lao nationals and foreigners with multiple-entry visas, labor visas or spouse visas. They will no longer need to apply for a Certificate of Entry from the Lao Ministry of Foreign Affairs and can instead use the Green Pass online visa portal to apply for a QR code for entry.
8 Mar 2022: Foreigners who want to enter Laos must register for a QR code (Vaccine ID) at the Lao Green Pass website. As of 4 Mar, 22 applications were approved, with 156 pending, and 1 rejected.
2 Mar 2022: Laos has launched a new online portal that is authorized to issue the Lao Green Pass visas for certain visitors, including diplomats, employees of international organizations, business people and investors, foreigners residing in Laos and overseas Lao people.
3 Feb 2022: Quarantine rules have been relaxed. Government representatives, Lao nationals, foreign nationals who are technical experts, students and overseas Lao returning from abroad will now be able to undertake a facility quarantine for 48 hours, whilst awaiting their RT-PCR test result, and can then self-quarantine at home for 7 days. Group tours under the Green Travel Zone will also need to wait for 48 hours at an approved hotel before starting tourism activities. The Ministry of Foreign Affairs has now been authorized to grant tourist visas for group tourists under the Green Travel Zone plan, so long as tourists create vaccine IDs under the Lao app, Lao KYC. The government has said that Laos is in talks with neighboring countries for the reopening of borders
24 Jan 2022: 118,880 Cases, 437 deaths. 53% fully vaccinated.
21 Jan: A new notice issued by the Prime Minister's Office has instructed authorities to consider easing certain Covid measures, including restrictions on entry to the country. The Prime Minister's Office has authorized the Green Travel Zone reopening plan to continue while ensuring that the country's health system will be able to cope in case of an influx of cases. Certain groups are being considered, including businesspeople, employees, entrepreneurs, and others, in order to better encourage business and investment to help the economy recover.
15 Jan: Laos is to increase production of its Molacovir medication used to treat Covid-19 in order to meet rising demand
13 Jan: Australia has donated 905,580 doses of the Pfizer BioNTech Covid-19 vaccine and 100,000 doses of the AstraZeneca/Oxford vaccine.
9 Jan 2022: 129,536 Cases, 524 deaths. 50% fully vaccinated.
On 31 Dec, Laos added 14 more countries to its Green Travel Zone Plan, including Brunei, Indonesia, the Philippines, Norway, Switzerland, Finland, Israel, Ireland, Hungary, Austria, New Zealand, Poland, Denmark, and Belgium. This now brings it to a total of 31 countries permitted to enter.
28 Dec: Thai Smile starts twice weekly flights to Laos from Bangkok to Vientiane in February 2022.
17 Dec 2021: Laos Announces Travel Conditions for 2022 Reopening
Green Travel Zones include provinces that have at least a 70% vaccination rate among the eligible adult population, while Green Travel Trails have not yet achieved this level of vaccine coverage. During Phase 1, tourists may visit Vientiane Capital, Luang Prabang Province, and Vang Vieng District in Vientiane Province. Five provinces will be authorized for Green Travel Trails, including Oudomxay, Xayaboury, Xieng Khouang, Khammouane, and Champasack.During Phase 2, the Green Travel Zones will consist of 9 provinces: Vientiane Capital, Vientiane Province, Luang Prabang, Oudomxay, Xayaboury, Xieng Khouang, Khammouane, Savannakhet, and Champasack.
During Phase 2, four provinces will be authorized for Green Travel Trails including Houay Xay District in Bokeo Province, Luang Namtha Province, Sekong Province, and Salavanh Province. Tourism sites, hotels, and restaurants in the zones must ensure that at least 95% of their staff are fully vaccinated. All tour guides and drivers must be completely vaccinated. At least 95% of the population within the travel zones must be fully vaccinated.
28 Nov 2021: 71,518 Cases, 159 deaths. 42% fully vaccinated.
Lao Airlines will operate weekly flights to Bangkok from Jan 2022. Travellers will be allowed to enter Thailand by sea, land and air as part of the Test & Go and Sandbox schemes, from the province of Nong Khai which borders Laos, from 24 Dec 2021.
Laos is considering a new reopening plan, Lao Travel Green Zone. This would designate Vientiane Capital, Vang Vieng, and Luang Prabang as "green zones". A green zone must have 70-80% of its population vaccinated, and 90-95% of its service providers vaccinated. International arrivals would need to be vaccinated, and have a negative test within 72 hours of departure. Tourists would be taken to hotels via designated vehicles certified with the LaoSafe scheme, and undertake an RT-PCR test on arrival, self-isolating at their home until they receive the results. Once the test comes back negative, they will be able to explore the Green Zone. A "Lao Green Trail" would also be launched, which would allow visitors to travel outside of the Green Zones, but they would need to use services of LaoSafe service providers and stay at all-inclusive accommodation. It also proposes launching a new contact tracing app, LaoStaySafe, to monitor tourists during their stay, and provide information.
25 Oct 2021: 36,248 Cases, 53 deaths
Lockdown measures extended until 14 Nov, with entertainment venues, tourist attractions and schools closed. Stricter measures are implemented across country, depending on virus severity. Laos has launched a new vaccination certificate with a QR code which will allow for digital verification. The Tourism Ministry has requested permission to allow vaccinated South Koreans to enter Vientiane on luxury golf tour packages. This plan would see Lao Airlines, AirAsia, T'way Air and Jeju Air operate charter flights to Incheon airport, and travellers could undertake a 9-day golfing package. Tourists would be limited to one hotel and one restaurant, and they would be transferred between the hotel and the golf course.
15 Oct 2021: 30,615 Cases, 36 deaths
A number of provinces have been locked down and now Luang Prabang is imposing lockdown restrictions through to 21 Oct due to COVID-19 activity. Stay-at-home orders are in effect; exemptions are in place for reasons such as medical emergencies. Entry into Luang Prabang is prohibited. Essential sectors like medical, pharmaceutical, electricity, and telecommunications, among others, may operate.
11 Sep 2021: 17,140 Cases, 16 deaths
A large number of cases of Covid-19 recorded in Luang Prabang Province have been traced to quarantine centers and residents returning from other provinces. Laos conducted 4,440 tests over the last 24 hours, confirming 204 new cases of Covid-19.
9 May 2021: 1,233 Cases, 1 death.
Over one year into the pandemic, the southeast Asian country Laos has recorded its first Covid-19 related death. A 53-year-old Vietnamese karaoke club worker died from the virus in the capital Vientiane, the National Taskforce for Covid-19 Prevention and Control reported. The woman's condition was complicated by diabetes and other medical issues. Laos reported 1,233 cases, of which 1,184 were reported in the last month.
4 May 2021: 933 Cases, 0 deaths.
Following 2 Thai nationals entering Laos illegally during Lao New year, cases of COVID-19 have risen rapidly. 31 of the newly infected are from the capital Vientiane, while 54 are from Champassak province, 13 from Savannakhet province, seven from Bokeo province, two from Oudomxay province, two from Phongsaly province, and one each from Vientiane, Luang Prabang, Xayaburi, and Sekong provinces. The 113 new cases follow announcements of 76 cases on Sunday and 88 cases on Saturday in the nation with a population of around 7.2 million people.
Phouthone Muongpak, Vice-Minister of Health, said infections have been identified in 13 out of 17 provinces in Laos and the capital. "The virus is also spreading quickly in the capital and Champassak province in the south," he added. The number of provinces included in the lockdown, which requires that people stay in their homes unless they are experiencing an emergency, is now at 15.
24 April 2021: 88 Cases, 0 deaths.
26 new cases occurred in the capital Vientiane, and all of them had close contact with a case discovered recently. Lao citizens and foreign residents should comply with COVID-19 prevention and control measures, as well as remaining vigilant and being mindful of the dangers posed by the COVID-19. The cases occurred over Lao New Year during celebrations at entertainment venues.
17 April 2021: 58 Cases, 0 deaths.
Laos recorded four new cases of COVID-19. The four new cases include a 25-year-old woman who returned to southern Laos' Khammuan province from Thailand. Another two cases are a 32-year-old man and a 24-year-old man who returned to southern Laos' Savannakhet province from Thailand. The last case is a 25-year-old Lao woman who returned to central Laos' Bolikhamxay province from Thailand.
1 April 2021: 49 Cases, 0 deaths.
Second batch of China-donated COVID-19 vaccines arrived.
17 March 2021: 49 Cases, 0 deaths.
A total of 40,732 people including medical workers, officials tourism workers have received their first dose of the COVID-19 vaccine.
01 March 2021:45 Cases, 0 deaths.
Laos has extended its COVID-19 prevention measures and required all foreign citizens entering Laos to purchase COVID-19 insurance. According to a notice issued by the National Taskforce Committee for COVID-19 Prevention and Control, COVID-19 insurance is now mandatory in addition to other travel documents and requests for permission to enter the country. Non-Lao citizens wishing to enter Laos must contact their embassy concerning COVID-19 insurance, which will cover the cost of any medication prescribed in the event that the policy holder contracts the virus.
The special cover is now required because ordinary health and travel insurance policies do not provide cover against pandemics, including any incidents relating to COVID-19.
14 Jan 2021: 41 Cases, 0 deaths.
According to a notice issued by the National Taskforce for Covid-19 Prevention and Control yesterday, returning residents who test negative will be allowed to complete their quarantine in their homes or at their place of employment instead of the previous requirement for a 14-day quarantine in a designated quarantine center or hotel.
International travelers, both Lao and foreign, must produce a medical certificate proving they are free of Covid-19 within 72 hours before travel. All arrivals must first wait at official quarantine hotels or centers authorized by the government to receive a Covid-19 test result within 48 hours. Following this step, arrivals will then be allowed to undertake self-isolation for 14 days at their home, office, or other authorized locations after receiving a negative test result.
According to the notice, tour groups must carry certification of a 14-day pre-flight quarantine, including a Covid-19 medical test with a negative result within 72 hours before arrival in Laos. Anyone arriving from a country with a Covid-19 outbreak must enter quarantine for 14 days at an authorized quarantine hotel or center provided by the Government of Laos.
April-June 2020: 19 Cases, 0 deaths.
On 1 April one more case was confirmed, bringing a total to 10.On 5 April the 11th case was reported as a 55-year-old man from Papua New Guinea.On 20 March all land borders closed and the last flights departed from Luang Prabang and Vientiane occurred on On 18 May domestic travel allowed.On 2 June students returned to schools.On 4 June the government allowed foreigners into the country, except tourish visas.
24 March 2020: 2 Cases, 0 deaths.
Laos confirmed its first two COVID-19 cases, becoming the last Southeast Asian country infected with coronavirus.