Experience the Lao New Year -the Pi Mai Lao in Luang Prabang – Lao water festival
I spent my first week in Luang Prabang soaking wet from head to toe for the better part of every day. I have been blasted with water guns, had buckets of ice water poured down my back, had multi-colored paint spread across my face, and flour thrown in my hair. I have taken part in street wide water-fights and hopped in the back of a truck bouncing with the energy of its 15+ passengers. I have seen adorably fierce children armed with buckets of water attack playful adults armed with bigger buckets of water.
And I have LOVED every minute of it. Well, almost… along with all the fun came the minor dangers – motorbikes nearly crashing, questionable water being thrown into my open Beer Lao, and towards the end – just wanting to make it home (or anywhere!) dry.
Friday – A Party
Phi Mai festivities really kicked off for me on Friday afternoon. Everyone at the Tiger Trail office finished up work by 3pm and went out front for a party. We were stocked with endless water, buckets, and an inflatable kiddie pool. We had a feast of fish, bread, fresh vegetables, and more than enough Beer Lao. We splashed each other, our neighbors, and people traveling down the street – many of whom stopped to join the fun. I couldn't stop smiling – Phi Mai Festival had begun and I felt so lucky to have landed in the fun and friendly company of the Tiger Trail team.
Sunday – A Beauty Pageant
On Sunday I met up with some friends who were traveling through Luang Prabang for the New Year Festival, and we headed to the Old Stadium to watch the Miss Lao New Year (Nong Sangkhan) beauty pageant. When we got there we found a whole field of carnival rides and had to take a spin on the bumper cars. Instead of a queue, everyone gathered around the edges and raced to the empty cars when the music stopped – a chaotic sort of musical chairs.  After indulging our inner-children on the speedy bumper cars (as we would do again and again throughout Phi Mai), we wandered over to the beauty pageant stage and joined the crowds of fans, friends, and family supporting their young beauty queens with giant signs and enthusiastic drumming and cheering sections.
Monday – Dancing in the Streets
Monday was by far the biggest party day – the town was alive with music, color, laughter, and water. We started our day on the Mekong where groups of locals and falangs gathered in front of shops, restaurants, and guest houses with large speakers blaring everything from mainstream club hits to traditional Laos songs. We escaped the party for a minute to watch some people building sand stupas of all sizes along the river banks. We continued to walk around the peninsula – stopping to eat, drink, or splash water – until it got dark.
Tuesday – A Parade
The procession on Tuesday was a good excuse to sit still for a couple of hours. People lined the sides of the main road and my fair skin and tired (hungover) body were pleased to find a shady spot to sit and wait for the parade to begin. First came the monks – some walking, some sitting on floats, some young, some old – all in deep orange robes. People gently poured water on the passing monks, nothing like the water-wars of the days before.
The middle section of the procession consisted of ethnic minority groups including the Hmong and Khmu, and floats that appeared to be advertising businesses or political campaigns. Highlights for me were the four men doing an energetic fight-dance similar to capoeira, a truck bed with a full-blown garden on it, and the little girls dressed and made-up in traditional styles. Bringing up the rear was a float with the runners-up and Miss Lao New Year, resiliently holding her pose, on top of a giant tiger statue.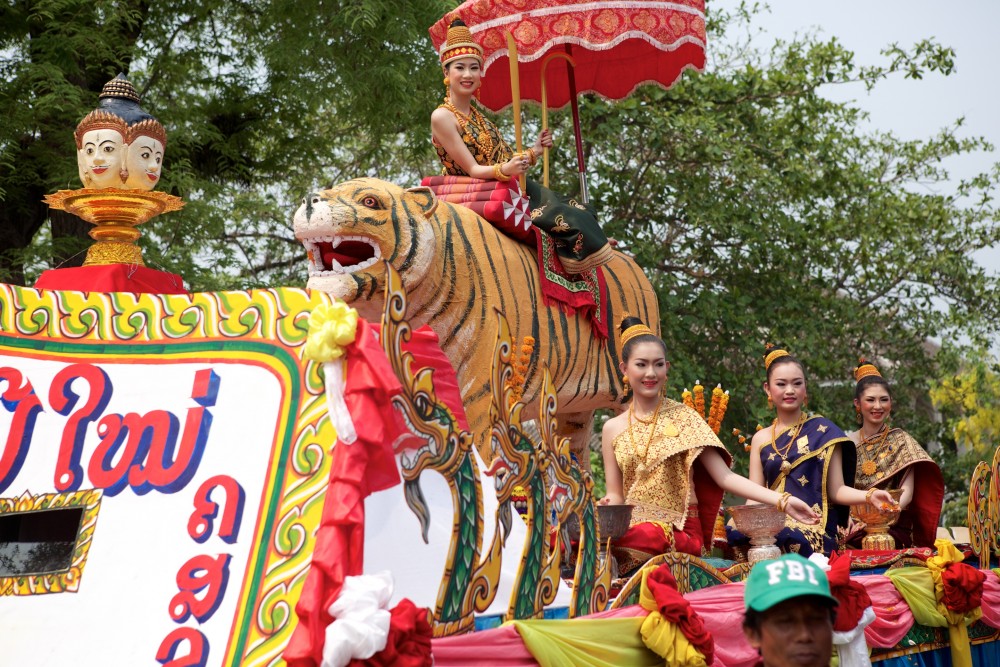 A Lao New Year, A New Lao City
So I have now entered a new year (2557) in a new city – with a new internship, new friends, and new memories from a country that really knows how to celebrate.
Click on any of the photos to be taken to the Tiger Trail Flickr account where you will find even more beautiful photos of the water festival.